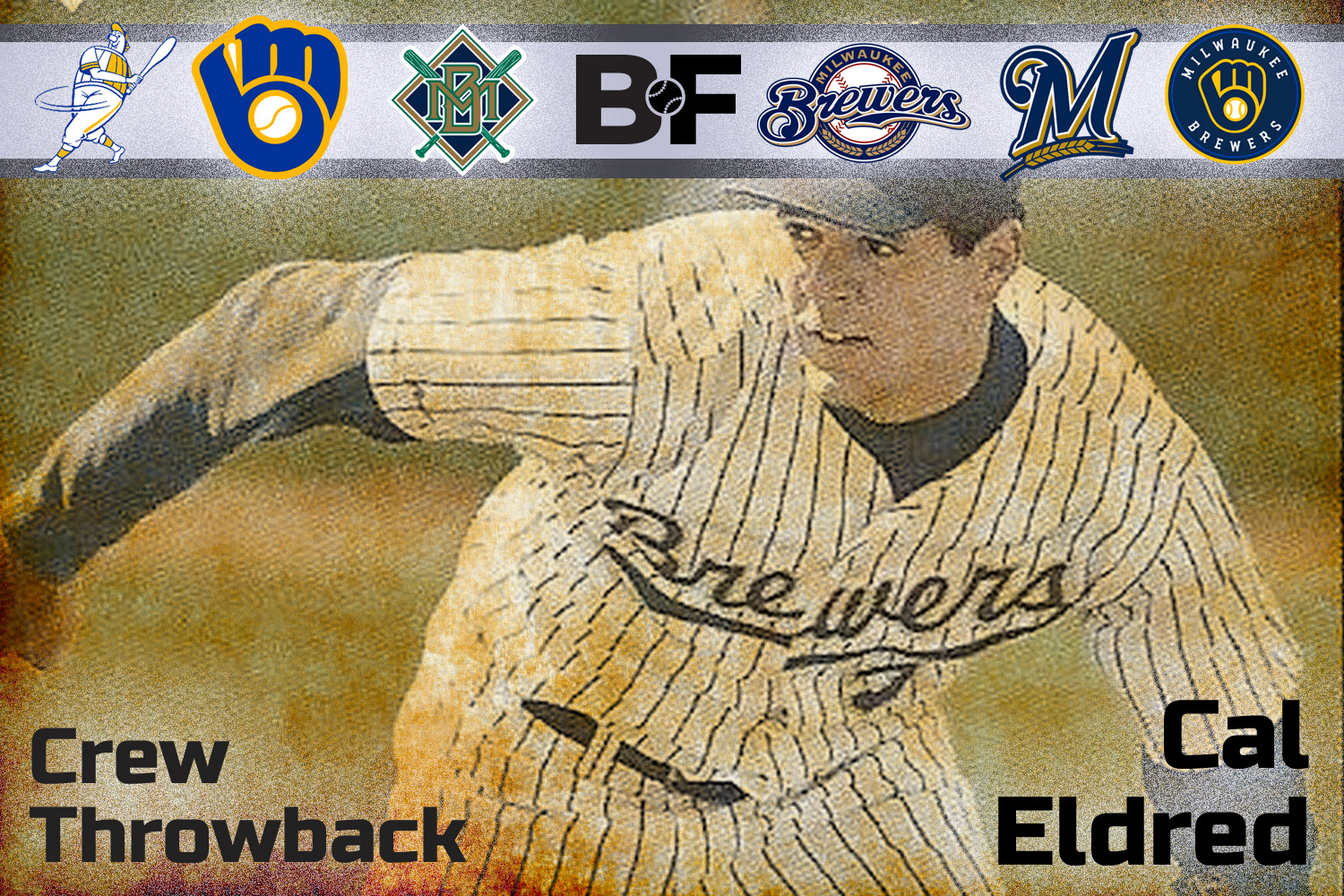 Image courtesy of Brewer Fanatic
Cal John Eldred was born in Cedar Rapids, Iowa, in 1967. He attended the University of Iowa and was drafted by the Brewers in the 1st round (17th overall) in 1989. Eldred was a big right-hander with everything you'd want in a pitcher - size, athleticism, and a plus fastball and curve. As an advanced college arm, he moved quickly through the Brewer system, enjoying a cup of coffee in 1991. But it was Cal Eldred's masterful 1992 debut that Brewer fans would forever remember.
Eldred began the '92 season at AAA, logging 141 innings in 19 starts before being called up to the big leagues mid-July. Over the rest of the season, he threw 100 innings, produced an ERA of 1.88, and won 11 games in 14 starts. He finished 4th in the AL Rookie of the Year voting. The team won 92 games - good, but not enough to capture the division (stupid Wild Card game - where were you when we needed you). Few pitchers have begun a career on such a high note - and certainly not one for the Brewers. Big things were expected from the young Midwesterner. 
With expectations high, Eldred came down to earth in his second year. He won 16 games plus led the league in innings pitched, but his ERA rose to 4.01. In 1994, his numbers continued to falter as his strikeout rates dropped and his walk rates increased. Then, in 1995, after only four starts, Eldred was placed on the Disabled List with a sore elbow. Tommy John surgery was next, and he missed the rest of the season, plus parts of the 1996 campaign.
Eldred threw 202 innings in 1997, but he was not the same pitcher - as his 4.99 ERA would attest. He fought injuries and ineffectiveness for two seasons, including an ugly 7.79 ERA in 82 IP in 1999, before being dealt with Jose Valentin to the White Sox in return for Jaime Navarro and John Snyder.
Eldred's first season in Chicago wasn't bad - until elbow problems flared up, and he was forced to shut down his season in July. But it was worse in 2001. Another elbow injury limited him to just two games. He spent the rest of 2001 and all of 2002 rehabilitating his arm, and in 2003, at the age of 35, he returned to the majors with the St. Louis Cardinals as a reliever. He pitched three more years, retiring after the 2005 season. He was 37.
After retiring, Eldred moved into the broadcast booth, serving as an analyst for the Big Ten Network and the Cardinals. He also served as a Special Assistant to Cardinals General Manager John Mozeliak. In 2017, he became the pitching coach for the Kansas City Royals. He was fired from that position after the 2022 season.
Two of Eldred's sons played collegiate baseball, including C.J. Eldred - who pitched for Iowa - just like his father. 
Looking back, Eldred's rookie season was electric. The team was competitive, and Eldred was a large part of that, as he produced a 4.2 bWAR in only 100 innings. He was a Midwest kid with a strong work ethic - an All-Star in the making. But it was not to be as injuries ultimately undid a promising career. Many points to the hefty workload imposed upon him in 1993 as the source of Eldred's woes. He was only 25 years old, and Manager Phil Garner had him work a league-leading 258 innings (after he had thrown 241 the previous year). A sore arm and TJ surgery were almost inevitable, and the rest of his career was marred by various arm injuries. 
During his time in Milwaukee (parts of nine seasons), Eldred threw 1,078 innings, struck out 686 batters, won 64 games, and produced 13.1 bWAR - all of which slot him in the top 10 in club history for each of those categories. 
Please share your memories of former Milwaukee Brewer pitcher Cal Eldred.
Think you could write a story like this? Brewer Fanatic wants you to develop your voice, find an audience, and we'll pay you to do it. Just fill out this form.
MORE FROM BREWER FANATIC
— Latest Brewers coverage from our writers
— Recent Brewers discussion in our forums
— Follow Brewer Fanatic via Twitter, Facebook or email