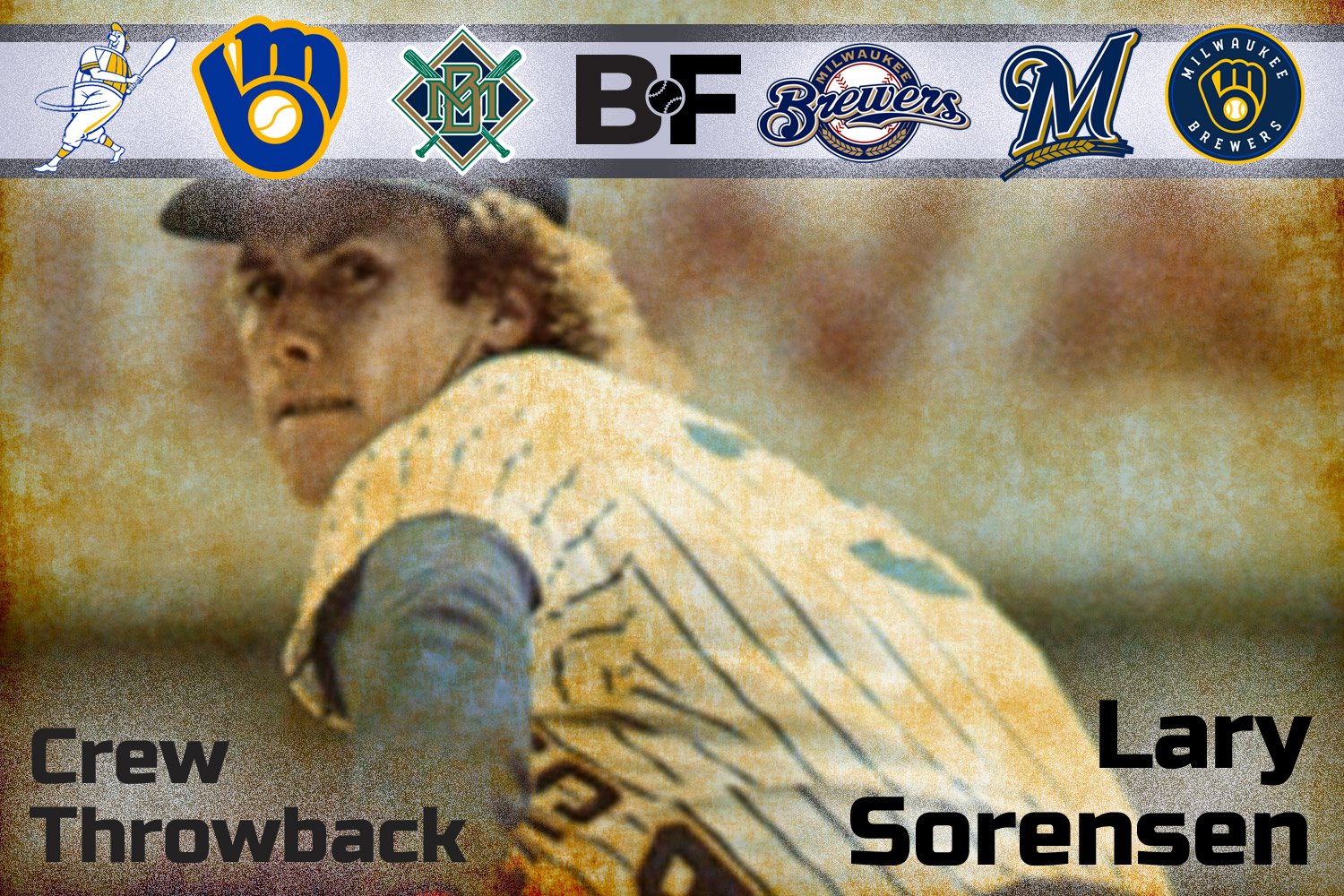 Image courtesy of Brewer Fanatic
Lary Sorensen was born in Michigan in 1955. He attended the University of Michigan for college and was drafted by the Brewers in the 8th round in the 1975 draft; He rocketed through the Brewers' minor league system, needing only 45 games to reach the majors. From there, he became a rotation mainstay for four seasons.
Sorensen was a sinkerball pitcher who rarely walked batters (for his career, his walk rate is an impressive 2.1 walks per 9 innings). He hated walking batters, and he said that walking a batter sometimes made him more upset than giving up a home run. He never struck out many batters either, inducing countless grounders throughout his career.
Sorensen's rookie season was promising, but it was his sophomore campaign in 1978 that made people take notice. Sorensen was a workhorse, averaging roughly eight innings per start. Surprisingly, his 17 complete games did not lead the team that year - Mike Caldwell had 23. Named to the all-star team (his only appearance in the mid-season classic), Sorensen worked three shutout innings in the Midsummer Classic.
While Sorensen appeared to be a star in the making, the workload would take its toll on his arm. He had decent seasons in 1979 and 1980 but was far less dominant than his 1978 campaign. His innings and effectiveness waned with each season.
Sorensen was dealt to the St. Louis Cardinals after the 1980 season in the famed deal that brought Pete Vukovich, Ted Simmons, and Rollie Fingers to Milwaukee.
Sorensen would have a solid (but injury-limited) year in St. Louis before being traded to Cleveland. By 1984, his career as a starting pitcher was almost over. He would bounce around the majors and minors until 1988 with limited success. He was done as a player at age 32.
During his four years in Milwaukee, Sorensen won 52 games, averaged 213 innings pitched a season, and had a 3.72 ERA. He produced a solid 12.2 bWAR / 11.6 fWAR.
After baseball, Sorensen got into broadcasting, working for ESPN and then the Detroit Tigers. He was praised for his quick wit and friendly nature.
However, Sorensen won't be best remembered for his time on the diamond or in the booth. Instead, his life has been littered with drug and alcohol-related problems. The first incident occurred while he was still a player when he was one of 11 players fined for admitting to cocaine use during a drug trial in Pittsburgh. In 1992, he received a DUI - the first of seven in his life. In 1998, Sorensen was let go as a Tigers announcer due to substance abuse problems.
Things continued to spiral downhill for Sorensen. In the 2000s, he served two prison terms related to his alcohol-related arrests. In 2008, after crashing his auto, his blood-alcohol level was a staggering .480 - a level that would kill most adults.
He lost his job, freedom, and marriage to alcohol.
In 2014, Sorensen landed a broadcasting job for Wake Forest baseball and then added football in 2017, which he continues to do. But more importantly, he got - and stayed - sober. He credits much of his recovery to his now-wife, Elaine.
Before becoming a lawyer, Sorensen's son, Mark, pitched for Michigan State before spending four seasons (2008-12) in the Detroit Tigers minor league system.
Please share your memories of former Brewer pitcher Lary Sorensen.
3