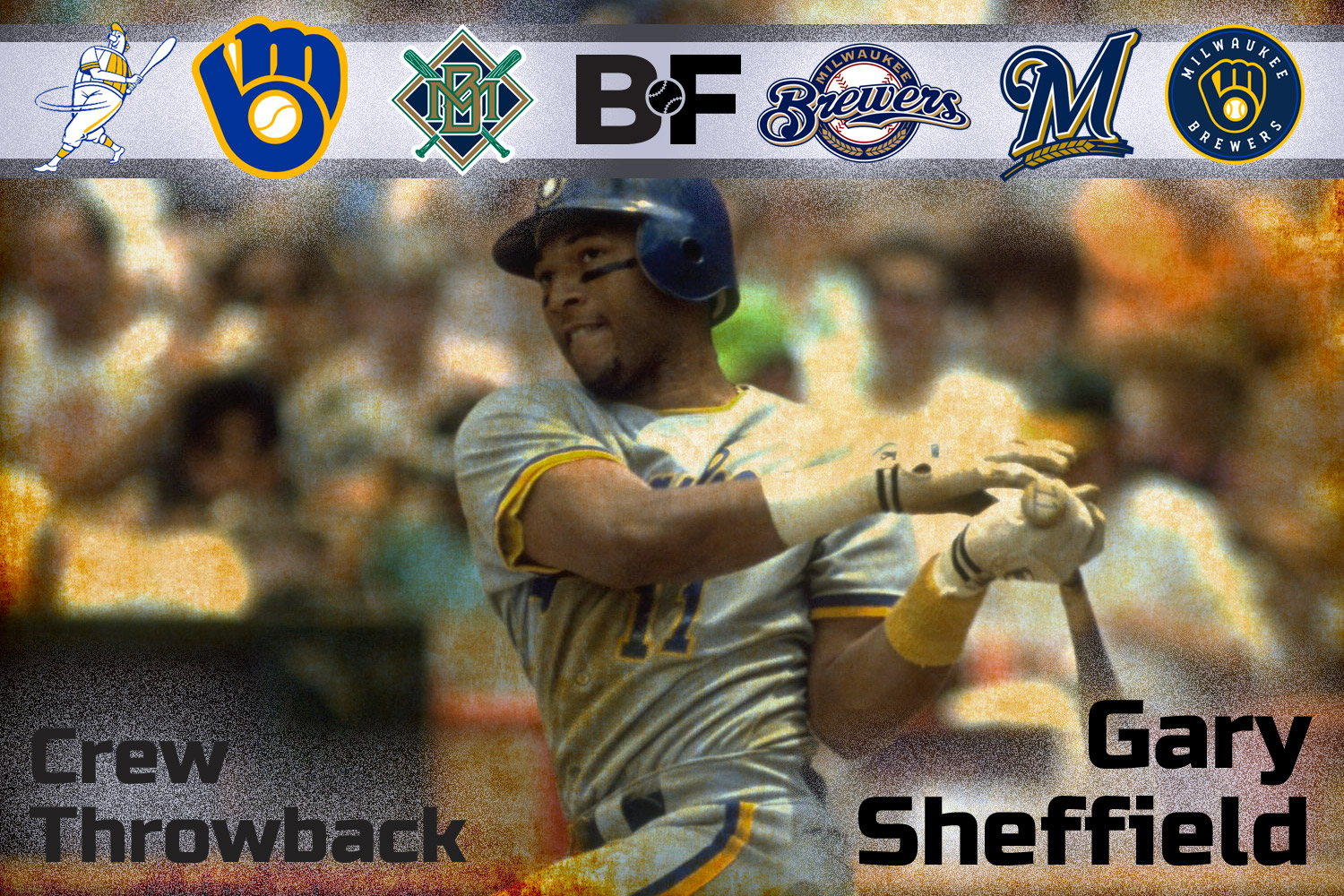 Image courtesy of Brewer Fanatic
Gary Antonian Sheffield was born in Tampa Bay, Florida, in 1968. His uncle is Dwight Gooden - who was four years older. As a senior in high school, he was named the Gatorade National Player of the Year.
The Brewers selected Sheffield in the 1st round of the 1986 draft - the sixth overall pick. It didn't take long for Sheffield to become one of the top prospects in baseball. At Helena, Sheffield hit .365 and walloped 15 HR in just 57 games. He was only 17 years old.
The abuse of minor league pitching continued as Sheffield showed an advanced hit tool, power, and a great eye at the plate. In 1988, at 19, Sheffield would debut in Milwaukee - playing 24 games. 
However, there were signs of trouble ahead for Sheffield when he was arrested in early 1987 - alongside Dwight Gooden - and charged with resisting arrest and battery of an officer. Later that year, he was arrested for a DUI. 
Besides a 7-game stint in the minors in 1989, Sheffield stayed in the big leagues. In his rookie campaign, Sheffield had mixed success as he battled several injuries - and a move to third base in favor of Bill Spiers. He hit only .247 in 94 games that year and said his move to third was race related.
1990 demonstrated the enormous potential that Sheffield possessed. Working with hitting coach Don Baylor, Sheffield hit .294, although his considerable power had yet to emerge. But the fans and the Brewers thought they saw a star in the making.
But there were cracks in the relationship between Sheffield and the organization and the fans. His willingness to candidly discuss racial issues was not common at the time, making many fans, members of the organization, and some of his teammates uneasy. Sheffield complained about the team favoring white players and how the organization mistreated him. He was generally portrayed as a talented but disloyal and immature malcontent. 
Had Sheffield come into 1991 and hit well - all of these things would likely have been put aside - at least for a time. Instead, it would be a lost year. Various injuries would limit Sheffield to 50 games - and he hit a paltry .194. Fans booed Sheffield mercilessly, who later admitted he was miserable and requested a trade (something he had already done more than once). 
Organizations are often hesitant to trade talented players - even if they are struggling - for fear they will find themselves in a new city. But the Brewers had had enough of Sheffield. On March 26, 1992, they pulled the trigger on a trade sending the talented but troubled infielder to the San Diego Padres for pitcher Ricky Bones, SS José Valentin, and OF Matt Mieske.
Much to the Brewers' chagrin, Sheffield turned into an all-star in San Diego, hitting .330 and 30 home runs and winning the NL batting title. The Brewers won 92 games that year - but missed the playoffs. Had Sheffield been in the lineup, things may have turned out differently.
We don't need to go on about Sheffield's career, but the numbers are quite astonishing. 509 HR. Almost 2700 hits. 9 All-Star teams. More walks than strikeouts. 
Sheffield was not without his warts. He was never a good fielder. After leaving Milwaukee, he stayed at third base for a time before being moved to corner outfielder and finishing his career as a designated hitter. He never went back to shortstop, save for a few games here and there.
He was also a baseball nomad - playing for eight teams in 22 years - often wearing out his welcome due to his quick temper, outspoken opinions, and a seemingly never-ending desire for a better contract. Sheffield's supporters say he was simply an honest man - willing to talk about uncomfortable topics that many felt were too often swept under the rug. 
Sheffield also had other issues - including multiple arrests for DUI, speeding, and altercations with fans. But the issue that - to this day - looms over Sheffield is regarding performance-enhancing drugs (PEDs). 
Sheffield was mentioned in the Mitchell Report and implicated in the 2004 BALCO scandal concerning using PEDs. And he was named in the book Game of Shadows as having received testosterone and human growth hormone from Greg Anderson, the personal trainer he shared with Barry Bonds.
Without those accusations, Sheffield may have reached the Hall of Fame. He received 40% of the vote in 2022 - but with only two more years of eligibility left in his candidacy - he's unlikely to receive the 75% needed for induction.
After baseball, Sheffield formed the Sheffield Management Group and became a sports agent.
As we think about the 'what ifs' of baseball - it's easy to look at 1992 and wonder if having Sheffield in the lineup would have helped the Brewers capture the NL East crown (the Brewers were four games behind Toronto). Kevin Seitzer had a solid season at 3B for the Crew that year, but it was nothing like Sheffield's monster numbers.
Yet even if Milwaukee had kept Sheffield, you have to wonder if he would have realized his full potential, especially considering the animosity between him and the organization. 
Even if Sheffield had stayed in Milwaukee and played well, it's unlikely he would have lasted with the Brewers. The team went into a long string of losing seasons starting in 1993, and Sheffield would have likely been traded at some point. His bat would not have elevated the team to playoff contenders during that time, making him more alluring as a trade candidate than a long-term fixture. The only good thing would have been the team could have netted a more substantial return than what they received from San Diego.
Regarding the players brought in from San Diego, the results were uninspiring. Mieske was average in many ways. Ricky Bones wavered between 'not bad,' 'bad,' and 'really bad'. Only SS José Valentin emerged as a solid, everyday player and would later be flipped for pitcher Jaime Navarro.
The Brewer career of infielder Gary Sheffield was tumultuous. He was a talented young man, but the Brewers and Milwaukee were the wrong place for him to start his career. He was immature in many ways, and in an era of staying quiet and letting your bat do the talking, Sheffield was not embraced by the blue-collar - and mostly white - Brewer fan base. 
Please share your memories about his short - but controversial time - in Milwaukee.
Think you could write a story like this? Brewer Fanatic wants you to develop your voice, find an audience, and we'll pay you to do it. Just fill out this form.
MORE FROM BREWER FANATIC
— Latest Brewers coverage from our writers
— Recent Brewers discussion in our forums
— Follow Brewer Fanatic via Twitter, Facebook or email