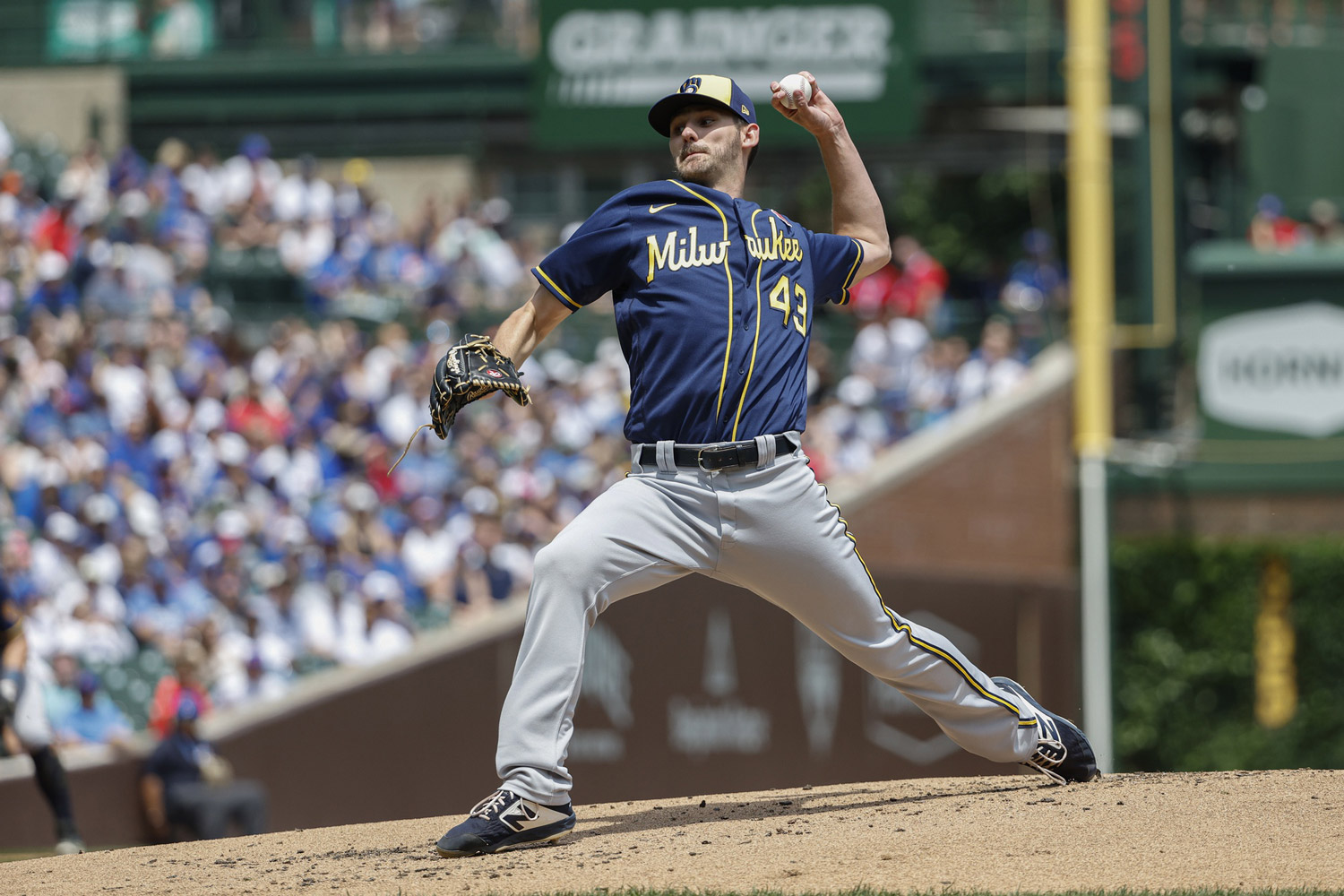 Image courtesy of © Kamil Krzaczynski-USA TODAY Sports
With new players populating the list from the low minors and offseason acquisitions, one can walk away from this list hopeful of where the Brewers organization is today and where it is going shortly. With several players preparing to leave via free agency in the next two years, help will need to come from the farm. Here are some of the most promising names you might still need to become more familiar with.
Let's take a look at the first installment of 16-20 prospects, as voted on and compiled by the Brewer Fanatic community.
20. Alexander Cornielle
Age: 21
2022 Stats (A/A+):  119.0 IP, 3.03 ERA, 10.97 K/9, 4.46 BB/9
Initially signed in 2019, Cornielle received a bump in 2021 to Low-A Carolina to close the season. He began the 2022 season back in Carolina before a mid-season promotion to High-A Wisconsin. Though he's a bit taller than Freddy Peralta, Cornielle's profile resembles that of Peralta's. Cornielle doesn't throw the hardest or have the "nastiest" secondaries, but he still shows an ability to get a lot of swing and miss, particularly with elevated fastballs. While the fastball shape differs from Peralta's, Cornielle gets a good amount of run on his fastball. In contrast, Freddy's primary fastball is a bit straighter; Cornielle appears to get a good extension which helps him replicate the "disappearing fastball" that Freddy is known for. An intriguing arm to follow next year, Cornielle could be a breakout candidate within the organization.
---
19. Janson Junk
Age: 27
2022 Stats (AAA): 73.2 IP, 4.64 ERA, 8.43 K/9, 2.20 BB/9
A former 22nd-round pick, it's funny to think that Junk would likely not have been drafted under the current 20-round setup. Despite facing long odds, Junk has worked his way up the ladder to make his Major League debut, with a few different organizational stops along the way. After being traded from the Yankees to the Angels in 2021, Junk was moved for a second time this offseason. Considered the prize of the Hunter Renfroe trade, Junk was a more valuable piece than his last name may imply. His best pitch is his slider, which has shown flashes of being an above-average to plus pitch at the major league level. The Angels seemed to tinker with the pitch a bit last year and didn't show the same movement level as in the past. The Brewers likely have had him in the lab this offseason and will work to get that pitch to live up to its potential. Junk rounds out his repertoire with a high spin, low-velocity fastball, an average curveball, and a changeup that lags behind his other pitches. Junk will likely see a few starts at the major league level this season, and if not, he will almost certainly be seeing time in the major league bullpen.
---
18. Ethan Small
Age: 26
2022 Stats (AAA): 103.0 IP, 4.46 ERA, 9.96 K/9, 5.07 BB/9
The Brewers' 2019 first-round pick, Small, is best described as having decent stuff and a profile that has always been driven by pitchability and command. He still shows plenty of flashes of the pitchability, though his command has regressed dramatically as he climbed the organizational ladder. He's a data-driven pitcher with a fastball that plays well up in the zone and knows how to use it. His changeup is his best pitch, and it could still be a big weapon for him. He has been working to find a breaking ball for years and can't seem to find the right one yet. Small made his MLB debut during the 2022 season. As far as debuts go, it could've been worse, as he went 2.2 IP with 2 ER (though he did walk four as well). That outing was always expected to be a "one and done" situation, and he would return to AAA after the game. Once Small did return to AAA, the results were not very good. The command issues reared their ugly head in a major way, and he was never able to get back on track. From the start of June through the end of the season, Small posted a 5.89 ERA and walked 5.15 per 9 innings in AAA. Many viewed Small as having reliever risk, even going back to that 2019 draft, due to a lower velocity fastball and concern over hitters seeing him multiple times. Barring the command he showed at the lower levels making a sudden reappearance, the multi-inning reliever route does feel like his best chance at a prolonged MLB career.
---
17. Jace Avina
Age: 19
2022 Stats (Rook/A): 268 PAs, .271/.392/.557, 15 HR, 54 RBI
The Brewers 14th round selection in 2021 out of Spanish Springs High School in Nevada, Avina burst onto the scene early in the 2022 Arizona Complex League season, hitting ten home runs in 36 games. He finished that stretch with an absurd 183 wRC+ and earned a promotion to Low-A Carolina, where the offense didn't slow down, at least initially. In his first game in Carolina, he hit two home runs. He followed that game up with another home run and a triple. He finally ran into a rough stretch after that, which can be attributed to the one primary concern he has. Avina strikes out at a very high rate. Despite that, Avina features a very clean-looking swing that appears adjustable. He hit balls hard in every quadrant of the zone throughout the year. So it seems to be the swing decisions that are the driving factor behind the high strikeout rates, more than his bat-to-ball skills overall. Avina is a good defender who can handle center field, with a strong throwing arm and above-average speed. The entire profile is very exciting. If Avina can improve his strikeout rates and swing decisions, this could be a rising star in prospect circles.
---
16. Luis Lara
Age: 18
2022 Stats (Rook): 229 PAs, .260/.341/.385, 2 HR, 21 RBI
Lara was one of the bigger signings for the Brewers in last year's international free-agent class. After getting off to a scalding hot start in the DSL, he slowed down dramatically for a few weeks before a strong finish. Lara's 2022 stats aren't super exciting, but a 12% K-Rate and 9% BB-Rate are great signs for a player his age. Despite his diminutive stature, Lara has a chance for above-average power from both sides of the plate. Combine that with his bat-to-ball skills; there's a good chance that Lara also ends up with an above-average hit tool. Scouts have said he should be able to stay in center field defensively, and FanGraphs gave him a 60-grade arm. Expecting a Jackson Chourio-esque breakout from any player is probably not a good idea, but Lara is someone whom it would not be a surprise to see make the biggest jump in the rankings by this time next year.
Brewer Fanatics, what do you think of prospects 16-20? Leave a comment below and give us your opinion!
Think you could write a story like this? Brewer Fanatic wants you to develop your voice, find an audience, and we'll pay you to do it. Just fill out this form.
MORE FROM BREWER FANATIC
— Latest Brewers coverage from our writers
— Recent Brewers discussion in our forums
— Follow Brewer Fanatic via Twitter, Facebook or email
1