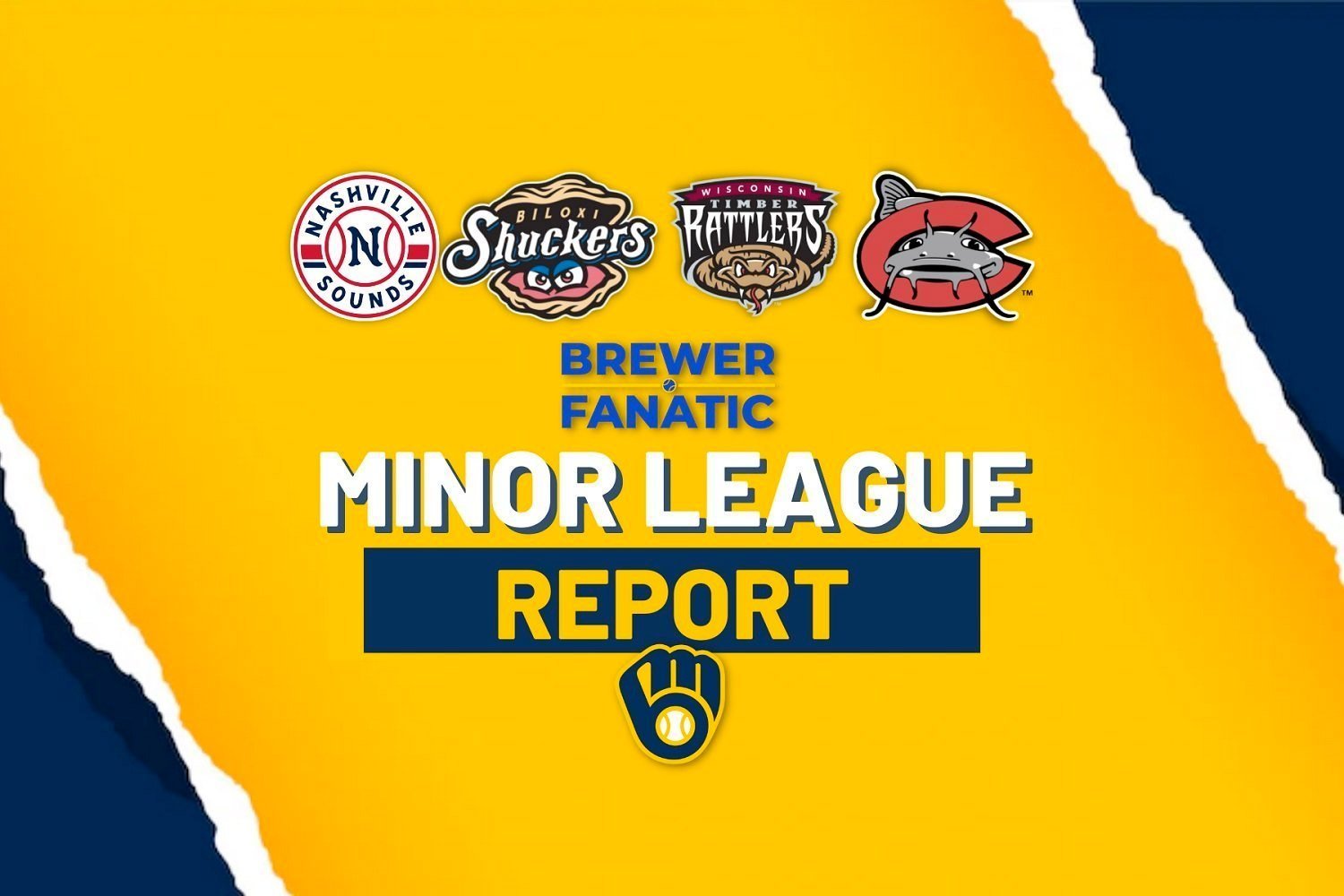 Image courtesy of BrewerFanatic
TRANSACTIONS:

- OF Hendry Mendez placed on High-A Wisconsin's 7-day injured list, retroactive to 5/11
- RHP Alexander Vallecillo placed on Low-A Carolina's 7-day injured list
- C Jose Sibrian activated by High-A Wisconsin from Development List
- SS Kevin Ereu assigned to DSL Brewers-1

Wisconsin Manager Joe Ayrault indicated that a recurrence of an injury to Mendez' ankle is the issue.

Ereu turns 17 years old in eleven days, on the 24th. He signed for $1.4 million in January, details here. Ereu's transaction is a formality, the Brewers simply have determined which DSL roster he will be listed on to start 2023.
FYI - The Dominican League kicks off on Tuesday, June 6th as the two Brewers' entries face each other that morning.
 
---

Final: Gwinnett (Braves) 4, Nashville 3
Via the Sounds' site, we encourage readers to review each of the affiliate write-ups as part of your season-long Link Report routine:
Stripers Sneak Past Sounds to Even Series - "Perkins' two extra-base hits not enough as Nashville falls to Gwinnett 4-3
Box Score / Game Log

Presented without commentary, Brewers fans.
Things you would not realize if folks like those on the Sounds' staff didn't remind us as they did in the game summary write-up - Andruw Monasterio had a seven-game stolen base streak, huh. Exactly one in each game. In affiliated ball since 2014 as a 17-year-old, Monasterio's career high in steals for a season was reached last year at 15. He's now 9-for-11 in attempts in 2023, including a caught-stealing Friday night.

LHP Darrell Thompson recently turned 29 years old but is just ten games into his affiliated ball journey, and is on the cusp of the big leagues via Friday's AAA debut. In a Milwaukee bullpen screaming to produce strikeouts and given the utter dominance showed by Thompson thus far, it is hardly far-fetched to envision the organization clearing a 40-man roster spot. Prepare for it, it's about to happen, and the national feature stories are going to be glorious, the baseball media lives for such tales. WHAT.A.FIND.

This latest flavor of the Sounds' roster only has one bench player who is not a catcher.
 
---

Final: Biloxi 7, Rocket City (Angels) 0

Via the Shuckers' site:
Tobias Myers Strikes Out 10, Shuckers Smash Three Homers to Extend Win Streak - Shuckers pitching strikes out 16 in 7-0 win for their second shutout win of the week
We adore Jackson Chourio, but Baseball America, the one institution ranking Chourio at the very top of the prospect rankings, makes sure we know about the Reds' ultra-dynamic shortstop phenom hot on his heels.

Thus, it's nice to see the Brewers' prized youngster do this vs. a Ben Joyce 99 MPH pitch:
His Hitting Coordinator links to the Pipeline article:
Earlier this month, Baseball America provided fantastic insight into the scouting madness that the MLB-mandated "enhanced grip baseball" has created in the Southern League. A highly suggested read as we try to make sense of the ridiculous (in a good way, we guess) strikeout numbers this Biloxi staff continues to rack up. Here are Southern League pitcher K totals by team (Chattanooga has even more than the Shuckers, in two fewer games). Seventeen more combined punchouts on Friday night for Tobias Myers, Luis Contreras, and Harold Chirino.

Jeferson Quero exited the game after he popped out to end the 3rd inning - we hold our collective breath.

Unfair that we only acknowledge Freddy Zamora's huge night only through a link to the Biloxi Twitter Media highlights, but please take a gander.
 
---

Final:  Wisconsin 10, South Bend (Cubs) 6

Via the Timber Rattlers' site:
Rattlers Reach Ten Runs for Win Over South Bend - Wisconsin scores nine runs in fourth inning in 10-6 victory
Pre-Game Media Notes (Download Link) via the team's Virtual Press Box
Box Score / Game Log

The Rattlers reverse a final score from earlier in the week. Did six errors, all committed by South Bend infielders, help? Sure, but no one is refusing those gifts.

Just sit back and enjoy the four and a half minutes here. What a brilliant strategy by Wisconsin batters, just keep bouncing ground balls to the Cubs infielders. Of course, the T-Rats did much more, and check out Chris  "Nostradamus" Mehring's final call of the game.
 

It's a short-notice Timber Rattlers' Mother's Day jersey auction. Be quick, good luck!

No relation but seeing the name Gallardo in the pitching line box score (Cubs' RHP Richard) gives me warm feelings. Thanks for the memories, Yovani!
 
---

Final: Carolina 6, Fredericksburg (Nationals) 3
Via the Mudcats' site:
Nicasia Homers as Mudcats Win Second Straight - Nicasia, Areinamo, Avina and Vargas each had multi-hit games in Carolina's series-tying victory
Box Score / Game Log

Always highly-suggested to listen whenever Voice of the Mudcats Greg Young Jr. provides postgame audio, it adds so much context to your box score review, even before you begin that study:

Manager Victor Estevez Post-Game Interview

Daniel Guilarte has played 27 games above the Maryvale level, all this year with Carolina. He has reached base at least once in every single one:
Big add-on runs, big call from Greg:
Kay-Lan Nicasia is an interesting cat (see what I did there?). My fellow Link Reporter Daniel shared some Nicasia insights here.

Please visit (or revisit) the Carolina game summary link above, even if just for the photo - the black jersey plus the black celebratory home run helmet is wow, just wow.

Older non-drafted pitchers at this level need to shine. Reliever Tanner Shears turns 24 next month, bullpen mate Nick Merkel will be 25 in July, and they are doing just that. Does age matter? Ask Darrell Thompson and the Brewers' front office. And that's how you tie together the night's action, everyone.
 
---

It's a potentially sparkling afternoon and evening on the mound across the board Saturday - LHP's Robert Gasser and Brandon Knarr, along with RHP's Joseph Hernandez and Jacob Misiorowski set to toe the rubber. Wisconsin has the early game. Enjoy!

Organizational Scoreboard including starting pitcher info, game times, MiLB TV links, and box scores
Current Milwaukee Brewers Organization Batting Stats and Depth
Current Milwaukee Brewers Organization Pitching Stats and Depth
Think you could write a story like this? Brewer Fanatic wants you to develop your voice, find an audience, and we'll pay you to do it. Just fill out this form.
MORE FROM BREWER FANATIC
— Latest Brewers coverage from our writers
— Recent Brewers discussion in our forums
— Follow Brewer Fanatic via Twitter, Facebook or email