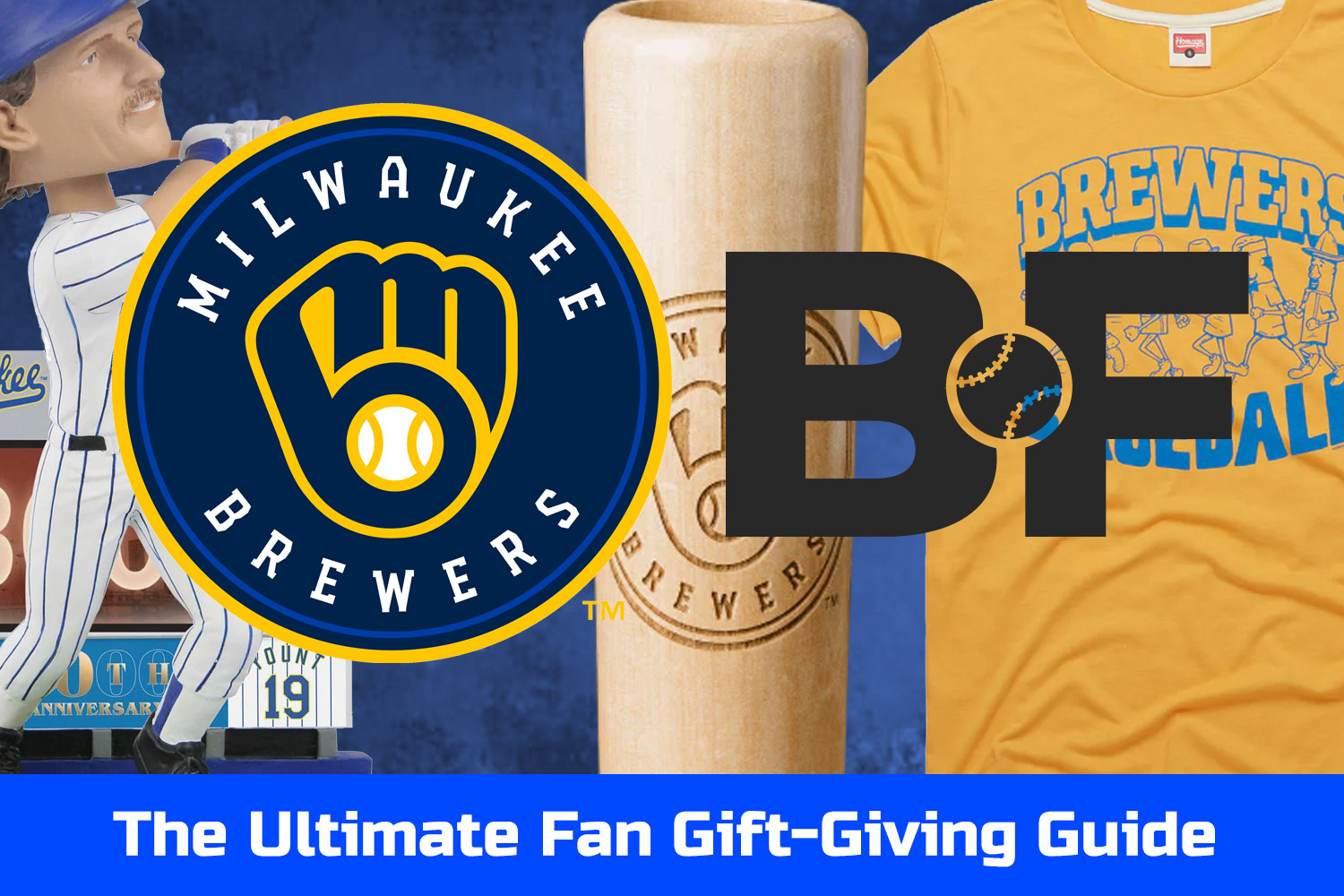 To start things off, we'd like you to take a look at the products from our friends at FOCO. They make a variety of novelty Brewers bobbleheads along with Brewers hats, apparel, and other products. Any purchase from FOCO using this link earns Brewer Fanatic store credit, which we use exclusively for gifts for our awesome users. Please consider giving FOCO a look!
Is someone you know a Brewer Fanatic user? If so, consider giving them a gift card to be redeemed for a Gold Caretaker year-long subscription! Caretakers are offered ad-free browsing across Brewer Fanatic!
Gift Ideas for Brewers Fans (click to jump directly to section):
FOCO Products
Apparel & Gear
Unique Gifts
Game Tickets
Books
Fan Memorabilia
Meet your best friend for binge watching this holiday season Brewers fans! FOCO is releasing this Milwaukee Brewers Reversible Team Color Camo Hoodeez and don't you worry: It is super soft and the perfect companion gift for those lazy Sundays on the couch.  Go grab one for yourselves now.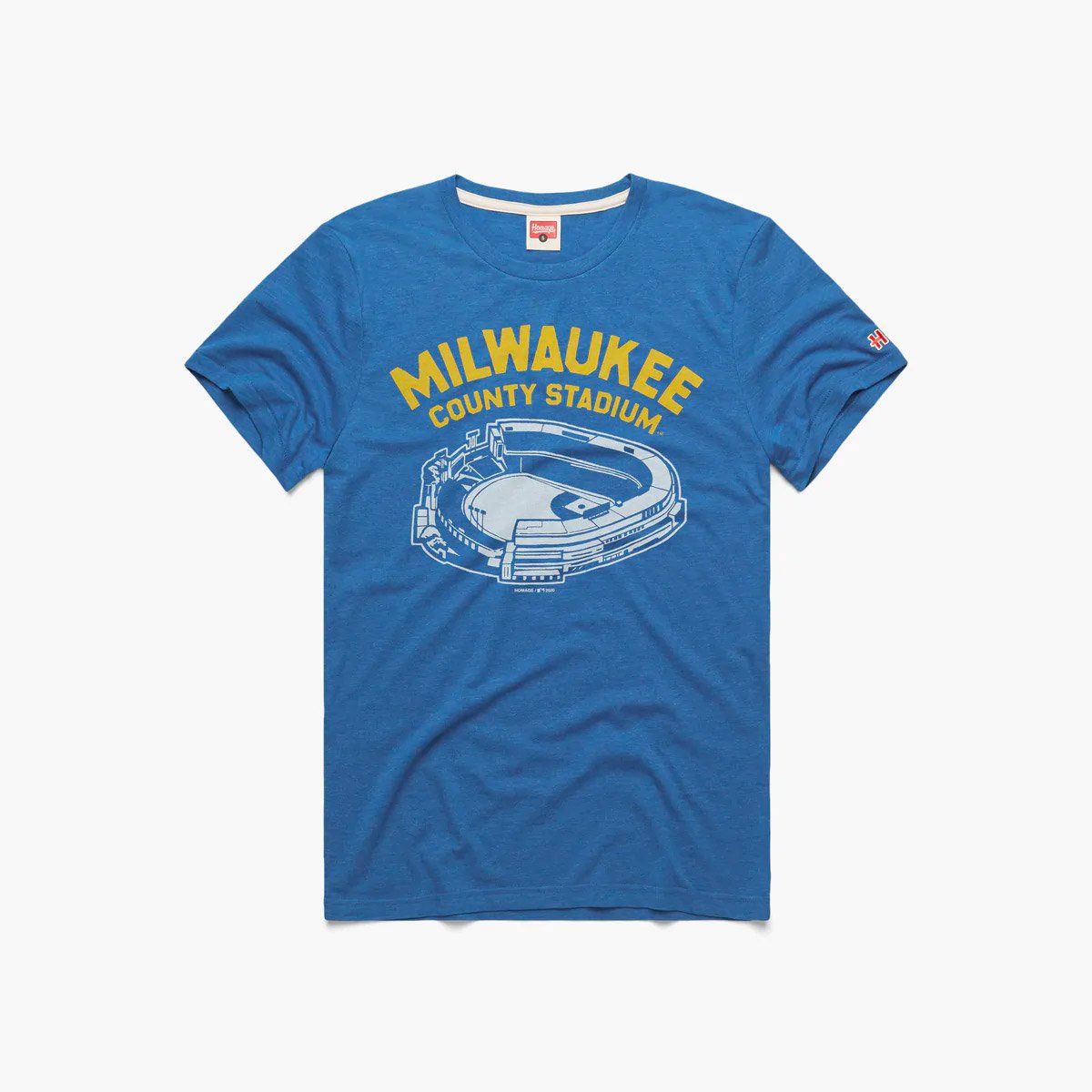 When it comes to unique designs, Homage makes several Brewer-specific shirts that offer something different than your run-of-the-mill logo design. If this Milwaukee County Stadium shirt doesn't appeal to you, who even are you?
If something else a little out of the ordinary is what you rock at AmFam, 500 Level offers a slew of shirts and apparel that also go beyond mere Brewers logos. They focus on many Brewers past and present, offering a variety of designs that will appeal to the more discriminating Brewers fan.
If you're looking for more traditional Brewers-branded hoodies, shirts, sweatshirts, women's apparel, or jerseys, the MLB Pro Shop is the place to go. They offer an enormous collection of branded apparel and gear that covers the history of the Milwaukee Brewers.
And finally, no list would be complete without a link to the New Era Milwaukee Brewers collection of hats. Over the past several years, New Era has expanded their line of caps to meet every color preference, shape, and design a Brewers fans could ever want. It's pretty hard to resist this brilliant throwback blue-and-yellow dual color design.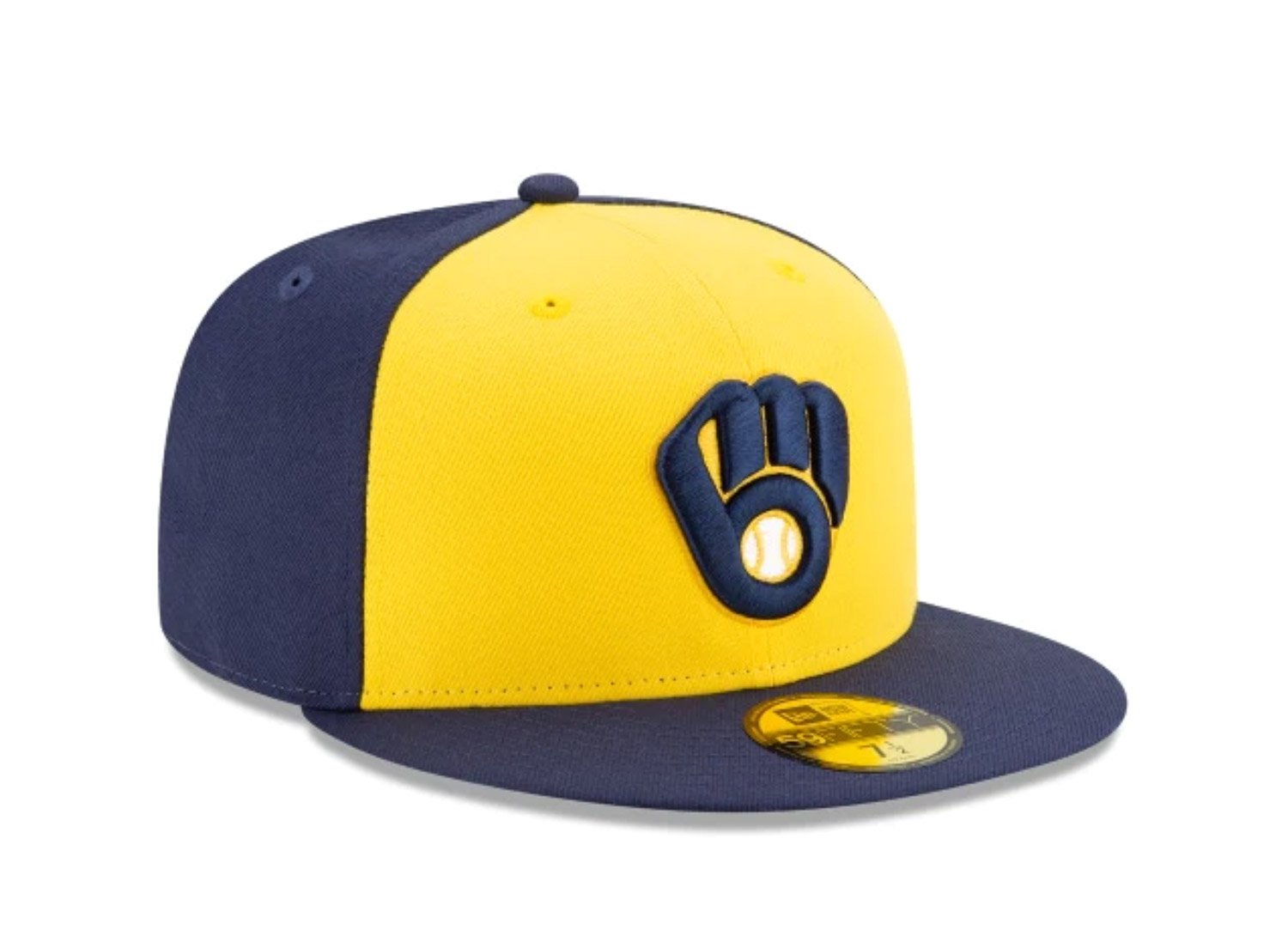 If the Brewers fan in your life is so hardcore that they're more likely to rock minor league baseball gear than something from the Milwaukee squad, look no further than the pro shops for the Brewers minor league affiliates: AAA Nashville Sounds, AA Biloxi Shuckers, High A-ball Wisconsin Timber Rattlers, A-ball Carolina Mudcats.
When it comes to unique gifts for a Brewers fan, Dugout Mugs is one of the coolest companies you'll find for any gift-giving occasion. They make a line of "glassware" built from baseball bats! They offer a variety of sizes and styles, including this extremely cool "Cream City"-branded mug. They offer several designs, be sure to check them all out!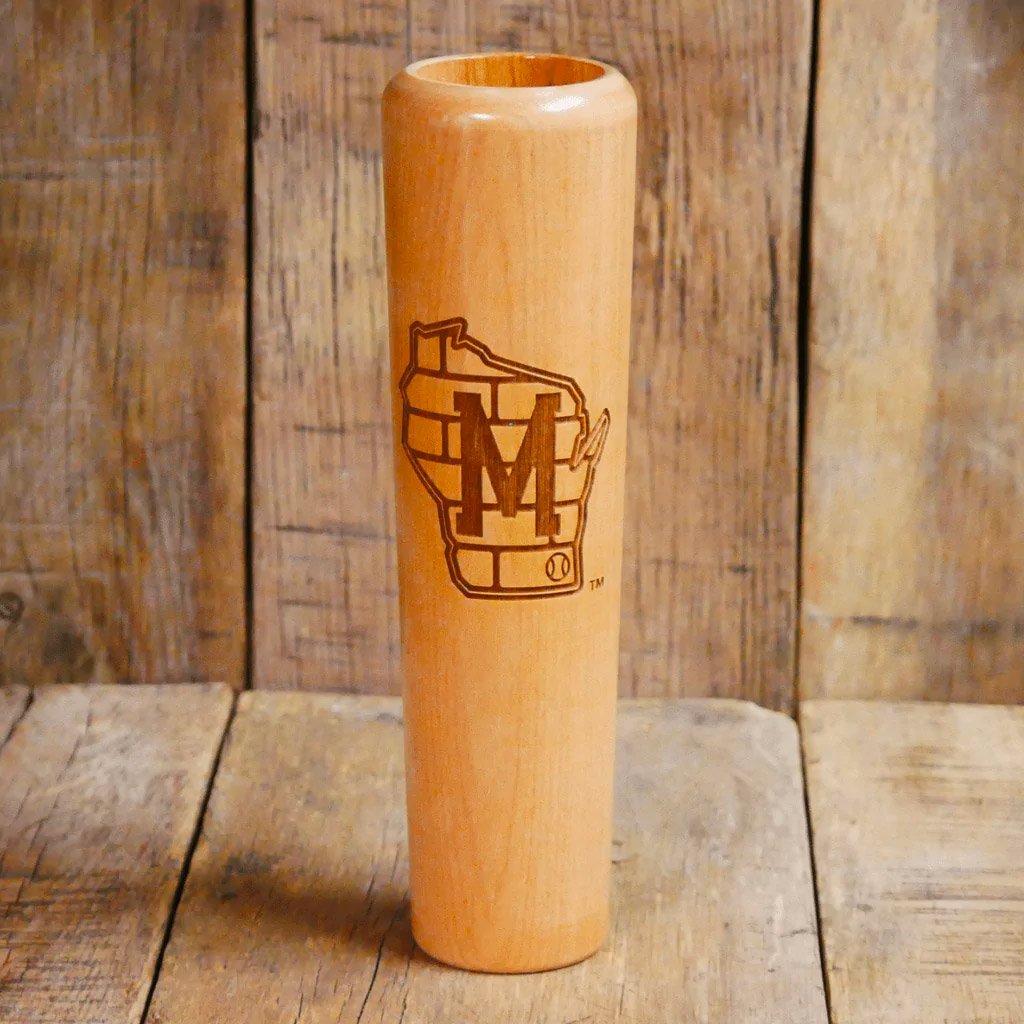 Speaking of custom baseball bat gifts, Pillbox Bat Company is another outstanding gift opportunity if your budget is on the higher end. They offer a range of custom carved and/or painted baseball bats, such as the beautiful MKE Milwaukee bat pictured below. If you're looking for something unique and exclusive, you won't find anything better than Pillbox Bat Company.
What's the point of being a baseball fan if you never catch a live game at American Family Field in Milwaukee? The 2023 Brewers schedule has been released with both single-game tickets and a variety of season ticket packages available at the official Brewers ticket store. And if you're up for traveling to get out of the long, dismal Wisconsin winter, spring training tickets are also available!
The Milwaukee Brewers at 50 by Adam McCalvy
In celebration of the franchise's 50 seasons in Wisconsin, The Milwaukee Brewers at 50 is a visually stunning retrospective featuring rare images from the team's archive. This official commemorative book tells the stories behind all the iconic moments, the legendary players and people, and so much more.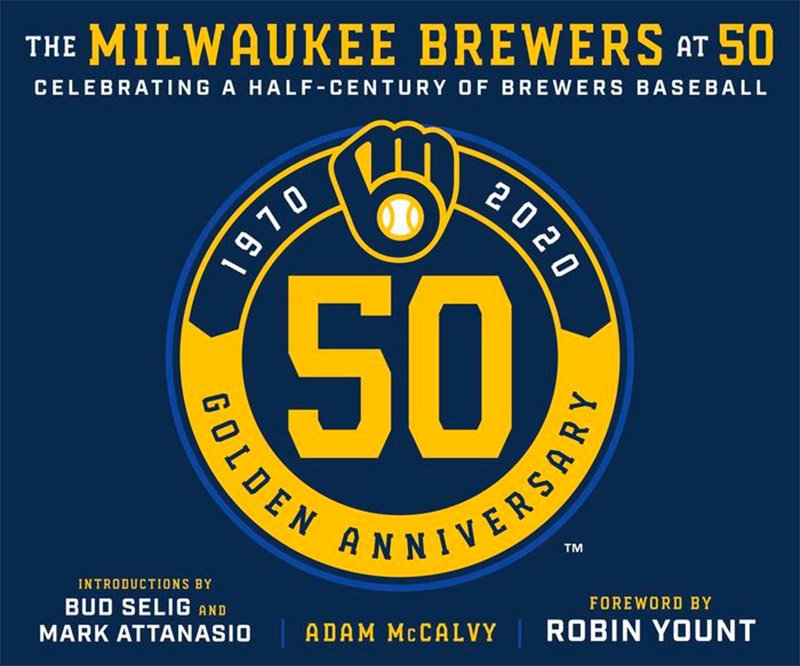 Building the Brewers: Bud Selig and the Return of Major League Baseball to Milwaukee by Chris Zantow
When the Milwaukee Braves moved to Atlanta after the 1965 season, many impassioned fans grew indifferent to baseball. Others--namely car dealer Bud Selig--decided to fight for the beloved sport. Selig formed an ownership group with the goal of winning a new franchise. They faced formidable opposition--American League President Joe Cronin, lawyer turned baseball commissioner Bowie Kuhn, and other AL team owners would not entertain the notion of another team for the city. This first ever history of baseball's return to Milwaukee covers the owners, teams and ballparks behind the rise and fall of their Braves, the five-year struggle to acquire a new team, the relocation of a major league club a week prior to the 1970 season and how the Brewers created an identity and built a fan base and a contending team.
Harvey's Wallbangers: The 1982 Milwaukee Brewers by Gregory H Wolf
Harvey's Wallbangers: The 1982 Milwaukee Brewers commemorates a team that captured the hearts and imagination of baseball fans not just in Wisconsin, but around the country. Named for skipper Harvey Kuenn, the home-run slugging club was filled with a memorable cast of characters, future Hall of Famers, and All-Stars: from Robin Yount, Gorman Thomas, Ted Simmons, and Rollie Fingers to Cecil Cooper, Ben Oglivie, Paul Molitor, and Don Sutton. They were a close-knit and resilient group that weathered controversies and slumps to capture the AL East crown on the last day of the season, overcome a two-games-to-none deficit to win the best-of-five League Championship Series, and move to within one game of winning the World Series.
If you want to shop locally, Waukesha Sports Cards is your best bet to find autographed or one-off Brewers memorabilia. They have a wide select of signed bats, balls, jerseys, and more!
If you're outside the MKE area, a good old-fashioned eBay search may be in the cards for you. With thousands of sellers constantly rolling through thousands of Brewers products, you'll certainly find something to float your boat there… but you already knew that, didn't you?
That's all we have for our ultimate Milwaukee Brewers gift idea guide! This list will be regularly updated and changed as we find new, exciting Brewers gift ideas. Is there something missing from this list you believe should make the cut? Comment below and share some of your best Brewers gift ideas with the community!
Think you could write a story like this? Brewer Fanatic wants you to develop your voice, find an audience, and we'll pay you to do it. Just fill out this form.
MORE FROM BREWER FANATIC
— Latest Brewers coverage from our writers
— Recent Brewers discussion in our forums
— Follow Brewer Fanatic via Twitter, Facebook or email