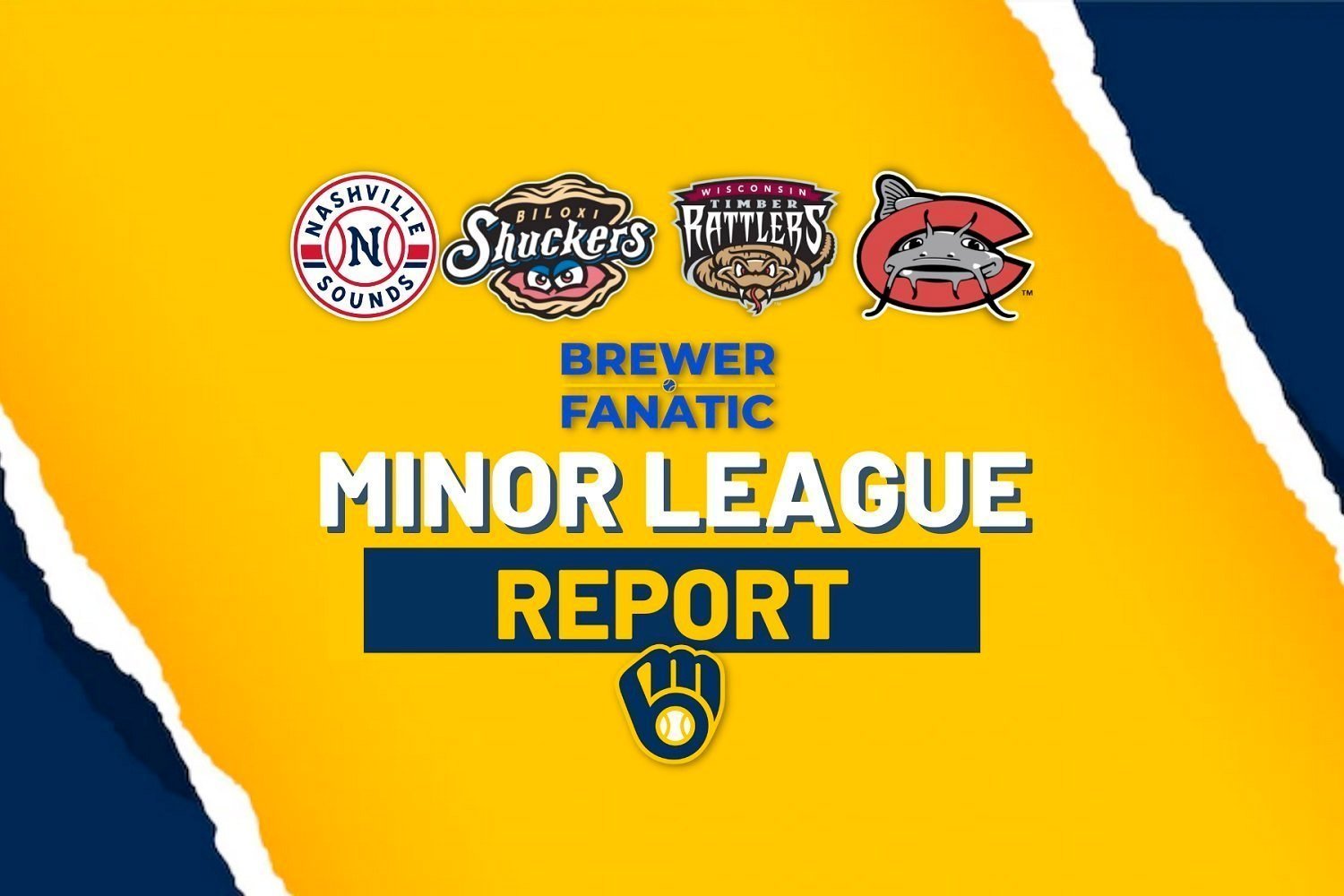 Image courtesy of BrewerFanatic
For those missing baseball (were the Draft and MLB All-Star Game not enough?), don't worry: there's a DSL Brewers doubleheader to start the day, then all full season affiliates are back in action on Friday evening, before the ACL Brewers feature late as usual.
Transactions:
SS Daniel Guilarte sent on rehab assignment to ACL Brewers
We also encourage you to follow the post-draft signing of undrafted free agents here. Pitchers, pitchers and more pitchers!
Game Action:

Arizona Complex League Action

Final: ACL Rockies 12, ACL Brewers 6
Box Score / Game Log

With that scoreline, you wouldn't know that the Brewers dominated the game, leading 4-0 in the 1st inning and 6-3 from the 3rd inning until the disastrous 9th inning which dropped the team's record to 12-13.

While prospect watchers may find the rehab outings of SS Daniel Guilarte (0-for-2, HBP) and RHP Ryne Moore (2 IP, 2 R (1 ER), 0 BB, 1 HBP, 0 Ks) to be the biggest news, the real story for most of the game was RHP Yorman Galindez (6 IP, 1 R (0 ER), 4 H, 0 BB, 8 Ks) going six innings strong without allowing an earned run.

Relief pitchers, here's what not to do when trying to protect a 3-run lead in the 9th inning: walk three of the first four batters, drop a pop up, throw three wild pitches. RHPs Edrian Robinson and Anthony Perez weren't helped out by a teammate's error and passed ball in the frame either. All combined, the 20-8 Rockies scored nine runs in the final frame.
ACL Brewers' Extras:
The team started strong, with 3B/SS Juan Baez (2-for-5, double, 2 RBIs) doubling in two runs and C Satchell Norman (2-for-4, HR, walk, 3 RBIs, SB) smacking a two-run homer.

This was Guilarte's first action in 53 days and he was something of a magnet for the ball early: hit-by-pitch in his first plate appearance, then had three balls hit to him in the second inning (throwing error, fielding error, double play). For Moore, it was his third rehab appearance, growing his workload to eight batters this time.

19-year old 2B Dylan O'Rae (1-for-3, 2 walks, RBI, SB) continues to be an on-base machine, reaching base three times to lift his season OBP to an astounding .495. He's also 19-for-19 in stolen base attempts through just 19 games played.
Dominican Summer League Action

Rained Out: DSL Brewers #2 Squad vs. DSL Red Sox Red

The teams will make up this contest with a doubleheader on August 1st.
Final: DSL Brewers #1 Squad 4, DSL Giants Black 3
Box Score / Game Log

17-year old 1B Gery Holguin (2-for-4, HR, 3 RBIs) carried the offense with a two-run homer in the 1st inning for an early 2-0 lead, then an RBI single to re-take the lead at 4-3 in the 6th inning. In fact, Holguin was at the center of it all, committing an error which allowed in two unearned runs in the 5th inning, then later catching a line drive to end the game with an unassisted double play.

17-year old RHP Eric Prado (3 2/3 IP, 0 R, 1 H, 2 BB, 3 Ks) was terrific once again, this time covering the middle innings, earning the win and dropping his season ERA to 0.82. He also picked off a runner in the 5th inning and was helped out by C Brayan Oropeza throwing out a runner in the 8th inning.

However, we're forced to hold our breaths, as center fielder Yophery Rodriguez exited after 5 1/2 innings and C Luis Garcia was also replaced in the field with two outs in the bottom of the 7th inning. We'll hope that these were just odd substitutions, not injuries.

Rodriguez (2-for-3, double) had doubled and scored the tying run in the top the 6th inning. He's reached base in 26 of 27 games played, lifting his season OPS to .945.

Not to be left out, starting RHP Jose Meneses (4 1/3 IP, 3 R (1 ER), 4 H, 3 BB, 3 Ks, 2 WPs) had a respectable outing and 22-year old RHP Roman Perez locked down the 9th inning for his fourth save of the year.

After his return from injury, SS Kevin Ereu has been in a serious rut, but thankfully he broke his 0-for-33 skid (ouch!) with a double in his first plate appearance on Thursday. He had also walked 9 times (vs. 12 strikeouts) during this rough stretch, so the results weren't all bad.

17-year old Enniel Cortez wasn't in action, but we do have video thanks to @BrewersPD. Check out more minor league videos at their Twitter handle: 
We hope that you enjoy the Minor League Link Report. Good luck in Friday's 7-game MILB slate, including the return-to-action of the Brewers' four full season affiliates and DSL Brewers-1 vs. DSL-Brewers 2 doubleheader!

Organizational Scoreboard including starting pitcher info, game times, MiLB TV links, and box scores
Current Milwaukee Brewers Organization Batting Stats and Depth
Current Milwaukee Brewers Organization Pitching Stats and Depth
Think you could write a story like this? Brewer Fanatic wants you to develop your voice, find an audience, and we'll pay you to do it. Just fill out this form.
MORE FROM BREWER FANATIC
— Latest Brewers coverage from our writers
— Recent Brewers discussion in our forums
— Follow Brewer Fanatic via Twitter, Facebook or email