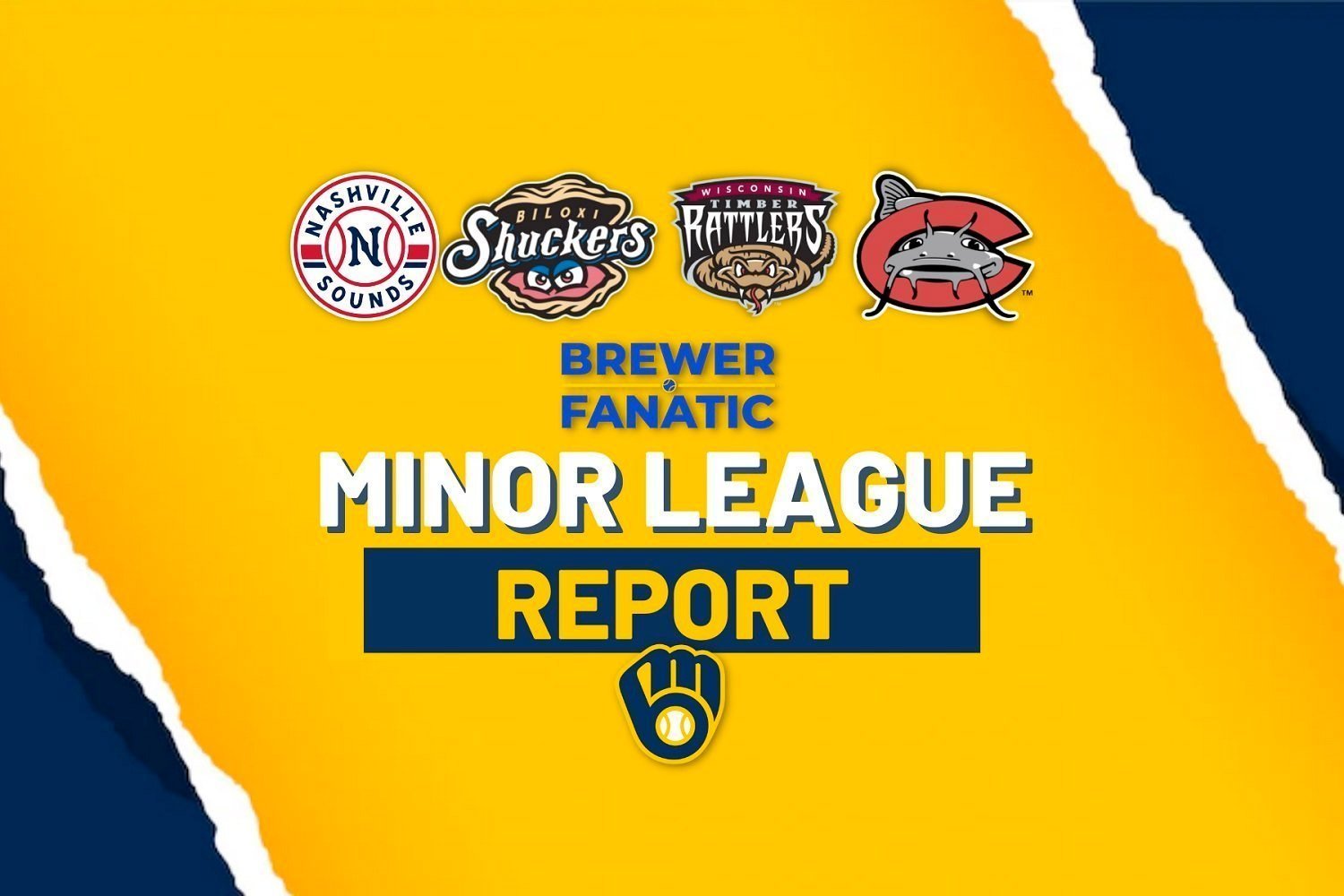 Image courtesy of BrewerFanatic
Henrison Mota didn't yield an earned run in five inning of work, though ACL Brewers Gold still needed to come back from a 4-1 deficit, which they did in a walk-off 5-4 win over ACL Athletics. Jadher Areinamo tripled and reached base three times in the victory.

Yujanyer Herrera was also solid in striking out seven ACL Reds over 5 2/3 innings, though ACL Brewers Blue ultimately fell 4-3 due to four errors and only four hits.

DSL Brewers-2 had the day off, while DSL Brewers-1 played a doubleheader against DSL Texas Blue, dropping the opener 2-1 in spite of Manuel Rodriguez conceding only one earned run over five innings. Thankfully, they scratched out a 2-1 walk-off win in the second game of the doubleheader on the strong effort of three pitchers. Gery Holguin reached base six times in the two 7-inning games.
Transactions:
LHP Ethan Small recalled to MLB Milwaukee from AAA Nashville
OF Abraham Almonte traded to Boston from AAA Nashville for cash considerations
RHP Luis Contreras assigned to AA Biloxi from AAA Nashville
RHP JT Hintzen released from AA Biloxi
INF Jean Carmona released from Low-A Carolina
RHP Connor Sadzeck designated for assignment from MLB Milwaukee
Game Action:

ARIZONA COMPLEX LEAGUE

Final: ACL Reds 4, ACL Brewers Blue 3
Box Score / Game Log

This tough loss drops ACL Brewers Blue to 13-21 on the year.

18-year old RHP Yujanyer Herrrera (5 2/3 IP, 3 R (2 ER), 4 H, 1 BB, 1 WP, 7 Ks) breezed through his initial five innings, only conceding an unearned run, a single and a walk, before perhaps tiring in the 6th inning when he yielded two runs on three hits.

OF Jace Avina (1-for-3, walk, RBI) has not (yet) been promoted to Carolina, so instead delivered the squad's first hit, an RBI single in the 3rd inning.

The lead grew to 3-1, thanks in part to two Blue batters reaching base via strikeouts (wild pitch, throwing error) in the top of the 6th inning, before ACL Reds finally got to Herrera to knot it 3-3 in the 6th inning.

The Reds grabbed their fourth run and the only lead they would need on a two-out RBI double in the bottom of the 7th inning. Blue only managed to produce just one hit in the final five innings, a one-out double from 1B Quinton Low in the 8th inning which unfortunately resulted in no runs.
Final: ACL Brewers Gold 5, ACL Athletics 4
Box Score / Game Log

The win brings ACL Brewers Gold's record back up to 18-16.

19-year old Henrison Mota (5 IP, 2 R (0 ER), 3 H, 3 BB, 1 WP, 6 Ks) walked the first two batters of the game, before settling in to deliver a fine start. The first of his unearned runs was due to his own error in the 1st inning, while the second was caused by a dropped ball at first base.

18-year old 3B Jadher Areinamo (2-for-4, triple, walk, RBI) opened up the bottom of the 1st inning with a triple, then scored on the Athletics second error of the inning. The A's would graciously commit five errors in the game.

LHP Jakob Brustoski continues to work on harnessing his arsenal, unfortunately throwing six wild pitches in two innings of work, though he also managed five strikeouts and only conceded two runs as Gold fell behind 4-1.

1B Branlyn Jaraba brought home SS Gregory Barrios (1-for-4, walk, RBI) and OF Luis Castillo with a 2-run single in the 6th inning, while Gold's tying run scored without a hit in the 7th inning.

RHP Raul Mendoza earned the win with two scoreless innings, as Barrios came through with a game-winning infield single with the bases loaded and nobody out in the bottom of the 9th inning.
DOMINICAN SUMMER LEAGUE

Game One: DSL Texas Blue 2, DSL Brewers1 1 (final in 7 innings)
Box Score / Game Log

In the opener, 16-year old RHP Manuel Rodriguez was solid again (5 IP, 2 R (1 ER), 1 BB, 3 Ks), but the offense went 0-for-9 with runners in scoring position and stranded 8 runners (vs. 3 runners for Texas) in a 2-1 loss.

The team managed to load the bases with one out against Texas' 22-year old closer (unfair!) in the final inning, but couldn't punch the tying run across.
Game Two: DSL Brewers1 2, Texas Blue 1, (final in 7 innings)
Box Score / Game Log

Victory in the second game brought DSL Brewers-1's record to 13-22.

Commencing the second game without three of their most consistent offensive contributors (Luis Lara, Edgardo Ordonez, Arnys Rodriguez) was a bold strategy, but it worked thanks to great pitching and no errors in a 2-1 extra inning victory.

18-year old LHP Jhofez Mejias was excellent in his last relief outing, so earned his first start in eight appearances and didn't disappoint (4 IP, 1 R, 4 H, 1 BB, 3 Ks).

19-year old RHP Hamlet Vasquez followed with three scoreless innings (3 IP, 0 R, 3 H, 1 BB, 3 Ks).

The Brewers' 2nd hit of the game came off the bat of 16-year old 3B Gery Holguin (1-for-2, 2 walks, 2 RBIs) and was clutch, tying the game 1-1 in the bottom of the 6th inning.

With 2-on, 1-out in the bottom of the 7th inning, the Brewers brought in Lara as a pinch hitter to try to walk it off, but unfortunately he struck out while the lead runner was also thrown out trying for 3rd base.

In the extra inning, 18-year old RHP Dikember Sanchez got the call, striking out two batters and not allowing Manfred's ghost to move.

That set the stage for another potential Brewers' walk-off, which they got...literally. Three walks (the second intentional) brought home the winning run, with Holguin again collecting the RBI.
We hope that you enjoy the Minor League Link Report. All levels (AAA through DSL) are back in action on Tuesday. Enjoy!
Organizational Scoreboard including starting pitcher info, game times, MiLB TV links, and box scores

Arizona Complex League Scoreboard

Dominican Summer League Scoreboard

Standings and sortable stat pages

Current Milwaukee Brewers Organization Batting Stats and Depth

Current Milwaukee Brewers Organization Pitching Stats and Depth
Think you could write a story like this? Brewer Fanatic wants you to develop your voice, find an audience, and we'll pay you to do it. Just fill out this form.
MORE FROM BREWER FANATIC
— Latest Brewers coverage from our writers
— Recent Brewers discussion in our forums
— Follow Brewer Fanatic via Twitter, Facebook or email
1