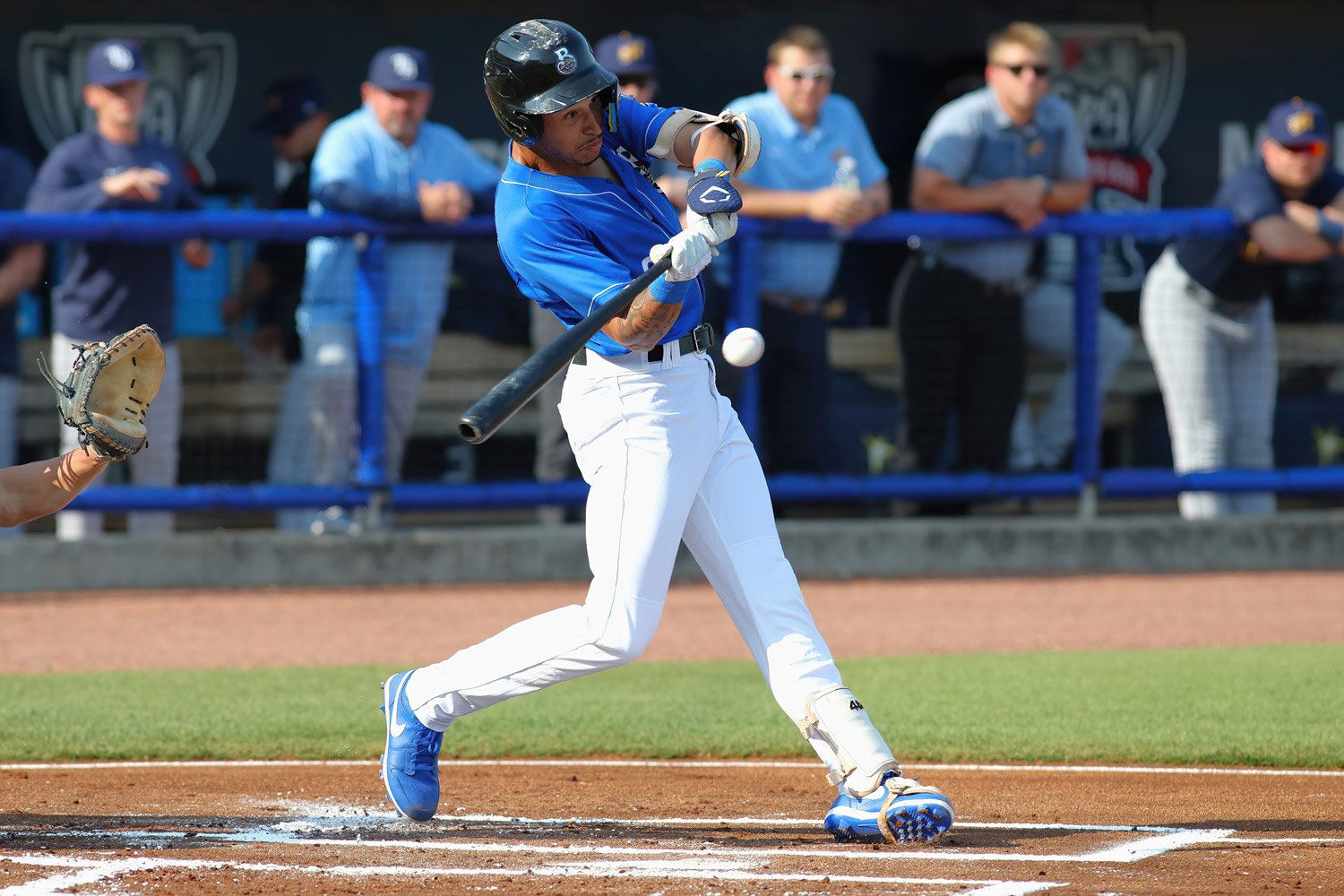 Image courtesy of Biloxi Shuckers
The solid 3-win Sunday brought the Brewers' full season affiliate records to a combined 161-161 on the season before they take a 4-day break. For the week, Carolina (4-1) and Nashville (3-2) were series winners, while Wisconsin and Biloxi ended with 3-3 draws.
Transactions:
INF Mike Brosseau cleared waivers and outrighted to AAA Nashville (where he was playing already)
Enjoy the Thread from Day One of the 2023 MLB Draft, in which the Brewers selected three players
And here's the Thread for Day Two, i.e. rounds 3-10 today
---
Game Action:
Nashville Pre-Game Media Notes
Final: Nashville 7, Columbus 6 (final in 8 innings)
Box Score
/
Game Log
Via the Sounds' website, game details, and we encourage readers to review the affiliate write-up as part of their Link Report routine:
Late Homers Lead Hot Chickens to Eight Inning Win
Passions ran high throughout Nashville and Columbus' series, fittingly ending with a back-and-forth finale which saw the Sounds re-take the lead in the bottom of the 6th inning on solo homers from each of left fielder Skye Bolt (2-for-3, HR, double, RBI) and SS Cam Devanney (2-for-3, HR, RBI). 
Two innings later, LHP Clayton Andrews allowed a leadoff double and single, then magically escaped via an infield pop out, full count walk and consecutive full count strikeouts just before the rains came.

You'll find many highlights at the Sounds' Twitter feed.
Sounds' Extras:
The Sounds started strong, building a 5-2 advantage by the 3rd inning on key hits from 1B Keston Hiura (1-for-2, double, 2 walks, RBI), C Brian Navaretto and right fielder Sal Frelick (1-for-4, double).
Starting RHP Caleb Boushley (5 IP, 6 R (5 ER), 8 H, 4 BB, 1 K) had thrown 188 pitches in two starts over the previous 10 days, but he came oh-so-close to a decent outing while running on fumes. The back-breaking 3-run homer to Jhonkensy Noel in the top of the 5th inning came in an 0-2 count with two outs.
Others on Promotion Watch: Center fielder Tyrone Taylor: 0-for-3, HBP, SB and threw out a baserunner at home. 3B Luis Urias: 0-for-2, walk, sac fly, RBI, but had an error. 2B Abraham Toro: 1-for-4. LHP Justin Wilson and RHP Trevor Megill: one scoreless inning each.
Next week's outlook: The Sounds (48-37) resume action on Friday for a 3-game series at Reds' affiliate Louisville (45-40).
 
---

Biloxi Pre-Game Media Notes
Final: Pensacola 10, Biloxi 8
Box Score / Game Log

Via the Shuckers' website, game details: Shuckers Fall in Run-Filled Series Finale against Blue Wahoos

Playing their 12th game in 12 days, with starting RHP James Meeker (4 IP, 2 R, 4 H, 0 BB, 1 K) typically capped at about 60 pitches, we knew this game was going to come down to the bullpen.

What we didn't know was that RHPs Zach Vennaro and Robbie Baker would get mauled for 8 runs in 1 2/3 innings, very quickly seeing a 6-2 lead become a 10-7 deficit.

You'll see video highlights at the Shuckers Twitter feed, but will have to search elsewhere for the meltdown lowlights.
Shuckers' Extras:
Sparingly-used secret weapon C Nick Kahle (1-for-3, HR, walk, 2 RBIs) came through for the second straight day for a lineup missing OF Jackson Chourio and C Jeferson Quero (both participating in the MLB Futures Game), hitting a 2-run homer to grow the Shuckers' lead to 4-0 by the 2nd inning.
SS Ethan Murray collected three singles, while center fielder Lamar Sparks and 2B Felix Valerio combined on four singles and 3 RBIs, but Valerio K'd with the bases loaded to end the top of the 7th inning and Sparks flied out with two runners on base to end the game.
RHP Ryan Brady came in to finish the 6th inning, ultimately retiring all seven batters that he faced, as Manager Mike Guerrero may wonder why he didn't go to him earlier.
Next week's outlook: The Shuckers (39-42) will host Angels' affiliate Rocket City (37-43) for three games starting on Friday.
 
---

Wisconsin Pre-Game Media Notes
Final: Wisconsin 6, Beloit 3
Box Score / Game Log

Via the Rattlers' website, game details: Metzinger Sends Rattlers to the Break with a Win

The Timber Rattlers are demonstrating far more fight in the second half, battling back to tie and ultimately win Sunday's game.

After Manager Joe Ayrault was ejected for rightfully arguing a bad call out of 3B Ben Metzinger at first base in the 6th inning, Metzinger (2-for-4, HR, 3 RBIs) repaid his Manager's efforts with his first home run since May 10th, a 3-run blast with one out in the 8th inning to give Wisconsin its 6-3 lead. 
But a similarly big credit goes to the bullpen of RHP Brannon Jordan (though he allowed an inherited runner to score), LHP Justin King, RHP Sam Gardner and RHP Tanner Shears, who combined on 4 1/3 shutout innings with 6 strikeouts, just one hit and no walks.

You'll find more highlights here, as compiled by the Wisconsin media team, along with a 20-minute post-game podcast with reactions from Ayrault, Metzinger, Chris Mehring and Kyle Lobner.
Timber Rattlers' Extras:
Center fielder Joe Gray Jr. (1-for-3, HR, walk, RBI) and right fielder Hendry Mendez (2-for-4, RBI) got the Timber Rattlers started early, collecting three hits, a walk and two RBIs in the first three innings.
RHP Alexander Cornielle (4 2/3 IP, 3 R, 3 H, 0 BB, 2 HBP, 3 Ks) was probably asked to extend further than was desirable, allowing two runs and two hits in his final 2/3rds of an inning. He was pitching for the third time in 11 days as he works back to full strength following an injury.
C Darrien Miller and 1B Alex Hall remained hot, combining on a 3-for-6 day, with a double, two walks and an RBI.
Next week's outlook: Wisconsin (34-45) travels to face Cardinals' affiliate Peoria (43-38) on Friday.
 
---

Carolina Pre-Game Media Notes
Continuation Game (from end of 4th inning) Final: Carolina 1, Fayetteville 0
Box Score / Game Log

Sunday Game: Carolina 2, Fayetteville 0 (postponed after one inning, to resume in August series)
Box Score / Game Log

Via the Mudcats' website, game details: Mudcats Get 1-0 Game 1 Victory; Game 2 Suspended

The Mudcats and Woodpeckers re-commenced Saturday's rain-delayed game from two outs in the bottom of the 4th inning, with RHP Patricio Aquino (4 IP, 0 R, 3 H, 3 BB, 6 Ks) continuing RHP Logan Henderson's exceptional work to keep Fayetteville off the board. 
3B Jadher Areinamo played hero, producing the game's only extra-base hit with a double to start the bottom of the 7th inning, coming home for the game's only run on an RBI grounder from 1B Jesus Chirinos.
Mudcats' Extras:
21-year old RHP Yerlin Rodriguez (1 IP, 0 R, 1 H, 0 BB, 2 Ks) is undoubtedly turning heads with two saves in his last two outings, including an amazing behind-the-back pickup-to-GIDP in his last game. This time, he conceded an infield single and balk before striking out the final two batters swinging.
Manager Victor Estevez will be particularly pleased that the team only struck out four times in 30 at-bats, while committing zero errors and throwing out the Woodpeckers only attempted basestealer.
LHP Nate Peterson (3 Ks), 3B Luke Adams (BB, SB, run) and center fielder Luis Lara (single, SB, run) got the Mudcats off to a nice 2-0 start in the day's second game, but it was suspended due to rain at the start of the 2nd inning, to be completed in the first week of August.
Next week's outlook: The Mudcats (40-37) will head to Myrtle Beach (47-33) to battle the Cubs' affiliate.
 
---

We hope that you enjoy the Minor League Link Report. Enjoy the All-Star festivities and Rookie League level games over the next few days, until full season affiliates resume action on Friday, July 14.

Organizational Scoreboard including starting pitcher info, game times, MiLB TV links, and box scores
Current Milwaukee Brewers Organization Batting Stats and Depth
Current Milwaukee Brewers Organization Pitching Stats and Depth
Think you could write a story like this? Brewer Fanatic wants you to develop your voice, find an audience, and we'll pay you to do it. Just fill out this form.
MORE FROM BREWER FANATIC
— Latest Brewers coverage from our writers
— Recent Brewers discussion in our forums
— Follow Brewer Fanatic via Twitter, Facebook or email
1