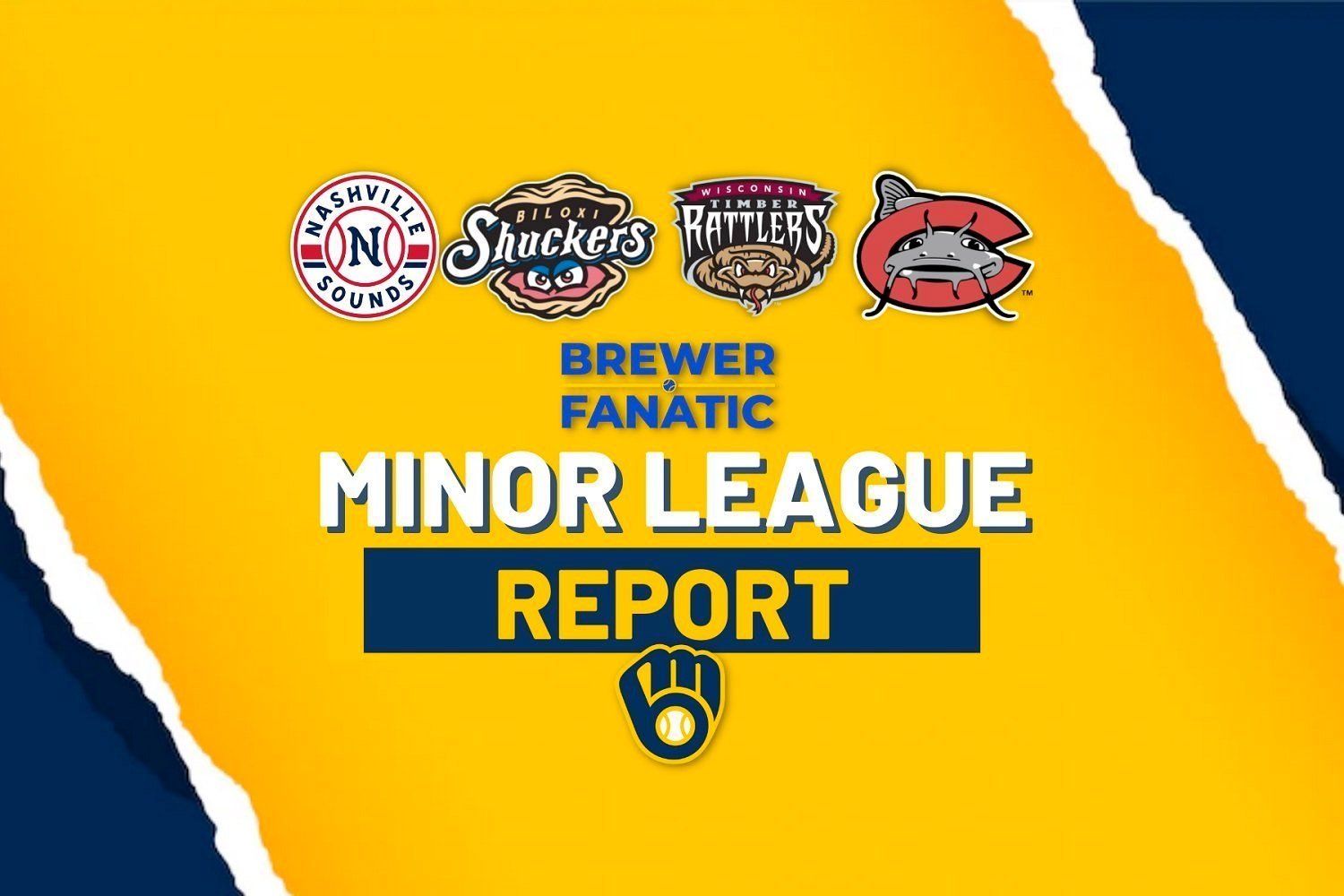 Image courtesy of BrewerFanatic
Transactions:
---

Final: Nashville 11, Gwinnett (Braves) 2

Via the Sounds' site, game details, and we encourage readers to review each of the affiliate write-ups as part of their Link Report routine:

Sounds Stay Hot with Huge Win over Gwinnett - Nashville improves to season-high 24 games over .500

Pre-Game Media Notes / Box Score / Game Log

Just bask in the glory of this game and devour all the goodness in that game report, as the results take a precipitous turn from here.

I'm aware you just read this but it bears repeating within the tweet-

Sal Frelick (3-for-4, 2 R, 2B, RBI, BB) is leading the International League with 16 hits in the month of August… 
My goodness, did the Brewers nail that 15th pick in the 2021 draft. Never mind helium, this is straight-out ready for takeoff stuff. Pull the trigger, Brewers brass.

Credit where it's due to Pablo Reyes, heck of a season. 

Dylan File is still under team control for 2023.

Frelick on base four times, Garrett Mitchell thrice, Brice Turang contributes with a sacrifice fly and a walk, whether with since-moved productive veterans or the latest infusion of rambunctious youth, the Brewers have done right by the folks of Nashville, Tennessee in 2022. We've had a blast with this club since Day One.

In the so overdue sigh-of-relief category -
You'll find a couple more Sounds highlights via their Twitter Media feed.
 
---

Final: Rocket City (Angels) 14, Biloxi 5
Pair Of Big Innings Undo Shuckers - Brent Diaz Records Three Hit Night
Pre-Game Media Notes / Box Score / Game Log

A reminder that the moniker Rocket City is representative of the combined area of Madison, AL, the city of 50,000+ that is just eleven miles from Huntsville (pop. 150,000). I have many fond memories of the contacts I maintained in the media, the local fan sites, etc., back in the earliest days of Brewerfan. Very happy that the folks there have their new ballpark and didn't lose baseball altogether. As for their old once-deteriorated ballpark -

In the Spring Season of 2023, Joe Davis Stadium will open its doors to unveil its renovation from a single-use baseball facility into a multisport venue ready for football, soccer, lacrosse, field hockey and ultimate Frisbee. The field will be artificial turf to maximize flexibility and accommodate intensive daily use.

The listed 2,920 who pulled themselves away from the adjoining casino saw the Shuckers down only 4-3 through six, before things fell apart.

Regardless of the personnel makeup, the Biloxi bullpen cumulatively has been either fantastic or disastrous in their mound efforts in 2022, with little in-between. This game fell in the latter category.

This offense is going to be workmanlike effective but rarely individually spectacular for the remainder of the season, a veteran group in the what-you-see-is-what-you-get mold.

Catcher Brent Diaz will be back for his 7th season of control in 2023, and his very solid efforts continued here on a three-hit night -
The Shuckers posted an additional two video highlights on their Twitter Media feed.
 
---

Final: South Bend (Cubs) 9, Wisconsin 6

Early Eight-Run Deficit Too Big for Rattlers - South Bend collects 17 hits in 9-6 win in front of huge home crowd at Wisconsin
Pre-Game Media Notes / Box Score / Game Log

Be sure to watch all the embedded highlights in the game report, including the Ben Metzinger and Darrien Miller home runs (first as a pro for Metzinger, the 7th round third baseman out of Louisville).

Kudos to the Rattlers, not all teams would provide opponent highlights to the extent they do, certainly appreciated by friends and families throughout the Midwest.

At least many of the fans hadn't settled into their seats and were spared the first-inning deficit.

AUDIO via the Rattler Radio Soundcloud: "The Timber Rattlers tried to fight back from an early 8-0 deficit but fell 9-6 to the division-leading South Bend Cubs on August 12. Chris Mehring and Kyle Lobner go through the details, Mehring rambles for a bit, Kyle brings it back on track, and Mehring remembers to give a few news items about the game and the starting pitcher for Saturday. Teamwork!"

The audio includes discussion of LHP Karlos Morales who made his high-A debut at age 23, but also in his 6th pro season already.

Your obligatory Jackson Chourio update - 0-for-4, one walk, one K, one SB.
 
---

Final: Delmarva (Orioles) 2, Carolina 0
Mudcats Held to One Hit in 2-0 Loss in Delmarva - Jace Avina had the only hit in Carolina's 2-0 loss to the Shorebirds on Friday night
Pre-Game Media Notes / Box Score / Game Log

Can we all admit it's been a really poor season for Hedbert Perez, now at .212/.264/.378? OK, 31 of 73 hits have gone for extra bases, but tons of work to do. He'll turn just 20 years old as the 2023 season begins.

Much better second Mudcat outing than his debut for 20-year-old Nicaraguan RHP Alexander Vallecillo.
 
---

Postponed: ACL Brewers Gold at ACL Cubs, rain
 
---

Final: ACL Guardians 5, ACL Brewers Blue 0
Box Score / Game Log 
Ernesto Martinez walked twice as his rehab stint continued.

As @damuellenoted:

It's undrafted free agent night for ACL Brewers Blue, as 24-year old 6'7" RHP Nick Merkel gets the start and then 23-year old 6'1" Ryan Brady makes his organizational debut in relief.

20-year-old Dominican RHP Anthony Perez was very effective in his 14th appearance of the season.
Super signing SS Daniel Guilarte and young INF Ney Serrano continue to be unavailable, it seems.
 
---

Final: DSL Colorado 2, DSL Brewers #1 Squad 0, seven innings as scheduled
Box Score / Game Log

Professional get-your-feet-wet middle relief debut for 19-year-old Dominican RHP Cristofher Carrasco, who was signed to a deal in May. Bullpen mate Justin Caceres, a native of Nicaragua and in his true age 17 season, has thrown five scoreless innings in his last two outings.

Just three singles for the Crew here.
 
---
Final: DSL Texas Blue 3, DSL Brewers #2 Squad 0
Box Score / Game Log
Yikes, if Team One struggled, this was real silence. Just one base hit over nine innings, It was a leadoff single in the 5th from Panamanian native OF Irving Igualas (DH'ing here), so if nothing else we're at least pointing out how diverse internationally the Brewers have been. Capping that, Igualas was immediately caught trying to steal second base.

The Dueces Wild club did not run wild on the basepaths. One of the two players who walked, power bat RF Yeison Perez, was also caught stealing in the top of the 4th, and concerningly immediately exited the game.

Three Crew relievers combined for six innings of one-run ball.

And yes, four straight shutouts to end your report.
 
---

Only one game each in the Dominican and Maryvale on Saturday. DSL Brewers 1 idle, while the Arizona kids face off in their traditional weekend matchup. The T-Rats have a matinee, early evening for everyone else. Here's to a nice day for all!

Organizational Scoreboard including starting pitcher info, game times, MiLB TV links, and box scores
Standings and sortable stat pages
Current Milwaukee Brewers Organization Batting Stats and Depth
Current Milwaukee Brewers Organization Pitching Stats and Depth
Think you could write a story like this? Brewer Fanatic wants you to develop your voice, find an audience, and we'll pay you to do it. Just fill out this form.
MORE FROM BREWER FANATIC
— Latest Brewers coverage from our writers
— Recent Brewers discussion in our forums
— Follow Brewer Fanatic via Twitter, Facebook or email