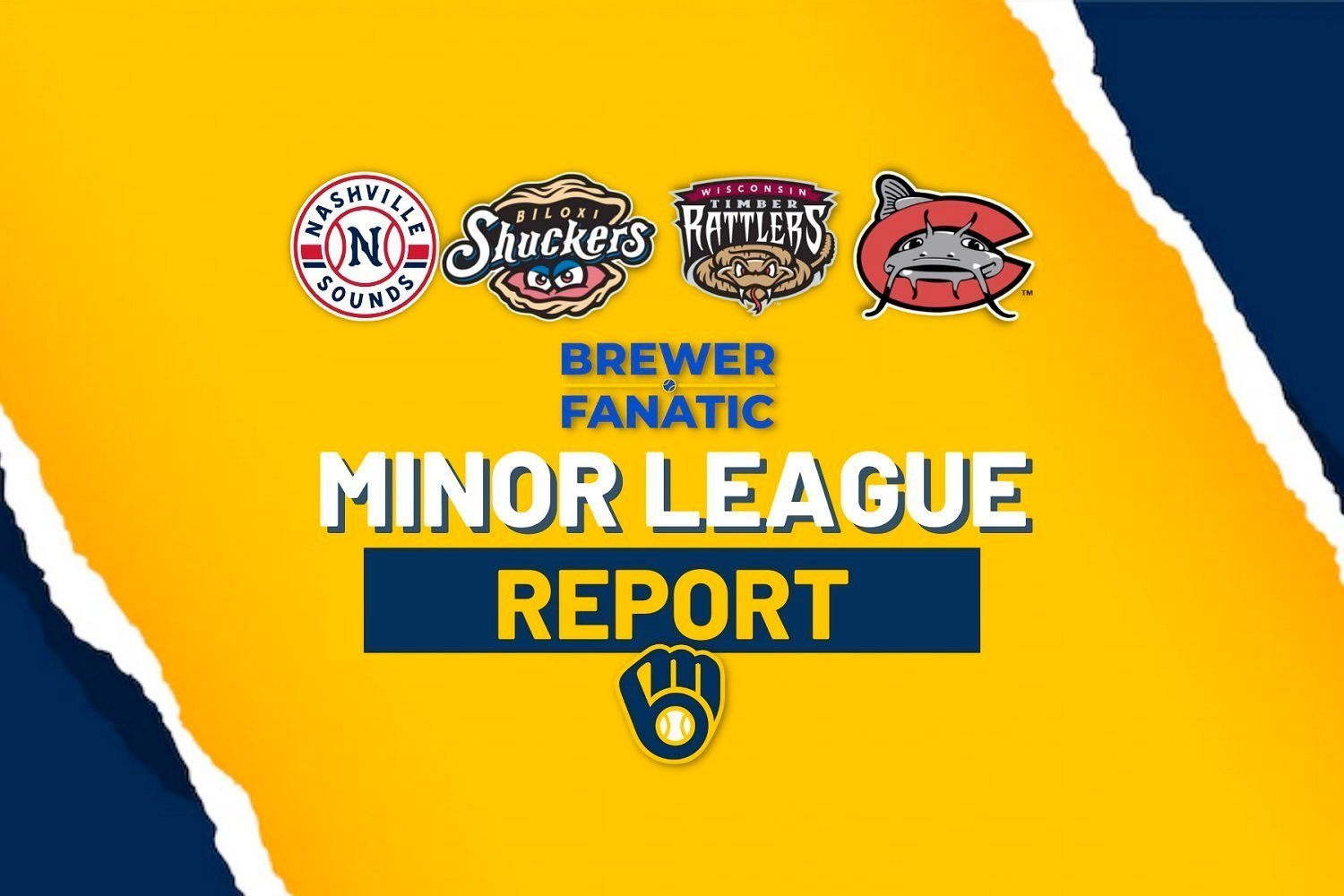 Image courtesy of BrewerFanatic
Transactions:
RHP

 

Peter Strzelecki

 

recalled to MLB Brewers from AAA Nashville (replacing injured RHP Trevor Gott)
RHP

 

Justin Topa

 

reinstated from 60-day injured list and optioned to AAA Nashville from MLB Brewers
RHP

 

Jonathan Beymer

 

(undrafted free agent from Campbell University) assigned to ACL Brewers Blue
RHP

 

Patricio Aquino

 

placed on ACL Brewers Gold's 60-day injured list
Aquino last pitched on July 29th. The 19-year-old Dominican native is in his 2nd pro season, first stateside. In eight 2022 appearances (seven starts) covering 34.1 innings, Aquino has struck out 49, walked 16 and plunked five. Twice this season, he's pitched six scoreless innings, netting highlight videos from the Player Development Team:
---

Final: Gwinnett (Braves) 7, Nashville 6, ten innings

Via the Sounds' site, game details, and we encourage readers to review each of the affiliate write-ups as part of their Link Report routine:

Sounds Comeback Bid Falls Short in Thriller - Nashville falls to 5-4 in extra-inning games

Pre-Game Media Notes / Box Score / Game Log

The Sounds, actually all the affiliates for that matter, make it difficult for us to highlight perspectives on the game outside of the fantastic write-ups they put together, even with such a classic affair like this contest.

To appreciate how this game went down, a read of the summary is a must.

Jake Cousins began his 30-day maximum rehab on July 26th. So, less than two weeks remain before the Brewers need to activate Cousins, who has looked strong thus far. Cousins could be called up or be optioned to Nashville. Either way, a 40-man roster spot would need to be opened up when he comes off the 60-day IL.

There are four catchers on the Sounds roster, it was 40-man roster backstop Jakson Reetz who saw the action in this one. This is while Mario Feliciano is needed on the big-league roster in Omar Narvaez' absence. The Crew is carrying five catchers on their 40-man roster currently.

Both managers were ejected in this game, with the Sounds' Rick Sweet booted while contesting an HBP of the opponent's foot by Cousins in the 9th. I went back and checked the video, Sweet was given a long leash - he was miffed that initially the home plate umpire indicated it was not an HBP but when the umpire crew got together, they decided it was. I thought it got the batter. But you have to envision Sweetie and his glorious moustache wearing the Margaritaville jersey (auction is wrapping up soon here).




There are multiple very worthwhile video clips on the Nashville Twitter Media Feed this AM. Don't blink or you'll miss the flash speed of both Garrett Mitchell and Esteury Ruiz. We'll pick this one clip to duplicate here. Do the Brewers extend a 40-man roster spot to Lucas Erceg this fall to prevent him from leaving via minor league free agency?
---

Final: Biloxi 3, Rocket City (Angels) 1

Castañeda Hurls Six Quality Innings as Shuckers Top Pandas 3-1 - Dillard Homers, Draws League-Leading 70th Walk
Pre-Game Media Notes / Box Score / Game Log
 
Dillard's .364 OBP this season is close to his pro career mark of .370. His splits vs LHP/RHP are not significant, seems he'd be better off in terms of a big-league projection if they were and he was absolutely mashing righties, but that's not the case. For him to carve out a Daniel Vogelbach-type path - remember, Dillard's only a first baseman now, he'll need a standout skill.

Tristen Lutz came out of the game after grounding out in the 7th. I went back and watched the MiLB.TV archive, it wasn't the type of grounder where Lutz had to go all-out, and it didn't appear he was favoring anything at the end of the play.

Closer Cam Robinson is going to be a very interesting name when it comes to Rule 5 protection this fall.
 
---
Final: Wisconsin 5, South Bend (Cubs) 1

Wisconsin Uses Three Relievers and Hits Three Homers for the Win - García, Acosta, and Chourio go deep while Schanuel, Middendorf, and Baker shut down South Bend
Pre-Game Media Notes / Box Score / Game Log
 
That's one thing we may not have realized about Jeferson Quero - oh, we knew he had legs, it was the flow on top ?.

Game is a microcosm - if your team can slug, you can win despite lack of an outstanding hit toolkit otherwise. If you can't slug, good luck even if you are piece-mealing best you can. XBH's certainly the key here.

As long as I was in MiLB.TV mode, figured why not make it a trifecta.

The next reliever was Ryan Middendorf. He pitched a scoreless fourth and a 1-2-3 fifth. In the sixth, Jordan Nwogu hit a high fly to left-center that was misplayed into a triple. Luis Verdugo knocked in Nwogu with a grounder to short to get South Bend on the scoreboard.

At the 02:09:30 hour/minute mark here, Jackson Chourio had a heck of a time in the drizzle-dark sky surrounding what should have been a standard warning track catch and the ball landed a few feet from him. This game should have been a shutout for the Brady Schanuel - Middendorf - Robbie Baker triumvirate.

By the way, did you know that Baker surprisingly qualifies for minor league free agency this fall? I hope to put the wraps on my BrewerFanatic article with the details on that qualifying list by this evening, so look for that!
 
---

Final: Carolina 6, Delmarva (Orioles) 0

Cornielle Totals 10 Ks and Perez Homers in 6-0 Victory - Alexander Cornielle reached double digits in strikeouts while punching out 10 over six scoreless innings
Pre-Game Media Notes / Box Score / Game Log

Twice before within this season, the @BrewersPD Twitter feed had spotlighted Alexander Cornielle, here you'll see. I'm guessing the soon-to-be 21-year-old Dominican native will have a third highlight reel posted this week after this incredibly strong candidate for farmhand pitcher game of the year. No walks (one HBP)!

Sorry Hedbert, you still should come back to Carolina for a month or two next spring and show you can dominate in other aspects of your game - we know you can occasionally do this:
Six of first-round pick Eric Brown Jr's. ten professional base hits have gone for extra bases - triple and double in this game.

Just 1-for-8 (one walk, no K's) in the two games since his return, but how great is it that Hendry Mendez is back after that scary crash landing on July 31st?
 
---

Final: ACL Brewers Gold 8, ACL Brewers Blue 2, seven innings as scheduled
Box Score / Game Log

The Blue Man Group (now 17-30) was being shut out until rehabbing Timber Rattler first baseman Ernesto Martinez clubbed his 2nd Arizona home run in the final frame, OPS .969 in six games. Guessing there's a good chance he joins up with his T-Rat teammates on Tuesday.

2022 has been rough for 19-year-old third baseman Jheremy Vargas, .579 OPS in 84 Carolina games. Shaking off his recent demotion, 3-for-4 with two doubles for Team Blue in this one.

For the 26-20 Golden Boys, six pitchers toed the slab (haven't mixed that phrase in enough this year), with five avoiding any runs against. 

In typical Jakob Brustoski fashion, his scoreless inning didn't lack for drama: leadoff double, wild pitch, K, K, walk, walk, K. In 27.2 IP between Carolina and Maryvale, the powerful hulking southpaw has fanned 64, walked 44, hit another eight, and thrown 28 wild pitches. I'll let you reattach your brain to your skull before you attempt to re-read that sentence.

Nice game for 12th round teenager Luke Adams, 2-for-3, 2 SB, 2 RBI. He also played left field for the first time (3rd base in the few games prior).
 
---

Final: DSL Nationals 5, DSL Brewers #2 Squad 0, seven innings as scheduled
Box Score / Game Log

In four of the last five Brewers DSL games, Teams #1 and/or #2 have been shutout. Thankfully, Team One was idle Saturday...

RHP Daniel Corniel (not to be confused with today's Carolina star Alexander Cornielle) pitched pretty well, SS Demetrio Nadal reached three times, and catcher Eric Martinez (playing first base here) doubled and walked to lift his OPS to .861 on the season. All three mentioned are just 18 years old.
 
---

On Sunday, Wisconsin plays opposite the big-league Crew, but all the other affiliates have early evening games you can sample after Milwaukee reclaims the NL Central lead. As is the norm, the rookie kids are idle until Monday. As always, thanks for reading!
Organizational Scoreboard including starting pitcher info, game times, MiLB TV links, and box scores
Standings and sortable stat pages
Current Milwaukee Brewers Organization Batting Stats and Depth

Current Milwaukee Brewers Organization Pitching Stats and Depth
Think you could write a story like this? Brewer Fanatic wants you to develop your voice, find an audience, and we'll pay you to do it. Just fill out this form.
MORE FROM BREWER FANATIC
— Latest Brewers coverage from our writers
— Recent Brewers discussion in our forums
— Follow Brewer Fanatic via Twitter, Facebook or email