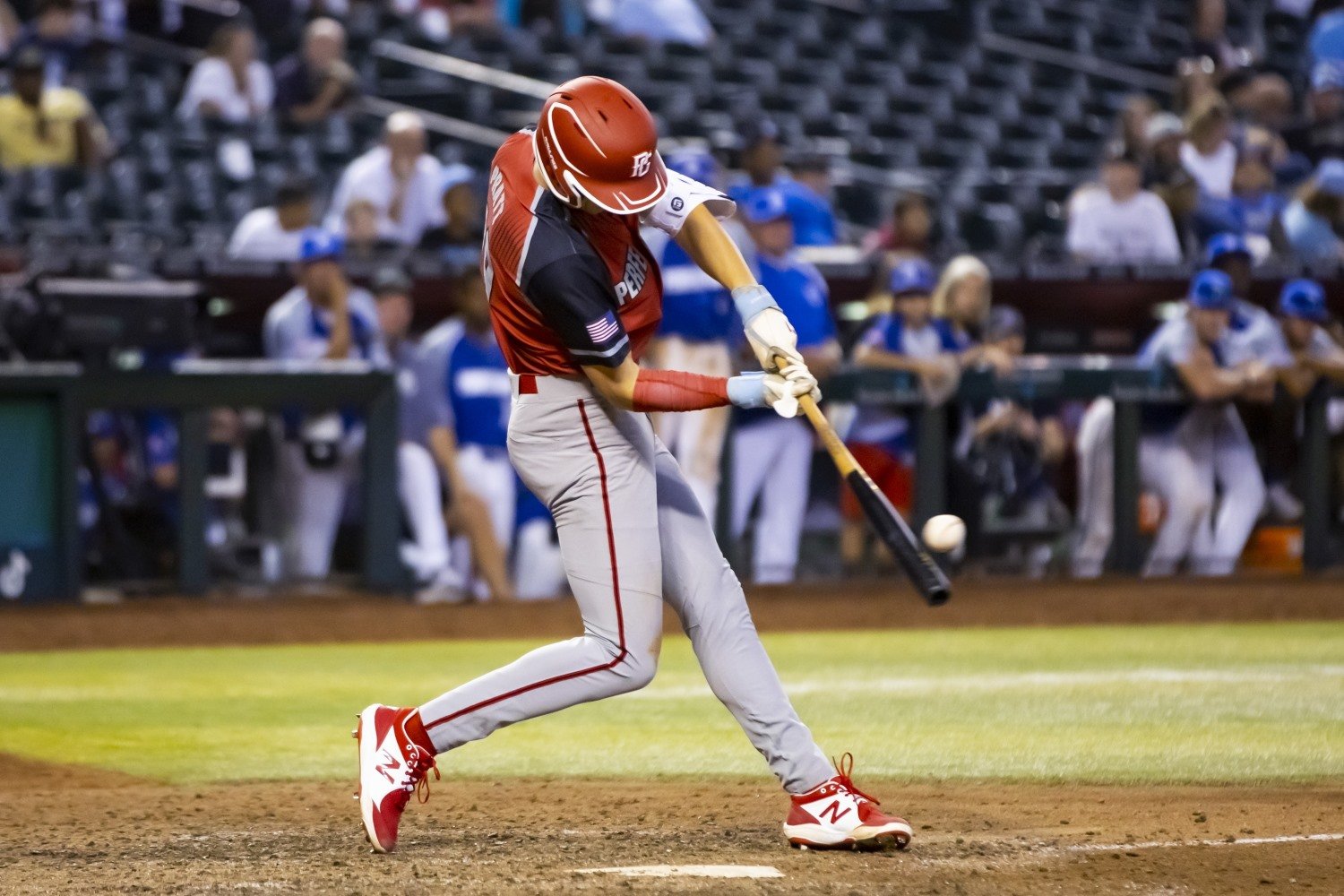 Image courtesy of © Mark J. Rebilas-USA TODAY Sports
Eric Bitonti (SS) - Picked 87th Overall
A shortstop out of Aquinas High School in California, the 17-year old received positive reception from scouts. He demonstrated plus power and arm strength.
The slot value of the 87th overall pick was $796,200.
Here's a snippet of MLB.com's scouting report, where he was ranked 68th overall.
Quote

Bitonti checks off a lot of boxes. He's big and physical, with even more strength to come in his 6-foot-4 frame. He's a left-handed hitter with tremendous raw power, and even though he has long levers, he tends to be short to the ball. Though he has solid plate discipline and can pick up spin, Bitonti didn't hit as well as some expected over the summer. Despite that, some scouts feel he'll be able to make adjustments with professional instruction and has the chance to hit for average and power.
As for his defense, here's a portion of Baseball America's scouting report, where he was ranked 59th overall:
Quote

Bitonti moves remarkably well for his large size and shows good range and lateral mobility at shortstop. He projects to move to third base as he fills out and should be an above-average defender with plus arm strength. Bitonti requires refinement, but his youth, tools and athleticism give him a chance to be drafted in the top two rounds. He is committed to Oregon.
Jason Woodward (RHP) - Picked 119th Overall
A pitcher from Florida Gulf Coast University, he was unranked by MLB and Baseball America. He was picked earlier than expected, especially given his relatively recent Tommy John surgery. In his most recent season with FGCU, he posted a 1.32 ERA and 0.95 WHIP but in a small sample of just 13 2/3 innings.
The slot value of the 119th overall pick was $557,900.
Ryan Birchard (RHP) - Picked 155th Overall
A pitcher from Niagara County Community College, Birchard was also unranked by MLB and Baseball America. In his last season with NCCC, he posted a 1.88 ERA and 76 strikeouts over 38 1/3 innings pitched.
The slot value of the 155th overall pick was $392,700.
Cooper Pratt (SS) - Picked 182nd Overall
Hailing from Magnolia Heights High School in Mississippi, Pratt was ranked somewhat highly as a shortstop. A well-rounded prospect, he showed off strong skills in almost all parts of his game. 
The slot value of the 182nd overall pick was $309,900.
MLB.com ranked him 45th overall, praising his defensive upside.
Quote

An average runner out of the batter's box, Pratt has solid speed once underway. With his instincts and solid, accurate arm, the Mississippi recruit may be able to remain at shortstop despite being bigger than most players at the position. He's a more consistent defender than [Gunnar] Henderson was at the same stage and has all the tools to profile at third base if he has to move.
Baseball America was slightly less bullish overall, ranking him 63rd, but their scouting report hints at his offensive upside.
Quote

Pratt's profile starts with his contact ability and batting eye. Over a 668-pitch sample, Pratt has just a 12% overall miss rate and 17% chase rate. He consistently makes good swing decisions and he almost never misses on pitches in the zone, where his miss rate falls to just 6%. Pratt has a loose, crouched setup at the plate with good rhythm and a clean righthanded swing that starts with a medium leg kick. He has solid raw power that is accessed mostly to the pull side now, but his frame suggests a lot more strength and power could be coming in the future.
Tate Kuehner (LHP) - Picked 212th Overall
A lefty from the University of Louisville, Kuehner posted a respectable 3.99 ERA and 1.278 WHIP over 38 1/3 innings, primarily being used as a reliever but also making two starts. He was unranked by both MLB.com and Baseball America.
The slot value of the 212th overall pick was $242,400.
Craig Yoho (RHP) - Picked 242nd Overall
Craig Yoho is a pitcher from Indiana University who posted a 3.41 ERA and 1.405 WHIP coming out of the bullpen in the 2023 season across 37 innings. He was also an unranked prospect.
The slot value of the 242nd overall pick was $196,700.
Mark Manfredi (LHP) - Picked 272nd Overall
Manfredi is a lefty from the University of Dayton who made 15 starts this past season and posted a 5.67 ERA to go along with a 1.374 WHIP. He was also an unranked prospect.
The slot value of the 272nd overall pick was $176,700.
Morris Austin (RHP) - Picked 302nd Overall
A right-handed pitcher from Houston Christian University, Austin posted a 9.00 ERA with a 1.778 WHIP over 9.0 innings coming out of the bullpen. Over the 44 1/3 innings of his college career, he posted a 6.50 ERA with a 1.805 WHIP.
Think you could write a story like this? Brewer Fanatic wants you to develop your voice, find an audience, and we'll pay you to do it. Just fill out this form.
MORE FROM BREWER FANATIC
— Latest Brewers coverage from our writers
— Recent Brewers discussion in our forums
— Follow Brewer Fanatic via Twitter, Facebook or email