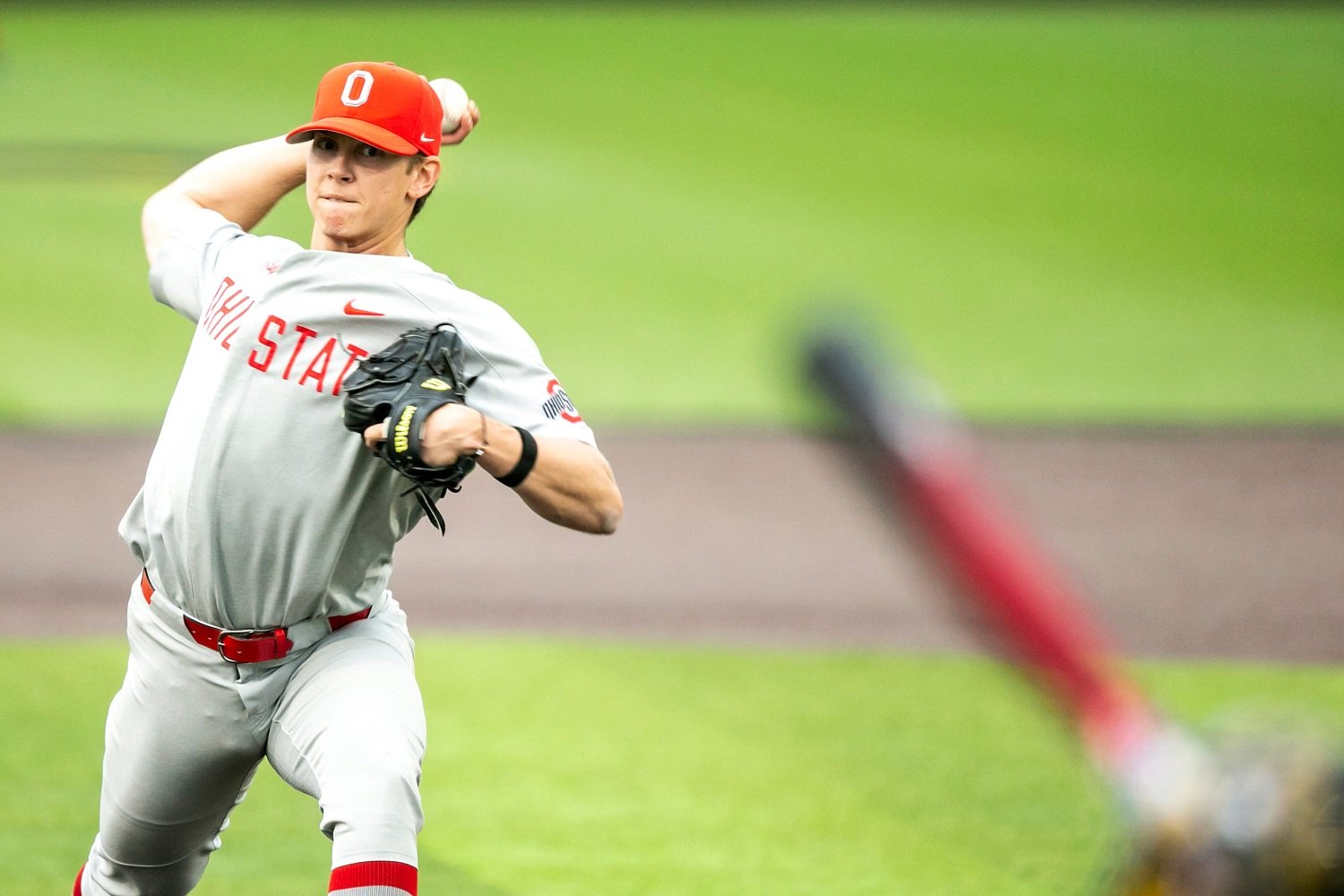 Image courtesy of © Joseph Cress/Iowa City Press-Citizen / USA TODAY NETWORK
Bishop Letson (RHP) - Picked 332nd Overall
A pitcher out of Floyd Central High School in Indiana and a current commit to Purdue University, he comes with a lanky, 6 '4 170-pound frame. Reported to have a fastball in the low 90s to go along with a slider and a developing changeup, Letson is one of many long-term projects selected in this portion of the draft. 
Here's  portion of MLB.com's scouting report, where he was ranked 179th overall.
Quote

Letson has a quick, whippy arm and an athletic delivery that he repeats well. There's a significant gap between his present stuff and his ceiling, but he could have three solid or better offerings once he matures physically. He has committed to Purdue, but is considered relatively signable.
Bjorn Johnson (LHP) - Picked 362nd Overall
Johnson is a lefty from Lincoln High School in Washington who is currently committed to play at Auburn. With a 6'3", 200-pound frame, he's already big and physical, but could still fill out and add some velocity. His repertoire includes a sinker in the low 90s, a changeup, and a curveball.
Brett Wichrowski (RHP) - Picked 392nd Overall
Wichroski is a 20-year-old from Bryan University who made seven starts and seven relief appearances in his most recent season, posting a 4.50 ERA and 1.48 WHIP over 50 innings. 
Hayden Robinson (EHP) - Picked 422nd Overall
A recent graduate from Berwick High School in Louisiana, Robinson has committed to Nicholls State University. He is six feet tall and weighs 180 pounds, but could get bigger and stronger as he matures, whether that be in pro ball or college.
Josh Adamczewski (SS) - Picked 452nd Overall
Adamczewski recently graduated from Lake Central High School in Indiana (a hotbed for the Brewers this year). He's six feet tall and 190 pounds. The final position player taken by the Brewers, he's shown to be an adroit lefty hitter. He committed to Ball State University last year.
Josh Timmerman (RHP) - Picked 482nd Overall
Timmerman is a 6'4", 195-pound righty from Ohio State University where he recently completed his first season. He posted an 8.75 ERA and 1.732 WHIP over 23 2/3 innings pitched. He performed much better in the Cape Cod League this summer, posting a 2.00 ERA and 0.83 WHIP over 18 innings pitched. The Brewers might have spotted something there to make them believe that Timmerman has turned a corner, and that they can unlock even more with him.
Jacob Gholston (RHP) - Picked 512th Overall
With an imposing (if slender) 6'6", 200-pound frame, Gholston is from Flower Mound High School in Texas. Currently committed to the University of Oklahoma, it is already reported that he has decided to attend the university and forgo signing with the Brewers organization. It's possible the Brewers took him as a fallback option, should some combination of dominoes fall and leave them with an unexpected surplus of bonus pool money left to spend. That's unlikely to actually happen, but teams often hedge this way near the end of the draft.
Here's some of MLB.com's scouting report, where he was ranked 181st overall.
Quote

Gholston began his high school career as a shortstop, became a full-time pitcher as a sophomore and didn't have any college scholarship offers at the end of his junior season. He didn't blow up on the showcase circuit last summer either, but his stuff picked up this spring and his combination of athleticism and projection intrigues scouts. He dominated in the regular season and the early playoffs, though he missed the end of Flower Mound's Texas 6-A championship run when he tweaked his back while warming up for the semifinals. 

Gholston's fastball made a jump from 85-88 mph last spring to 88-92 in 2023, with plenty of sink and armside run. He has the potential to gain much more velocity in the future as he adds much needed strength to his 6-foot-6 frame and focuses on baseball after also playing basketball in high school. His upper-70s slider features sweep and depth, while his low-80s changeup combines fade and sink. 
Dylan Watts (RHP) - Picked 542nd Overall
Dylan Watts is a 6'2", 180-pound pitcher from Tacoma Community College in Washington. In his freshman season, he had a mind-blowing 0.23 ERA over 38 1/3 innings pitched in two starts and 12 relief appearances.
Isaac Morton (RHP) - Picked 572nd Overall
Morton is a 6'2", 189-pound prep righty from Spring Lake Park High School in Minnesota. He is currently committed to Texas A&M and possesses a strong fastball with a developing changeup and cutter.
Justin Chambers (LHP) - Picked 602nd Overall
Chambers is a 6'2", 212-pound lefty from Basha High School in Arizona. He recently committed to Washington State University.
Think you could write a story like this? Brewer Fanatic wants you to develop your voice, find an audience, and we'll pay you to do it. Just fill out this form.
MORE FROM BREWER FANATIC
— Latest Brewers coverage from our writers
— Recent Brewers discussion in our forums
— Follow Brewer Fanatic via Twitter, Facebook or email