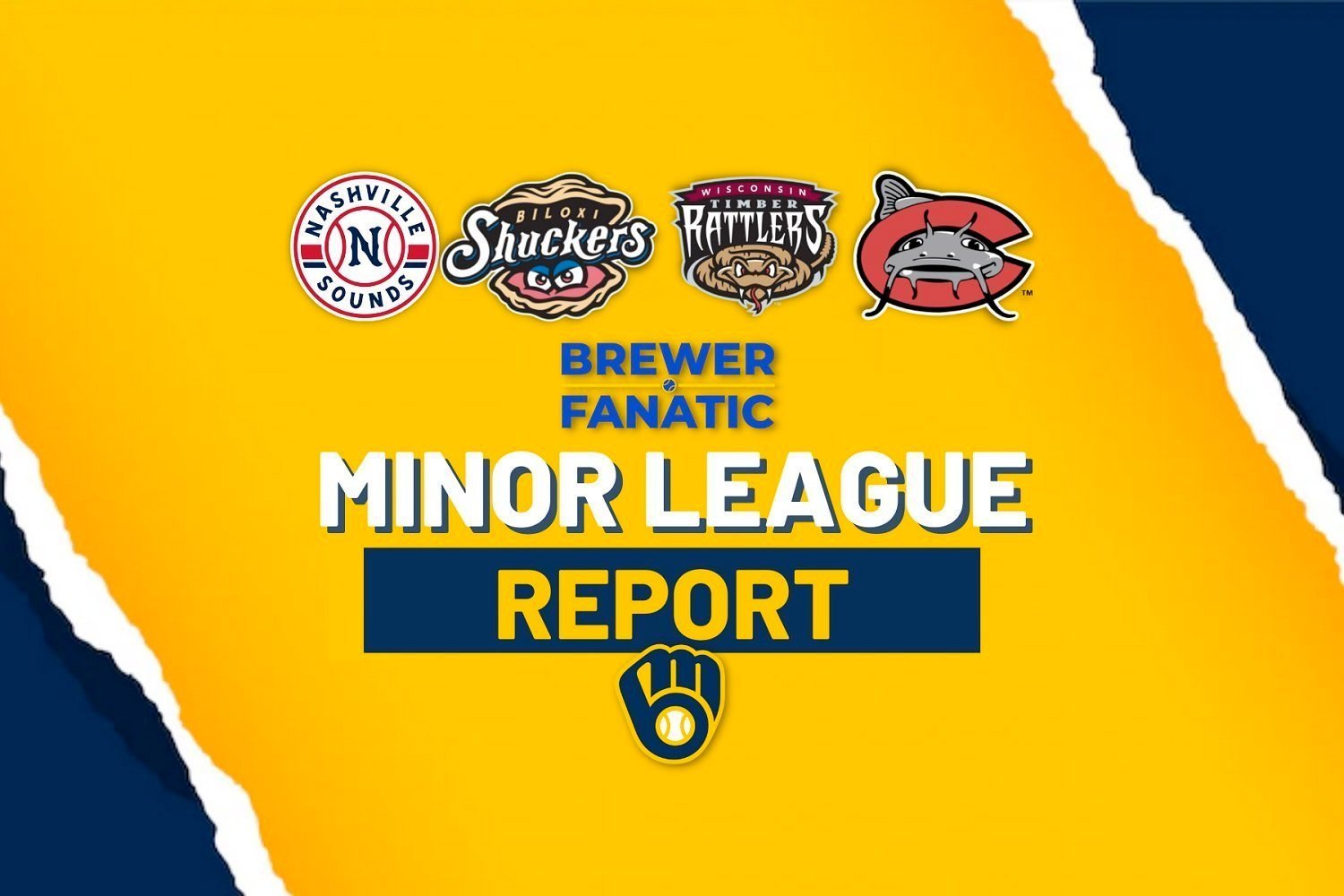 Image courtesy of BrewerFanatic
Transactions:

- RHP Justin Bullock activated from AA Biloxi's 7-day injured list
- RHP Luis Contreras activated from AA Biloxi's 7-day injured list
- RHP Trevor Tietz assigned to ACL Brewers Gold from ACL Brewers Blue
- LHP Angel Perdomo transferred to AAA Nashville's 60-day injured list
- LHP Clayton Andrews transferred to AAA Nashville's 60-day injured list
The Brewers never did release specific injury information on Perdomo and Andrews, and given Perdomo's 40-man roster status, you'd think that we'd know more at this point. Should the Brewers be in a pinch for a 40-man roster spot, they could call Perdomo up to the big-league roster and place him on the 60-day IL, at which point Perdomo would be paid the pro-rated major league minimum.

***
Nashville Pre-Game Media Notes
Final: Nashville 8, Memphis (Cardinals) 4, ten innings
Box Score / Game Log
Via the Sounds' site, game details, and we encourage readers to review each of the affiliate write-ups as part of their Link Report routine:

Sounds Outlast Redbirds in Extra Innings
Lots of juicy details in that just-linked report. Unfortunately, not much in the way of juicy visuals for this road game. However, after reading about it, we're all curious to see the 8th-inning inside-the-park moment for the bad guys and burly Alec Burleson off a Lucas Erceg fastball -
The game was in-effect a "winner is in first place" contest, so nice to see the Sounds reign supreme at the end of the evening. 
Doesn't it feel as though Brice Turang's OPS should be higher than .685? On base four times here, his line sits at .275/.324/.361. 
Josh Lindblom's $2.75 million salary for 2022 is a sunk cost for the Brewers, still no indication he's on the cusp of being re-added to the 40-man and 26-man rosters. After a three-start rough patch, this was an excellent showing, and on his 35th birthday to boot.
Big, big Garrett Whitley home run leading off the 9th, clearly.
***
Biloxi Pre-Game Media Notes via the Shuckers' Virtual Press Box    
Final: Biloxi 5, Chattanooga (Reds) 2
Box Score / Game Log 

Via the Shuckers' site, game details, please review: 
Pitching Dominates In Shuckers 5-2 Win Over Chattanooga In Wednesday Matinee - Devanney Homer Seals Biloxi Win
The Biloxi staff plucked three video clips from the Chattanooga feed and they are included below (remember, all four full-season affiliates are on the road this week). I admit I was taken aback by the calls from the Voice of the Lookouts, so looked him up (pun intended). 
Larry Ward, the Lookouts' veteran voice - Chattanooga icon is longest-tenured Double-A broadcaster
Respect for the distinguished long career, but those calls, whether featuring the opponent's success or not, would not sustain me for a full season. We're pretty blessed with our affiliate voices.
Sal Frelick, Jakson Reetz and Gabe Holt enjoyed the midday affair resting in the dugout.
Joey Wiemer has spoiled us, he's just 7-for-31 in June with ten K's (.701 OPS), and we need to remember he missed a week with a hand injury. His teammates picked up the slack here.
The Biloxi bullpen has thankfully righted the ship in recent days. Their collective efforts for much of this season pretty much dashed first-half title hopes, though the Wednesday appearances by RHP's Robbie Hitt and Zach Vennaro were representative of their own solid work throughout 2022.
***
Wisconsin Pre-Game Media Notes via their all-encompassing Virtual Press Box
Final: Great Lakes (Dodgers) 5, Wisconsin 0 
Box Score / Game Log
Via the Timber Rattlers' site, game details, please review:
Wisconsin Held to One Hit in 5-0 Loss - Great Lakes pitchers strike out sixteen to beat the Rattlers
This is going to sound like the old-man, Link Report vet (guilty on both descriptions), but it used to be we'd see a 16-strikeout game, on either side of the ledger, and it'd merit multiple paragraphs on just the uniqueness of the performance. Now, we just are immune to it - "oh, 16 strikeouts". Incredible in some ways how pitching has evolved and several years into this cycle now, batters haven't been able to overcome performances and/or philosophies at the plate.
Now, we link to this info at the very bottom of each report you read, perhaps you've taken advantage. But when you sort the strikeout column on the batting side, you'll see all four Brewers affiliates are smack-dab in the middle of their respective leagues. From a pitching perspective, the four staffs don't fare as well, not fanning as many as most of the staffs, but they're not buried at the very bottom of the rankings, either. So overall, in the perspective of the game at this time in this regard, despite the K numbers being jarring at times, Milwaukee affiliates are pretty representative of the sport, not shining, and hardly a disaster.
Sortable league stat pages (hitting / pitching):
Coming up on two weeks since catcher Darrien Miller exited a game on June 3rd, yet to return to game action.
***
Final: Columbia (Royals) 2, Carolina 1
Box Score / Game Log

Via the Mudcats' site, details, please review:
Quero Homers as Mudcats Drop Fifth Straight - Israel Puello and Edwin Jimenez held the Fireflies to just four hits in the tough luck loss
The Kansas City affiliate was just 16-41 entering this series, and the Mudcats have dropped the first two games. Opposite of good. 
Let's remind ourselves this is Jeferson Quero's age-19 season. His 1st inning error (6th of the season) didn't help but was offset by the blast above. Quero's .690 OPS is just fine given his age and the responsibility shouldered upon him for his first taste of full-season ball. 
I continue to look at this ultra-young Carolina roster and sense that several players would absolutely blossom and crush if given the chance to spend the first half of 2023 back in Carolina. But given the sheer roster numbers, I fear some may open with a similarly young-for-league team in Appleton to begin 2023, not sure if that'll be the best development path. Regardless, like Carolina staff this year, Timber Rattler employees had best brush up on their Spanish in preparation for the wave coming next season. (Yes, of course, hosting Latin players would not be completely new for the Wisconsin organization).
My co-worker Daniel noted in our Minor League Forum's daily thread on the Mudcats woes in this game:
2-on, nobody out 1st inning - didn't score
Bases loaded, nobody out 7th inning - didn't score
2-on, nobody out 9th inning - didn't score
Wow, I thought the shade of 2022 big-league Brewers yellow was bright, but those Columbia uniforms are LIT, and living up their Fireflies name.
***
We are back to all-evening action Thursday for the full-season teams, and the rookie complex teams are back in action. I hope to at least assist Daniel with the Dominican recaps while he brings insights from the other six games to you. Until Friday morning then, take care and be safe on your Thirsty Thursday.
Organizational Scoreboard including starting pitcher info, game times, MiLB TV links, and box scores

Arizona Complex League Scoreboard

Dominican Summer League Scoreboard

Standings and sortable stat pages

Current Milwaukee Brewers Organization Batting Stats and Depth

Current Milwaukee Brewers Organization Pitching Stats and Depth
Think you could write a story like this? Brewer Fanatic wants you to develop your voice, find an audience, and we'll pay you to do it. Just fill out this form.
MORE FROM BREWER FANATIC
— Latest Brewers coverage from our writers
— Recent Brewers discussion in our forums
— Follow Brewer Fanatic via Twitter, Facebook or email