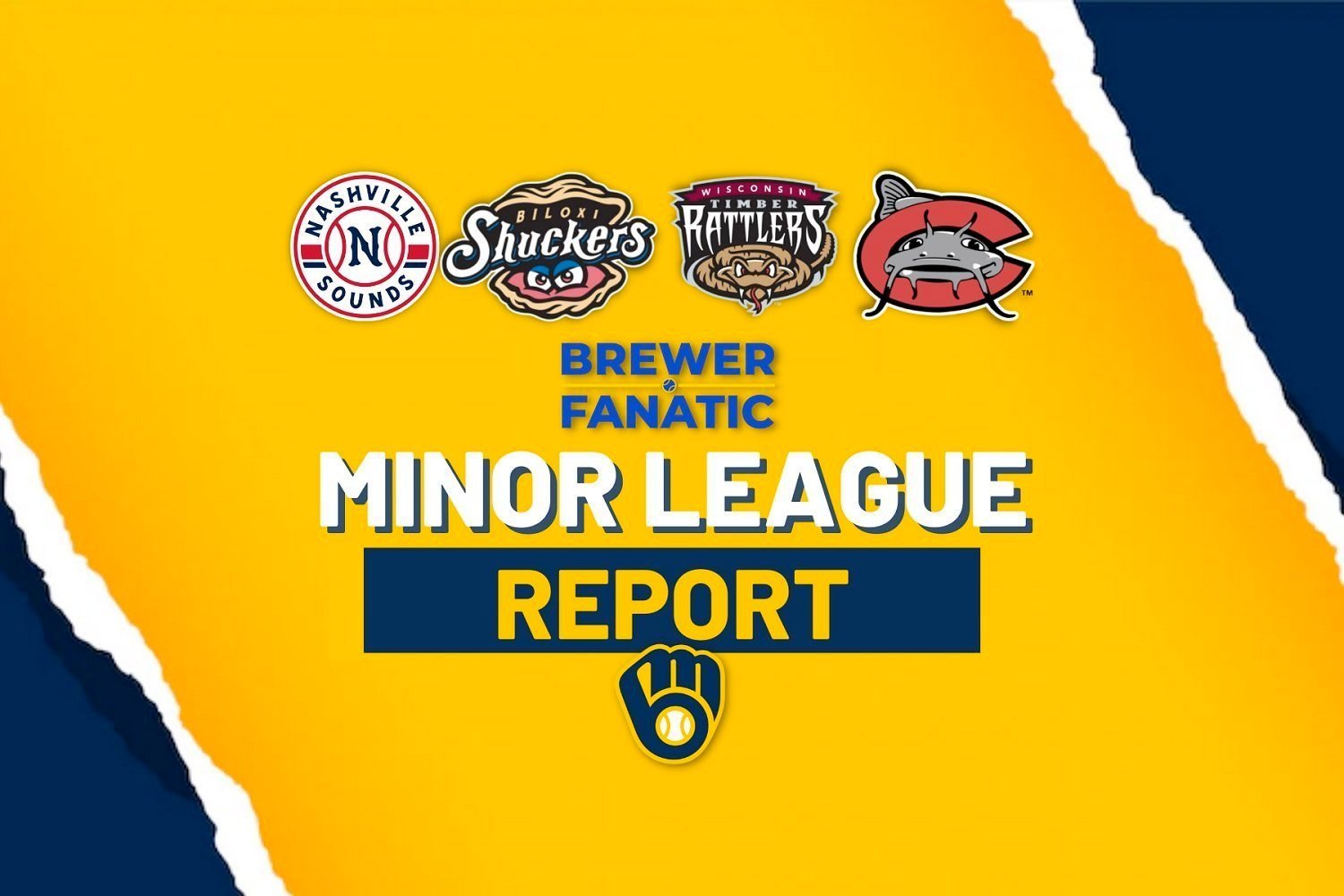 Image courtesy of BrewerFanatic
Transaction: RH reliever Trevor Kelley  was recalled to Milwaukee from Nashville - Kelley had spent the past several days with the big-league Brewers as a member of their taxi squad after his June 28th option. Perhaps you heard Craig Counsell discuss the complexities and balancing act of the taxi squad on his Friday WTMJ pre-game interview, how to keep players ready for action when clearly, they can't get into formal games. Counsell only foresees the taxi squad existing purely for Covid-related reasons.

***

Nashville Pre-Game Media Notes
Final: Nashville 13, Indianapolis (Pirates) 4
Box Score / Game Log

Via the Sounds' site, game details, and we encourage readers to review each of the affiliate write-ups as part of their Link Report routine:

Sounds Even Series With Two Big Innings - Ethan Small logs second consecutive quality start, earns fifth win of the year

There were some striking similarities between this game and the blowout 19-2 thumping by Milwaukee Friday night over Indianapolis' parent club. The Brewers put together eight- and seven-run frames, while the Sounds twice plated five in an inning (and added a three-spot for good measure). Both clubs had their aces on the mound (Corbin Burnes, Ethan Small ).

After a stretch of four starts in which he walked four, one, five and four batters, never going more than 4.2 innings, Small has back-to-back starts with one base on balls over 13 innings. Small fanned ten on June 25th, and just one Friday night. Do you see an enigma - a mystery wrapped in a riddle? Have to love those recent efforts, though!
Congrats to 26-year-old RH reliever Luis Contreras on his one-inning scoreless AAA debut, though he loaded the bases with one out before working out of his jam.
Easier to catch foul pop-ups with a catcher's mitt? Pedro Severino was charged with an error on a dropped foul fly while playing first base. going to be fascinating what happens there. Speaking of a mystery wrapped in a riddle, going to be fascinating what happens there.
Mystery #3 - what happened to Pablo Reyes mid-game? I try to make sense of it here. 
Brice Turang was on base three times, but do you know what else? All 25 of Turang's hits in June were singles. In May, just three of 27 hits went for extra bases. Turang batted .260 (OBP .295) and .263 (OBP .327) respectively those months. Naturally, his lone base hit Friday was indeed a single.
Meanwhile, Abraham Almonte has no such issue with XBH's. He's slugging .529.
 ***
Biloxi Pre-Game Media Notes via the Shuckers' Virtual Press Box

Final: Mississippi (Braves) 4, Biloxi 0
Box Score / Game Log 

Via the Shuckers' site, game details, please review: 

Shuckers Shut Out By M-Braves - Knarr Turns in Quality Outing in Loss

If you want playing time in the Brewers organization, Biloxi is where you want to be. With Sal Frelick (apparent hamstring) and Gabe Holt (unknown injury) sidelined but not on the injured list, the only two current bench players are the backup catchers, Nick Kahle and Jason Lopez. Fun for 21-year-old CF Terence Doston to be in the mix, but for someone who has yet to even see Carolina or Wisconsin, is this best for his development curve? Surely, we thought Doston's May 19th Biloxi placement was a temporary emergency assignment.

Only one misfire in five starts at the AA level for LHP Brandon Knarr, he's so solid. It's a darn shame he'll always go down as "undrafted", when clearly that was only due to the 2020 five-round draft. When he hits MLB, that won't matter. If you're a subscriber, you'll read that The Athletic's Will Sammon ended up including Knarr (along with OF Joe Gray, Jr. and RHP T.J. Shook) in his proposed Andrew Benintendi trade package with his Royals' beat writer accomplice. Sammon did also hint that Milwaukee would like one additional piece, like a controllable reliever, in that deal.
You know, I won't, but I could vent as to how we still don't know why OF Garrett Mitchell hasn't played since May 13th (Bally Sports had indicated an oblique injury weeks ago, but they don't include that note in their weekly prospect roundup any longer), Wait, too late on the venting...

***
Wisconsin Pre-Game Media Notes via their all-encompassing Virtual Press Box
Final: Wisconsin 12, Cedar Rapids (Twins) 9
Box Score / Game Log
Via the Timber Rattlers' site, game details, please review:
McGee Drives in Six and Miller Drives in Five for 12-9 Wisconsin Win - Timber Rattlers score eight runs in first inning and built 12-2 lead

First of all, the latest Timber Rattlers jersey auction (Military Appreciation) ends Sunday, and I love the fact that big leaguer Alex Hall 's jersey is currently the highest bid-upon.

I know it was included in the detailed game summary you just read (you did, right? No? I'll wait...), but the video below is mandatory viewing, if for nothing else that Ashton McGee' s huge night was awesome, yet the most entertaining moment was his face-plant/stumble trying to stretch his gapper to a triple.
 
And do yourself a favor whenever Chris Mehring and Kyle Lobner make their Postgame Podcast available and find time for the approx. 20-minute listen.

What to make of this performance by LHP Antoine Kelly ? Bizarre comes to mind. Kudos to the Cedar Rapids squad, not a single Timber Rattler was hit by a pitch after half-a-dozen Kernels were plunked in the game. Thankfully no one had to exit after their HBP. And hopefully no retaliation after a night of caring to the bruises.

Awesome to have the April version of catcher Darrien Miller back, after his May slump and injury time off. Miller's OPS was .911 in the first month.

Didn't bring Doug Melvin and Gord Ash to Appleton? Missed photo opp.
By the way, yeah, that game was wild in that it came down to the end like that. Goodness.

***
Carolina Pre-Game Media Notes (unavailable)
Final: Carolina 5, Fayetteville (Astros) 2
Box Score / Game Log

Via the Mudcats' site, details, please review:

Cruz Cruises as Mudcats Win Second Straight 5-2 - Stiven Cruz totaled a career-high six innings and struck out five in his scoreless outing
Stiven Cruz another early success story. Just 20 years old out of Nicaragua, dominant in 2021 during his rookie season in the Dominican Summer League, the Brewers saw him in extended spring in Maryvale and on May 12th decided that - "no, you don't need Arizona Complex League action". Six weeks later with Carolina, Cruz has barely more walks (ten) than starts (nine). Talk about wishing our lives away, but I bet many of us can't wait to see the fruits of these lower-levels and what we're talking about in three or four years.

Consider this - it's been nine games without a multi-hit effort by Jackson Chourio (double in this one), yet his OPS still sits at .938.

***

Final: ACL White Sox 4, ACL Brewers Blue 2
Box Score / Game Log

One bad inning, a four-run 2nd, hurt 19-year-old 2nd year Dominican RHP Arielbi Gonzalez and the club, despite five stellar innings of relief work by three of Gonzalez' teammates.

Monster game for 2021 14th round pick Jace Avina - a triple shy of a cycle, but with four hits (two singles), so even better than your standard "triple shy of the cycle" comment. The recently turned 19-year-old out of a Nevada high school did not see formal action last summer. This is probably a good time to link to the scouting reports on Avina we had available on draft day 2021. So yes, add another center field prospect into the mix, .993 OPS through his first 61 AB's.
Tough to win when RISP shows 0-for-7.

***
Final: ACL Brewers Gold 4, ACL D-Backs Black 3, seven innings as scheduled
Box Score / Game Log

Second baseman Gregory Barrios scored the go-ahead run in the top of the final frame when he doubled with two out, and later crossed the plate on a wild pitch.

Brewers name Minor League Players and Pitchers of the Month for June
Castillo and Quero Earn Players of the Month; Jarvis and Robinson Named Pitchers of the Month

Congrats to all, and 18-year-old corner outfielder Luis Castillo (DH'ing here) kicked off July in style with a two-run shot pulled to right field in the 6th. Looking forward to eventual video from Brewers Player Development on Luis (1.109 OPS through 65 at-bats -- .629 OPS in 139 at-bats in the DSL in 2021). Sweet!
***

Final: DSL Texas Blue 8, DSL Brewers #2 Squad 7, eleven innings
Box Score / Game Log

Via @damuelle, from our daily as-it-happens discussion thread on the Minor League Forum:

I love the DSL Brewers2 squad giving us a reminder that they're essentially high schoolers, so expect bizarre outcomes from time to time:
No hit through six innings and trailed 3-0
Scored five runs on one hit in the 7th inning for a 5-3 lead
Scored two runs in the 11th inning to re-take the lead at 7-5. They still had only one hit in the entire game at this point, but then collected a 2nd (meaningless) hit later that same inning
Lost 8-7 in the bottom of the 11th. Outhit 10-2 in the game, but collected eight walks and three HBPs
***
Postponed: DSL Tigers Blue at DSL Brewers 1

***
All evening action at the full-season affiliate home parks Saturday, while the DSL kids wrap up their week of play and the two Maryvale teams square off in morning action. Be safe all weekend, folks!

Organizational Scoreboard including starting pitcher info, game times, MiLB TV links, and box scores

Arizona Complex League Scoreboard

Dominican Summer League Scoreboard

Standings and sortable stat pages

Current Milwaukee Brewers Organization Batting Stats and Depth

Current Milwaukee Brewers Organization Pitching Stats and Depth

Think you could write a story like this? Brewer Fanatic wants you to develop your voice, find an audience, and we'll pay you to do it. Just fill out this form.
MORE FROM BREWER FANATIC
— Latest Brewers coverage from our writers
— Recent Brewers discussion in our forums
— Follow Brewer Fanatic via Twitter, Facebook or email
1