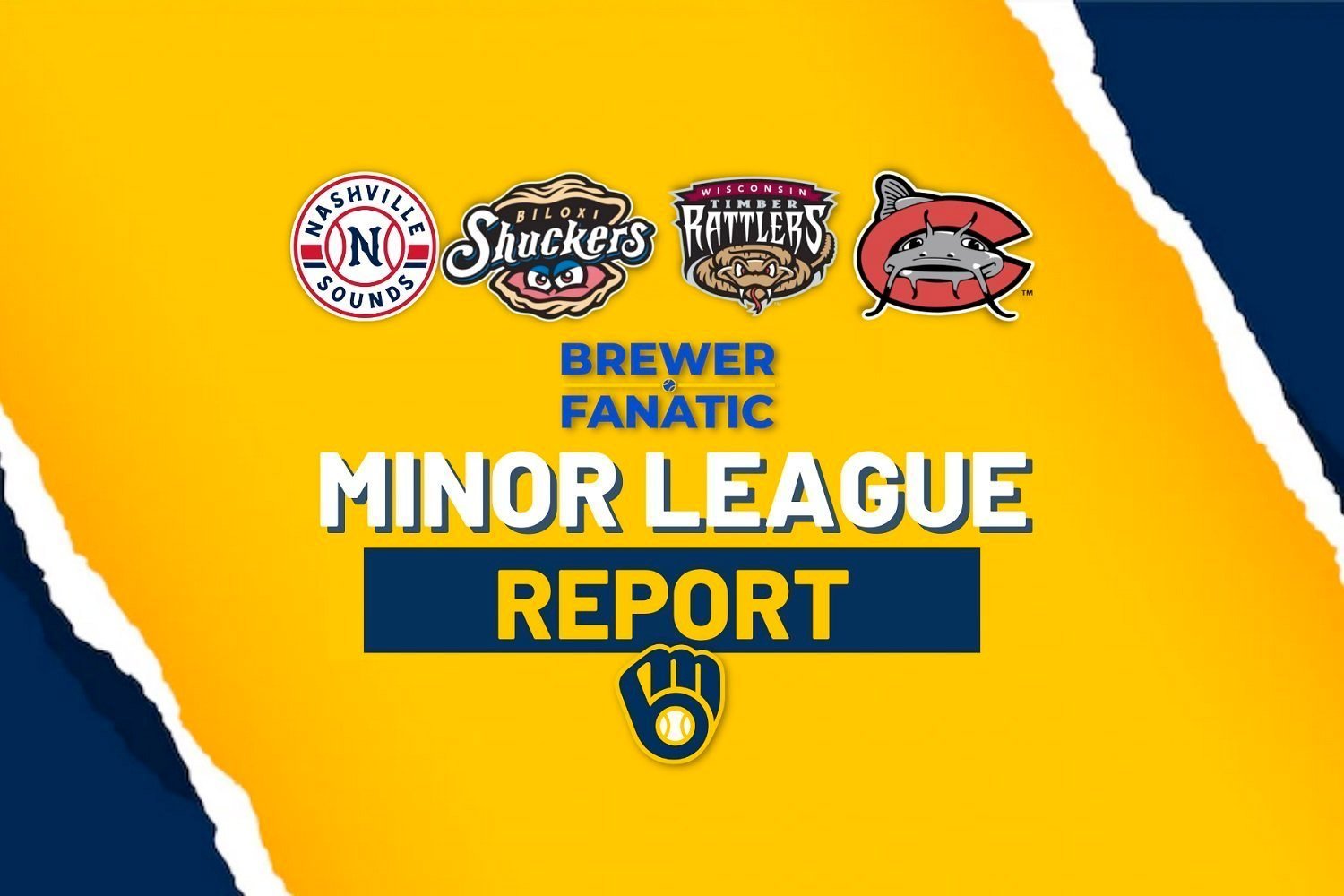 Image courtesy of BrewerFanatic
Transactions:

Carolina third baseman Alberis Ferrer rejoins the Mudcats after a brief formal rehab stint in Arizona. He last played with Carolina teammates on June 1st.

RHP Kevin Briceno was promoted stateside from the Dominican League to ACL Brewers Gold. Back on June 30th, we were treated to these images to match up with the stellar island numbers the 19-year-old 2nd-year-pro had posted at that time, and Briceno has thrown 9.5 scoreless frames since this tweet:
Finally, although it's not a formal transaction, Timber Rattler Tyler Black had to exit last Sunday's game in South Bend and has not seen action since. Hopefully he's back in action soon, but here's a bit of a sobering update.

***

Nashville Pre-Game Media Notes
Final: Nashville 4, Memphis (Cardinals) 3
Box Score / Game Log

Via the Sounds' site, game details, and we encourage readers to review each of the affiliate write-ups as part of their Link Report routine:

Brian Navarreto Delivers Walk-Off for Sounds - Catcher singles home Brice Turang in the 10th to snap four-game skid

Fun win, we don't even mind seeing rehabbing RHP Miguel Sanchez cough up the late lead (though clearly not ideal), has to get the necessary work in. Say what one will about RHP Trevor Kelley's big-league efforts, but he has been stellar in 17 appearances with Nashville. Veteran starter Marcus Walden was brought in from indy ball purgatory June 22nd to soak up starter innings as he did here. Completing our focus on the mound, the top of the 10th included this web gem from Hobie Harris.
Let's see - Kelley, Strzelecki, Barker, Sadzeck - Harris actually is very-deserving of his own chance to make a big-league visit with the Crew this season.

Always nice when the #8 and #9 spots in the order do this:
And of course, your game-winner:
***

Biloxi Pre-Game Media Notes via the Shuckers' Virtual Press Box

Final: Biloxi 5, Tennessee (Cubs) 3
Box Score / Game Log

Via the Shuckers' site, game details, please review: 

Strong Pitching Helps Shuckers Snap Skid With 5-3 Victory - Mitchell Homers in Third Game Back From IL

You've read, now watch:
RHP Carlos Luna is to Biloxi what LHP Andy Otero is to Nashville - invaluable, and usually effective, this box score a prime example.

Didn't hurt here, but ten errors in 66 games at first base for Thomas Dillard. The catcher role didn't last long, eight starts behind the plate in 2021.

Defensive whiz infielder Yeison Coca the latest to be on, at best, the day-to-day list. Out since having to exit Wednesday's game after grounding into a double play. Cam Devanney was the DH here and thus there is some, not a lot, but some, infield coverage.

You'll notice that outside of the game summary, not going to jinx Garrett Mitchell's wonderful return thus far with too much gushing. Let's enjoy his ride for a bit.

***
Wisconsin Pre-Game Media Notes via their all-encompassing Virtual Press Box
Final: West Michigan (Tigers) 5, Wisconsin 0
Box Score / Game Log
Via the Timber Rattlers' site, game details, please review:
Rattlers Stopped By Whitecaps on Two Hits 

Sixth year in the system already for RHP Justin Bullock (counting the service time applied from the lost 2020 campaign) - the 2017 16th rounder was drafted out of a North Carolina high school. I suppose we should all look to the legion of international arms now toiling in their rookie or second seasons, the development paths are similar and difficult. Yet it seems even more arduous for the domestic high schoolers somehow, at least in the Brewers system. Good time to check in on now-Tigers AA RHP Reese Olson, who has a 112-to-24 (!) K-to-BB mark while pitching 75.1 innings thus far in 2022. Olson has scuffled a bit as of late, though, but still, my goodness. And oh hi, Daniel Norris!

At the beginning of the second half, I feared for this Timber Rattlers offense. Despite the shiny record out of the 2nd half gate, it appears very fallible, and Tyler Black's absence, for however long, is a crusher.

Eight days left!

***

Carolina Pre-Game Media Notes
Final: Delmarva (Orioles) 6, Carolina 2
Box Score / Game Log

Via the Mudcats' site, details, please review:

Mudcats Unable to Overcome Early Deficit in 6-2 Loss - Carlos Rodriguez gave up five runs in the second in Carolina's 6-2 loss to the Shorebirds

Listened to podcast commentary this week that mentioned just how poor the quality of pitching is at the low-A level in 2022. You wouldn't know that reviewing the hitting lines in this Carolina box score. Rest day for Jeferson Quero, Futures Game Travel Day for Jackson Chourio, so yeah..
We're so ensconced in the Brewers system that we just assume the worst and that other organizations are struggling to develop homegrown offensive talent as well. But there's been such a sizable gap in the Crew's system (as evidenced in the makeup of the big-league roster), that it's really tough to have faith in the hitting development program right now.

That's why it's so important the organization hits on its very top draft picks and very top international signings. Mitchell, Frelick, Chourio - those guys can't just fade away, a la Corey Ray.

***

Final: ACL Brewers Gold 11, ACL Guardians 0
Box Score / Game Log
Combined four-hitter for the three Gold hurlers, four walks, two HBP's (so not devoid of traffic) and ten strikeouts.

19-year-old Dominican RHP Patricio Aquino now has two scoreless six-inning starts among his six starts in this, his first season stateside.

Grand slam for 19-year-old catcher Blayberg Diaz, he now has seven long balls in 185 at-bats over a season and a half.

Relative to this game and Jadher Areinamo's season-long performance (double and triple here), I really enjoyed this insightful post from @CheeseheadInQC within our Minor League Forum.

***

Final: ACL Athletics 5, ACL Brewers Blue 1, seven innings as scheduled
Box Score / Game Log

Outside of a 3-for-4 night for RF Luis Medina as we await his delayed breakout, not much to share, so we'll go back a day - love the family members chronicling the journey of their 2021 14th round high school pick:
***

Final, completion of June 30th suspended game: DSL Texas Red 6, DSL Brewers #1 Squad 0
Box Score / Game Log

Final, regularly scheduled game: DSL Brewers #1 Squad 6, DSL Texas Red 3, seven innings as scheduled
Box Score / Game Log

Final: DSL Brewers #2 Squad 8, DSL Colorado 5
Box Score / Game Log

You'll find a bunch of insights within five consecutive posts on our daily game thread, again via our Minor League Forum.
Oh, and congrats to the Rangers on this find, the young man from Mexico doesn't turn 17 years old until next month, and thanks to the magic of completing the suspended game he started in the first place, this happened:
***

The four full-season Saturday affiliate games all take place in the early evening. All four rookie teams are in action, with the Arizona clubs facing off against each other this AM. Enjoy your day, thanks for stopping by.

Organizational Scoreboard including starting pitcher info, game times, MiLB TV links, and box scores

Arizona Complex League Scoreboard

Dominican Summer League Scoreboard

Standings and sortable stat pages

Current Milwaukee Brewers Organization Batting Stats and Depth

Current Milwaukee Brewers Organization Pitching Stats and Depth
Think you could write a story like this? Brewer Fanatic wants you to develop your voice, find an audience, and we'll pay you to do it. Just fill out this form.
MORE FROM BREWER FANATIC
— Latest Brewers coverage from our writers
— Recent Brewers discussion in our forums
— Follow Brewer Fanatic via Twitter, Facebook or email
2