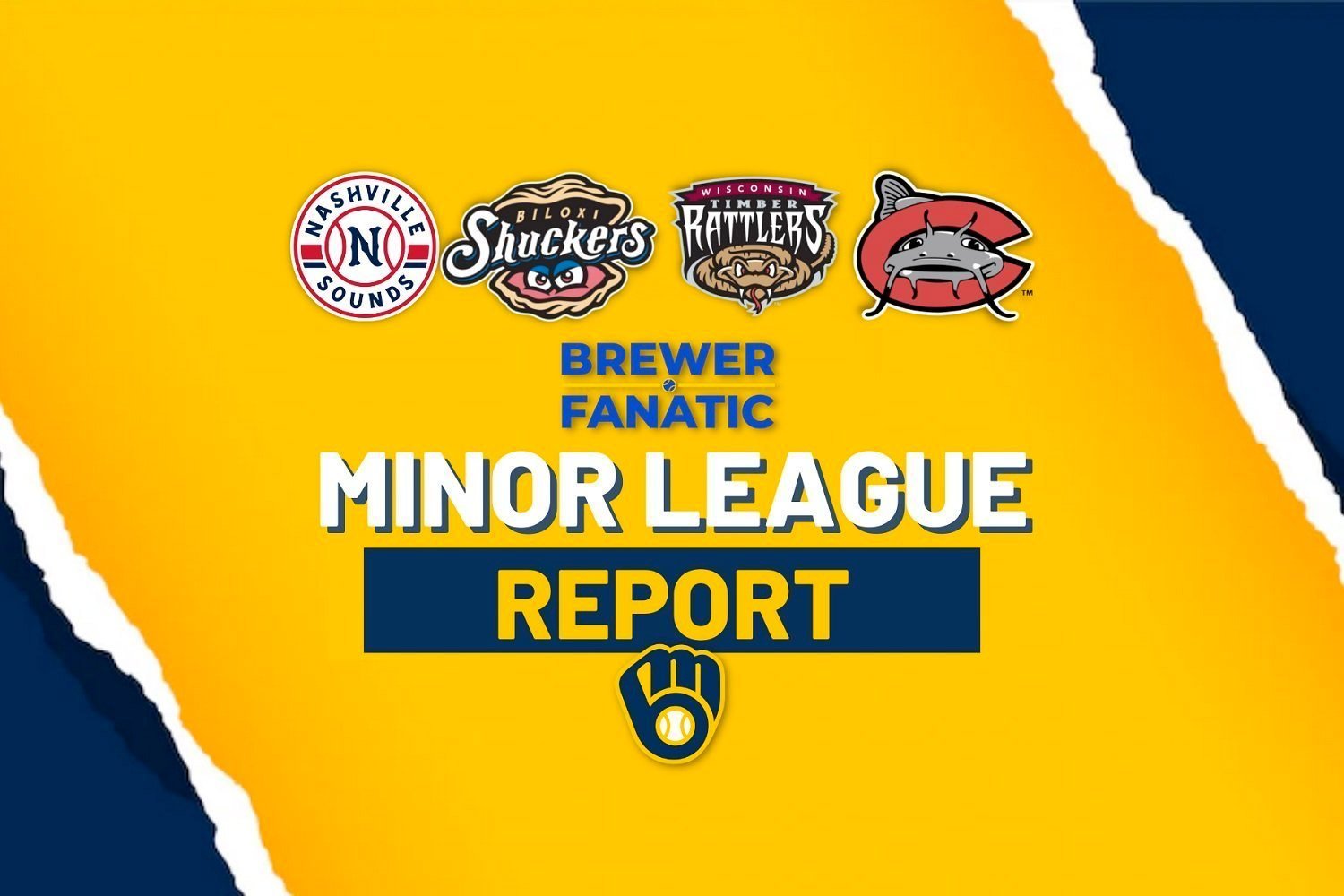 Image courtesy of BrewerFanatic
TRANSACTIONS:
INF/OF

 

Eddy Alvarez

 

activated from Development List by AAA Nashville (was placed on 7/1)
RHP

 

Ryan Brady

 

promoted to AA Biloxi from High-A Wisconsin
Brady, 24 years old, is the first member of the 2022 Brewers signing class to reach AA. Brady was not drafted, inked out of Brigham Young University. Congrats to Ryan and the Milwaukee scouting staff for unearthing value.
 
---

Final: Nashville 8, Memphis (Cardinals) 2

Via the Sounds' site, we encourage readers to review each of the affiliate write-ups as part of your season-long Link Report routine:
Sounds Stuff Redbirds in Series Finale - Skye Bolt's three RBI night backs Caleb Boushley's gem in 8-2 win
Box Score / Game Log

Seeing the names Luis Urias, Mike Brosseau and Keston Hiura in the July 3rd box score, none of them on injury rehab, is not something one would have necessarily predicted as spring training began.

The Sounds are simply put, rolling, on fire, fill in the exciting adjective as you wish. It helps this most recent series win was over the Cardinals' affiliate.

Catcher Alex Jackson, I hope you score either a 40-man roster spot (maybe with the Crew), or a significant minor league free agent deal later this fall. You've earned it. Still just 27 years old, how many reading here remember that Jackson was the 6th overall pick of the 2014 draft, drafted out of a San Diego high school by Seattle? Traded after three pro seasons to Atlanta in what proved to be a rather uneventful deal, Jackson would be dealt in July of 2021 to Miami (for OF Adam Duvall). Still on a 40-man roster, the Brewers acquired Jackson in the first week of the 2022 regular season via trade for? Be honest to yourself, if you remember it was in this deal, good for you. Milwaukee not losing sleep over that one...

Hiura on base three times (two singles, HBP), Sal Frelick, playing RF, 1-for-6, zero K's.

I would not have guessed that this was RHP Caleb Boushley's first quality start of the season, but his game log confirms it. Plenty of folks rooting for the UW-La Crosse and Hortonville product, but Boushley likely will be in a new organization via minor league free agency in 2024.
 
---

Final: Mississippi (Braves) 6, Biloxi 2

Via the Shuckers' site:
Shook Strikes Out 11 in Front of Sellout Crowd at MGM Park - The South Carolina native sets a new career-high, Shuckers fall to M-Braves, 6-2
Box Score / Game Log

Side note - I had previously joked on RHP TJ Shook for not having a "J" in his formal name. Thanks for the fan who updated me! 

"His actual name is Franklin Todd Shook, Jr. Thus, TJ as in Todd Jr.  They didn't put the junior part on his MiLB page."

I really should keep a spreadsheet for when I mention "organizational pitching line of the year", because I've certainly noted that previously in 2023. I have to believe Shook's line on Monday trumps whatever was previously noted:

6 IP, 1 H, 0 R, 0 BB, 11 K, 88 pitches (57 strikes)

This is just one of three Shook highlight K's on the Biloxi Twitter Media feed.
This was only TJ's 3rd start of 2023 (13 appearances), betcha we'll see more.

To be polite to LHP Russell Smith, if I had one question to ask Brewers VP of Domestic Scouting Tod Johnson, it wouldn't be "What did you like about Russell Smith?" because we already know. From the Journal-Sentinel's 2021 draft day coverage:
Milwaukee began its day by selecting TCU left-hander Russell Smith in the second round, 51st overall. Smith checks in at 6 feet 9 inches and 235 pounds, making him an imposing sight for hitters on the mound.
"He's massive," Johnson said. "A lot of those guys, you worry about the strike throwing but he's always throwing strikes. Just being that tall, it's already a different look for guys. He's been a highly successful guy coming out of a really good program, pitching in a really good conference.

"Excited that he was there at 51 for us, and it matched up well. We're pretty pumped to be able to add him to our group of arms down there. He's the tallest pitcher in the organization now."

No, my question would be, "What gave you pause about University of Virginia LHP Andrew Abbott in that slot?"

Abbott has generated 2.4 WAR in just six starts at the big-league level and may face the Brewers as many as three times over the next two and a half weeks with the fellow division-leading Reds.

Tyler Black defense:
In his last nine games, Jackson Chourio is 10-for-36 (.278), but with only two K's (three walks). 

Jeferson Quero singled twice and walked in this one, OPS now at .873. 
---

Final:  Quad Cities (Royals) 11, Wisconsin 1

Via the Timber Rattlers' site:
Rattlers Suffer from Pangs of Negret - River Bandits outfielder homers twice, drives in seven to beat Wisconsin 11-1
Pre-Game Media Notes (Download Link) via the team's Virtual Press Box

Box Score / Game Log

Not a surprise that SS Eric Brown Jr. remains idle after his Saturday tumble, discussed here at the time. With the team returning to Appleton Tuesday, perhaps we get some clarity.

Nice to see RF Hendry Mendez playing in consecutive games upon returning to High-A after his Maryvale rehab.

Also, after seeing 3B/SS Eduardo Garcia grab his hamstring earlier this week, Monday's return to action was a nice surprise.

Game details? Your game summary is above, let's instead have you catch up with Kyle Lobner's latest, always worth your time:
---

Final: Down East (Rangers) 3, Carolina 0 
Lara Collects Three Hits in 3-0 Loss in Kinston - The shutout loss was Carolina's third during their six-game road trip at Down East
Box Score / Game Log

Since today is July 4th, we'll arbitrarily go back to June 4th and note the Mudcats have a record of 7-18 since. 

LF Jace Avina was the only US-born position player in Monday's lineup. 3B Luke Adams and RHP/1B Quinton Low were the only US-born position players on the Mudcats bench. As exciting and fruitful in some ways as the Crew's recent international efforts have been, this team is in real need of the infusion of high-end talent next week's MLB draft will provide, even if it's just one or two bats. Like Eric Brown Jr. last summer expect said bats to spend a week or so in Maryvale first.

Luis Lara at .321/.425/.399, nice to see a double among his three knocks. November 17th, 2023, folks. The young man doesn't turn 19 until that date.
 
---

Final: ACL Brewers 7, ACL Rockies 6

Box Score / Game Log

Via my fellow Link Reporter @damuelle:

Luis Castillo and Dylan O'Rae each reached base four times, while Juan Baez had a double and triple (key to a three-run 8th inning rally). SS Baez is performing amazingly well after signing for just $10,000 (as a catcher!) last January. 

The A-Crew scored in four innings, so your game log review is suggested via the link above.
---

Final: DSL Brewers #1 Squad 4, DSL Pirates Black 1 

Box Score / Game Log

Team Uno bats only had four singles but drew nine free passes.

Three more times on base for 17-year-old Yophery Rodriguez (see press release in our intro), playing CF for the 15th time in his 20 outfield appearances.
Fellow bonus baby Kevin Ereu committed a fielding error at shortstop, and that's good news. Why? Because it was just his first miscue in eleven games of middle infield work this rookie season.

For this game and the other DSL contest below, I'll borrow once again from the comments posted in our daily forum "live" games thread:
3B Luiyun Alastre reached base 4 times and RF Pedro Tovar twice. Tovar also threw out a baserunner at home. 
But the bigger story is probably starting LHP Anthony Flores going 5 innings strong, conceding 1 runs on 2 hits. 
 
---

Final: DSL Brewers #2 Squad 8, DSL Guardians Blue 4

Box Score / Game Log

Thanks again, Daniel for the insights:

It was easier sailing for DSL-2 who were up 8-0 on Guardians Blue by the 5th inning, ultimately taking the game 8-4.
Starting RHP Bryan Rivera pitched 4 2/3 shutout innings (2 hits, 8 Ks), being wisely stopped after he was pushed to a disastrous 6th inning to tarnish his last outing.
DH/2B Pedro Ibarguen had 3 hits to lift his OPS to .871, C Eric Martinez 2 hits and a sac fly (OPS .894), LF Fabricio Valera 3 hits, 3B Luis Lameda 2 hits. CF Ramon Moreno (.831 OPS) and SS Filippo Di Turi (.866 OPS) each knocked in 2 runs. 
 
---

For the holiday on the 4th, while Biloxi heads to Pensacola after their own fireworks celebration Monday night, the other three full-season affiliates all come home for their own evening games and festivities. It's a battle of the Crew's DSL teams on the island this AM, while the Maryvale kids play at 10:30 Phoenix time (12:30 Central). Sunscreen, guys! Hope everyone enjoys a safe and wonderful holiday today.

Organizational Scoreboard including starting pitcher info, game times, MiLB TV links, and box scores
Current Milwaukee Brewers Organization Batting Stats and Depth
Current Milwaukee Brewers Organization Pitching Stats and Depth
Think you could write a story like this? Brewer Fanatic wants you to develop your voice, find an audience, and we'll pay you to do it. Just fill out this form.
MORE FROM BREWER FANATIC
— Latest Brewers coverage from our writers
— Recent Brewers discussion in our forums
— Follow Brewer Fanatic via Twitter, Facebook or email