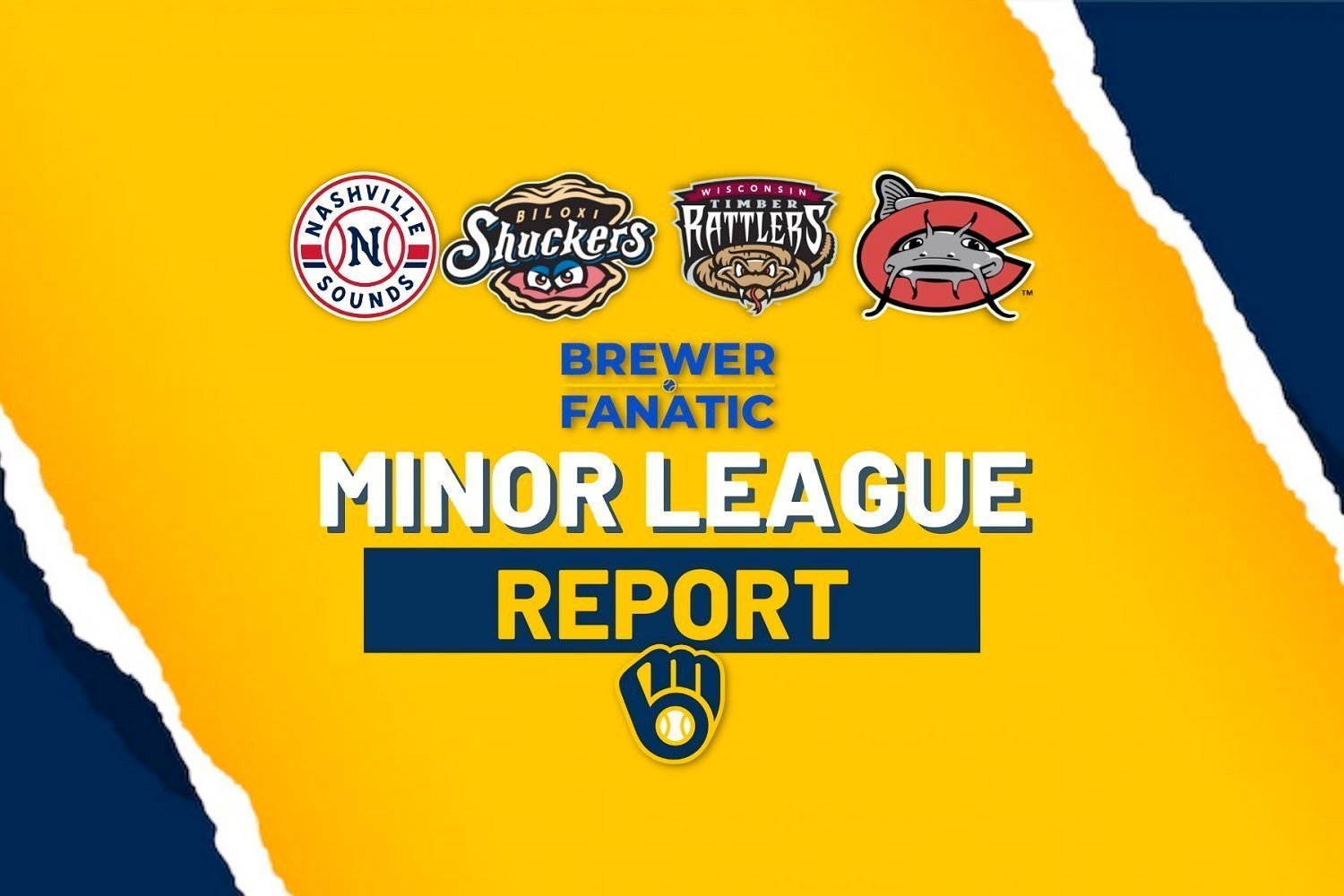 Image courtesy of BrewerFanatic
Transactions:
OF Luis Lara promoted to High-A Wisconsin from Low-A Carolina
RHP Gerson Calzadilla promoted to Low-A Carolina from ACL Brewers
RHP Yorman Galindez promoted to Low-A Carolina from ACL Brewers
RHP Will Rudy placed on Low-A Carolina's injured list (as of 8/12)
RHP Aidan Maldonado placed on Low-A Carolina's injured list (as of 8/14)
INF Josh Adamczewski (15th round draft pick) assigned to ACL Brewers
The switch-hitting Lara is just 18 years old and a joy to watch, giving 100% hustle in center field and on the bases, while demonstrating solid plate discipline. Let's hope that he has an excellent final four weeks of the season in Appleton. 
Game Action:

Arizona Complex League Action

Final: ACL Brewers 2, ACL Reds 1
Box Score / Game Log

Our Arizona men were in control throughout to improve to 30-21 on the season, though cashing in runs was a challenge.

The team's two youngest pitchers, 19-year old starting RHP Daniel Corniel (5 IP, 0 R, 2 H, 1 BB, 8 Ks) and 18-year old Manuel Rodriguez (3 IP, 1 R, 2 H, 1 BB, 1 HBP, 6 Ks) combined on 8 innings of 14-strikeout baseball.

Corniel's work is all the more impressive considering that the first two batters of the game reached base (single + error, bunt single) to put him in a first-and-third, nobody out situation. He deftly evaded damage via a strikeout, then a line out double play.

The offense was led by left fielder Miguel Briceno (two singles, RBI in 2nd inning), SS Cooper Pratt (two singles, RBI in 6th inning, SB), C Alejandro Rodriguez (double, walk, run scored) and 2B Juan Baez (single, walk), although the squad stranded 11 baserunners vs. just 5 left-on-base for the Reds.

24-year old RHP Bayden Root earned his first save in his second game with a three-up, three-down 9th inning.

Oddity you may only see at Rookie levels: the Reds apparently stopped having their right fielder bat half-way through the game, skipping the fifth spot in the order two times.

The game also featured the organizational debut of 15th round draft pick INF Josh Adamczewski. The 18-year old led off, DH'd and went 0-for-3 with two strikeouts before being substituted.

I've not seen any confirmation of playoff plans for the Arizona Complex League, but my guess is that the three division winners and one wildcard will square off next week. The ACL Brewers lead the ACL Central Division by five games over the Reds, with 5 games remaining for the Brewers and 7 games left for the Reds.
Dominican Summer League Action

Final: DSL Guardians Blue 3, DSL Brewers-1 Squad 2 (in 10 innings)
Box Score / Game Log

The Uno young men nearly pulled out a victory despite the Guardians generating much more traffic on the bases – 8 Guardians' hits vs. 4 Brewers' hits, 10 Guardians left-on-base vs. 4 for the Brewers. The loss drops DSL Brewers-1 to a record of 24-23.

Credit the duo of 17-year old RHPs Gabriel Colmenarez (4 IP, 1 R, 0 H, 3 BB, 3 Ks, 1 WP; season ERA 2.00) and Eric Prado (4 IP, 1 R, 7 H, 2 BB, 4 Ks; season ERA 1.70) with another effective day, with Colmenarez keeping the Guardians hitless through four innings.

C Luis Garcia (double, walk, RBI), center fielder Yophery Rodriguez (single, walk) and Kevin Ereu (single, RBI) delivered three hits in the squad's two-run 4th inning to grab a 2-1 lead, but the team only managed one hit and one walk from the 5th through 9th innings.

After escaping a two-on, nobody out jam in the 9th inning, 20-year old RHP Yonawil Florimon nearly pulled off a similar feat in the 10th inning, but a wild pitch brought home a run with two outs in the top of the 9th inning.

The offense then went three-up, three-down in the bottom of the 10th inning to strand the ghost runner at third base in defeat.
Final: DSL Angels 4, DSL Brewers-2 Squad 0
Box Score / Game Log

From a hitting, fielding and baserunning standpoint, the shutout loss by our Dos squad only gets worse as you delve further into the box score:
three singles with no extra base hits
no stolen bases, but one player was caught stealing and two more were picked off
three errors
four stolen bases allowed, with nobody caught.
That said, the pitching staff only allowed two earned runs, with 18-year old RHP Bryan Rivera (4 IP, 1 R, 4 H, 2 BB, 1 HBP, 3 Ks) and 19-year old Aneuris Rodriguez (4 IP, 3 R (1 ER), 3 H, 0 BB, 6 Ks, 2 WP) combining for nine strikeouts in eight innings of decent work.

17-year old Pedro Ibarguen made his ninth start in center field, collecting a single and a walk to lift his season AVG to .307 and OPS to .853. 2B Luis Lameda exited the game early after a groundout in the 3rd inning, so we'll try to monitor his availability.

The loss drops DSL Brewers-2's season record to 19-29.
We hope that you enjoy the Minor League Link Report. Enjoy Tuesday's 9-game slate, including two DSL doubleheaders to start the day!

Organizational Scoreboard including starting pitcher info, game times, MiLB TV links, and box scores
Current Milwaukee Brewers Organization Batting Stats and Depth
Current Milwaukee Brewers Organization Pitching Stats and Depth
Think you could write a story like this? Brewer Fanatic wants you to develop your voice, find an audience, and we'll pay you to do it. Just fill out this form.
MORE FROM BREWER FANATIC
— Latest Brewers coverage from our writers
— Recent Brewers discussion in our forums
— Follow Brewer Fanatic via Twitter, Facebook or email