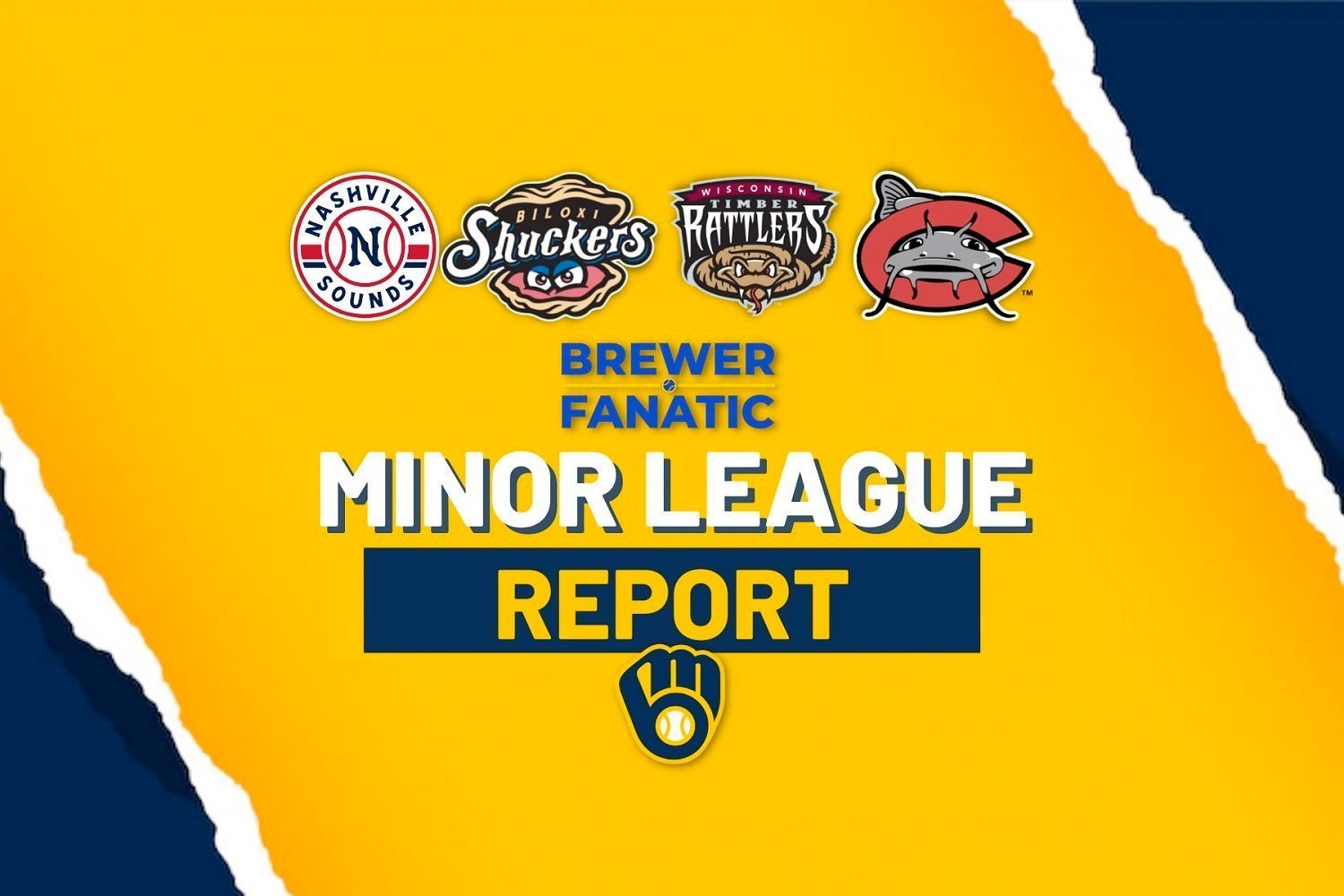 Image courtesy of BrewerFanatic
Transactions:

2022 draft round in parentheses

3B Ben Metzinger (7) assigned to Wisconsin Timber Rattlers from ACL Brewers Blue.
SS Robert Moore (2B - compensation round) assigned to Carolina Mudcats from ACL Brewers Blue.
SS Branlyn Jaraba assigned to Carolina Mudcats from ACL Brewers Gold.
SS Eric Brown Jr. (1) assigned to Carolina Mudcats from ACL Brewers Gold.
C Alex Hall assigned to Carolina Mudcats from Wisconsin Timber Rattlers.
C Jeferson Quero assigned to Wisconsin Timber Rattlers from Carolina Mudcats.
SS Jheremy Vargas assigned to ACL Brewers Blue from Carolina Mudcats.
3B Luke Adams (12) assigned to ACL Brewers Gold
C Matt Wood (4) placed on ACL Brewers Blue's 7-day injured list
C Darlin Lora placed on ACL Brewers Blue's 60-day injured list
C Felipe Valderrama placed on ACL Brewers Blue's 60-day injured list
Carolina Mudcats released SS Luis Silva.
Carolina Mudcats released RHP Junior Montero.
Our own @damuelle detailed the pro journeys of Silva and Montero here.
 
---

Final: ACL Brewers Gold 9, ACL Athletics 3
Box Score / Game Log

Gold moves to 25-18, 2nd place in their division, two games out of first (standings)

The victors scored early (up 5-0 after three innings) and late (two runs in the 8th, two runs in the 9th).

The five Brewer pitchers combined to strike out 15, but they also walked eight, plunked two others, and threw five wild pitches. The Athletics stranded 12, and were 1-for-8 with RISP. Starter Henrison Mota's ERA is 4.05, but all the peripherals are poor. No immediate callups imminent for the arms used in this one.

It's been a rough 2022 for OF Eduarh Colina, but the 19-year-old RH bat out of Venezuela homered (right-center) and doubled. 

This was the professional debut for 18-year-old third baseman Luke Adams, the Crew's 2022 12th round pick out of an Illinois high school. Adams struck out, was HBP (scored a run), and lined out in his three plate appearances.

15th round catcher Satchell Norman had two hits including a double and is off to a nice start five games into his career. He also stole his 3rd base in four attempts (catcher speed!) and committed his first error (throwing).

Triple, single, and walk to pad the July numbers even further for this native of The Netherlands:
---

Final: ACL Reds 7, ACL Brewers Blue 6, seven innings as scheduled
Box Score / Game Log

Now 17-26, the Blue Man Group did their Golden buddies no favors by losing to the first-place Reds.

The best thing done by the two Brewer arms was get four double plays in just seven frames.

Timber Rattler first baseman Ernesto Martinez pulled a ball to right for a home run in his 2nd rehab outing.

2022 9th round JUCO catcher Tayden Hall, like Satchell Norman in the prior game, is off to a nice start at the plate, 1.089 OPS through his first five games.
 
---

Final: DSL Brewers #1 Squad 5, DSL D-Backs Black 1, seven innings as scheduled
Box Score / Game Log

How convenient another player highlighted by Brewers Player Development shined again on Monday:
 
So, after Monday's game, that tweet can read 32 K's and 10 BB's in 27 innings.

These comments are from my co-reporter @Joseph Zarr in our Minor League Forum thread -
Another game completed for the DSL Brewers 1, and yet another LHP Osbriel Mogollon stellar outing. This young lefty continues to shine:
5 IP, 3 H, 2 BB, 1 R, 5 K
18-year-old lefty batting catcher, Edgardo Ordonez, continues to catch my eye: 2-for-3 today with his 3rd double and two runs scored batting clean-up. He had gone 0-for-7 to start August, but today's numbers are more in line with his season to date: 78 AB's, .282 BA, .803 OPS. Ordonez also threw out a runner attempting to steal 2nd base where he is currently throwing out 35% of base runners.
Luis Lara and Johnny Severino have both cooled off recently - they went a combined 0-for-6 today; 0 K; 0 BB. And, alas, Severino commits a fielding error at shortstop. He now has 18 errors combined between shortstop and third base in 44 games played and over 272 1/3 innings in the field.
 
---

Final: DSL Mets #1 Squad 4, DSL Brewers #2 Squad 2
Box Score / Game Log

Once again via @Joseph Zarr -

Another Yeison Perez double - his 15th of his season. 
While the Brewers 2 successfully swiped four bases, C Brayan Oropeza strutted his improved results throwing out all three Mets' SB attempts. Also, of note here: whereas Jhonny Severino continues to induce 'concern' or valid questions abound about his error-prone ways between his time at shortstop and third base, 17-year-old infield prospect Juan Baez has quietly caught my eye. Baez has had a productive season at the plate, and he has half the errors of Severino. Plenty of time for both players to continue to grow, but it's worth noting Baez is making a name for himself in 2022. Baez finished his day 2-for-3, 1 RBI, 1 2B (his 8th), 1 K, and 1 SB (his 12th). On the season, he is now hitting .286 with a .729 OPS in 154 AB's (typically batting second in the line-up).
 
---

While the Mudcats hit the road, the other three full-season affiliates all get to enjoy home cooking this week. The rookies all continue play in what will be an eight-game Tuesday night. It also appears that MiLB is now including games from all levels, full-season and rookie complex, in their organizational scoreboard link we provide below, nice.

Organizational Scoreboard including starting pitcher info, game times, MiLB TV links, and box scores
Standings and sortable stat pages
Current Milwaukee Brewers Organization Batting Stats and Depth
Current Milwaukee Brewers Organization Pitching Stats and Depth
Think you could write a story like this? Brewer Fanatic wants you to develop your voice, find an audience, and we'll pay you to do it. Just fill out this form.
MORE FROM BREWER FANATIC
— Latest Brewers coverage from our writers
— Recent Brewers discussion in our forums
— Follow Brewer Fanatic via Twitter, Facebook or email
1