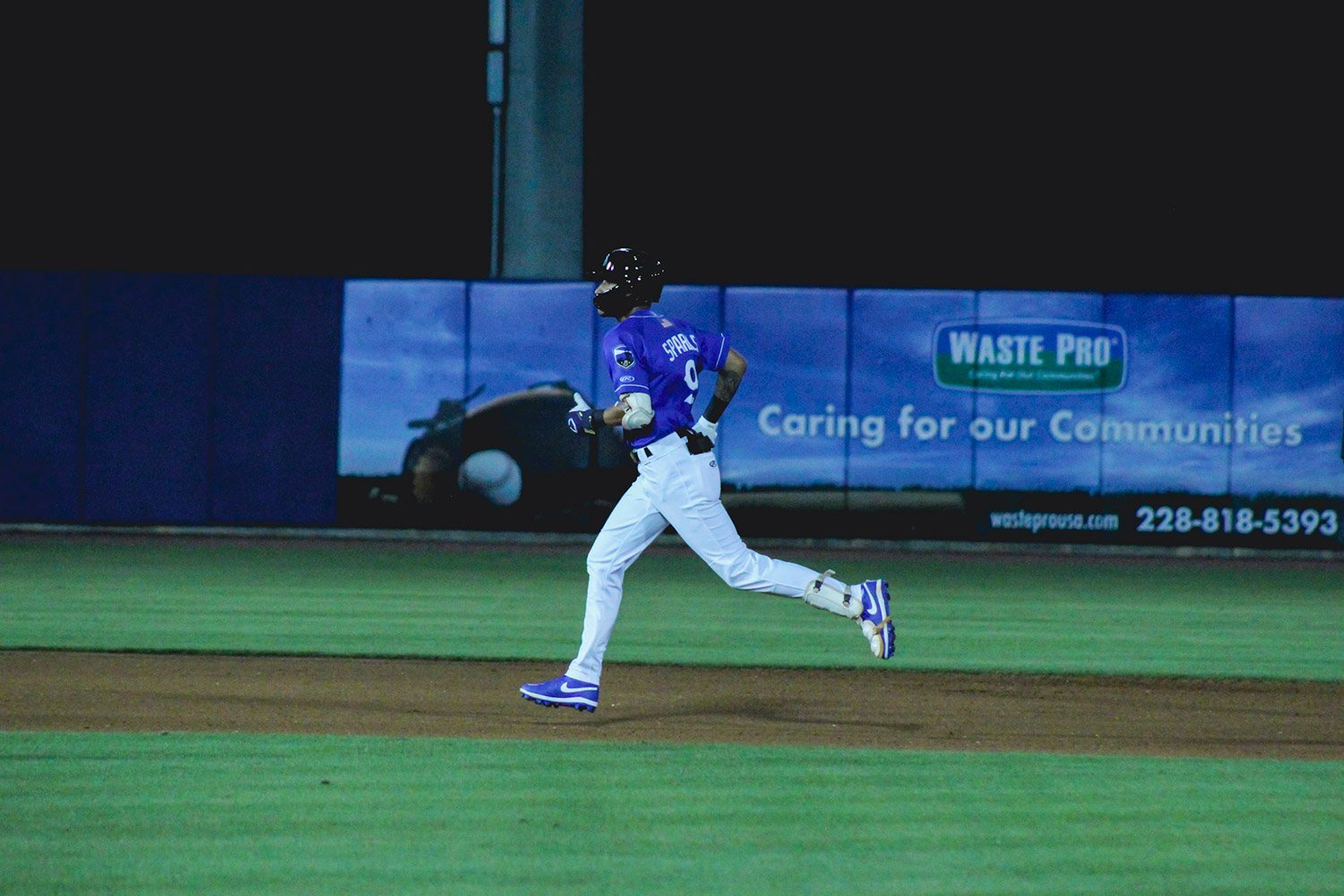 Image courtesy of Biloxi Shuckers & Joshua Sumrall - Lamar Sparks Pictured
Transactions:
Game Action:
Nashville Pre-Game Media Notes
Final: Durham 10, Nashville 2
Box Score / Game Log
Via the Sounds' website, game details, and we encourage readers to review the affiliate write-up as part of their Link Report routine: Sounds Bulldozed by Bulls
It was an all-or-nothing start for LHP Eric Lauer (4 2/3 IP, 3 R, 5 H, 3 BB, 8 Ks), who struck out eight Bulls but also conceded three home runs in his 101-pitch effort, exiting with Nashville trailing 3-2. However, things only got worse from there, as LHP Alex Claudio and RHP Luis Contreras combined to allow seven earned runs in 3 1/3 innings of work.
The loss marks the sixth defeat in the Sounds' last seven games, quickly dissipating their playoff hopes. The team now sits tied for 9th place in the second half division standings, 4 ½ games behind the leaders with 19 games remaining on the season.
Rehabbing 1B Jesse Winker grounded into a double play to end the top of the 1st inning, then immediately exited the game. Is he injured again, getting a surprise call-back to MLB or is this the last that we'll see of him in the Brewers' organization? Winker's 20-day rehab stint is scheduled to end on Sunday.
Sunday's outlook: Recently-signed 3B Josh Donaldson is expected to make his organizational debut, while RHP Janson Junk is the scheduled starter.
Biloxi Pre-Game Media Notes
Final: Biloxi 7, Tennessee 5
Box Score / Game Log
Via the Shuckers' website, game details: Shuckers Hold On, Sparks Smashes Two Homers in Wild, 7-5, Win
Right fielder Lamar Sparks (2-for-4, 2 HRs, walk, 4 RBIs) pushed the Shuckers out to a fast start with two homers and four RBIs in the first two innings, then Biloxi held on in a nervy 9th inning. 3B Zavier Warren (2-for-4, HR, double, 2 RBIs) also had a nice game and center fielder Jackson Chourio stole his 36th and 37th bases of the year. 
RHP Christian Mejias (5 IP, 2 R, 6 H, 1 BB, 3 Ks, 1 balk) put in a respectable start, while RHP Bo Bowman (first appearance since a July 8 injury) and Nick Bennett were solid in relief. After some struggles from LHP Luis Amaya and RHP Zach Vennaro, Tennessee had the potential game-tying runs on second and third base before Vennaro struck out the final hitter to earn his fourth Save of 2023.
However, despite their sixth straight victory, the Shuckers actually fell a half game back in the playoff race as Montgomery swept a doubleheader. The two teams will face off in a 6-game regular season-ending series in Biloxi from September 12-17.
Sunday's outlook: RHP Tobias Myers gets the chance to lead Biloxi to a potential 6-game sweep of formidable Tennessee.
Wisconsin Pre-Game Media Notes
Final: Wisconsin 7, Beloit 1
Box Score / Game Log
Via the Rattlers' website, game details: Brown's Seventh-Inning Blast Sends Wisconsin to Seventh Straight Win
The final score is not indicative of how tense and competitive this game was, as the Timber Rattlers trailed 1-0 with two outs in the top of the 7th inning before right fielder Eduarqui Fernandez drew a walk and SS Eric Brown Jr. (4-for-5, HR, 3 RBIs, SB) smacked a 3-run homer on an 0-2 pitch to completely turn the tide.
LHP Aaron Ashby had a mixed first rehab appearance, walking two and striking out two in just one inning of work. RHP Tyler Woessner then did the heavy lifting to give Wisconsin a chance: 5 IP, 1 R, 6 H, 3 BB, 7 Ks. RHP Nick Merkel was excellent over the final innings to grab his first Save in High-A ball: 3 IP, 0 R, 0 H, 0 BB, 2 Ks.
Elsewhere, Peoria finally dropped a game, so the Timber Rattlers have clawed to within 3 games of a playoff spot. Unfortunately, there are only 7 games remaining on the season and the Chiefs hold the tiebreaker.
Sunday's outlook: RHP Edwin Jimenez aims to keep the streak and playoff dreams alive, as Wisconsin goes for a series sweep of Beloit and their 8th straight victory.
Carolina Pre-Game Media Notes
Final: Carolina 13, Down East 1
Box Score / Game Log
Via the Mudcats' website, game details: Henderson Totals 10 Ks in 13-1 Defeat of Down East
After a number of down-to-the-wire games, Carolina finally blew the doors off and cruised to a win, with 1B Jesus Chirinos (1-for-2, HR, 3 walks, 4 RBIs) providing the big breathing room via a 3rd inning grand slam. RHP Logan Henderson (6 IP, 1 R, 4 H, 0 BB, 10 Ks) returned to his customary domination, while the offense seemed to threaten every inning with 13 hits, 7 walks and an HBP. Even RHP Jeferson Figueroa made his mark with three hitless innings of relief and his first Save of 2023. 
The results look even better with Lynchburg losing its game, thus putting the Mudcats 3 games ahead of Lynchburg and 3 ½ games ahead of Fredericksburg in the race for a playoff spot, with 7 regular season games left in 2023. Don't miss the post-game interview with Manager Victor Estevez, which can also be found in the game story link above.
Sunday's outlook: RHP Will Childers gets the start as Carolina needs a victory to clinch a 4-2 series win over Down East and keep the two playoff chasers at bay.
We hope that you enjoy the Minor League Link Report. Good luck to the four clubs in their series finales on Sunday!
Organizational Scoreboard including starting pitcher info, game times, MiLB TV links, and box scores
Current Milwaukee Brewers Organization Batting Stats and Depth
Current Milwaukee Brewers Organization Pitching Stats and Depth
Think you could write a story like this? Brewer Fanatic wants you to develop your voice, find an audience, and we'll pay you to do it. Just fill out this form.
MORE FROM BREWER FANATIC
— Latest Brewers coverage from our writers
— Recent Brewers discussion in our forums
— Follow Brewer Fanatic via Twitter, Facebook or email
2