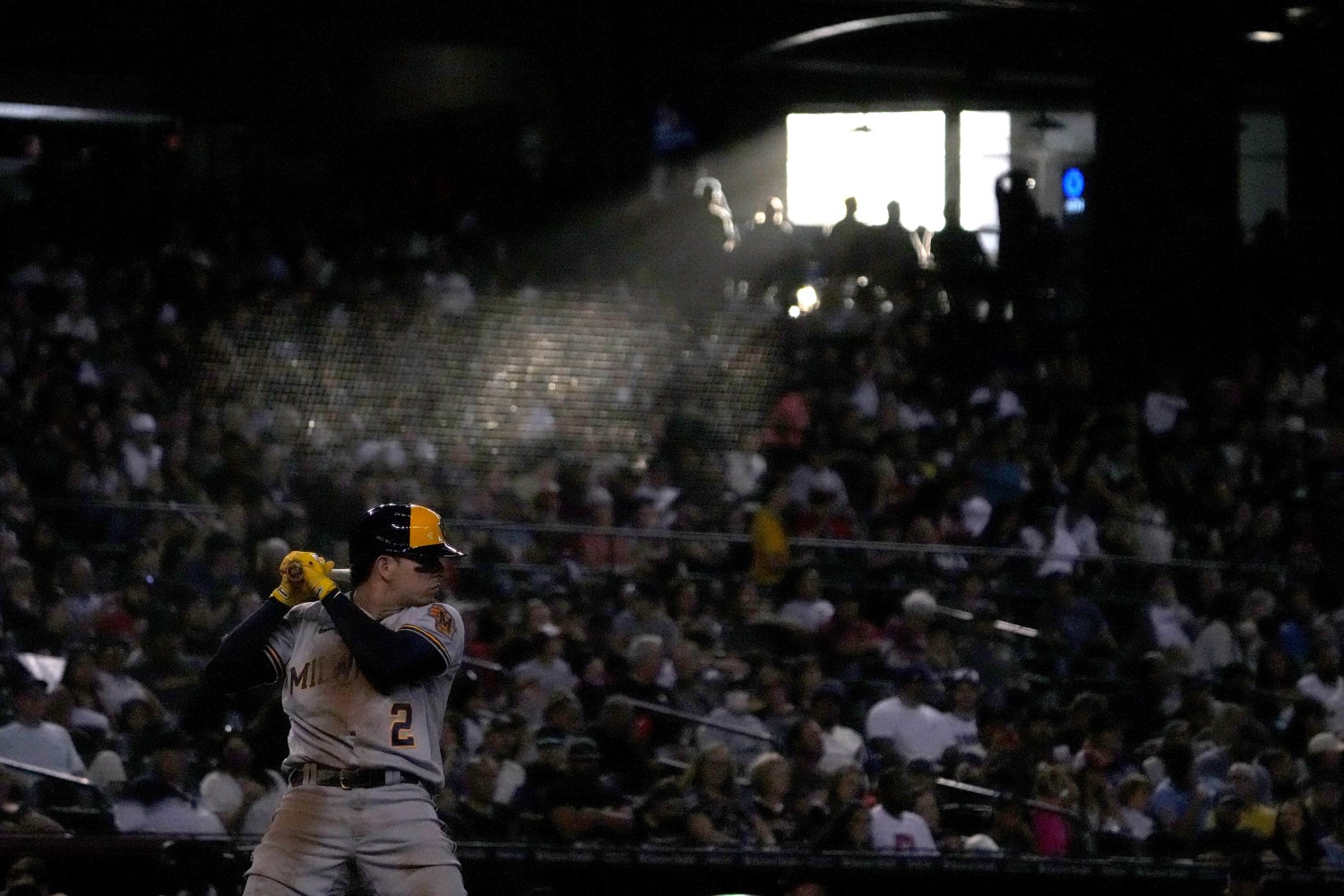 Image courtesy of © Joe Camporeale-USA TODAY Sports
I want to build this discussion of Luis Urías and his plan at the plate around earlier work this week at Brewer Fanatic, by Tim Muma and by Harold Hutchison. On Tuesday, Tim wrote a great piece about the potential that Rowdy Tellez could do more damage by taking a new tack at bat. On Wednesday, Harold wrote about whether the Brewers should sign Urías to a contract extension. In some measure, though, that question hinges on whether Urías can sustain and build upon his success at the plate over the last two seasons. In turn, that question might hinge on whether Urías can modify his approach to better suit his strengths and weaknesses at bat.
Since arriving in Milwaukee, Urías has rapidly evolved as a hitter. In his current incarnation, he has two major strengths: very good plate discipline, and above-average power. In each of the last two seasons, he's walked more often than an average hitter and struck out less often than an average hitter. His isolated power is .182 in that span, better than the league average, and well above the typical mark for someone who manages the strike zone so well.
In baseball, though, everything is about tradeoffs. This version of Urías has been trading quite a few singles for some of his walks, and it might be capping his offensive ceiling too low. More importantly, because of Urías's contact profile throughout the zone, he might be letting too many of the pitches best suited to him sail by unmolested.
No team in MLB swung at the first pitch less often than did the Brewers last season. It's a coaching philosophy, part of an overarching commitment to grinding down opposing pitching staffs.
Lowest First-Pitch Swing Rate, MLB Teams, 2022
| | |
| --- | --- |
| Team | Swing % |
| Brewers | 25.9 |
| Guardians | 26.8 |
| Cardinals | 27.1 |
| Diamondbacks | 28.3 |
| Pirates | 28.4 |

That approach works well for individuals who make good swing decisions overall, and who don't miss mistakes when they come. That describes Urías well, which is why he's become solidly above-average since joining the Brewers. However, there's one more tendency required to make this kind of programmed patience work to its greatest possible extent: plate coverage. While Urias has that in the strictest sense, he does all of his damage within a single segment of the zone: between the thigh and the navel. Here is his expected production by location against all fastballs in 2022: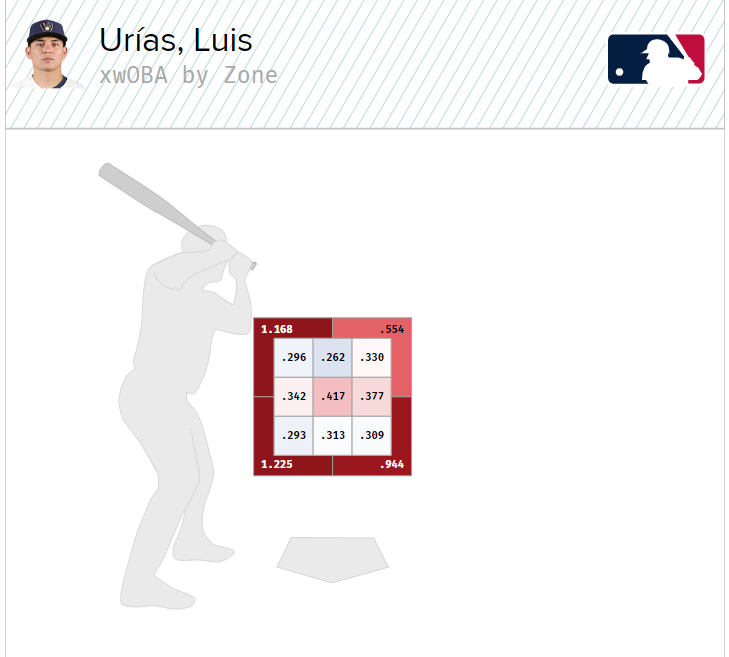 It doesn't have to be that way. The fact that Urías, a hitter with fine pitch recognition and good hand-eye coordination, makes contact so consistently even on pitches outside the zone speaks to the ways he could have found success with a different approach. This one is lower in volatility than some of those approaches, though, and trying to reset and rebuild him as that kind of hitter entirely would probably do more harm than good.
Still, some adjustment is in order. If Urías is going to stick to an approach that prizes strike-zone management and a more grooved version of his swing, he needs to get more aggressive on the first pitch. For one of a few reasons, consider the way fastball location changes as the count progresses.
Average Pitch Height by Count, Fastballs, MLB 2022
Average Pitch Height by Count, Fastballs, MLB 2022
| | |
| --- | --- |
| Strikes on Batter | Avg. Pitch Ht. (ft.) |
| 0 | 2.5 |
| 1 | 2.6 |
| 2 | 2.8 |

That's just a loose illustration of the principle, but it's enough. Hitters who depend on getting a pitch in the heart of the plate to produce shouldn't wait around for deep counts, even if they have the contact skills to make that approach viable. 
Like Tellez, Urías has enjoyed plenty of success doing things just the way the Brewers have asked them. Each could find their next gear by coming back toward the pack a little bit in terms of patience and locking in on pitches they can drive, especially early in counts. That's part of the key to the Brewers being a top-tier offense in 2023.
Think you could write a story like this? Brewer Fanatic wants you to develop your voice, find an audience, and we'll pay you to do it. Just fill out this form.
MORE FROM BREWER FANATIC
— Latest Brewers coverage from our writers
— Recent Brewers discussion in our forums
— Follow Brewer Fanatic via Twitter, Facebook or email