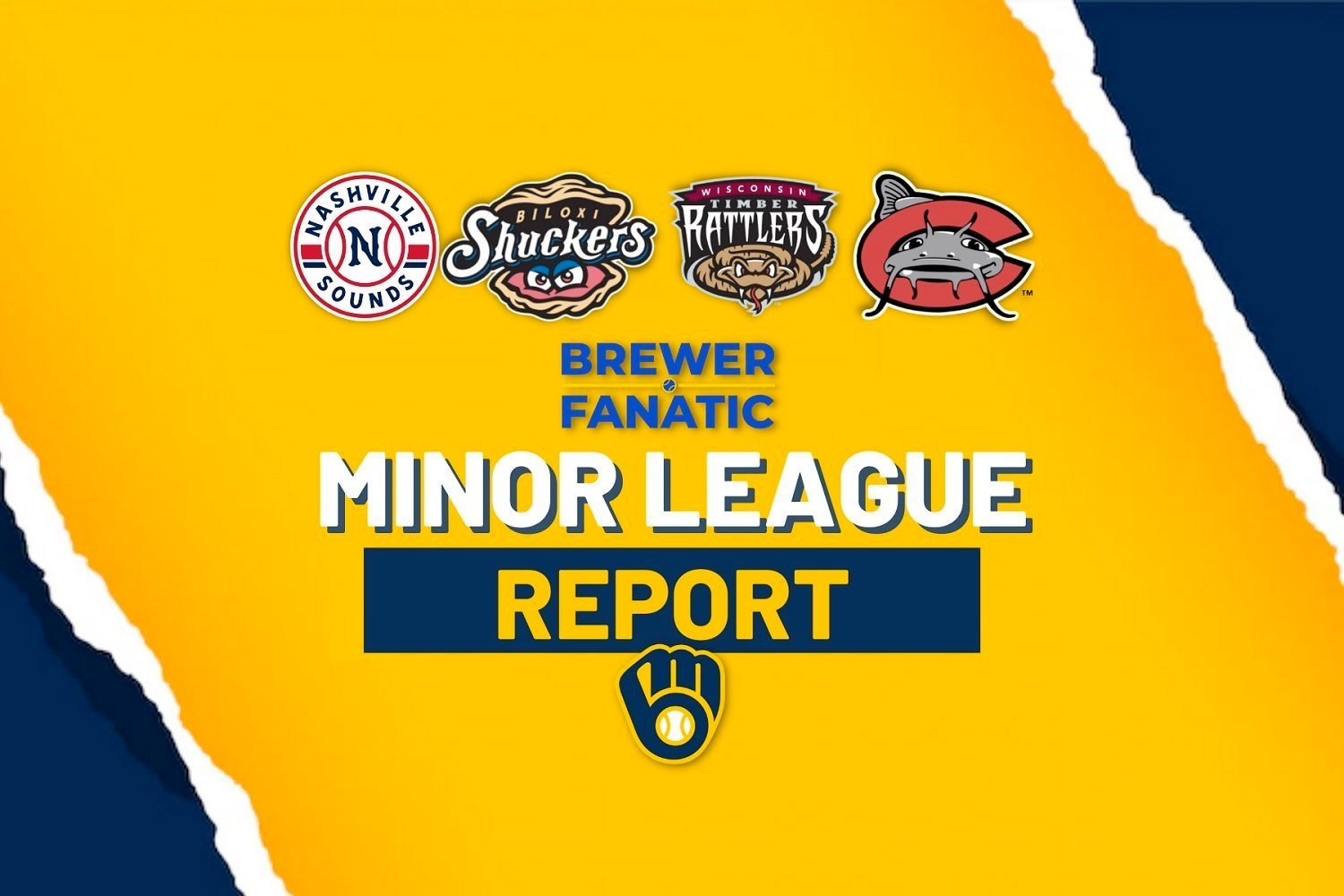 Image courtesy of BrewerFanatic
TRANSACTIONS: None
 
---

Postponed: Nashville at Jacksonville (Marlins)

Sounds Game in Jacksonville Postponed Due to Wet Grounds - Sunday's series finale will remain a nine-inning game

The next time the Sounds are in Jacksonville is June 6th through the 11th.

LHP Thomas Pannone was set to start Saturday but expect rehabbing RHP Adrian Houser to get his work in to begin Sunday's game.

To catch up with Voice of the Sounds Jeff Hem, go to the 26:30 minute mark here for his interview prior to Friday's game. Jeff helps explain AAA postseason qualifying scenarios to kick things off. No player-specific mentions outside of Eddy Alvarez, but some interesting discussion on league scheduling within.
 
---
Final, Game One: Biloxi 12, Rocket City (Angels) 4
Final, Game One: Biloxi 8, Rocket City 0

Via the Shuckers' site, we encourage readers to review each of the affiliate write-ups as part of your season-long Link Report routine::
Dominant Pitching, Hitting Lead Shuckers to Doubleheader Sweep over Trash Pandas - Shuckers combine to outscore Rocket City 20-4 in the twin bill, including their third shutout win of the year
Game One Box Score / Game One Game Log
Game Two Box Score / Game Two Game Log
Oh, so much goodness here.

First up, a shoutout to the young Voice of the Shuckers, Javik Blake. Brought on in the offseason to serve as the assistant and broadcast partner to longtime Biloxi announcer Garrett Greene, Blake moved into the lead when Greene joined the AAA affiliate of the Astros in Sugar Land, Texas. Pretty fantastic first affiliated opportunity for Javik (one season in the Northwoods League with the Fond du Lac Dock Spiders). 

Between Javik's enthusiastic calls and the fact that someone within the Biloxi production crew (Blake himself?) is finding a way to spin road game video with the Biloxi audio is a nice benefit for all of us.

You'll find eight (!) video highlights from the doubleheader on the team's Twitter Media Feed this AM.

This wasn't smoked, but it was solidly struck and we'll throw out the much-too-often-utilized "nice piece of hitting" for Jackson Chourio here:
Chourio was 4-for-8 with two walks, two RBI, SB and clean defense in CF for the night. Headlight from the MLB.com video team "Jackson Chourio's Great Game" will place some in a frenzy, but to be honest, there was quite a bit of well-placed soft contact involved, as seen in the video via the Brewers' own site here.

Speaking of even more Biloxi media, we are loving the fact that pre-game audio is regularly archived - RHP James Meeker and INF Isaac Collins among the latest, all found here.

You know, you watch and follow enough Brewers farmhand journeys over the years, and you get to be pretty good at identifying "breakout seasons" as they commence. 

Welcome to 2023, the Breakout Campaign of 23-year-old RHP Justin Jarvis, the 5th round 2018 North Carolina high school 5th round pick. Sixth year in the system, and you can bookmark this comment, but Jarvis will be an exciting add to the 40-man roster this fall to protect him from Rule 5, and let's not get too far ahead of ourselves, but to also build up the rotation replacement depth prior to the uncertainty of the Burnes/Woodruff/Lauer/Houser contract expiration timebomb. Here's Jarvis' 2023 three-game game log stats and by the way, the final four starts he made in 2022, his first taste of AA, went pretty well overall, too. Perhaps we should have seen this coming in a larger lens in anticipation for this season. It's still so early, but this has the real feel, agree?
Let's remember that SS Freddy Zamora was the 53rd overall pick in 2020. Given his injury history at the University of Miami and having played only 24 games with the Shuckers last season, Zamora had a statement doubleheader Saturday, 4-for-6, two BB's, HR. We won't throw the same breakout word yet for Freddy, but "very encouraging" seems appropriate.

Twitter thread as we wipe the collective drool. Big league debut by end of May, right?
NOTE: Catcher Jeferson Quero last played on Tuesday.

Thank you, Shuckers, for filling an otherwise light report this AM!
 
---

Final: Wisconsin 6, Quad Cities (Royals) 1

Via the Timber Rattlers' site:
Gray and Woessner Lead Rattlers Past Bandits - Wisconsin holds Quad Cities to two hits in 6-1 win
Pre-Game Media Notes (Download Link) via the team's Virtual Press Box
Box Score / Game Log

When your last name begins with "Wo" (Whoa!), you have a chance for some pretty cool fan chants.

2022 6th round JUCO RHP Tyler Woessner has dazzled in three starts thus far. 5 IP, 5 IP, 6 IP, is about as stretched out as one gets in the Midwest League in April (45 degrees Saturday night).

The Brisbane (Australian Winter League) duo of RHP Brannon Jordan and LHP Justin King finished up nicely.

Our nightly Minor League Forum kickoff thread includes interesting insights to SS/3B Eduardo Garcia's unexpectedly newfound plate discipline and the rough 2023 start for last summer's first round shortstop, Eric Brown, Jr.
 
---

Postponed: Carolina at Down East (Rangers)

Via the Mudcats' site: 

Unlike Nashville, Carolina will play two Sunday

How upset would we be if the Down East Wood Ducks were the Brewers' affiliate? No video, and no audio presence either, none at all.

As it is, I believe only two Carolina League announcers travel for road games. The awesome Greg Young, Jr. is not one of the two. We do love his home game coverage, thankfully.
 
---

Five games on tap Sunday, with the Mudcats' doubleheader for you Gameday-only online followers kicking off at 11:00 AM Central. All mid-afternoon action otherwise. Enjoy your day!

Organizational Scoreboard including starting pitcher info, game times, MiLB TV links, and box scores
Current Milwaukee Brewers Organization Batting Stats and Depth
Current Milwaukee Brewers Organization Pitching Stats and Depth
Think you could write a story like this? Brewer Fanatic wants you to develop your voice, find an audience, and we'll pay you to do it. Just fill out this form.
MORE FROM BREWER FANATIC
— Latest Brewers coverage from our writers
— Recent Brewers discussion in our forums
— Follow Brewer Fanatic via Twitter, Facebook or email
1