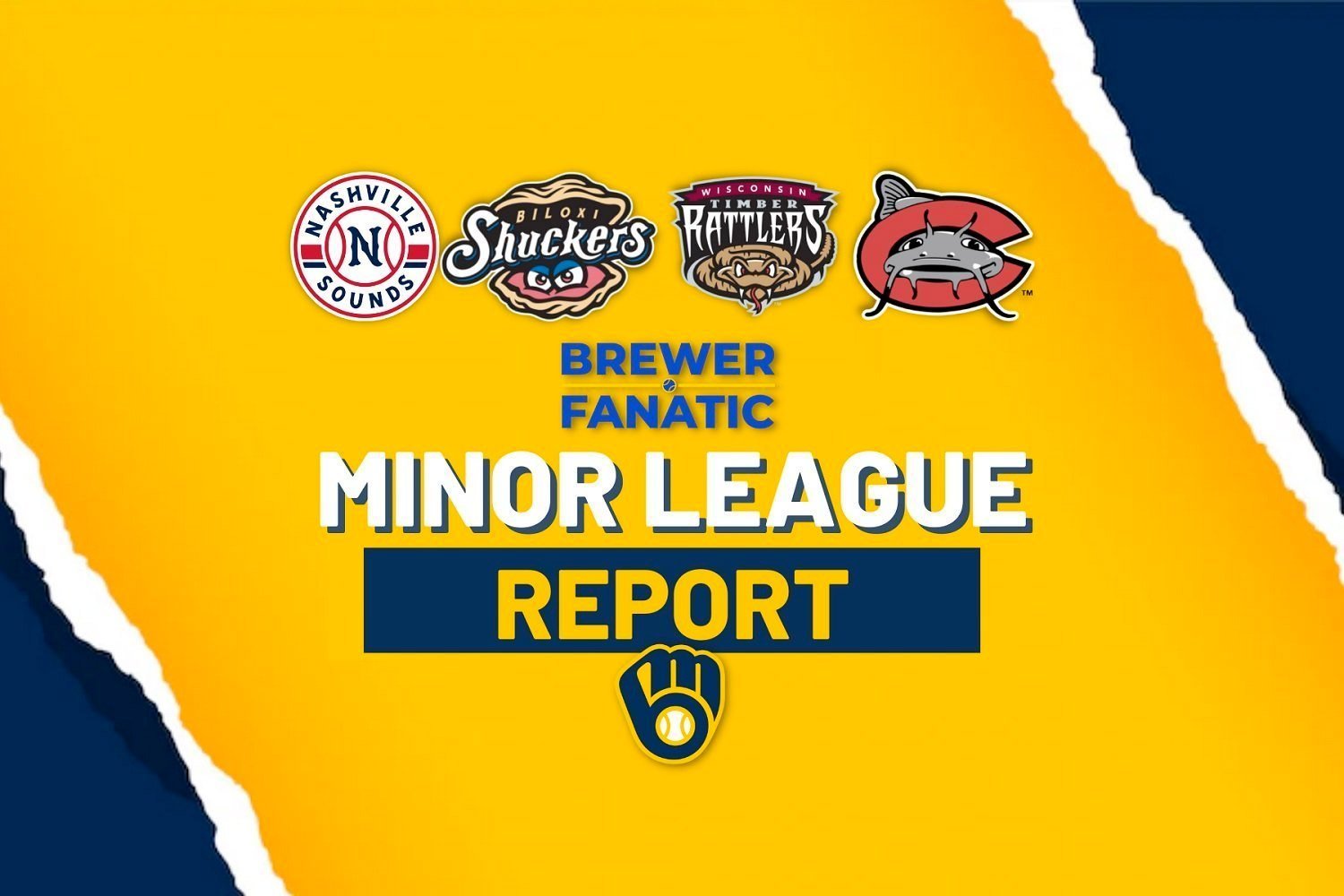 Image courtesy of BrewerFanatic
Transactions:
RHP Connor Sadzeck was outrighted to Nashville. As a previously outrighted player (October 2019 by Seattle), Sadzeck has the right to refuse the outright and become a free agent. We'll await word as to if he indeed formally accepted this assignment back to the Sounds.
RHP Jack Cousins had his rehab assignment moved from ACL Brewers Blue to Nashville.
---
Final: Nashville 4, Charlotte (White Sox) 2
Via the Sounds' site, game details, and we encourage readers to review each of the affiliate write-ups as part of their Link Report routine:
Hiura's Homer Leads Sounds to Another Win - Nashville has won nine of 10 games against Charlotte in 2022
Pre-Game Media Notes / Box Score / Game Log
For everything from Freddy Peralta to Dylan File to Jake Cousins on the mound, fine infield defense, and photos from Tim Dillard's big Bobblehead and Jersey Retirement Night, please check out the Sounds' Twitter Media feed this morning.
Roster observation: catcher Alex Jackson yet to play since his activation from the IL on July 17th. With three catchers on the big league level, and four catchers at AAA - Jakson Reetz got the start here, with Mario Feliciano, Brian Navarreto and Jackson listed on the Sounds bench.
---
Final: Biloxi 10, Montgomery (Rays) 9, ten innings
Frelick Walk-off Hit Salvages 10-9 Win in Extras - Shuckers Register 10th Walk-Off Victory
Pre-Game Media Notes / Box Score / Game Log
Biloxi's own Twitter Media Feed has offense from Thomas Dillard, Noah Campbell, and of course, the Sal Frelick game-ender
Yes, it was 8-0 Shuckers after five. Wild night, be sure to dig into the summary and the links above.
Stat observation: With Frelick reaching base five times in this contest, his OBP in 50 games with Biloxi this summer is now .391. His OBP in 21 games to start 2022 with Wisconsin? .391.
---
Final: Wisconsin 4, Cedar Rapids (Twins) 0
Rattlers Shut Out Cedar Rapids to Snap Streak - Jarvis pitches six scoreless with eight strikeouts in 4-0 win
Pre-Game Media Notes / Box Score / Game Log
 
AUDIO via the Soundcloud Rattler Radio Podcast: "The streak is over! The Timber Rattlers shut out the Cedar Rapids Kernels 4-0. The victory ended Wisconsin's ten-game losing streak. Chris Mehring & Kyle Lobner go over a few of the turning points and stats. Justin Jarvis, Tristan Peters, and Joe Ayrault have some comments from the clubhouse."
Via WSCO's "The Show with Leo and Balky (Thursday): Wisconsin Hitting Coach Nick Stanley (go to the 11:45 minute mark) - also Voice of the Timber Rattlers Chris Mehring (go to the 39:00 minute mark)
Fitting that Justin Jarvis is the subject of Kyle Lobner's Latest "T-Rat Talk".
Alumni observation: 
Video via MLB Network's "MLB Central": Enjoy the amazing journey of former Timber Rattlers infielder / converted to RHP Jose Cuas , now thriving in the big leagues with Kansas City
---
Final: Fayetteville (Astros) 2, Carolina 1
Late Error Proves Costly in 2-1 Loss in Fayetteville - The Carolina offense struck out a combined 17 times in the 2-1 loss in Fayetteville
Pre-Game Media Notes / Box Score / Game Log
Thank you, Greg Young, Voice of the Mudcats for this addition to the game summary you just read -
NOTE: Jheremy Vargas took a pitch to his helmet in the seventh and was forced to leave the game. His helmet absorbed most of the contact and Vargas is reportedly doing well.
The fateful decider - only error #7 on the season for Zack Raabe:
Likely over-worrying lineup observation: Catcher Jeferson Quero was the designated hitter Tuesday but has since sat out the last three games.
---
Final: ACL Brewers Blue 4, ACL Guardians 0
Box Score / Game Log
Combined two-hitter for the three Blue hurlers. fanning 13 while walking three, nice!

Final: ACL Brewers Gold 10, ACL Cubs 7
Box Score / Game Log
Gold with more walks (eight) than hits (seven). Three of the seven were two-baggers.
---
Final: DSL Texas Blue 5, DSL Brewers #1 Squad 3
Box Score / Game Log
Ugly, seven errors, so be sure to see how many earned runs were allowed by Brewer pitchers during their nine innings on the mound.

Final: Phillies Red 7, DSL Brewers #2 Squad 2
Box Score / Game Log
Clean defense in this one, but a four-run Phillie 8th bumped a one-run Brewer deficit to five.

Good place to remind everyone considering the need for this particular report to be a bit more streamlined this morning, that on a daily basis, we kick off a preview and an "as the games are being played" discussion thread on our Minor League Forum. Now please be aware that its volume of content will vary quite a bit from night-to-night, depending on the availability of our minor league gurus and contributions within from our posters, but you'll nearly always find noteworthy tidbits. Here's Friday night's thread.
On Saturday, all four full-season affiliate games are in the evening, so you'll be able to sample after the mid-afternoon big-league Brewers game. The Maryvale youth play their traditional Saturday morning game against each other. Both Dominican squads will be in action as well. Hope you all have a fine start to your weekend.
My weekend kicked off very well, sitting among so many others - for those of you who will also be in attendance at Fenway Saturday and/or Sunday, keep up the great work. 
Organizational Scoreboard including starting pitcher info, game times, MiLB TV links, and box scores
Arizona Complex League Scoreboard
Dominican Summer League Scoreboard
Standings and sortable stat pages
Current Milwaukee Brewers Organization Batting Stats and Depth
Current Milwaukee Brewers Organization Pitching Stats and Depth
Think you could write a story like this? Brewer Fanatic wants you to develop your voice, find an audience, and we'll pay you to do it. Just fill out this form.
MORE FROM BREWER FANATIC
— Latest Brewers coverage from our writers
— Recent Brewers discussion in our forums
— Follow Brewer Fanatic via Twitter, Facebook or email
2