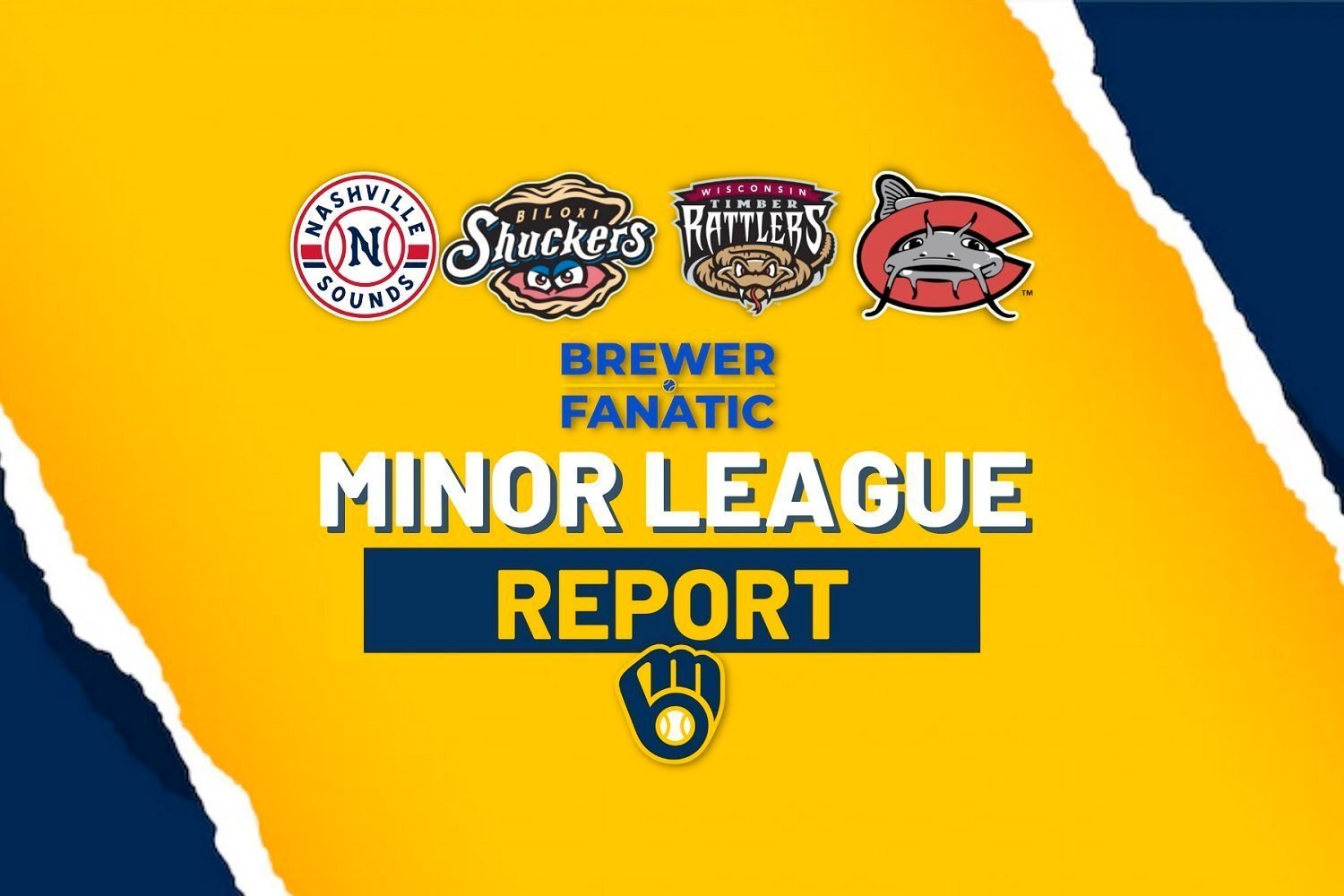 Image courtesy of BrewerFanatic
Transactions: 

RHP Connor Sadzeck declined his outright assignment to Nashville and is now a free agent.

OF Corey Ray activated from 7-day IL at Nashville.
 
---

Final: Charlotte (White Sox) 7, Nashville 5
Via the Sounds' site, game details, and we encourage readers to review each of the affiliate write-ups as part of their Link Report routine:
Sounds Win Streak Snapped by Knights - Nashville's eighth inning rally comes up short in 7-5 loss
Pre-Game Media Notes / Box Score / Game Log

Pablo Reyes (.835 AAA OPS), batting 3rd in this lineup, exited after taking a wicked pitch to his left shin in the 8th. Don't expect him in Sunday's lineup, he hobbled off extremely gingerly after the trainer visit. MiLB.TV subscribers can see the incident here, go the 03:56:20 hour/minute mark.

RHP Justin Topa's rehab inning: 3-1 groundout, walk (stolen base), RBI ground ball single to center, 4-3 groundout, 6-3 groundout.
LHP Andy Otero hadn't allowed more than one run in an outing since June 14h - he faced four batters here: single, single, single, double, three described as line drives in the game log.

Despite the loss, the Sounds media crew posted five video highlights to their Twitter media feed Saturday evening.

From a prospect standpoint, certainly this one is the most impactful -
Reyes' HBP came on literally the next pitch.

Bright news here!
---

Final: Montgomery (Rays) 9, Biloxi 4, ten innings
Shuckers Fall 9-4 in Extras - Devanney and Lutz Go Back-To-Back
Pre-Game Media Notes / Box Score / Game Log
Despite the home game, it was a night off for the Shuckers Twitter camera crew.

Safe to say we won't see many more 0-for-6 nights in Sal Frelick's career.

On the flip side, Cam Devanney, playing shortstop in this one, reached base five times (HR - his 16th, double, three walks). One can now truly compare his 2021 with the Shuckers to this season, as the at-bats nearly match. It's remarkable, and kudos to Cam, who was skipped over High-A last year.
2021: 291 at-bats, .175/.269/.261 (.530 OPS)
2022: 295 at-bats: .278/.357/.512 (.869 OPS)
RHP Nash Walters had been unscored upon in 16 outings before his blow-up 10th inning here. Walters, the 2015 3rd round pick, could have chosen minor league free agency last fall, but was re-signed by Milwaukee. The two parties will face a similar situation this fall.
 
---

Final: Wisconsin 7, Cedar Rapids (Twins) 6
Wisconsin Wows the Fans with 7-6 Win - Chourio homers and drives in three for Timber Rattlers
Pre-Game Media Notes / Box Score / Game Log

Dig into that linked game report, then your eyes will match the words when you take in the package below.
While it's fun to focus on Jackson Chourio, of course Chris Mehring didn't miss rightfully giving Tristan Peters his due:

Peters went 3-for-4 in the game. He has six straight games with two or more hits and is 13-for-24 during that streak.

Peters posted an "OK" .736 OPS as a 21-year-old college player (Southern Illinois) in Maryvale in 2021. The Brewers saw enough in spring training to have Peters bypass Carolina to begin this season, and Peters has been stellar.

Cam Devanney, meet Tristan Peters - you've both enhanced our summer fandom greatly as out-of-nowhere major contributors.
As uneven as Antoine Kelly's start was, the bullpen work of Joey Matulovich and James Meeker was fantastic.
 
---

Final: Fayetteville (Astros) 3, Carolina 2

NOTE: Game summary is via the Fayetteville site -
Woodpeckers Pull Off Eighth-Inning Comeback, Win Third Straight Against Mudcats
Box Score / Game Log

Solid recap summary there letting you know exactly how all five runs scored in the game.

With two outs, tough way to lose the lead on a squib base hit scoring two -
The lightning delay in the 5th (42 minutes) explains the truncated outing for RHP Carlos Rodriguez (four scoreless, hitless, two walks, one HBP).

Nash Walters, meet Michele Vassalotti - organizational partners who had rough nights despite long stretches of success coming into Saturday.

Eduarqui Fernandez, playing center field here, though with more corner outfield time under his belt to date, is off to a nice four-game start with the Mudcats. Don't forget, Fernandez was the 2018 big bonus baby, $1.1 million.

RF Hendry Mendez with hits in 17-of-18 games.
 
---

Final: ACL Brewers Gold 6, ACL Brewers Blue 5, eight innings (scheduled for seven)
Box Score / Game Log

Gold wins despite going 1-for-20 with RISP.

Final: DSL Brewers #1 Squad 8, DSL Texas Blue 7
Box Score / Game Log

A six-run 5th gave the Uno club a 7-2 lead before things got tight. Revenge win for Friday's matchup. 18-year-old Dominican RHP Aneuris Rodriguez' 7th pro appearance was by far his finest - no earned runs in five innings, no walks, six punchouts.

Final: DSL Brewers #2 Squad 9, Phillies Red 6, seven innings as scheduled
Box Score / Game Log

Another reversal of fortune in a Friday rematch,

My co-reporter @Joseph Zarr provided multiple nuggets on the three rookie-level games in his post on our Minor League Forum - be sure to check it out.

The rookie clubs are now off until Monday.
---

Nashville and Biloxi's games are Sunday evening, while the T-Rats and Mudcats play more traditional Sunday matinees. Enjoy another summer Sunday, everyone. we say goodbye to July!
Organizational Scoreboard including starting pitcher info, game times, MiLB TV links, and box scores

Standings and sortable stat pages
Current Milwaukee Brewers Organization Batting Stats and Depth
Current Milwaukee Brewers Organization Pitching Stats and Depth
Think you could write a story like this? Brewer Fanatic wants you to develop your voice, find an audience, and we'll pay you to do it. Just fill out this form.
MORE FROM BREWER FANATIC
— Latest Brewers coverage from our writers
— Recent Brewers discussion in our forums
— Follow Brewer Fanatic via Twitter, Facebook or email
2