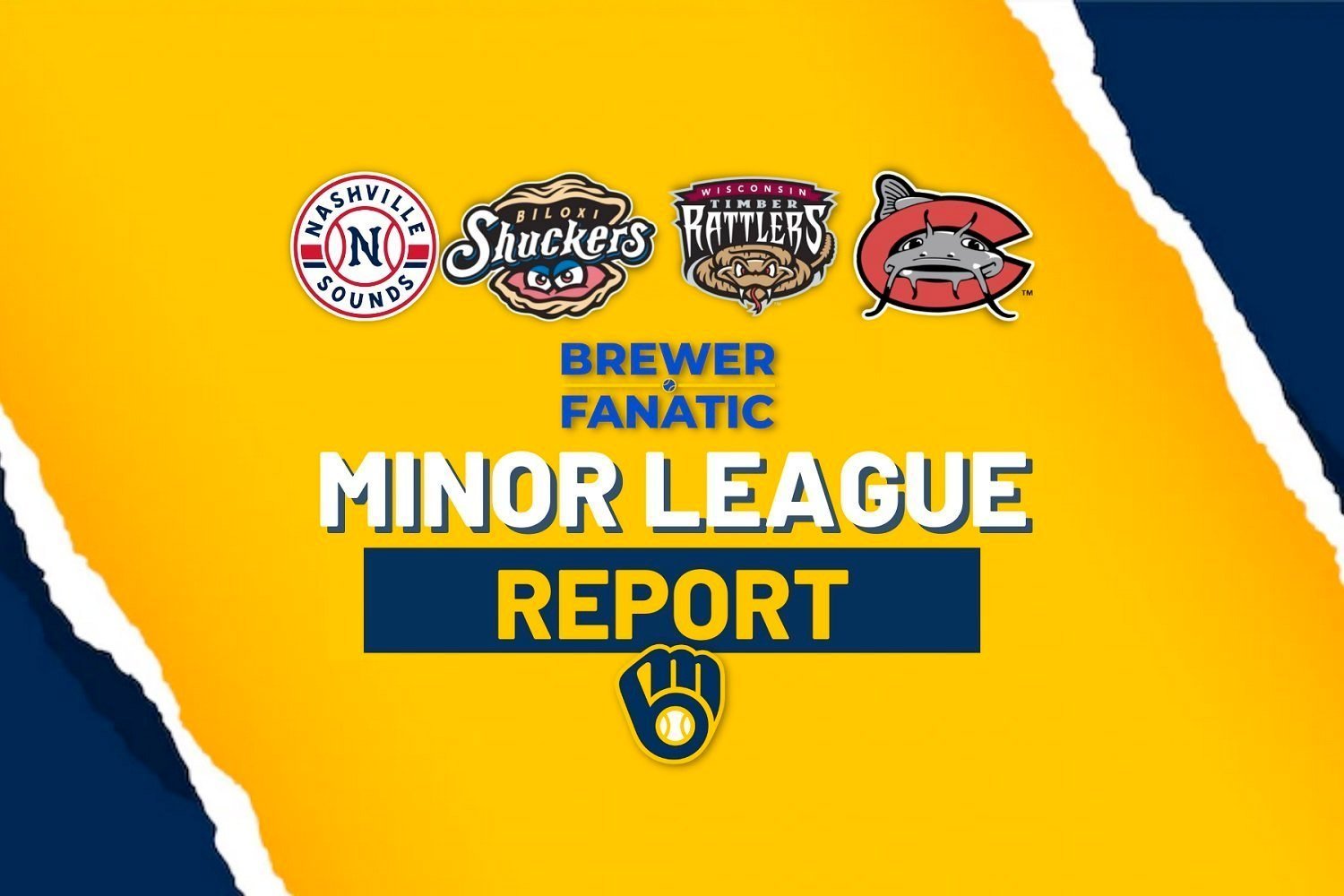 Image courtesy of BrewerFanatic
Hendry Mendez led the Mudcats' heroics, giving them leads in the 4th and 7th innings, the latter on a monster bomb into the right field lights (see video below). Young Stiven Cruz was also outstanding in his debut for the Timber Rattlers, but the offense was unable to support him.
Thursday's Game Balls go the aforementioned Cruz and Mendez, as well as Eric Brown Jr., Jace Avina and Taylor Floyd.
Transactions:
---
Game Action:
Nashville Pre-Game Media Notes
Postponed (Rain): Make-up as part of August 21 doubleheader
Via the Sounds' website, postponement details: Sounds and Jumbo Shrimp Postponed in Jacksonville
Nashville and Jacksonville will make up this game as part of a Sunday doubleheader.
Friday's outlook: It's a Friday doubleheader (and an off day on Saturday). Expect RHP Dylan File (4.40 season ERA) and LHP Ethan Small (3.38 season ERA) to start the Friday contests, with Nashville hoping for a sweep of the day to claim a 3-1 series lead.
---
Biloxi Pre-Game Media Notes
Final: Montgomery 4, Biloxi 0
Box Score / Game Log
Via the Shuckers' website, game details, and we encourage readers to review each of the affiliate write-ups as part of their Link Report routine: Shuckers Shutout By Biscuits
Starting RHP Victor Castaneda (5 IP, 4 R, 6 H, 4 BB, 2 WP, 9 Ks) had a rare off game, with an infield single in the 1st inning escalating into four consecutive hits to give the Biscuits an early 2-0 advantage.
In the 4th inning, two walks and two strikeouts were followed by a clutch RBI double from the opposition, then a run-scoring wild pitch to complete the scoring. Castaneda still managed to strike out nine Biscuits on his 106-pitch day.
Montgomery retired the final nine Shuckers in order in their fine 12-strikeout, shutout performance.
Three Quick Strikes:
Friday's outlook: Impressive LHP Robert Gasser (season ERA 3.90 in High-A/AA) is ready to make his third start for the Shuckers, who need a victory to knot the series at 2-2.
---
Wisconsin Pre-Game Media Notes
Final: Cedar Rapids 1, Wisconsin 0
Box Score / Game Log
Via the Timber Rattlers' website, details: Cedar Rapids Solo Homer Stops Wisconsin
One could not possibly ask for a better High-A debut for 20-year-old RHP Stiven Cruz (6 IP, 1 R, 1 H, 2 BB, 5 Ks), who conceded just one hit in six innings of work against a terrific Cedar Rapids squad which ran its season record to 66-45.
The fatal blow (a solo homer to 2B Mikey Perez, his first in High-A after a promotion earlier this month) came on an 0-1 pitch to start off the bottom of the 5th inning. Cruz threw just 76 pitches (50 strikes) in his six excellent innings of work.
Wisconsin outhit the Kernels three to one, as both offenses struggled on a day for the pitchers. On the bright side, the Timber Rattlers struck out only four times in their 32 plate appearances. The balls just weren't landing for hits on this day.
The Timber Rattlers managed to get 1B Ernesto Martinez (1-for-2, walk, SB) to third base on a single, stolen base and error with two outs in the 6th inning, but couldn't bring him home. Their last baserunner came via a C Darrien Miller (0-for-3, walk) four-pitch walk with two outs in the 8th inning, but again nothing could come of it.
Three Quick Strikes:
Friday's outlook: RHP Brady Schanuel (season ERA 3.76) is pegged to make his second-ever minor league start in what is presumably a bullpen game for a Wisconsin club which desperately needs a victory, down 3-0 in the series.
---
Carolina Pre-Game Notes (not available via standard link)
Final: Carolina 10, Fayetteville 5
Box Score / Game Log
Via the Mudcats' website, game details: Mendez and Brown Homer in 10-5 Victory
This game looked like it may be lost in the top of the 1st inning, as Fayetteville jumped out to a 4-0 lead against starting RHP Edwin Jimenez (5 IP, 5 R, 6 H, 4 BB, 1 HBP, 0 Ks), with five players reaching base in succession: single, walk, hit-by-pitch, 2-run single, double, sacrifice fly.
To their credit, the Mudcats punched right back in an entertaining affair, producing two runs on three hits in the bottom of the 1st inning, including RBI singles from Outfielders Jace Avina (2-for-4, double, RBI) and Eduarqui Fernandez (1-for-3, walk, RBI).
In the third inning, the Brewers' 2022 first and second round draft picks teamed up to knot the game 4-4 via a SS Robert Moore walk and then DH/SS Eric Brown Jr.'s second homer since joining Carolina.
18-year-old OF Hendry Mendez (3-for-5, HR, 3 RBIs) then gave the Mudcats their first lead of the game at 5-4 via an RBI infield single in the bottom of the 4th inning and did it again at 6-5 with a towering first-pitch solo homer in the bottom of the 7th inning.
In the bottom of the 8th inning, the floodgates finally opened, as Carolina brought in four runs on four singles (1B Jesus Chirinos, 2B Zack Raabe, 3B Branlyn Jaraba, Mendez) and a walk to put the game out of reach at 10-5.
Three Quick Strikes:
Friday's outlook: RHP Alexander Vallecillo (season ERA 4.60 in ACL/Low-A) is scheduled to make his third start in Low-A ball, as Carolina hopes to clinch the series with a fourth consecutive win.
---
ARIZONA COMPLEX LEAGUE
Cancelled (Rain): ACL Brewers Blue vs. ACL Athletics (I assume this game will not be made up)
This game had commenced, with LHP Brian Fitzpatrick (10th round draft pick) getting the start, but now the box score seems wholly unavailable online after it was apparently cancelled due to rain.
Cancelled (Rain): ACL Brewers Gold vs. ACL Guardians (I assume this game will not be made up)
This game had commenced, with RHP Tyler Wehrle (undrafted free agent signing) getting the start, but now the box score seems wholly unavailable online after it was apparently cancelled due to rain.
---
DOMINICAN SUMMER LEAGUE
Final: DSL Brewers1 14, DSL Texas Red 8
Box Score / Game Log
Brewers-1 didn't let a 3-0 deficit in the 1st inning get them down, scoring 14 unanswered runs to dominate the game before generously allowing five runs to Texas in the final frame. The win improves Brewers-1's record to 21-34.
17-year-old switch-hitting OF Luis Lara (4-for-4, HR, HBP, 3 RBIs, SB) was the star of the game, homering, scoring five runs, driving in three runs and reaching base in all five plate appearances.
OF/INF Luis Watter (2-for-3, BB, HBP) reached base four times in a notable effort, while consistent producer C Edgardo Ordonez (1-for-4, double, 2 RBIs, - season OPS of .810) knocked in two runs with a double.
The teams combined for 23 hits (13 for our young men) along with 13 errors (six for Brewers-1). Neither Lara, Ordonez nor Watter committed any of our errors, nor did OF Duncan Garcia (1-for-4, 2 RBIs) who instead threw out a runner at home.
On the mound, let's give credit to 17-year-old LHP Justin Caceres (3 IP, 0 R, 2 H, 1 BB, 2 HBP, 4 Ks) for his three innings of scoreless work.

In the worrisome category, 1B Arnys Rodriguez was replaced after just two innings, having singled and scored before exiting. Hopefully it's only a short-term challenge.
Suspended after 5 ½ innings (Rain): DSL Brewers2 2, DSL Phillies White 1 (to be continued)
Box Score / Game Log
Starting 20-year-old RHP Jerel Vizcaino (3 IP, 1 R (0 ER), 4 H, 2 BB, 2 Ks) allowed more traffic than usual, but still battled and only yielded one run which was unearned. Fellow long-man 19-year-old RHP Dencer Geraldo (2 IP, 0 R, 2 H, 0 BB, 1 WP, 0 K) then followed up with two scoreless innings.
3B Johan Barrios and OF Irving Igualas teamed up with two singles in the 4th inning to tie the game 1-1, then OF Reminton Batista doubled and scored on an Igualas RBI ground-out to give Brewers-2 its first lead in the top of the 6th inning, right before rains postponed the contest.
Expect the game to be concluded on Saturday, August 20 as part of a quasi-doubleheader.
We hope that you enjoy the Minor League Link Report. Good luck on Friday to all teams, including doubleheaders for Nashville and DSL Brewers-2 (leading 9-5 in the 4th inning of an earlier suspended game)!
Organizational Scoreboard including starting pitcher info, game times, MiLB TV links, and box scores
Standings and sortable stat pages
Current Milwaukee Brewers Organization Batting Stats and Depth
Current Milwaukee Brewers Organization Pitching Stats and Depth
Think you could write a story like this? Brewer Fanatic wants you to develop your voice, find an audience, and we'll pay you to do it. Just fill out this form.
MORE FROM BREWER FANATIC
— Latest Brewers coverage from our writers
— Recent Brewers discussion in our forums
— Follow Brewer Fanatic via Twitter, Facebook or email
1