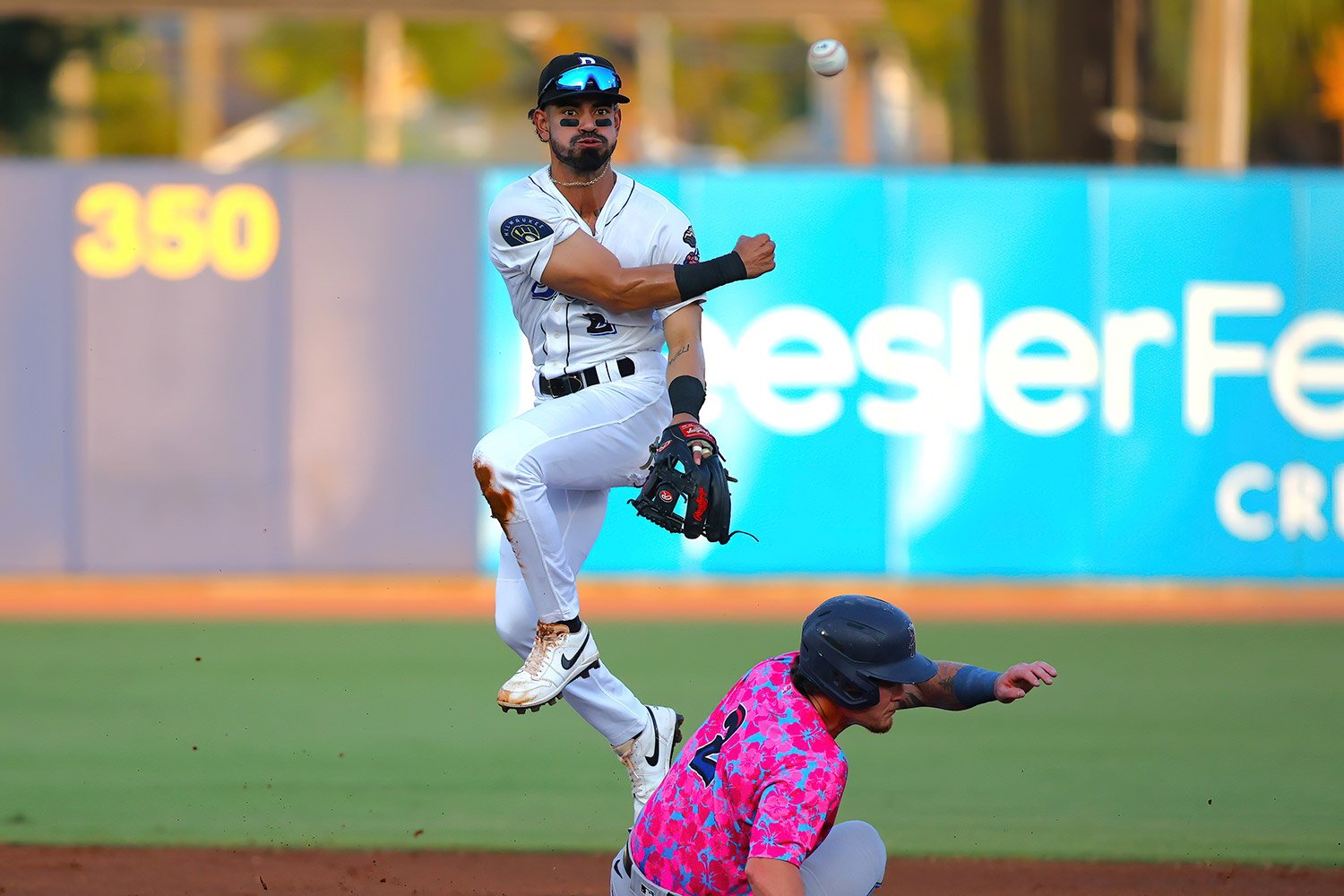 Image courtesy of Biloxi Shuckers and Mike Krebs - Freddy Zamora Pictured
TRANSACTIONS:
RHP

 

Julio Teheran placed on a rehab assignment at High-A Wisconsin
OF

 

Terence Doston placed on High-A Wisconsin's 7-day injured list
SS/3B Eduardo Garcia activated from High-A Wisconsin's 7-day injured list
---
Final: ACL Brewers 2, ACL D-Backs Red 1, Game One of the Best-of-Three Arizona Complex League Championship Series
One. More. Win.
Sure would be nice to kick off the next five-to-six-weeks of Brewers farm system action with a banner-clinching effort for American Family Fields of Phoenix. The A-Crew hosted Game One as the lower seed, with the series now moving to Salt River Fields at Talking Stick for the remainder of the set.
Just as was the case in Thursday's 3-2 semifinal game win over the Rockies, pitching led the way. RHP Josh Timmerman, the 2023 16th round RHP out of Ohio State, tossed scoreless ball over the first three innings. Timmerman only turned 21 earlier this month, young for a draftee out of a four-year school.
19-year-old LHP Osbriel Mogollon, the 2nd year (1st year stateside) Venezuelan, followed with four shutout frames of his own. Mogollon only walked one, avoiding the control issues that occasionally marred his otherwise very solid season-long work. 

2-0 lead going to the 8th for the good guys...
Welcome back, RHP Justin Yeager (3rd piece in the amazing Esteury Ruiz trade), first time on the mound since May 11th with Biloxi. One unearned run allowed, and got three outs with the tying run standing on second base with no outs.

There was similar drama in the 9th as non-drafted signing RHP Bayden Root got K's swinging on the first two men, before two singles placed runners on the corners. One more swinging K ended the contest, sweet!
Kudos to Juan Baez (playing second base here) for his two-run double in the 3rd. Anti-kudos for being thrown out at 3rd with no outs trying to extend to a triple. Review the box and log for not a whole lot in the way of Crew offense outside of seven walks.
Two chances for a championship, come back Sunday AM for our next report!
---
Final: Nashville 7, Gwinnett (Braves) 3
Via the Sounds' site, we encourage readers to review each of the affiliate write-ups as part of your season-long Link Report routine:
Sounds Stay Hot, Win Fifth Straight - Nashville clinches series win with 11th consecutive victory over Gwinnett
As a 2021 draft pick by San Diego, LHP Robert Gasser does not need to be protected in Rule 5 this winter, still too early in his career. Unfair for Robert, but Milwaukee is likely not to assign a 40-man roster spot to Gasser until he makes his big-league debut sometime early next season, despite all the success as of late, fueled (get it, fueled?) by his greatly improved command and control.
You can bet LHP Ethan Small's buddies let him know about another rough Andrew Chafin outing. 
I'm not a huge Owen Miller backer, but he is sucking it up and heating up. Must be killer for him to follow the red-hot exploits of his mates in Milwaukee.
As always, catch the write-up linked above for all the notes (Black, Hiura, etc.)
Voice of the Sounds Jeff Hem checked in for this Nashville media podcast at the 26:30 minute mark here.
---
Final: Pensacola (Marlins) 6, Biloxi 4
Via the Shuckers' site:
Early Runs Too Much to Overcome in 6-4 Loss for Shuckers - Pensacola scores five early, Shuckers tally 10 hits in loss
It'll require a deep dive into the game log to determine how the Shuckers only scored four runs. Eleven hits (including two doubles), four walks, 5-for-12 with RISP.
1B Ernesto Martinez was 3-for-4 with a double, he's up to 50 plate appearances with Biloxi and is rocking a .922 OPS.
This was LHP Adam Seminaris' first non-Maryvale rehab outing since May 17th. The third piece of the Hunter Renfroe trade (Janson Junk, Elvis Peguero) did not walk or K a batter in 3.2 innings (3 ER).
RHP James Meeker provided 4.1 innings of quality length. RHP Ryan Brady was the most recent pre-game audio guest on the Biloxi archived audio page.
More Shuckers video via their "X" media page here.
---
Final:  Quad Cities (Royals) 9, Wisconsin 2
Via the Timber Rattlers' site:
Bandits Batter Thirteen Hits to Beat Wisconsin 9-2 - Rattlers drop second straight game to Quad Cities
Pre-Game Media Notes (Download Link) via the team's Virtual Press Box
Let's all agree these latest auctioned jerseys are spectacularly vivid. Bidding ends early Sunday evening.
Follow up the game summary you just read and then all the video action falls in place:
Would not have remembered that Jheremy Vargas has now appeared in nine games at first base this season (the first eight with Carolina), this was his first action there for the T-Rats.
Darrien Miller was HBP for the 10th time in 2023 and for the 51st time in 245 pro games. Yes, that's a lot, but it's not like he's sticking his elbow out, he's just a magnet of sorts.
Brock Wilken doubled and walked, Mike Boeve an RBI single as the DH.
---
Final: Columbia (Royals) 12, Carolina 4
Bullpen Blasted Late in 12-4 Loss to Fireflies - Jesus Chirinos homered and Tayden Hall extended his hit streak to 14 games in the loss

Pregame Media Notes
Tagged with the loss here (2 IP, 5 R, 3 ER), 23-year-old RHP Tyler Wehrle gets credit from this camp for plenty of solid work this season - he's pitched a pretty remarkable amount of innings out of the pen (75.2) and 23 of his 24 appearances have been in relief. At 8-6, his 14 decisions indicates he's been in tight games all season long.
Every time we see the energizer bunny work of Dylan O'Rae, I'm picturing him with just another two inches and 15 pounds on his listed 5'7", 160 frame, and what that would mean. But darn if he's not something. This was his only knock in this one:
That being said, let's just forget about height / weight on MiLB Player Pages. First baseman Jesus Chirinos is listed at 165 pounds. Heck, his butt and thighs weigh that much.
Thank you, teams trailing the Muddies in the standings for losing again on Friday night.
---
Go, you Maryvale Brewers! 
Ignore the listing of Biloxi RHP Jacob Misiorowski for tonight seen at the link below as of post time. He's being put "on pause".
Have a nice Saturday, everyone!
Organizational Scoreboard including starting pitcher info, game times, MiLB TV links, and box scores
Current Milwaukee Brewers Organization Batting Stats and Depth
Current Milwaukee Brewers Organization Pitching Stats and Depth
2