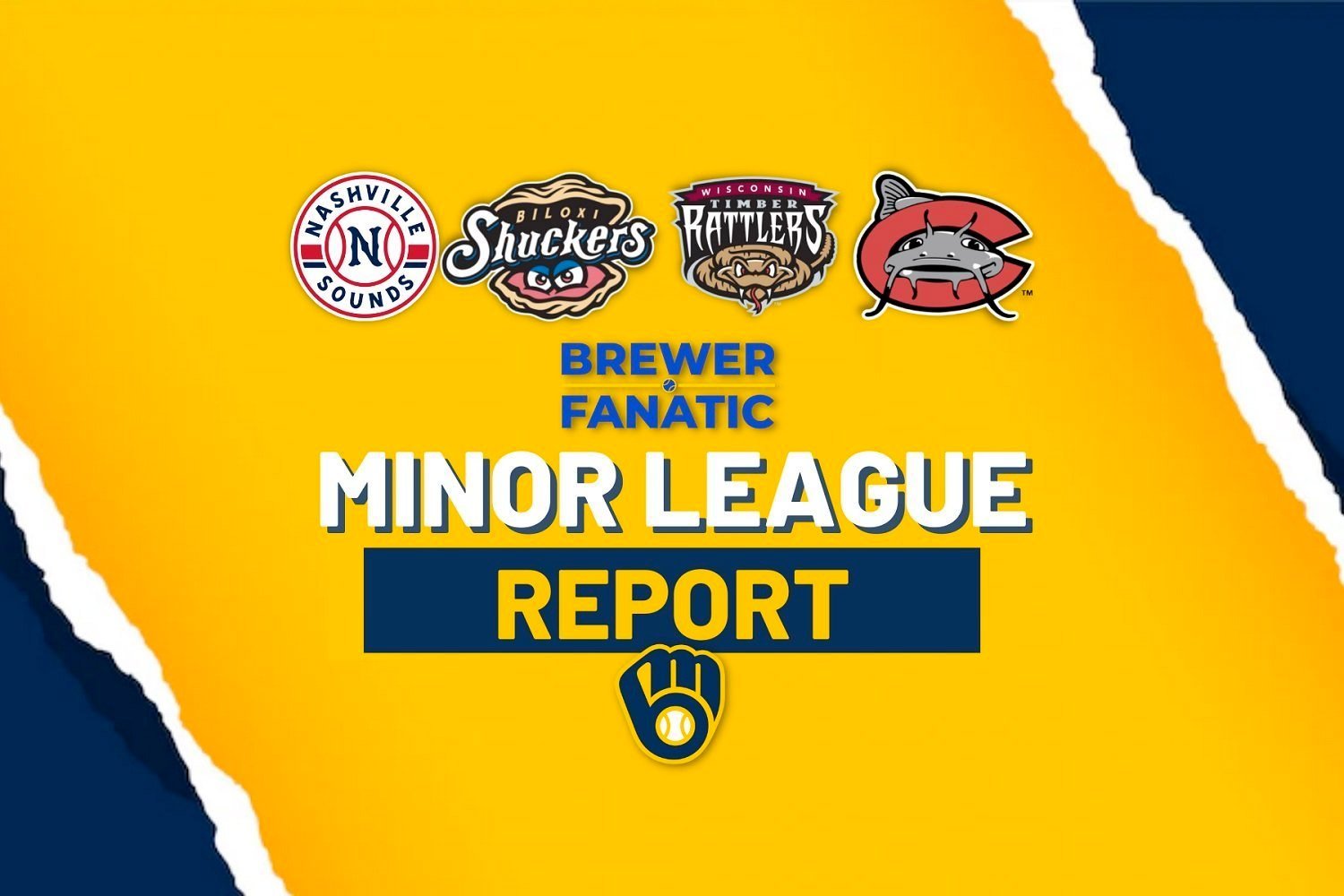 Image courtesy of BrewerFanatic
Transactions:

- INF/OF Pablo Reyes optioned to AAA Nashville from MLB Brewers (creating space for the reinstatement of INF/OF Jace Peterson)
- RHP Arielbi Gonzalez promoted to Low-A Carolina from ACL Brewers Blue
- RHP Yerlin Rodriguez promoted to Low-A Carolina from ACL Brewers Gold
 
---

Final: Nashville 11, Durham (Rays) 8
Via the Sounds' site, game details, and we encourage readers to review each of the affiliate write-ups as part of their Link Report routine:
Wiemer, Sounds Slug Past Durham - Joey Wiemer Hits Two of Nashville's Four Homers in Road Victory
Pre-Game Media Notes / Box Score / Game Log

First order of business was confirming that Sal Frelick was in fact simply enjoying a day off (he was).

A thank you to Spencer Michaelis for splicing these out from the road Bulls broadcast. The Joey Wiemer blasts are in reverse chronological order -
In a down season in terms of average and OBP, Wiemer has 19 home runs and is 29-for-32 in stolen base attempts. Wish my down seasons in life were as productive. Take a gander at Wiemer's month-to-month splits. We may never know the extent of the still unconfirmed hand-related woes that apparently impacted his June and July, but with his promotion, Brewers brass saw past that impact.

The roadrunner Sounds only attempted two stolen bases, but both Esteury Ruiz and Garrett Mitchell were successful (naturally). Although not snapped when he was with Nashville, have to love the photo of Ruiz sitting atop his MiLB Player Page.

When they weren't crushing dingers, the Sounds were 4-for-5 with RISP. Take note, big league club.

Not a stellar mound night, Dylan File 106 pitches in just 4.1 innings, and while Cam Robinson opened a get-some-work-in 9th with single-walk-two RBI double, he immediately buckled down to retire the final three batters.
 
---

Biloxi Pre-Game Media Notes
Final, Game One: Chattanooga (Reds) 4, Biloxi 2
Box Score / Game Log
Final, Game Two: Biloxi 11, Chattanooga 5
Box Score / Game Log

Warren Drives in Six Across Two Games as Shuckers Split Doubleheader - Whitley Homers, Walks Four Times for Biloxi

Health concerns first from the 3rd inning of Game One - Tristen Lutz was drilled by a pitch right off the protective left ear of his batting helmet, or perhaps just a touch above it. MiLB TV subscribers, go the 01:57:00 hour/minute mark here. Clearly shaken up but somehow managing to stay on his feet, Lutz was immediately whisked into the dugout. Hopefully OK, and surely, Tristen was placed on concussion-watch protocol immediately. Best wishes, young man.

Thomas Dillard saw his first 2022 defensive action at a position other than first base when he started for Lutz in left field of Game Two, and wouldn't you know, had an outfield assist. Don't expect days off for Corey Ray or Garrett Whitley while Lutz is sidelined, and Terence Doston remains on the roster and entered for Lutz in Game One.

Thanks again, Spencer - a couple of filthy pitches from LHP Robert Gasser here. Gasser deserved a better fate in Game One, as the doubleheader summary detailed well. Gasser walked one, hit one batter, and fanned nine in 5.2 IP, touched for two solo home runs.
Here is a direct link to the Shuckers' Twitter Media Page, where you will find ten, count 'em, ten videos from the Friday twinbill.

RH starter Victor Castaneda can underwhelm as he did in the nightcap: four shutout innings and handed a six-run lead, then homer - bunt single - line drive single - line drive double - home run to start the 5th.
 
---

Final: Lansing (Athletics) 3, Wisconsin 2
Rattlers Late Lead Disappears Against Lansing - Lugnuts beat Rattlers 3-2
Pre-Game Media Notes / Box Score / Game Log

Honestly, I'm trying to picture the combined frustration level of a fan in attendance in Appleton Friday night who was also simultaneously listening to the big-league Brewers game. That game summary is just dripping with what-if's and why's.

Nice awaited rebound effort from RHP Israel Puello, though, sweet.
 

Saturday marks ten days since Jackson Chourio (sore right elbow) played.

While that Chourio note may bum you out, these two interviews were fun, especially Metzinger, who only learned a minute or two prior he'd be going on the air -

Via WSCO's "The Show with Leo and Balky: Timber Rattlers 7th round Louisville third baseman Ben Metzinger (go to the 12:40 minute mark) - also 2021 5th round Duke infielder Ethan Murray (go to the 37:45 minute mark)

Speaking of audio --
"The final Los Cascabeles Night of the season was a tough 3-2 loss for the Timber Rattlers. Chris Mehring & Kyle Lobner talk about the positives like Israel Puello, Joe Gray Jr. and Jose Acosta. Joe Ayrault chimes in with a brief history of Hit Batsmen in the Darrien Miller family and more in this edition of the Postgame Podcast."

Did we link within our daily reports to the latest T-Rat talk yet, with Darrien Miller? Here you go.

As of Sat. AM, about a day and a half left for those sweet jerseys via auction.
 
---

Final: Carolina 4, Kannapolis (White Sox) 1
Pre-Game Media Notes / Box Score / Game Log

At least for the moment, no game summary available for this road contest. The Voice of the Mudcats, Greg Young, Jr., hasn't traveled with the team this season, something hopefully rectified in 2023 and beyond, it's amazing he has provided us with as much as he has this season. Remember Brewers, you own this affiliate!

Yes, LHP Leoni De La Cruz was already 23 years old when he signed with the Crew in 2021. Now 24, that should be taken into account. But De La Cruz got an out to strand three baserunners for starter Tyler Woessner and then went on to toss four additional scoreless. That's one of the more impressive relief performances in the system this season.

This was Woessner's full-season debut. Via @Joseph Zarr in our Minor league Forum nightly thread:

Uh oh, Woessner just took a hard-hit comebacker off his pitching arm/hand? It's hard to tell. The trainer came out and gave skipper Victor Estevez the 'no go' sign.

MiLB TV subscribers: Go to the 01:26:25 hour/minute mark here.

Ugh, but how lucky have we been to have Joseph somehow monitor so much game action live from his Pacific Northwest farm-cave. We've been privy to details we otherwise would not have been, so thanks, Joseph!

2022 first round pick Eric Brown, Jr. has been idle since Tuesday, three games missed. As is so often the case without a clear in-game exit, we are left to wonder. For all we know, Brown could be on a personal-related absence. No speculation on our part - yet. 

Monster game for 18-year-old LF Luis Castillo, 4-for-4 with two doubles. He factored into all three run-scoring innings, and in the unique summary-less scenario here, this is an ideal time for you to click on the game log and visit the 2nd, 6th, and 8th innings.
---

It's four evening games for the affiliates Saturday night. Both Nashville (leading) and Carolina (trailing) see 3.5 game differences in their respective standings. Oh, and we kicked off a new "Alumni News and Notes Thread", be sure to check out the Friday nights of Ryan Aguilar and Cody Ponce! Catch you again Sunday morning, folks.
Organizational Scoreboard including starting pitcher info, game times, MiLB TV links, and box scores
Standings and sortable stat pages
Current Milwaukee Brewers Organization Batting Stats and Depth

Current Milwaukee Brewers Organization Pitching Stats and Depth
Think you could write a story like this? Brewer Fanatic wants you to develop your voice, find an audience, and we'll pay you to do it. Just fill out this form.
MORE FROM BREWER FANATIC
— Latest Brewers coverage from our writers
— Recent Brewers discussion in our forums
— Follow Brewer Fanatic via Twitter, Facebook or email