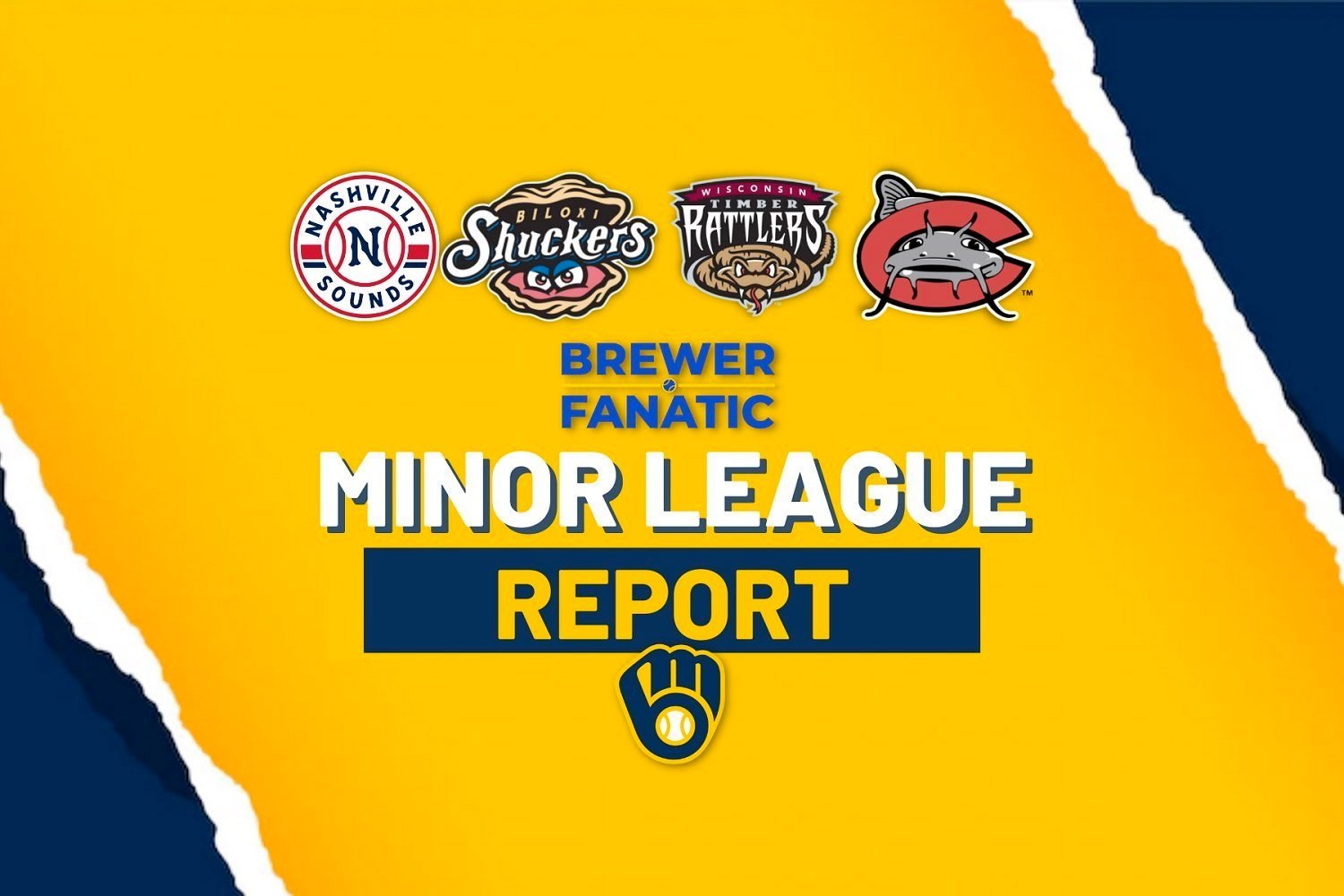 Image courtesy of BrewerFanatic
Transactions:
From Friday night's Link Report:
"Health concerns first from the 3rd inning of Biloxi's Game One - Tristen Lutz was drilled by a pitch right off the protective left ear of his batting helmet, or perhaps just a touch above it. MiLB TV subscribers, go the 01:57:00 hour/minute mark here. Clearly shaken up but somehow managing to stay on his feet, Lutz was immediately whisked into the dugout. Hopefully OK, and surely, Tristen was placed on concussion-watch protocol immediately. Best wishes, young man."
On Saturday, the Brewers placed Lutz on the Biloxi 7-day IL.
And yes, there was this ?, congratulations Garrett!
Milwaukee Brewers selected the contract of OF Garrett Mitchell from Nashville Sounds.
---
Final: Nashville 3, Durham (Rays) 2
Via the Sounds' site, game details, and we encourage readers to review each of the affiliate write-ups as part of your Link Report routine:
Sounds Edge Durham - Outfield Trio of Frelick, Ruiz and Wiemer Each Drives in a Run
Pre-Game Media Notes / Box Score / Game Log
We are witnessing one of the greatest affiliate seasons in Brewers' history. That the Sounds are only 3.5 games up in the standings is only a testament to how well the Guardians' Columbus club has played. These two-city but twelve-game road trips in the new MiLB schedule format are absolute beasts, and the Sounds, as noted in the summary you just read, are 8-3 heading into Sunday's finale.
We'll often utilize the "Three Quick Strikes" format - well, the Sounds' staff beat us to that long ago, and their notes at the back end of the summary on Esteury Ruiz, Sal Frelick, Joey Wiemer, Hobie Harris, Trevor Kelley and Tyler Herb are spot-on and eye-opening.
On a side note, I'm surprised that spelling "Esteury" correctly is coming pretty naturally.
The 7th inning game log reveals a rather tame set of circumstances, but there was something within the mix, including a base on balls by Lucas Erceg, that got pitching coach Jeremy Accardo ejected.
For those of you still glancing at batting average (hard not to, even in this era of box scores), Mario Feliciano 's double and single have him up to .291, he doesn't have enough plate appearances to appear among International League leaders. (Brice Turang at .289 does, and he sits at 16th.)
 
---
Glove work gets the spotlight in a low-scoring affair -
Both players highlighted,
Garrett Whitley and Yeison Coca, qualify for minor league free agency at season' s end.
Five of the Shuckers eight hits came from Gabe Holt and Brent Diaz at the bottom of the order, but the dreaded 0-for-9 with RISP and ten LOB doomed this team effort.
For only the 4th time all season (23 starts), Brandon Knarr walked more than two batters. Yet he tossed six shutout frames here despite four free passes, pitching on nine days' rest. It's been a very solid season for the 24-year-old "undrafted" southpaw, who only wears that moniker due to the five-round 2020 Covid draft situation.
Very rare hiccup for a true undrafted player, RHP "Have luggage, will travel" Ryan Middendorf, who stumbled in his AAA debut. Since signing back on June 14th, the 24-year-old has played in Maryvale, Carolina, Wisconsin and now Biloxi.
We just kicked off an Arizona Fall League Predictions Thread over on the Minor League Forum, and Middendorf's name has already been dropped.
With Biloxi not challenging for a title and high school and college football season prep well underway, it's no surprise those local Biloxi TV station reports on the Shuckers dried up many weeks ago, Football's kind of big down there...
---
Final: Lansing (Athletics) 3, Wisconsin 2
Rattlers Drop Another Close One to Lugnuts - Lugnuts beat Rattlers by a 3-2 Score on Second Straight Night
Pre-Game Media Notes / Box Score / Game Log
(Tomorrow meaning Sunday...)
Guess whose jersey auction is generating the most interest - today's the final day of this auction.
Major fan-boy here, and I can promise you that WWE Hall of Famer Kurt Angle most certainly does not suck, but this is fun history -
 
Wrestling diehard and Voice of the T-Rats Chris Mehring , along with Angle in the booth, got to witness history, we are so happy for Chris on this day - and oh, Darrien Miller, too!
Only at WWE night in Appleton could this have happened, and this may be the most ridiculous reason to initiate a brawl in history - really?! That Lansing player is going to be hit with quite the punishment.
Oh, by the way, there was an actual full game played, including promising RHP Alexander Cornielle 's Midwest League debut, and the game summary linked above includes full highlights of that.
---
Final: Kannapolis (White Sox) 11, Carolina 4
Early Deficit Too Much in 11-4 Loss to Kannapolis - The Mudcats fell to 4.5 games back of first with Saturday's loss
Pre-Game Media Notes / Box Score / Game Log

Just-turned 19-year-old Yujanjer Herrera made his second start for the Mudcats since his promotion from Maryvale. This is what his first start looked like:
Unfortunately, as the game summary painfully indicates, his second outing did not nearly go as well in one of the rougher prospect game lines of 2022.
Props to RHP Jeferson Figueroa for stepping in and bringing a sense of normalcy to the proceedings.
First round pick Eric Brown Jr. missed a fourth game, and with Monday off, a Sunday appearance would be nice but is probably unlikely.
---
Sunday finds all four affiliates in action, naturally, but it's worth noting that the Shuckers play two, the Sounds have a later-than-usual 4:05 Central start, the Timber Rattlers game is the last to be broadcast on local Green Bay TV this season, and the noontime Central Mudcats road game is MiLB TV's Free Game of the Day, so check out rehabbing RHP Max Lazar. Thanks again for joining us here!

Organizational Scoreboard including starting pitcher info, game times, MiLB TV links, and box scores
Standings and sortable stat pages
Current Milwaukee Brewers Organization Batting Stats and Depth

Current Milwaukee Brewers Organization Pitching Stats and Depth
Think you could write a story like this? Brewer Fanatic wants you to develop your voice, find an audience, and we'll pay you to do it. Just fill out this form.
MORE FROM BREWER FANATIC
— Latest Brewers coverage from our writers
— Recent Brewers discussion in our forums
— Follow Brewer Fanatic via Twitter, Facebook or email
1