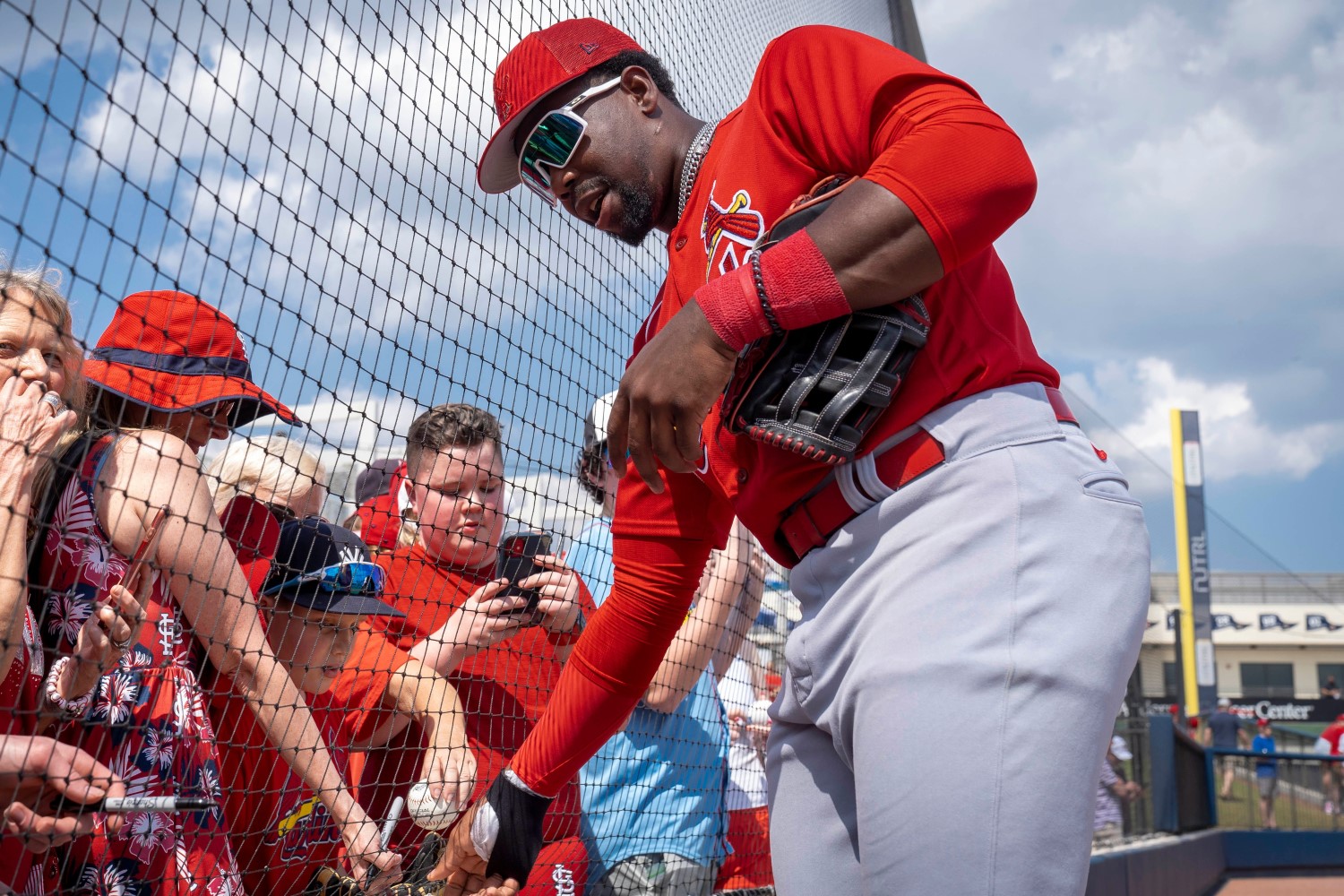 Image courtesy of © GREG LOVETT/THE PALM BEACH POST / USA TODAY NETWORK
As a reminder, the win totals and Playoff Odds listed below represent an average of the projections at FanGraphs and Baseball Prospectus. The payroll figures are drawn from Cot's Contracts, a service now powered by Prospectus. If you haven't already done so, go back and check out Part One in this exercise, where we ran through the least relevant teams to this season's prospective pennant races. Today, we get into the meatier parts of the beast.
[PLAYOFF HOPEFULS]
20. Marlins (80 W | 17.4 P% | 0.5 WS% | $90M)
Miami is kinda like Pittsburgh, where they feel like they should be at the top of the tier below instead of the bottom of this tier, but the projections see a clear break between them and the Cubs in both wins and playoff odds. That's despite Miami being in the more difficult division. As many question marks as they have throughout the roster, their starting pitching (anchored by the reigning Cy Young winner, Sandy Alcántara) carries them an extra step farther than similar teams figure to go. 
19. White Sox (79 W | 22.2 P% | 0.7 WS% | $178M)
Pretty close in terms of Opening Day payroll with their crosstown rivals, but those three extra wins and being in a slightly weaker AL Central is enough to give them almost triple the playoff odds. This projection doesn't reflect the improved vibes the team will surely enjoy, just by having gotten shot of Tony La Russa.
18. Red Sox (80 W | 24.0 P% | 1.1 WS% | $176M)
Going back to 2012, Boston has finished fifth in the AL East five times, first four times and second and third once each. This year, they are projected fourth by a margin of six or seven wins in either direction. Last time they finished fourth in the division was 1997. Definitely something to watch for if you're a fan of meaningless inanity.
17. Rangers (81 W | 26.7 P% | 1.0 WS% | $190M)
Texas is in year seven of the current rebuild, with their 373-497 record coming in sixth-worst from 2017-22. Throwing around large amounts of cash has gotten them this far on the board. After a 2021 payroll of $95M (21st) resulting in 60 wins, their 2022 number was up to $142M (15th) and 68 wins. Jumping to $190M (ninth) this year is looking good for 13 projected wins or so on the computers. See how deGrom holds up, I guess.
16. Giants (82 W | 29.3 P% | 1.1 WS% | $183M)
From 2009-16, San Francisco was about as close to a modern dynasty as it gets, racking up three World Series titles and the fifth-most regular-season wins during that stretch. From 2017-22, they've been kind of stuck in neutral, with their 431-439 record ranking 15th, and that's with a franchise-record 107 wins in 2021 propping things up.
[PLAYOFF CONTENDERS]
15. Mariners (83 W | 39.4 P% | 1.9 WS% | $136M)
The battle between Seattle, Texas and Los Angeles behind Houston in the AL West should be one of the tighter and more interesting races to follow this summer. Trader Jerry's squad has been the best of the bunch the last couple years, but they lag behind in payroll by $55-70 million, so the deck is stacked against them somewhat for the second place threepeat.
14. Angels (84 W | 47.8 P% | 2.2 WS% | $208M)
Mike Trout has a pair of 10.5-WAR seasons already. Let's put him down for 11.0 WAR. Ohtani had 4.9 WAR as a hitter in 2021, and 6.2 WAR as a pitcher in 2022. Let's put him down for an even 12.0 WAR in 2023 on the eve of free agency. Heck, Rendon even had 7.1 WAR in 2019, I don't see why the stars can't align (these things always happen in threes) again in 2023. That's THIRTY WAR from three guys, Angels win 83 and miss playoffs.
13. Twins (85 W | 56.7 P% | 3.0 WS% | $148M)
Minnesota's 407-565 record from 2011-16 was the second-worst mark in MLB. They've righted the ship considerably since, with their 451-419 record from 2017-22 coming in 10th, but if you think the Brewers' 1-7 record in their last eight playoff games is some kind of epic failure, the Twins have lost 18 straight postseason games stretching back to 2004. If the Twins win a playoff game (or gasp, series) this year, I might just make the Twin Cities trip to flip over a Prius or two myself.
12. Brewers (87 W | 60.6 P% | 3.8 WS% | $115M)
Did somebody say the Brewers? The bad news is: There are six NL teams on the list ahead of Milwaukee; they all made the playoffs last year; and they all have projected payrolls between $60 and $230 million higher than the Brewers'. The good news: Last time a league's playoff field repeated was the 1998-99 AL, when only four teams got in. A playoff team from last year likely won't make it again this year, and the Brewers are the team best positioned to take that vacated spot.
11. Guardians (86 W | 61.4 P% | 4.2 WS% | $87M)
Essentially a lower-budget Brewers, but in a division with the Twins as their main competition instead of the Cardinals. One of the best organizations out there at developing pitching, consistently running switch-hitter-heavy lineups with low strikeout rates. Terry Francona is one of the best in the business.
10. Rays (87 W | 62.5 P% | 4.2 WS% | $70M)
Current cream of the small-market crop. Like Milwaukee or Cleveland, but keep moving the sliders into more difficult territory. "Oh, you guys play in the soft Central divisions with an extra $15-40 million, and still can't manage what we do in the AL East?", scoffed Tampa Bay.
9. Phillies (88 W | 63.6 P% | 3.2 WS% | $238M)
This is probably the first one that feels low. But they were just in the World Series? And they signed Trea Turner? And they have the third-highest payroll in MLB? All affirmative. Also affirmative is that they had the fourth-highest payroll last year and barely squeaked in ahead of the calamitous Brewers. And that they had the fourth-highest payroll in 2021 and won 82 games. And that Bryce Harper is going to miss some significant number of games. The computer definitely seems to have removed emotion from this particular equation.
8. Cardinals (87 W | 64.4 P% | 3.9 WS% | $174M)
These dang guys. No, seriously, like what the heck? What's even the point? Not only is Jordan Walker out here hitting a home run every other at-bat in Spring Training, they've probably got a couple two tree guys nobody ever heard of with fake-sounding video-game names that are either too out there (Lars Nootbaar) or too vanilla (Brendan Donovan) to be anything other than undeniable proof that we're all living in some kind of quantum simulation with a sick sense of humor.
 
---
Cardinals Devil Magic could only take them so far, though. We'll finish this up with a look at the seven legitimate title contenders tomorrow. In the meantime: does this ranking feel right for the Brewers? Do you think their odds are meaningfully better or worse than the numbers suggest?
Think you could write a story like this? Brewer Fanatic wants you to develop your voice, find an audience, and we'll pay you to do it. Just fill out this form.
MORE FROM BREWER FANATIC
— Latest Brewers coverage from our writers
— Recent Brewers discussion in our forums
— Follow Brewer Fanatic via Twitter, Facebook or email