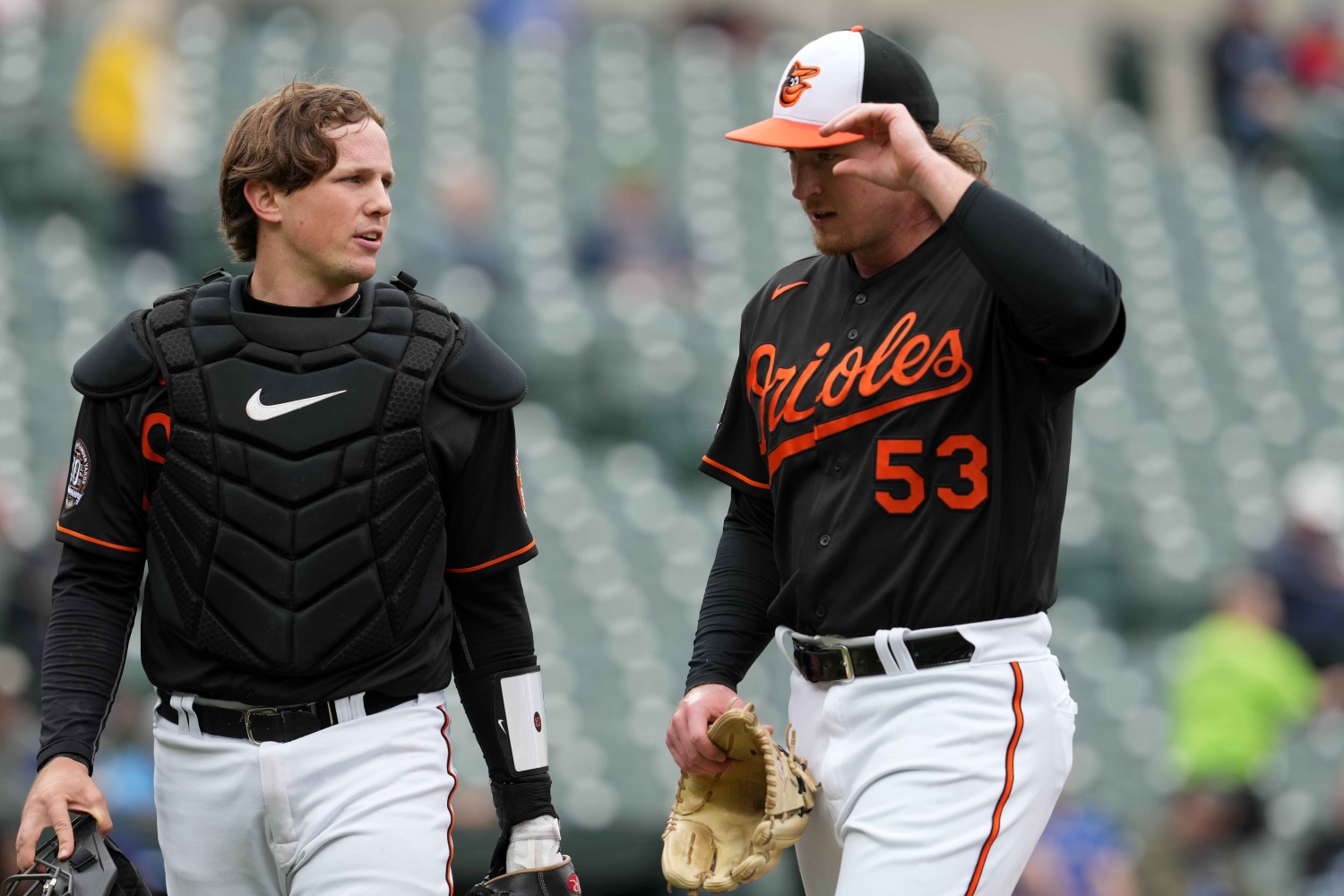 Image courtesy of © Mitch Stringer-USA TODAY Sports
For each of these teams, I found the mean of their projected win totals and Playoff Odds on both Baseball Prospectus and FanGraphs. I've also included each team's projected payroll, according to Prospectus's Cot's Contracts. Lastly, I've broken them up into tiers. Today, we'll just look at the two lowest tiers--the teams the numbers say will be non-factors by September.
[PLAYOFF NON-SHOTS]
30. Rockies (65 W | 0.0 P% | 0.0 WS% | $159M)
From 2011-16, the Colorado Rockies went (I kid you not) 420-552, the third-worst record in MLB over that span. They made the postseason in each of 2017 & 2018, but their 239-306 record since then is the ninth-worst. Coors Field sure is beautiful, though.
29. Nationals (64 W | 0.1 P% | 0.0 WS% | $98M)
Flags fly forever, but after winning the World Series in 2019, the Nationals have gone 146-238. Only the Pirates own a worse record so far in the 2020s. The Nats have traded away Juan Soto, Trea Turner, Max Scherzer, Kyle Schwarber and Josh Bell the last two years. They'll be paying Patrick Corbin (390 IP | -1.2 rWAR from 2020-22) and Stephen Strasburg (31 IP | -0.3 rWAR from 2020-22) a combined $59 million for the third straight season in 2023.
28. Athletics (66 W | 0.5 P% | 0.0 WS% | $55M)
It's possible no team has been riding the waves quite like Oakland, ever since setting the MoneyBall mold from 1999-2006 (when they went 751-544, the third-best record over that span). The period from 2007-11 was down (381-428, seventh-worst), then back up from 2012-14 (278-208, second-best) before down again from 2015-17 (212-274, fourth-worst) and up once more from 2018-21 (316-230, fifth-best), before losing 100 games last year for the first time since 1979. Might be in Las Vegas by the time they come out of it this time around.
27. Reds (68 W | 0.8 P% | 0.0 WS% | $79M)
Cincinnati's last full-season playoff appearance was in 2013, capping a stretch from 2010-13 where they went 357-291, seventh-best in MLB. Since then? Not so much. Their 594-762 record dating to 2014 is the third-worst in MLB. There are a handful of intriguing prospects nearing MLB, but ownership's comments the last couple offseasons don't offer much hope. Come for the Joey Votto farewell tour, I guess?
26. Tigers (68 W | 1.6 P% | 0.1 WS% | $118M)
Detroit is over a half-decade into rebuilding, with their 341-526 record coming in second-worst since 2017, ahead of only Baltimore, who are at least showing some signs of (maybe(?)) breaking out of it (finally(!)(?)). Come for the Miguel Cabrera farewell tour, I guess?
25. Royals (68 W | 2.3 P% | 0.1 WS% | $87M)
Another entry for the flags fly forever crowd. After winning the World Series in 1985, the Royals missed the playoffs every year from 1986-2013, posting the worst record in MLB among non-expansion teams. In 2014 and 2015, they went to two and won one World Series, followed it up with a pair of .500 seasons, and have gone 282-426 since, third-worst in MLB.
[PLAYOFF LONG SHOTS]
24. Pirates (73 W | 3.1 P% | 0.0 WS% | $72M)
No team has been worse than Pittsburgh (211-335) over the last four seasons, but hey, they are projected for five to nine more wins than the bottom half-dozen teams, and that is enough progress for me to put them at the bottom of this tier--instead of at the top of the bottom tier.
23. Orioles (75 W | 6.1 P% | 0.1 WS% | $65M)
If we stretch it back to the last five seasons, Baltimore takes the worst team crown from the Pirates at 261-447, but the Orioles cracked .500 last year and have Adley Rutschman already looking like a stud, with Gunnar Henderson lined up next. The light at the end of their rebuild tunnel is a lumen or two brighter.
22. Diamondbacks (76 W | 7.6 P% | 0.1 WS% | $113M)
Arizona made a big jump, winning 74 games in 2022 after notching only 52 victories in 2021, but those are the easy twenty wins to pick up. Tacking on another dozen or so to get into playoff contention with the formidable Dodgers and Padres ahead of you (and the sleeping Giants, too) is some next-level stuff. Lots of exciting young players, but the projections don't think 2023 is the year.
21. Cubs (76 W | 7.8 P% | 0.4 WS% | $179M)
The North Siders are in year three of the rebuild (just don't tell Jed Hoyer that's what it is), and have bumped their projected payroll $36 million relative to 2022, but the projections are only seeing marginal gains. I know I'm supposed to automatically hate every Cub, but I've always had a soft spot for Dansby Swanson, and when I found out his dad's name is legitimately Cooter, that just sealed the deal.
---
Do any of these teams belong a tier or two higher? Do any of them pose a threat to the Brewers? Let's hear your thoughts on the bigger picture of the coming MLB season. I'll be back tomorrow with some teams the projections view as more seriously competitive.
Think you could write a story like this? Brewer Fanatic wants you to develop your voice, find an audience, and we'll pay you to do it. Just fill out this form.
MORE FROM BREWER FANATIC
— Latest Brewers coverage from our writers
— Recent Brewers discussion in our forums
— Follow Brewer Fanatic via Twitter, Facebook or email