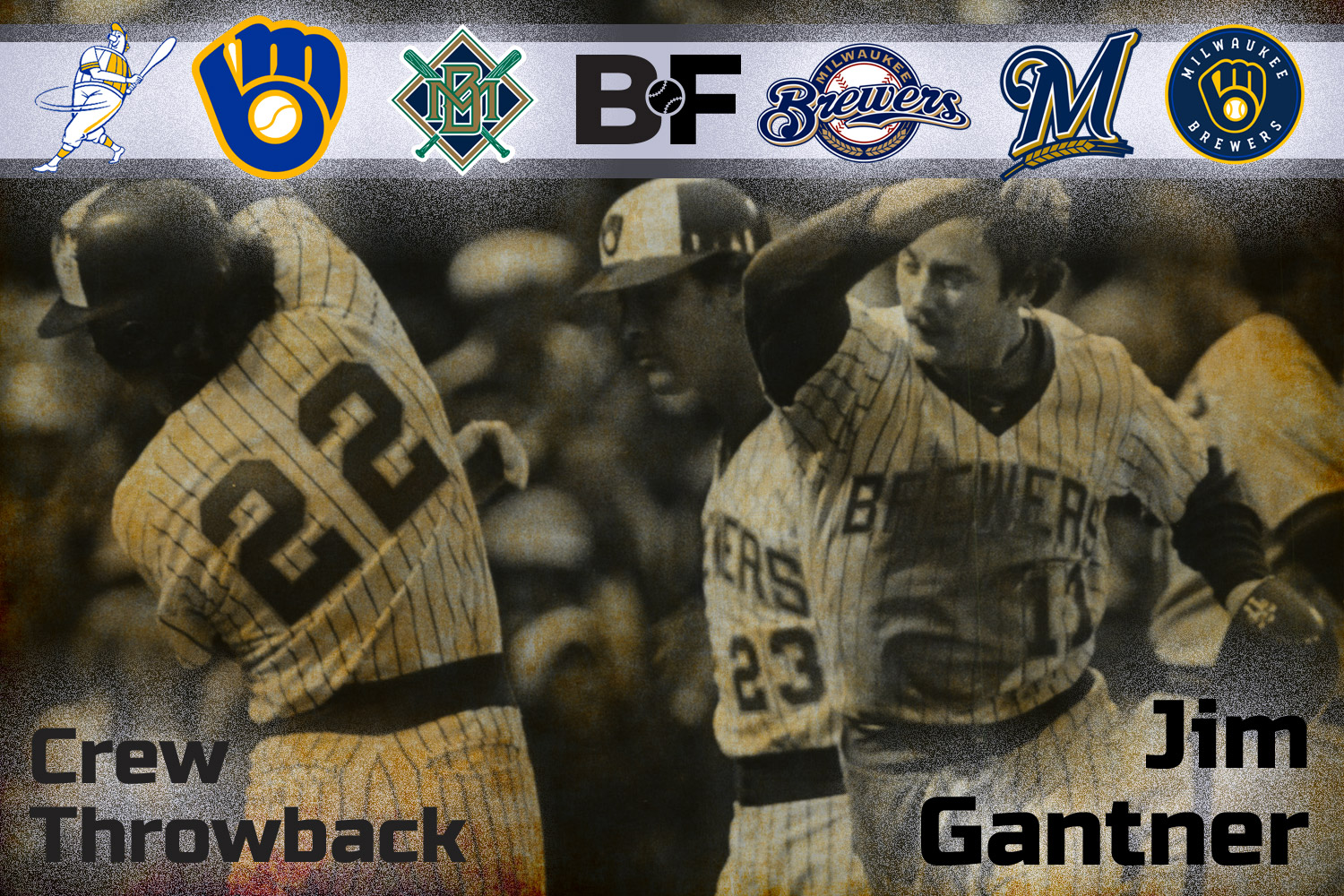 Image courtesy of © Milwaukee Journal Sentinel via Imagn Content Services, LLC
Jim Gantner was born in Fond du Lac, Wisconsin, in 1953 and grew up in nearby Eden. He played two seasons at UW-Oshkosh before being selected by the Brewers in the 12th round of the 1974 draft. He moved steadily through the minor league system, playing primarily shortstop and a little 3B.
Gantner was not a heralded prospect, showing a solid hit tool and above-average speed (but by no means great speed) - but modest power.
The Brewers called up Gantner from AA ball in 1976, giving him a 26-game tryout. That season, he pinch-ran for Hank Aaron in the future hall-of-famer's final major league game on October 3, 1976.
After spending most of 1977 at AAA, Gantner stuck with the club the following year and remained on the roster for 15 years.
Initially a utility type playing mostly 2B and 3B, Gantner eventually settled in at 2B for much of his career. He became a regular in 1980 - at age 27 - and provided solid, if unspectacular, play for the next decade.
Gantner became the scrappy guy who did the little things and complimented the big bats of the era - Yount, Molitor, Cooper, Thomas, Oglivie, etc. He was not that athletic and lacked standout skills, but he got the job done.
Gumby became a vital cog in the high-scoring Brewer machine of the era. He was a remarkably consistent player - generally hitting between about .270-.290 almost every year of his career. He hit over .280 seven times. His power was limited - 11 HRs was his top long ball season - he wasn't a good base stealer, and he didn't walk much. But for all that, he put the ball in play - rarely striking out (the highest K number in his career was 51), and - as noted - hitting for a solid batting average.
Even as Gantner got older, he still hit for a decent average, even as his modest power diminished even further. 
Gantner's last season was in 1992. He had played part of the year with a labrum tear and torn rotator cuff. He considered playing longer, but injuries wouldn't allow it. He officially retired in 1994, having played parts of 17 years with Milwaukee. Those 17 seasons with the Brewers - and no other team - ranks him 38th on the list of players to have played their entire career for one club. Robin Yount's 20 years with the franchise is the Brewer record. 
Gantner's best season came in 1983 when he hit .282 with career highs in HR (11), RBI (74), and OPS (.730). For his career, he hit .274 and had an OPS of .671. They weren't great numbers but were not bad for a middle infielder of the era. Also, he was generally an above-average defender, which brought value to his overall game.
Due to Gantner's longevity, his name is all over the Brewer record books. Baseball-Reference has him at 22.4 WAR (8th all-time), and his 9.9 defensive WAR is the best for any Brewer career.
Other numbers: 1801 games played (3rd all-time), 6189 ABs (4th), 726 runs (5th), 1696 hits (5th), 262 doubles (6th), 38 triples (5th), 568 RBI (9th), 137 SB (5th), 52 HBP (6th), 106 sacrifice hits (#1), 52 sacrifice flies (5th). He also has the 3rd lowest strikeout rate in Brewers' history.
Overall, Gantner was a classic overachiever who succeeded through hard work and playing an overall solid game. He was always a positive to the team - but rarely was he anything more than good. But that allowed him to stay around and play in the big leagues for a long time.
Fans loved Gartner's hard play - not to mention his Wisconsin roots. He was an important part of the great Brewer teams of the early 1980s and helped the team reach the World Series for the only time in history (he hit .333 in the fall classic). 
Gantner was inducted into the UW-Oshkosh Titan Hall of Fame in 1984. He was also inducted into the Wisconsin Sports Hall of Fame in 2005 and is a member of the Brewers Wall of Honor and Walk of Fame.
After baseball, Gantner took part in various business ventures and became a coach. He was the Brewers first base coach in 1996-97 and managed the Wisconsin Woodchucks in the Northwoods League in 2007. He moved back to Eden in 2008, where he became the part owner of a pub - Scuds Buds. For years he served as a part-time coach at Brewer home games and participated in clinics and fantasy camps. 
Please share your memories of former Brewer Jim Gantner.
Think you could write a story like this? Brewer Fanatic wants you to develop your voice, find an audience, and we'll pay you to do it. Just fill out this form.
MORE FROM BREWER FANATIC
— Latest Brewers coverage from our writers
— Recent Brewers discussion in our forums
— Follow Brewer Fanatic via Twitter, Facebook or email