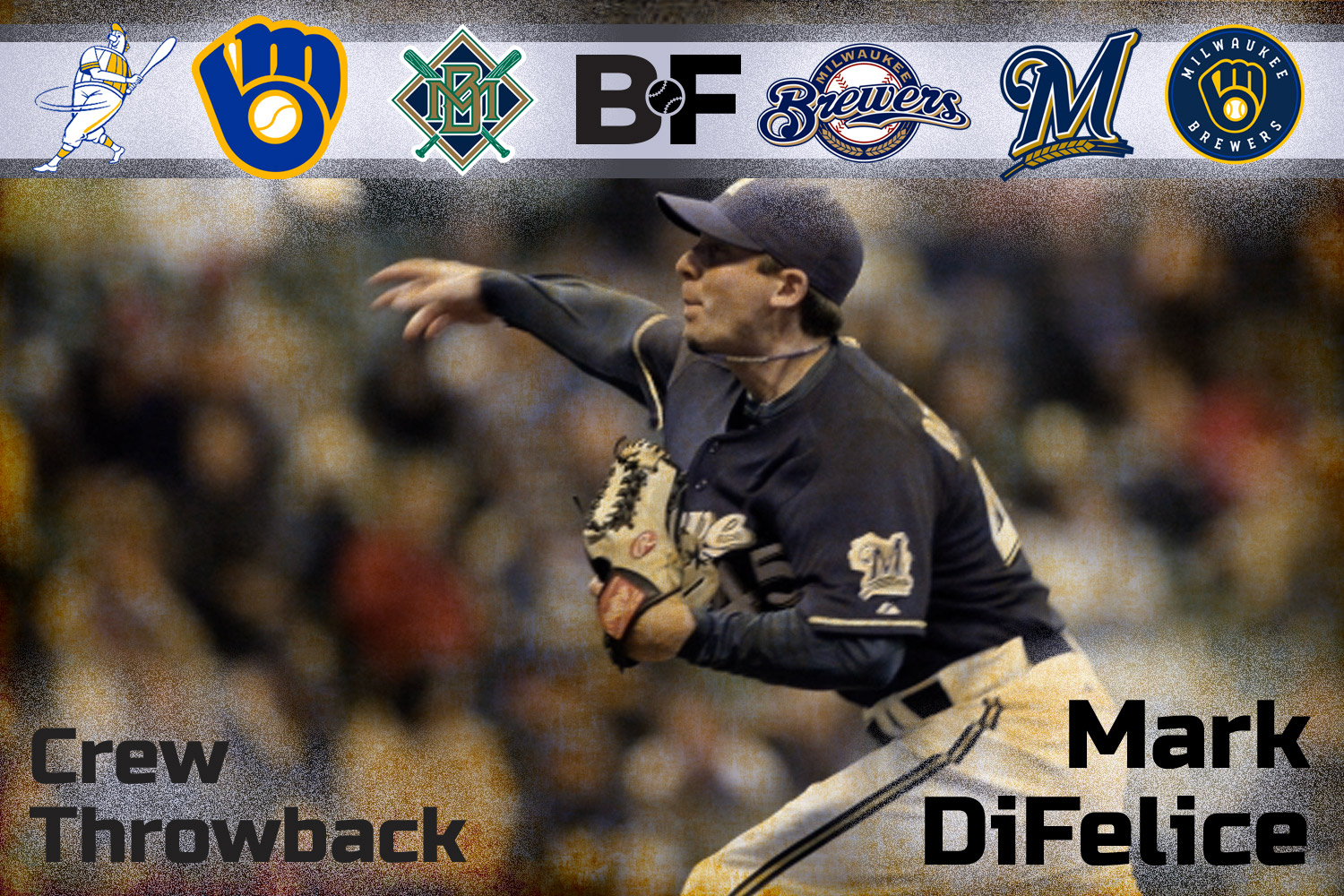 Image courtesy of Brewer Fanatic
The right-handed throwing Mark DiFelice was born in Pennsylvania in 1976. He attended Western Carolina University and was selected by the Rockies in the 15th round of the 1998 amateur draft.
DiFelice was classic organizational fodder. He didn't stand out in any fashion other than displaying low walk rates throughout his career. He put up solid numbers but nothing eye-popping. He also was prone to giving up HRs - a bugaboo that would haunt him much of his career.
DiFelice eventually stalled out at AAA. The Rockies released him in 2004, and he spent the year at AAA with Baltimore, putting up good, but not great, numbers. After that, his journey continued with stints with the Nationals, independent ball (the Atlantic League), and the Mexican League.
Following the 2006 season, DiFelice was signed by Milwaukee. And everything seemed to come together for the 30-year-old DiFelice. He had a great year between AA and AAA, throwing 124.2 innings and producing a 2.31 ERA. 
DiFelice began the 2008 season at AAA Nashville but was called to the big leagues on May 15. He was a 31-year-old rookie. While he had been a starter most of his career, the Brewers used DiFelice strictly as a reliever (he never started a game in the majors). In 2008, he appeared in 15 games and produced a sparkling 2.84 ERA, striking out 20 batters in only 19 innings.
What was fascinating about Mark DiFelice was that he succeeded with only one pitch - a slow (he generally worked between 80-84 mph) cut fastball. The pitch made right-handed hitters look like idiots. 
2009 was DiFelice's high water mark. He pitched for Italy in the World Baseball Classic that spring, then was outstanding for Milwaukee in the first half of the year, producing a 1.83 ERA before the All-Star break. But the second half of the season was a disaster, and many wondered if something was wrong. Indeed, DiFelice had shoulder surgery after the year to repair a torn labrum and rotator cuff.
For the year, he threw 51.2 innings and produced a solid 3.66 ERA.
DiFelice missed all of 2010 rehabbing. In 2011, he returned to Milwaukee on a minor league deal and managed only three innings at the big league level (along with 29 at AAA). The Brewers released the 35-year-old DiFelice after the season. He played ten games in the Italian League the following year, but his playing days were over after that point.
After retiring, DiFelice became a pitching coach, working in the minor leagues for the Pirates, Marlins, and Nationals organizations. He spent the 2022 season with the Wilmington Blue Rocks.
Due to his limited time in the big leagues, Mark DiFelice might not seem like an ideal candidate for a retrospective. But let's be honest - he had a great story - spending almost a decade struggling to succeed, getting released several times, playing in independent ball, the Mexican League, and even the Italian League. Going through all that and still making it to the majors is pretty amazing.
DiFelice's time in Milwaukee was short, but it is hard to forget. You would watch him pitch and wonder, "How the heck is this guy getting batters out?" Fangraph's Dave Cameron even wrote an article on DiFelice called "The Ultimate Roogy."
DiFelice was also famous for his role as the clubhouse barber wherever he played, skills he picked up from his grandmother and aunt.
Ultimately, Mark DiFelice may have been a one-trick pony, but he rode that pony to majors, going through a lot of hoops to make it happen. Sadly, injuries cut short his career - but it's not hard to like DeFelice's story as the "ultimate roogy."
Please share your memories of former Brewers reliever Mark DiFelice.
Think you could write a story like this? Brewer Fanatic wants you to develop your voice, find an audience, and we'll pay you to do it. Just fill out this form.
MORE FROM BREWER FANATIC
— Latest Brewers coverage from our writers
— Recent Brewers discussion in our forums
— Follow Brewer Fanatic via Twitter, Facebook or email