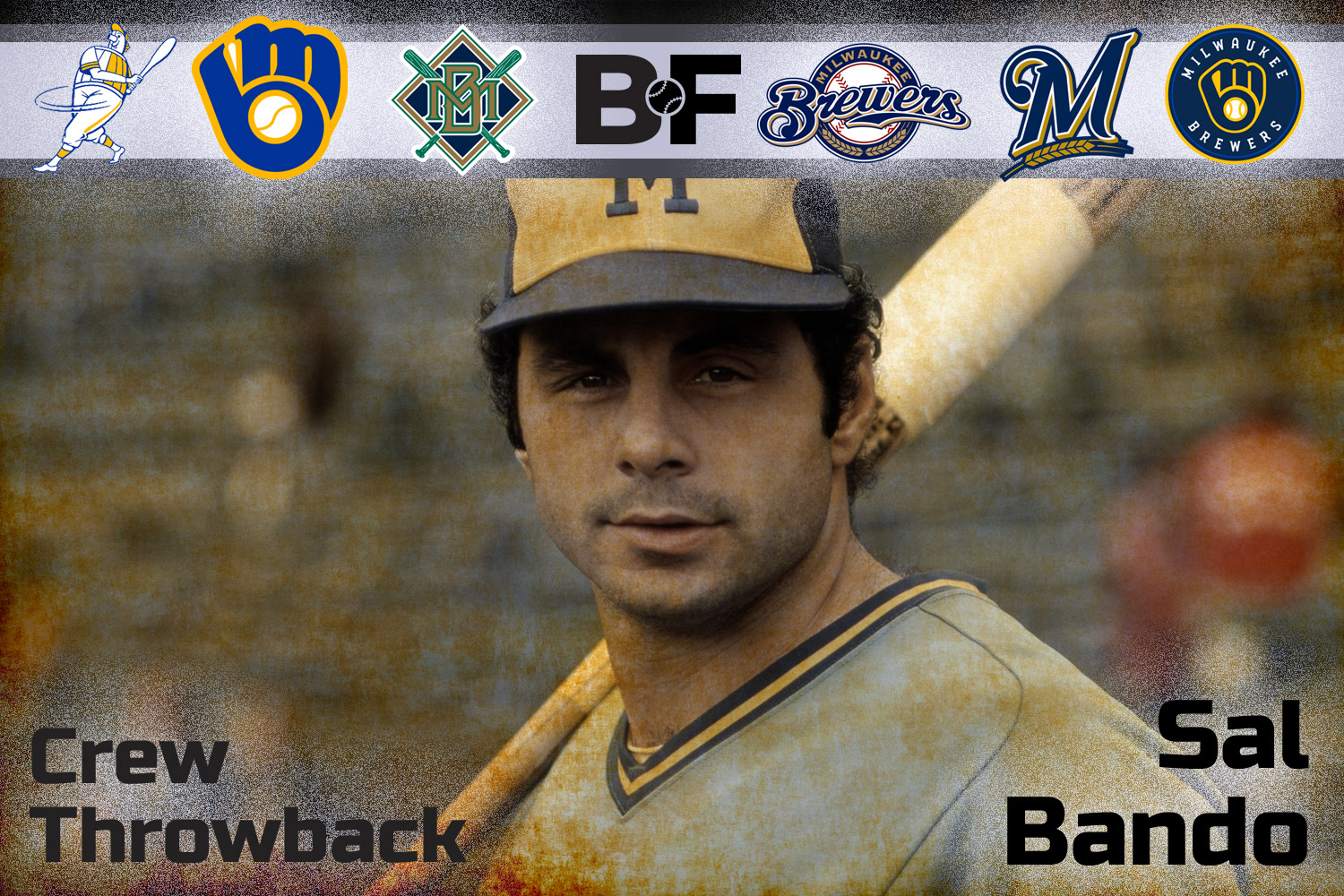 Image courtesy of Brewer Fanatic
Salvatore Leonard Bando was born in Cleveland, Ohio, in 1944. An outstanding athlete in multiple sports in high school, Sal Bando attended Arizona State University. There, the right-handed hitting third baseman was a member of the 1965 College World Series championship team - and voted the series' outstanding player.
The Kansas City Athletics selected Bando in the 6th round of the 1965 draft. As an advanced position player, Bando moved quickly through the Athletics system - getting a cup of coffee just a year later. 
Bando showed a good all-around skill set - including a quality glove and a powerful arm. And while his hit tool wasn't great, he made up for it by taking a lot of walks. By 1968, he was entrenched at the hot corner in Oakland (the franchise having moved from Kansas City) - a position he wouldn't relinquish for nine years.
In his time in Oakland, Bando was named to four All-Star teams, finished in the top three in MVP voting three times, and was part of three consecutive World Series teams (1972-74).
But the 1970s introduced a new element into baseball's economic landscape: free agency. And after the 1976 season, the soon-to-be 33-year-old Bando hit the open market - signing the first big free agent contract in Brewer history - a 5-year deal worth $1.5 million. 
While modest by today's standards, the signing was a milestone for the Brewers - a sign they could attract the game's top talent. And within a year, the team was winning 90+ games.
Bando had two fine seasons with Milwaukee - hitting 17 home runs in 1977 and 1978 and playing good defense. He brought gravitas and leadership to a young Brewers team.
However, the 1979 season signaled the end was near for the aging Bando. He failed to hit double-digit home runs for the first time since his rookie season, and his batting average fell to .246. 
For the next two years, Bando wore the moniker of player-coach - moving to a part-time role in the field. The results weren't good as he hit a paltry .197. Bando finished his career in 1981, playing 32 games and hitting .200.
Sal Bando hit a solid but unspectacular career batting average (.254). But Bando's power, on-base skills, and fielding made him special. He had seven seasons where he had a bWAR of five or higher and four more higher than three. For his career, he produced an impressive 61.5 bWAR. 
There are some impressive numbers in Bando's stat line, including 30+ HRs in a season and 100+ RBI (twice). But two things jump out at you. The first was his durability. Bando averaged 156 games played over 11 consecutive seasons. That's almost unheard of in today's game. The second stat that jumps out is Bando's walks. He walked more times in his career than he struck out (1031 BB vs. 923 Ks) - including 118 free passes in 1970. So while Bando's batting average was never great, he more than made up for it with his keen eye at the plate.
In Bando's five years in Milwaukee, he did well his first couple of seasons before age began to take its toll. Still, he was an important part of the first great Brewer teams in the late 70s. 
Now, if that were it for Sal Bando and the Brewers, it would be a good story. But there's more - lots more.
After retiring, Bando got into announcing and became a special assistant to Brewer GM Harry Dalton as he remained in Milwaukee and set down roots in the community. 
In 1991, Bando was named the Brewers' General Manager - a position he held until August 1999. It was - in all honesty - nearly a decade of despair for the Crew. Baseball salaries went crazy - and Milwaukee couldn't (or wouldn't) keep up. The Brewers farm system didn't produce and the team fell into a long run of mediocre - or bad - baseball. In Bando's tenure as GM, the team had only one winning season. 
As a fan, it was a bad time - perhaps the worst in franchise history. There were a lot of bad drafts (Antone Williamson fourth overall!), bad signings (three years of Franklin Stubbs!), and other blunders (see you later, Paul Molitor). Bando never seemed to move the franchise into a new era - and the result was a weak organization that didn't recover until after he was gone.
I argue that Bando was the worst GM in team history. In some ways, he had the unenviable task of running an aging club when he took over. But instead of embracing a philosophy (such as selling off assets and rebuilding), it appeared to be a quest for mediocrity year after year. 
Bando was finished as GM in 1999 and moved on from the game. He had invested his baseball earnings well since his days as a player and managed those business interests successfully for many years afterward. And while Bando never got back into baseball, he stayed in Wisconsin. He was living in Oconomowoc when he died on Jan. 21, 2023, after a battle with cancer. He was 78. 
Bando was inducted into the College Baseball Hall of Fame in 2013 and was an inaugural member of the Milwaukee Brewers Wall of Honor in 2014. He was also inducted into the Oakland Athletics Hall of Fame in 2022.
Bando's brother, Chris, was a catcher in the big leagues for eight years, most of them with Cleveland. 
One last tidbit about Sal Bando: in 2006, he had a voice cameo in a Simpsons episode. 
Please share your memories of former Brewer third baseman and general manager Sal Bando.
Think you could write a story like this? Brewer Fanatic wants you to develop your voice, find an audience, and we'll pay you to do it. Just fill out this form.
MORE FROM BREWER FANATIC
— Latest Brewers coverage from our writers
— Recent Brewers discussion in our forums
— Follow Brewer Fanatic via Twitter, Facebook or email