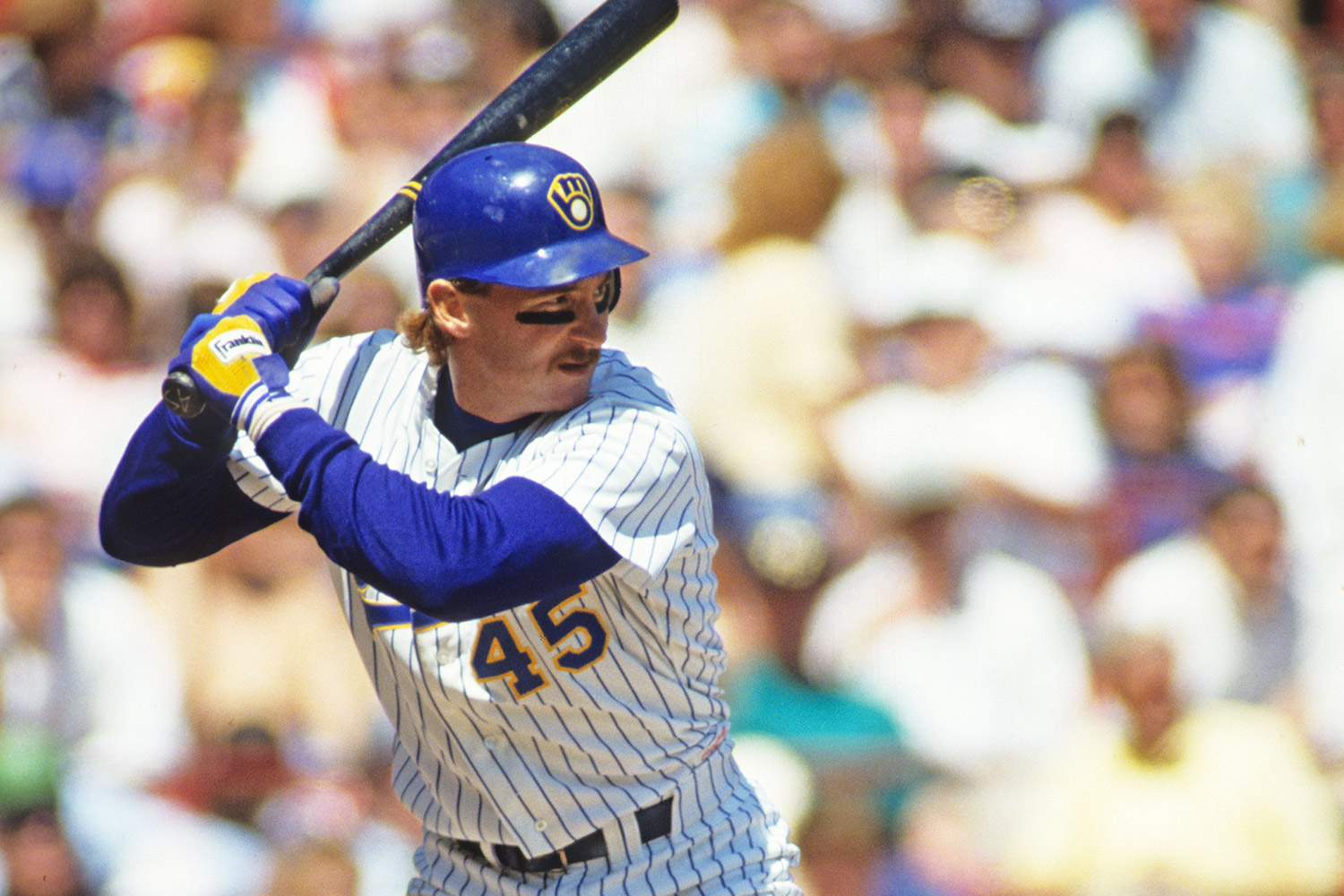 Image courtesy of © RVR Photos-USA TODAY Sports
Despite no player being the primary starter in right field for more than five seasons, right field has rarely been a complete liability for the Brewers over their 54-year history. Who's been the best of the bunch? Let's take a look.
5. Rob Deer
.229/.329/.450 with 137 HR and 385 RBI in five seasons, four as primary right fielder
"Fear the Deer" is a popular saying with the Bucks these days, but in the late 1980s, "fear Deer" referred to Rob Deer, who provided the Brewers with a lot of power as an NRI following a trade for two minor-league pitchers. Deer set a record for strikeouts in 1986 but also delivered power and OBP. His defense wasn't too shabby, either.
4. Corey Hart
.276/.334/.491 with 154 HR and 508 RBI in nine seasons, five as primary right fielder
Hart, in some ways, was an accidental right fielder. He was a first baseman in the minors until the Brewers drafted Prince Fielder, arguably their best at that position. So, Hart moved to third. After he won the Southern League MVP at third base, he was moved to the outfield because of Ryan Braun. He saw action mostly in right field but also in center and even handled first base the year after Prince's departure. He delivered two All-Star Game appearances and a top-25 MVP finish. Best known for power, he also flashed speed, with 83 stolen bases, including two 20-20 seasons.
3. Sixto Lezcano
.275/.354/.452 with 102 HR and 374 RBI in seven seasons, five as primary right fielder
Lezcano is the co-leader for the longest tenure as the primary right fielder, and in the late 1970s, he posted some monster seasons. After a slump in 1980, he was part of the trade that brought Rollie Fingers, Ted Simmons, and Pete Vuckovich to Milwaukee. The Brewers ended up selling high on Lezcano, who never quite reached his late-70s heights. But Lezcano provided real power for the team.
2. Christian Yelich
.283/.385/.503 with 115 HR and 357 RBI in five seasons, two as primary right fielder
Yelich had only two seasons as the primary right fielder for the Brewers, but he secured two top-2 MVP vote finishes (winning in 2018), two All-Star Game appearances, and two Silver Sluggers. There will always be a "what if" had it not been for a freak injury late in the 2019 season, and Yelich has played more left field than right field, but the sheer dominance during his time in right field makes a high position hard to deny.
1. Jeromy Burnitz
.258/.362/.508 with 165 HR and 525 RBI in six seasons, five as primary right fielder
Baseball-Reference lists Burnitz as the Brewers' primary center fielder in 1997, even though Gerald Williams played there far more that was due to left field being a mess. Burnitz averaged 33 homers and 102 RBI for those five seasons and teamed up with Richie Sexson to become the only teammates to both homer three times in the same game. Burnitz had a top-30 and top-20 MVP finish and one All-Star Game appearance. How he would have done at Miller Park/American Family Field is a question many Brewers fans have today.
Honorable Mentions
Ryan Braun held down right field for two seasons when Khris Davis came up and wasn't too shabby. Nori Aoki gave the Brewers a leadoff option for two seasons before being traded for reliever Will Smith. Brady Clark manned right field in 2004, following time in the VanderClark platoon in 2003. Charlie Moore held down right field for two seasons during the Brewers' early-80s success while Matt Mieske played right field for four seasons.
Brewer Fanatics, who are your top five right fielders in Brewer history?
Think you could write a story like this? Brewer Fanatic wants you to develop your voice, find an audience, and we'll pay you to do it. Just fill out this form.
MORE FROM BREWER FANATIC
— Latest Brewers coverage from our writers
— Recent Brewers discussion in our forums
— Follow Brewer Fanatic via Twitter, Facebook or email