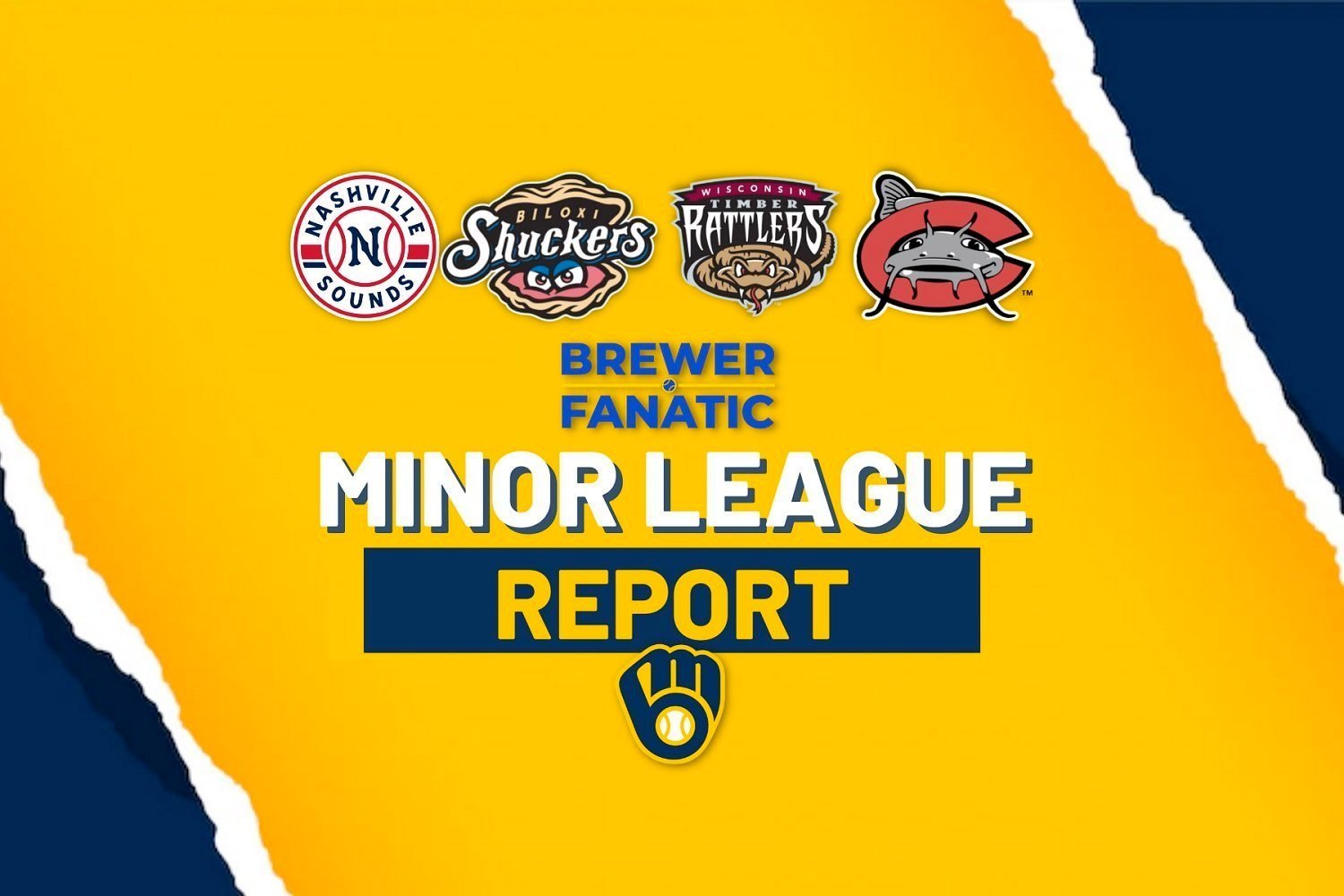 Image courtesy of BrewerFanatic
TRANSACTIONS:
RHP

 

Colin Rea

 

optioned to AAA Nashville from MLB Brewers
RHP

 

Trevor Megill

 

recalled to MLB Brewers from AAA Nashville
RHP

 

JB Bukauskas

 

recalled by MLB Brewers from AAA Nashville
OF

 

Skye Bolt

 

activated by AAA Nashville from 7-day injured list
OF

 

Tristen Lutz

 

activated by AA Biloxi from 7-day injured list
OF

 

Lamar Sparks

 

activated by AA Biloxi from 7-day injured list
OF

 

Joe Gray Jr.

 

assigned to High-A Wisconsin from AA Biloxi
OF

 

Micah Bello

 

retired (was playing at High-A Wisconsin)
C

 

Matt Wood

 

promoted to High-A Wisconsin from Low-A Carolina
1B

 

Jesus Chirinos

 

assigned to Low-A Carolina from High-A Wisconsin
C

 

Jose Sibrian

 

assigned to Low-A Carolina from High-A Wisconsin
RHP

 

Yujanyer Herrera

 

activated from Low-A Carolina's 7-day injured list
RHP

 

Yerlin Rodriguez

 

assigned to Low-A Carolina (essentially being activated after 3 games in Low-A to end the 2022 season)
SS

 

Filippo Di Turi

 

assigned to DSL Brewers-1
 
By the way - In an interview linked here last week (go to the 18:30 minute mark), listen to Wisconsin Manager Joe Ayrault talk about how Joe Gray, Jr. was told his bump to Biloxi was in all likelihood a temporary placement at AA, with plans in the works for him to return to Wisconsin.
 
---
Final: Durham (Rays) 7, Nashville 2
Via the Sounds' site, we encourage readers to review each of the affiliate write-ups as part of your season-long Link Report routine:Sounds Shut Down by Bulls in Series Opener
- "Abraham Toro's 31-game on-base streak ends after 0-for-4 night
Pre-Game Media Notes
Box Score
 

/

 
Game Log
Considering he's lined up by pitching day with now-injured Milwaukee starting pitcher Wade Miley, this wasn't an ideal performance by RHP Janson Junk - 4 IP, 5 R, 9 H (including three home runs and a double), Junk has gone between 4.0 and 5.0 innings in each of nine Nashville appearances. Not quite inspiring...
Here's hoping the ultra-impressive Tyler Glasnow isn't activated by Tampa Bay in time for Sunday's Brewers game, yikes.
Don't forget to catch up with last week's Nashville pre-game audio interviews, courtesy of Voice of the Sounds Jeff Hem.
 
---

Final: Chattanooga (Reds) 12, Biloxi 6

Via the Shuckers' site:
Jeferson Quero Ties Franchise Record with Three Home Runs in Loss to Lookouts - Shuckers fall to Lookouts, 12-6, in home run filled series opener
Never could quite figure out why the Brewers minor league system wasn't more highly regarded in rankings of all 30 organizations coming into 2023, with most publications listing them in the middle tier. Perhaps it was the lack of high-end arms in abundance.

On a night when Jackson Chourio was 3-for-5 with a home run, Tyler Black reached base twice (caught stealing for the second time in 21 tries, however), and Freddy Zamora was on base three times, one young man squarely placed himself in the national spotlight.

No doubt Jeferson Quero (remember, pronounced Yeferson) was already on prospect-watcher radars, but my goodness, the Brewers look like geniuses with his AA Biloxi placement to open 2023. Aggressive for a catcher who won't turn 21 until October? No doubt. Overmatched? No way.

This was game 35 for the Shuckers, but game 22 for Quero, who had missed time earlier but without a formal IL placement. Watch as he doubles his big fly output from the prior 21 games:
Would you prefer more enthusiasm than the host Lookouts announcer provided? Then catch Voice of the Shuckers Javik Blake's calls on Blast #1, Blast #2, and an emphatic Blast #3.

Sure, the five walks in 87 plate appearances could use a bump (and that will come), and Quero did commit his third error (pickoff throw), but if you have concerns about Quero's defensive skills, then you are new to BrewerFanatic (and welcome by the way!).

Here's a reminder that the wisest move of the past decade by the Brewers front office in terms of player development was their laser focus on Venezuela, despite that country's turmoil that limited many other organizations from harvesting as well as the Crew. Case in point:
It was a surprising misfire from starting pitcher Carlos Rodriguez (hence the final score). But the walks/HBP's now total 20 in 31.2 innings for the 21-year-old. Growing pains, but so much talent evident.

Congrats to RHP Tobias Myers on his Southern League Pitcher of the Week honor.

As with Nashville, keep up with recent Biloxi pregame audio interviews.

By the way, Jeferson Quero was part of the July 2019 signing class. He'll need to be added to the 40-man roster at the end of the 2024 minor league season, when he'll have just turned 22, even though he only made his pro debut in 2021 (thanks to Covid).

More on this game via MLB.com.
 
---
Final:  Quad Cities (Royals) 7, Wisconsin 0

Via the Timber Rattlers' site:
Quad Cities Shuts Out Wisconsin 7-0 - KC farmhands shine as Cameron strikes out eleven over six innings and Cross knocks in four
Pre-Game Media Notes (Download Link) via the team's Virtual Press Box
Box Score / Game Log

Kudos to the Rattlers' production staff - win or lose, the highlight packages are resources for both fans of the T-Rats and their opponents' fan bases. Do stay till the end for a sweet web gem via SS Eric Brown, Jr.
---

Final: Carolina 14, Kannapolis (White Sox) 2
Carolina Crushes Cannon Ballers 14-2 
Box Score / Game Log

Do read that linked game summary in full - the Mudcats' site will update later today with it but the press release with all the details is within that link for you - and good details they are!

Twenty hits, six of the XBH variety. The moundsmen allowed only one earned run while fanning 12 (four walks).

It's a night when so many deserve mention, thus the extra reference to the game summary, because here we must focus on another precocious 18-year-old who happens to be a native of well, you can guess which nation.
 
Are we having fun yet with the position player prospects in this system?!

My goodness.
 
---

Make your way over to Appleton if you can at lunchtime. The one affiliate at home this week plays at 12:10 local time. Even earlier, follow as Biloxi and Carolina kick things off in the 10:00 hour Central Time. Enjoy your Wednesday, everyone!

Organizational Scoreboard including starting pitcher info, game times, MiLB TV links, and box scores
Current Milwaukee Brewers Organization Batting Stats and Depth
Current Milwaukee Brewers Organization Pitching Stats and Depth
Think you could write a story like this? Brewer Fanatic wants you to develop your voice, find an audience, and we'll pay you to do it. Just fill out this form.
MORE FROM BREWER FANATIC
— Latest Brewers coverage from our writers
— Recent Brewers discussion in our forums
— Follow Brewer Fanatic via Twitter, Facebook or email