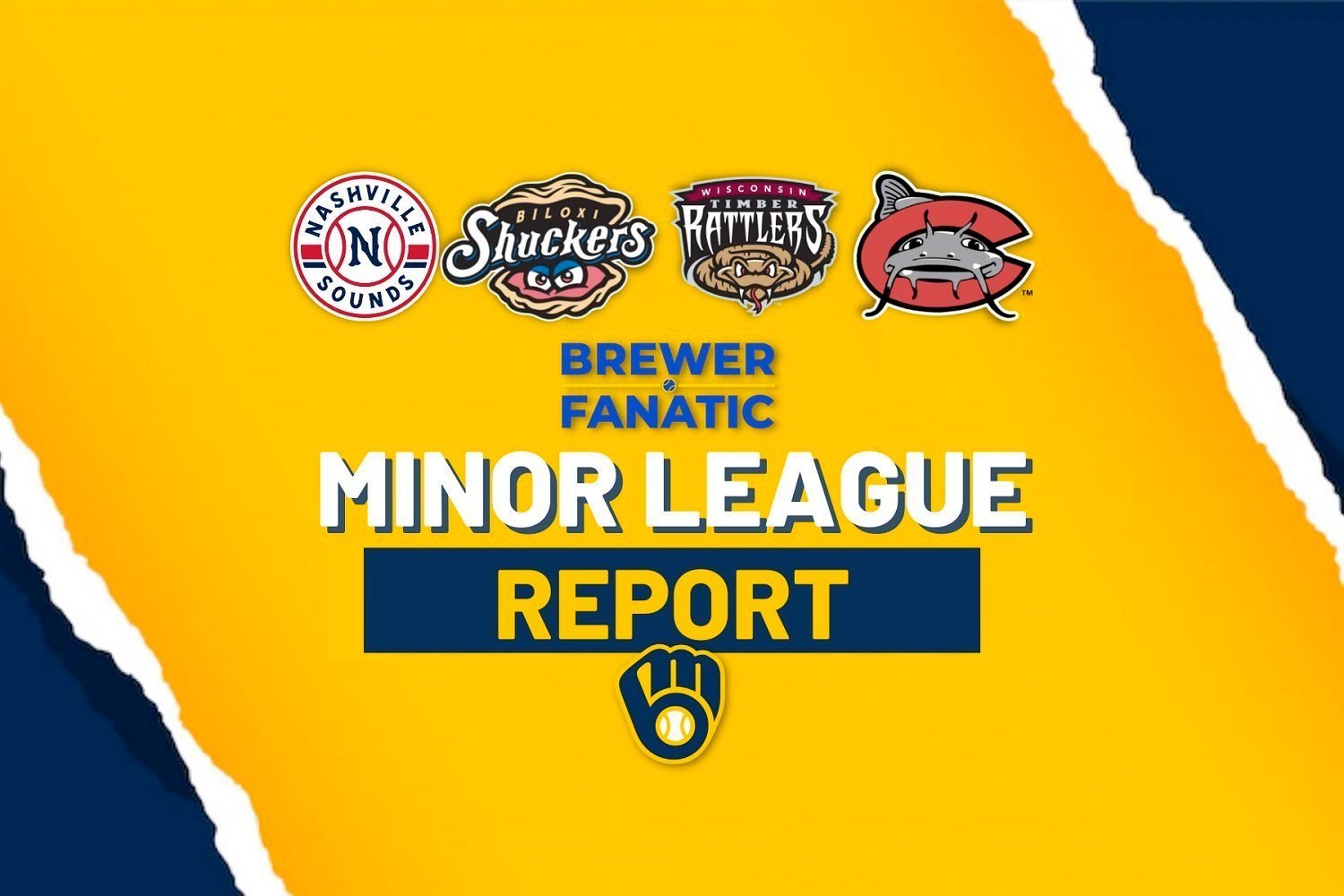 Image courtesy of BrewerFanatic
TRANSACTIONS:

- INF Luis Urias sent to AAA Nashville on rehab assignment
- RHP Kaleb "Bo" Bowman promoted to AA Biloxi from High-A Wisconsin
- RHP Harold Chirino placed on AA Biloxi's 7-day injured list
- SS Daniel Guilarte placed on Low-A Carolina's 7-day injured list
- RHP Patricio Aquino placed on Low-A Carolina's 7-day injured list
- 2B/3B Alexander Perez promoted to Low-A Carolina from ACL Brewers
 
---

Final: Nashville 13, Iowa (Cubs) 2

Via the Sounds' site, we encourage readers to review each of the affiliate write-ups as part of your season-long Link Report routine:

Sounds Torch I-Cubs For 13 Runs - Nashville rides big nights from Dorrian, Singleton to 13-2 win

Pre-Game Media Notes

Box Score / Game Log

It's our daily review of the Brewers' minor league system, but these major league rehab assignments are of importance. As was noted in the game summary you just reviewed:

Luis Urias went 0-for-4 in his first game on rehab assignment and made a great sliding play at third base. Luke Voit reached three times in the fourth game of his rehab assignment. Voit is hitting .100 (1-for-10) with a .500 on-base percentage for Nashville.

Seven walks and a HBP get Voit to the .500 OBP.

In 19 games this month, Jon Singleton's line is .284/.398/.554 (.952 OPS). Singleton's status in the organization remains hinged on Rowdy Tellez' health, but he'd be a very suitable fill-in if needed, 40-man roster spot necessary. 
It hasn't been glamorous, but OF Blake Perkins' Nashville tenure has been subtly effective through 30 games, .292/.377/.425 (.802 OPS).

RHP Pedro Fernandez celebrated his last day of being 28 years old with the quality start. A reminder that his only professional regular season outings between 2019 and 2022 were 13 Mexican league games (unaffiliated) in 2019, a very unique success story this season.

LHP Clayton Andrews has a strong rooting following among Brewers' prospect-watchers, but there's such a long line of 40-man roster relievers at this time, and Andrews isn't among them. The Brewers still have another year of control in 2024 over the plucky and talented southpaw.
 
---

Final: Montgomery (Rays) 7, Biloxi 3

Via the Shuckers' site:
Lamar Sparks Smashes First Homer of Year in 7-3 Loss to Biscuits - Shuckers, Biscuits split first two games of a six-game set at MGM Park
A reminder to frequent the archived pre-game interview page - Development Coach Christian Correa and OF Tristen Lutz are recent additions. LHP Nick Bennett's chat will be added by end-of-day Thursday.

Biloxi bats fanned 16 times, and we all look forward to the return of traditional muddied baseballs in the season's second half. So frustrating not being able to get accurate scouting reads on both sides of the ball.

There are six players on the big-league 40-man roster by way of the 60-day IL, including fairly-soon-to-return Luis Urias. That means players will have to come off the 40-man as players return, and RH reliever Cam Robinson is not aiding his own cause in making sure his spot is secure. Robinson's performance prompted a bit of discussion posts within our nightly gameday thread.

Despite just one walk and one HBP, Biscuit batters drove RHP Justin Jarvis' pitch count to 97, limiting him to five innings.
RH reliever Robbie Baker's age 28 season has been strong through 12 appearances.

Jackson Chourio is 0-for-14 (three walks) in his last four games, .675 OPS on the season.
 
---

Final:  Wisconsin 4, Cedar Rapids (Twins) 2, ten innings

Via the Timber Rattlers' site:
Gray's Homer Lifts Rattlers Past Cedar Rapids in Extras - Wisconsin wins 4-2 over Kernels in ten innings for second straight win
Pre-Game Media Notes (Download Link) via the team's Virtual Press Box
Everyone in the starting lineup reached base at least once. Catcher Alex Hall singled twice and walked.

All four hurlers were effective as the box (and final score) indicate. This was a much-needed performance for 21-year-old RHP Alexander Cornielle, flashing the form from a few of his April starts. It is so easy to overlook just how young the international signings still are when they make their way to full-season affiliates.

RH reliever Brannon Jordan turns 25 in July and should have no difficulty moving into the closer role vacated by promoted Kaleb "Bo" Bowman. Jordan (2021 9th round, University of South Carolina) has a sub-1.00 WHIP and was among the Crew prospects in Australia this past winter.
 
---

Final: Down East (Rangers) 5, Carolina 4
Early Error Proves Costly in 5-4 Loss to Down East - Jose Sibrian hit his first home run of the season in the loss
Box Score / Game Log

The Wood Ducks are the Mudcats' Lex Luthor. Our playoff-starved affiliate needs to bounce back in this series to avoid losing ground in the first-half division race.

Switch-hitting 18-year-old CF Luis Lara doubled, singled, and walked, and as one of our thread posters astutely noted, has an eye-popping K-to-BB ratio, or as we should note, BB-to-K ratio.

If you rundown that position player lineup in the box score, you'll see that once again (harking back to 2022), nine are natives of Venezuela. RF Kay-lan Nicasia was born in the Netherlands and drafted out of a Florida high school.

Of all the healthy position players currently on the Carolina roster, only 3B Luke Adams and OF Jace Avina were born in the U.S. On the flip side, among the 15 healthy pitchers, only five are products of the international scene (three Dominican Republic, two Venezuela).

Eight oft-injured years in the system for catcher Jose Sibrian (includes losing the pandemic season), yet the defensive stalwart is only in his age-24 campaign. This was career home run #7:
---

It's all about young guns on the mound Thursday - Robert Gasser for Nashville, still-just-24-year-old Tobias Myers in Biloxi, Edwin Jimenez and his shiny Midwest League ERA for Wisconsin, and Jacob Misiorowski before the home crowd in Zebulon. We're going to welcome back our @Joseph Zarr for the next two evenings after a brief stint on the inactive list (he's fine, his internet wasn't!). Have a great Thursday, folks!

Organizational Scoreboard including starting pitcher info, game times, MiLB TV links, and box scores
Current Milwaukee Brewers Organization Batting Stats and Depth
Current Milwaukee Brewers Organization Pitching Stats and Depth
Think you could write a story like this? Brewer Fanatic wants you to develop your voice, find an audience, and we'll pay you to do it. Just fill out this form.
MORE FROM BREWER FANATIC
— Latest Brewers coverage from our writers
— Recent Brewers discussion in our forums
— Follow Brewer Fanatic via Twitter, Facebook or email
2