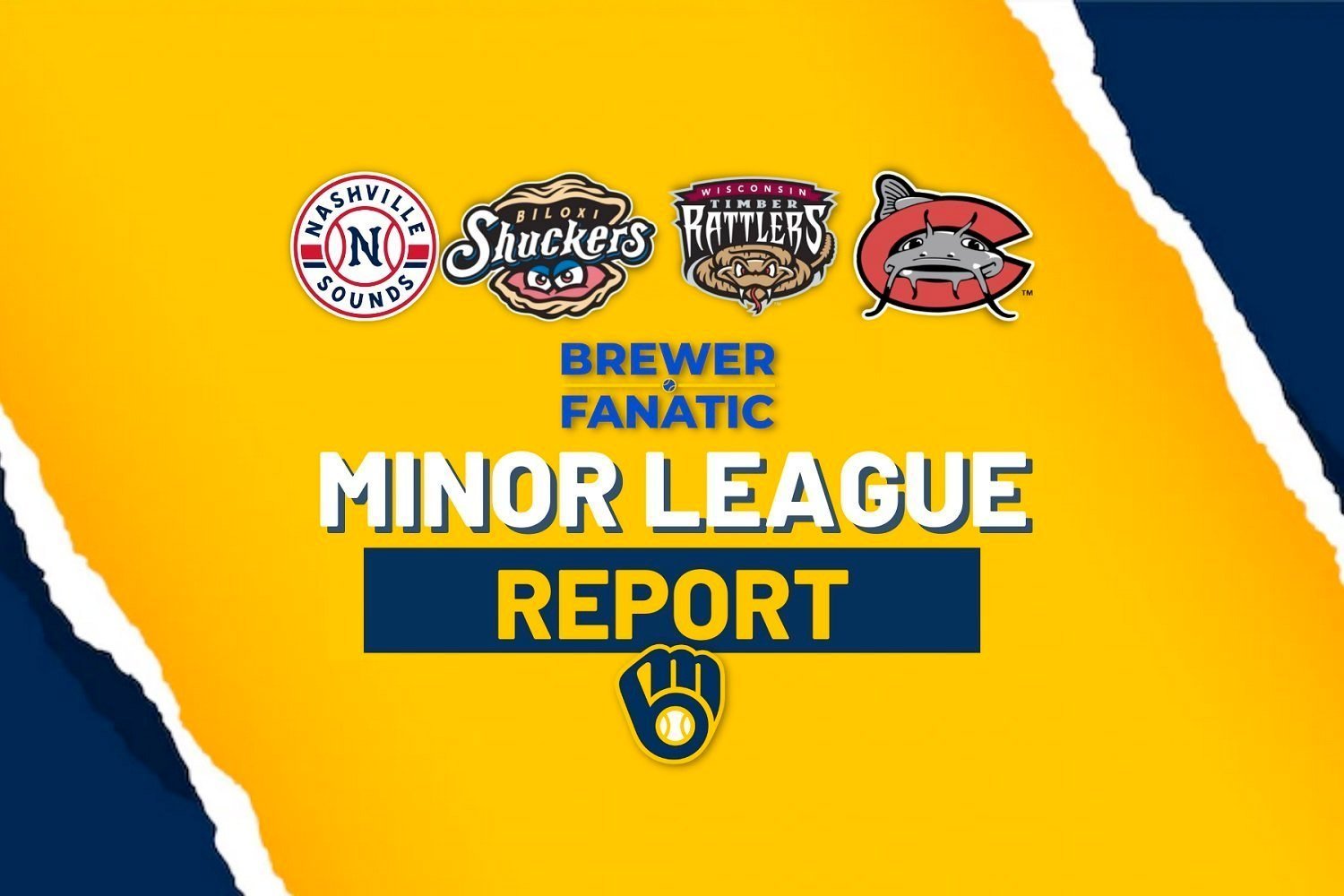 Image courtesy of BrewerFanatic
Final: ACL Brewers Gold 9, ACL Cubs 7, ten innings 
Box Score / Game Log
Each team scored in four of the first seven innings, tied at six at that point. Then both the Brewers (19-year-old Venezuelan RHP Yorman Galindez, in just his third pro appearance) and the Cubs saw scoreless ball pitched in the 8th and 9th. Galindez stranded two inherited runners in the 7th and retired all eight men he faced overall with six K's, that's mound game MVP work there. Galindez signed for only $10,000 in January, yet the Brewers saw enough to have the young man bypass the Dominican Summer League.
Crazy-hot 19-year-old 2nd-year Venezuelan second baseman Jose Caballero reached for the 4th time in the contest by doubling in the ghost runner to open the 10th inning. Listed at 140 pounds when he signed in July 2019, surely filled out nearly three years later, Caballero is 7-for-13 with three walks and just one K through four games.
LF Diego Larez, another 19-year-old 2nd-year Venezuelan, followed with a single to move Caballero to third base. It too, was Larez' 4th time on base, including a home run (hit three in 123 AB's in the DSL last summer).  A sacrifice fly and single subsequently gave the Golden Boys a three-run inning and enough to hold on for the win.
Earlier in the game 2nd-year Venezuelan catcher Blayberg Diaz cracked a HR, his 5th career blast in 128 at-bats.
Castillo doubled twice and drove in three Monday, building on last week's torrid run. OPS now 1.477 through six games.
First baseman Jesus Parra was hit by a pitch in the 9th and was immediately lifted for a pinch-runner. Hopefully just a precaution, Parra another member of this squad off to a nice start (1.065 OPS).
The four Brewer pitchers walked four and struck out 17.
***
Final: ACL Guardians 6, ACL Brewers Blue 4
Box Score / Game Log
First thing to catch my eye was that 19-year-old first-year-stateside RHP Junior Castillo walked four, hit two batters and balked while pitching the 8th and 9th innings, yet gave up just one run - the game log tells the Houdini tale should you choose to click thusly.
Three Men in Blue reached base twice, but otherwise the box score here is rather non-descript. Sprinkled among the otherwise international lineup, the two high school 2021 draft picks, CF Jace Avina and 1B Quinton Low (14th and 13th rounds, respectively) combined to go 0-for-8 with six K's.
When you review the ACL Blue and ACL Gold rosters, you'll see a total of just five active U.S.-born players. At least until after this summer's 2022 amateur draft, the Maryvale teams are truly extensions of the Dominican Summer League rosters.
***
Final: DSL Phillies Red 4, DSL Brewers #1 Squad 3
Box Score / Game Log
Down 4-2 entering the bottom of the 9th, the Crew boys loaded the bases with one out but only brought a single run home on a Luis Lara sacrifice fly.
Lara, the 17-year-old switch-hitting center fielder out of Venezuela, justifying his $1,100,000 signing bonus thus far, also smacked his first pro home run, doubled, and stole a base, his 3rd in six games. As we continue our theme of monster OPS marks in the early going, Lara sits at 1.224. Lara will play all season at 17. He was picked off second base, so a learning moment there.
Only two earned runs allowed over the combined nine innings from rookie 19-year-old Venezuela native Kevin Briceno and 18-year-old Dominican RHP Jesael Cabrera as each followed up solid debut efforts during their second times out here. We'll see if these two continue to be paired with each other during these early weeks of play. Each walked just one while fanning three.
***
Final: DSL Twins 7, DSL Brewers #2 Squad 6, game scheduled for seven innings
Box Score / Game Log
The Duece Team managed only four hits overall but scored four runs in the top of the 7th to inch close. Not close enough though, stranding the tying run on first base to end it.
Those four runs answered the four-spot the Twins put up in the bottom of the 6th vs. 21-year-old Dominican RHP Roman Perez in the 2nd pro outing for the signed later-than-usual international player.
18-year-old LF/1B (1B on Monday) Yeison Perez clubbed his 3rd home run on the very young season, prompting this post from @Smichaelis9 in our Minor League Forum discussion thread that includes video from Perez' debut 2021 season.
If you check out the 5th inning game log, it seemed an odd time and sequence for right fielder Jose Gonzalez to be lifted for a pinch-runner, though he did represent the tying run in a game scheduled for seven-innings.
85 degrees and a one-MPH "breeze". Told you on Day One, bank on it.
Think you could write a story like this? Brewer Fanatic wants you to develop your voice, find an audience, and we'll pay you to do it. Just fill out this form.
MORE FROM BREWER FANATIC
— Latest Brewers coverage from our writers
— Recent Brewers discussion in our forums
— Follow Brewer Fanatic via Twitter, Facebook or email
2