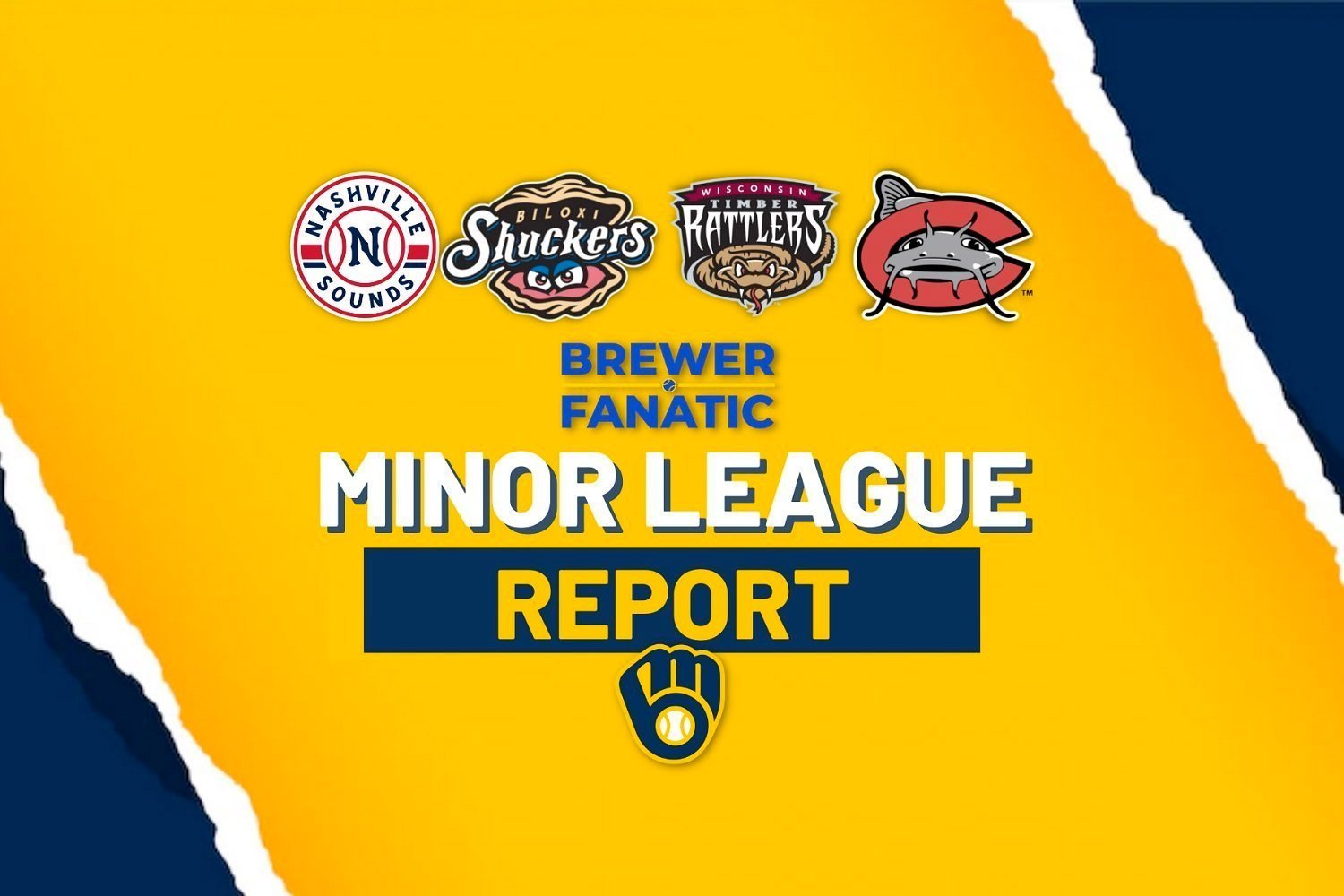 Image courtesy of BrewerFanatic
Transactions:
- RHP Jandel Gustave sent to AAA Nashville on rehab assignment
- C Pedro Severino sent to AA Biloxi on rehab assignment
- OF Corey Ray outrighted to AAA Nashville
- RHP Michael Perdomo promoted from DSL Brewers-1 to ACL Brewers Blue
- RHP Anthony Perez promoted from DSL Brewers-1 to ACL Brewers Blue
- INF Jamal Zalm promoted from DSL Brewers-2 to ACL Brewers Blue
- C Darlin Lora promoted from DSL Brewers-1 to ACL Brewers Blue
- INF Miguel Briceno promoted from DSL Brewers-1 to ACL Brewers Gold

The first round of the 2016 MLB draft has proven to pretty much have been a dumpster fire. Oh sure, Braves RHP Ian Anderson (taken two picks before Corey Ray at #3 overall) and Wisconsin native Gavin Lux are definitely big league contributors. Guardians RHP Cal Quantrill at #8 would have been a solid choice. But true 1st round superstar power - nothing quite yet. That doesn't make the injury-filled and performance-lacking Brewers career of Ray any less disappointing, and now Ray is set to meekly slide away into minor league free agency after this season. But you do know the Brewers success story from that round, right? Sure you do, he's 25th overall pick Eric Lauer! There's a pick-us-up note!
***
Nashville Pre-Game Media Notes
Final: Nashville 4, Memphis (Cardinals) 1
Box Score / Game Log
Via the Sounds' site, game details, and we encourage readers to review each of the affiliate write-ups as part of their Link Report routine:

Boushley, Sounds Stifle Redbirds - Nashville Never Trails as Series Evens in Memphis
One of the best parts about Caleb Boushley's Minor League Rule 5 Phase pickup from the Padres system last December is that Milwaukee has another year of control over Boushley. So even if he's not added to the 40-man or 26-man rosters, he could play an important role in 2023. Just think how fortunate, as MLB only decided to conduct the minor league phase due to the lockout. No Boushley if they hadn't held it!
While reminding us he grew up a big Cardinals' fan, Small naturally expresses his appreciation for his Memphis-area upbringing. Guess he wanted to get out and experience the local happenings, as he, along with Manager Rick Sweet, were ejected from the dugout in the 3rd inning after Jon Singleton was called out on strikes.
Not sure if RH reliever Matt Hardy, in his 6th season in the Crew's system, still has to deal with wrestler Matt Hardy shoutouts wherever he goes, but he's having a super-solid season.
Encouraging rehab outing for RH reliever Jandel Gustave.
Too bad for the Sounds' faithful home fans that Brandon Woodruff's scheduled rehab outing Saturday is in Memphis.
***
Biloxi Pre-Game Media Notes via the Shuckers' Virtual Press Box    
Final: Biloxi 6, Chattanooga (Reds) 5
Box Score / Game Log 

Via the Shuckers' site, game details, please review: 

Biloxi Holds On For 6-5 Win Over Lookouts - Bennett Allows Just One Run Over Five Frames
You'll find a Chattanooga TV sports report on the contest here.
Biloxi's staff grabbed several highlights from the Lookout's MiLB.TV broadcast and posted them on their Twitter Media Feed. Of course, if you already read the game report linked above, you have seen them all - wink, wink.
Worth copying here to end it, with Voice of The Shuckers Garrett Greene on the call:
Wiemer's offensive mini-slide continued with an 0-for-5 evening (one run, one RBI), but even with a tough camera angle, that was a sweet defensive play.
Big games from the bottom four in the order - Cam Devanney, Noah Campbell, Gabe Holt, and Yeison Coca. How much of a luxury is it to see the #6 and 7 hitters (Devanney, Campbell) with OPS marks of ,860 and .861 respectively. Don't know if Southern League pitching is down this year, but nearly night in and night out, this is not the offense-suppressing AA environment we've become accustomed to while tracking Brewer farmhands at the plate or on the mound in years past. 
Nice start for LHP Nick Bennett, upping his game recently.
***
Wisconsin Pre-Game Media Notes via their all-encompassing Virtual Press Box
Final: Great Lakes (Dodgers) 3, Wisconsin 0 
Box Score / Game Log
Via the Timber Rattlers' site, game details, please review:

Loons Shut Out Rattlers 3-0 - Jarvis strikes out eleven, but offense held to two hits
T-Rats on the brink of first-half playoff elimination, give us a heck of a 2nd half, men.
Just six men on base (two singles, four walks, 14 strikeouts) and 0-for-2 with RISP for Wisconsin. Final lines show seven hitting .213 or below, and you can only statistically pooh-pooh batting average so much.
Seven of RHP Justin Jarvis' last eight starts have been very good to outstanding. His 2022 game log shows how he bounced back from a frigid April performance.
Hey, did you miss Adam McCalvy and Brad Ford's extended conversation with catcher Alex Hall earlier this week? Good stuff beyond what you may have heard whilst Hall was up for his one-game (so far) big league dugout debut. Check it out here at the 49:00 minute mark.
It may be truncated, but looking forward to seeing what RHP James Meeker does in his first professional start Saturday night.
***
Final: Carolina 4, Columbia (Royals) 1, seven innings due to opening rain delay
Box Score / Game Log

Via the Mudcats' site, details, please review:

First Place Mudcats End Skid with 4-1 Road Win - Eduardo Garcia hit a go-ahead two-run home run in the seventh and final frame for the Mudcats

No doubt, this was a BIG win.
Listed at 6'2", 160 on his MiLB Player Page (but we know how outdated those vitals can be), the prized shortstop prospect Garcia looks to be all of that and more with this swing -
How confident is the organization in Garcia's defensive prowess in the six-hole? All but one of 503 professional defensive innings have been at shortstop. Are the six walks in 224 at-bats in 2022, in a word, awful? Yeah, that one aspect of Garcia's game needs a ton of work. The rest - just fine, thank you.
Just 20 years old all season, RHP and 2021 6th round JUCO pick Carlos Rodriguez continues to justify his fairly lofty draft status.
Half-game lead with six games to go in the first half? You'll realize how critical those six games are when you review this from Voice of the Mudcats' Greg Young Jr.'s always-robust media notes:
PLAYOFF DROUGHT: The Mudcats failed to reach the playoffs in 2021, thus stretching the club's playoff drought to a Minor League Baseball worst 12 consecutive seasons. The Mudcats last reached the postseason in 2008 where they lost to the Mississippi Braves in the Southern League Championship Series (when they were associated with the then-Florida Marlins at the AA level).
Let's get the Zebulon faithful some playoff baseball, guys!
***
My thanks to @damuelle of our staff who contributed the Arizona Complex League write-ups for me. With the four complex leagues active, daily report duties can be daunting, so you'll see the occasional tag-team. I'll rejoin you below for the Dominican games ?
Final: ACL Athletics 7, ACL Brewers Blue 5, seven innings as scheduled
Box Score / Game Log

Brewers Blue vs. Athletics was a repeat of Thursday's game, with unfortunately the same outcome, dropping the Blue squad to 1-8 thus far in 2022.

Five DSL players were promoted stateside in advance of today's ACL games, but only Jamal Zalm saw action. After playing all of his 246 2/3 innings in the infield in DSL, of course in his first-ever ACL game Zalm was sent to play left field. It was a successful debut for him, as he doubled and scored to tie the game 2-2 in the second inning, while the gods mercifully didn't send any fly balls his way.

However, the Athletics used a four-run 4thinning to blow open the 2-2 contest, then held off the Brewers Blue squad in this shortened seven-inning affair.

After a solid debut 2021 season for 24-year old LHP Leoni De La Cruz (1.23 ERA, 1.02 WHIP, 12.0 K/9 in 29 1/3 innings split between DSL and ACL), he struggled for the second time in three games this year. Inheriting a two-on, one-out situation from starting RHP Andy Garcia in the fourth inning, De La Cruz allowed the first three Athletics he faced to reached base (single, two walks), thus ballooning the deficit from 3-2 to 6-2.

2021 big bonus 18-year old Venezuelan SS Daniel Guilarte (.786 OPS in 35 plate appearances, seven RBIs) continues his successful debut season, with his fifth inning, two-out single plating two runs to cut the Athletics' lead to 6-4.

The Brewers Blue and Athletic staffs struck out nine and ten batters, respectively, but the Blue team issued seven walks versus just one issued by the Athletics. However, those strikeouts are likely an encouraging sign that our pitchers have the "good stuff" (five for Garcia in 3 1/3 innings, two for De La Cruz in 1 2/3 innings, two for Raul Mendoza in two innings).

The organization can't reasonably expect 17-year catcher Felipe Valderrama to hit much at this level (unsurprising .414 OPS in 25 plate appearances), so should be happy that he threw out one of two attempted base stealers.

Don't be discouraged by 1B Quinton Low's OPS of .425 (25 plate appearances), as his BABIP is just .182 and his BB/K ratio is 6/8.
***

Final: ACL Brewers Gold 5, ACL Guardians 0
Box Score / Game Log

The Gold squad continues to counter-balance Blue's struggles, boosting their record to 7-2 in this reversal of fortune from Thursday's loss to the same Guardians' team.

What a turnaround for 19-year old starting RHP Patricio Aquino from last week's rough stateside debut, as he shut out the quality opposition (Guardians drop to 6-3) over six innings, striking out eight batters while only allowing a double, two singles and two walks. After a solid 2021 season (2.66 ERA in 44 DSL innings), Aquino is definitely a player to keep an eye on.

The Gold team were unfortunately unable to capitalize on a bases loaded, one-out opportunity in the first inning, while Aquino then worked around a leadoff Guardians' double in the second inning (two strikeouts and an infield pop up).

We're nine games into 2022 and we now simply expect greatness from 18-year old left-handed hitting OF Luis Castillo who went 3-for-5 with three RBIs to maintain his amazing OPS at 1.382 through 38 plate appearances. His RBI single in the third inning opened the scoring at 1-0, while his two-run double in the fourth inning provided the final margin of 5-0.

Of course, Castillo's BABIP (.519) and low season numbers for walks (3) and stolen bases (0) will raise some questions, but by the same token just six strikeouts tells you that Mr. Castillo has serious contact skills.

18-year old lead-off man 2B Jadher Areinamo continued his impressive work (1-for-4, two runs scored). Areinamo (.297 AVG / .395 OBP / .405 SLG in 43 ACL plate appearances) has hit safely in eight of the nine ACL games, walking twice in the other one.

19-year old Venezuelan RHP Yorman Galindez was the only 2022 international signee to be directly posted stateside (i.e., no games in the DSL) and the organization is not regretting that choice. With two scoreless innings in this contest, his ERA is now 1.04, WHIP 0.81 and he's struck out 12 batters in his 8 2/3 innings. Well done, young man!

To finish off the shutout, 24-year old RHP Ryan Middendorf had a successful debut in affiliated baseball, working around an infield error to pitch an otherwise clean ninth inning with one strikeout. The Brewers acquired Middendorf's contract from the Schaumburg Boomers of the Frontier League earlier this week, where he threw 150 2/3 innings in 24 starts in 1 1/4 seasons (3.05 ERA, 1.15 WHIP, 7.8 K/9).

19-year old Jesus Parra continued his bounce back season (.774 OPS in 2019 DSL, .566 OPS in 2021 ACL, .840 OPS this year) with a 2-for-5 outing.

I'm not sure if it was the 107-degree heat (on a partly cloudy day, no less), the Guardians' struggles at the plate (despite 20 MPH winds blowing out to center field) or their three errors, but bench coach Dennis Malave was ejected by the home plate umpire Chad Lagana in the 8th inning. Get both of those men a cold beverage. Actually, this occurred after the Guardians bunted for the 2nd out with one runner on in the 8th inning. Bunting in ACL ball while down 5-0? Yeah, that might merit an ejection.
***
Final: DSL NYY Bombers 12, DSL Brewers #1 Squad 2, seven innings, lightning
Box Score / Game Log

The Yankees organization has two DSL teams, with the other simply being the "Yankees".  OK Brewers front office, we'll give you until next spring to come up with something better than DSL #1 & DSL #2. 
The #1 Brewers, now 2-7, came very close to being no-hit. Their one and only knock was a two-run home run by 18-year-old 2nd-year switch-hitting first baseman Arnys Rodriguez with one out in what Mother Nature determined would be the game's final inning. The Dominican native struggled in 2021 (.501 OPS, 94 at-bats) while seeing time at second and third base in addition to first. In five games early on, it's been first base only for Arnys, who had broken the seal on his career home runs with one last summer.
Early team MVP CF Luis Lara was an uncharacteristic 0-for-3 with two K's and left the game after flying out in the 6th of the lopsided affair. Pretty sure we would have known if he had been struck by lightning.
The four Brewer pitchers, all in their debut seasons, combined to walk 11 and throw two wild pitches. The starter was Nicaraguan RHP Ranwell Smith who won't even turn 17 until late August, With an 80-grade name like Ranwell Smith, if mound duties don't pan out, there surely will be opportunities as a big-league postseason baserunning specialist.
***
Final: DSL Blue Jays 4, DSL Brewers #2 Squad 3, eight innings (scheduled for seven)
Box Score / Game Log

No weather issues here, game scheduled to end early, as ghost runners were utilized in the 8th. It'd be interesting to know what discussions take place between teams as perhaps they indicate limited pitcher availability as a reason not to play nine.
The BrewCrew2 8th was ineffective and unlucky.  17-year-old bonus baby prospect Johan Barrios, DH'ing here and 0-for-4 for the day,  flew out to right field, apparently too shallow to advance the runner. Catcher Eric Martinez lined out, but it was caught by the second baseman. A strikeout ended the frame.
A single pitch ended the game, with a Blue Jay line-drive single off RHP Nelson Cuevas, saddling the 21-year-old Dominican native, a 2022 rarity in that he's in his third DSL season, with his third loss in four appearances. Of course, this particular run will show as unearned on his ledger.
The three Crew pitchers combined to walk seven, throw three wild pitches, and hit a batter. When that combination of events is low, it's worth pointing out. Not low here, but mentioned anyway as a point of reference for better mound days ahead.
BrewCrew2 tied it at 3-3 in the top of 7th when still-16-year-old third baseman Juan Baez was hit by a pitch with the bases loaded. Debunking the whole concept of needing base hits with RISP, Baez had driven in a run with a sacrifice fly earlier. So two RBI on an 0-for-2 day at the plate.
***
Carolina's doubleheader in Columbia, South Carolina kicks off at 3:30 Central. All other full-season action is this evening. Despite the Mudcats double-dip, it's still only eight, and not nine games today, as the two Arizona rosters square off for bragging rights in Maryvale. Have a great Saturday!
Organizational Scoreboard including starting pitcher info, game times, MiLB TV links, and box scores

Arizona Complex League Scoreboard

Dominican Summer League Scoreboard

Standings and sortable stat pages

Current Milwaukee Brewers Organization Batting Stats and Depth

Current Milwaukee Brewers Organization Pitching Stats and Depth
Think you could write a story like this? Brewer Fanatic wants you to develop your voice, find an audience, and we'll pay you to do it. Just fill out this form.
MORE FROM BREWER FANATIC
— Latest Brewers coverage from our writers
— Recent Brewers discussion in our forums
— Follow Brewer Fanatic via Twitter, Facebook or email
1