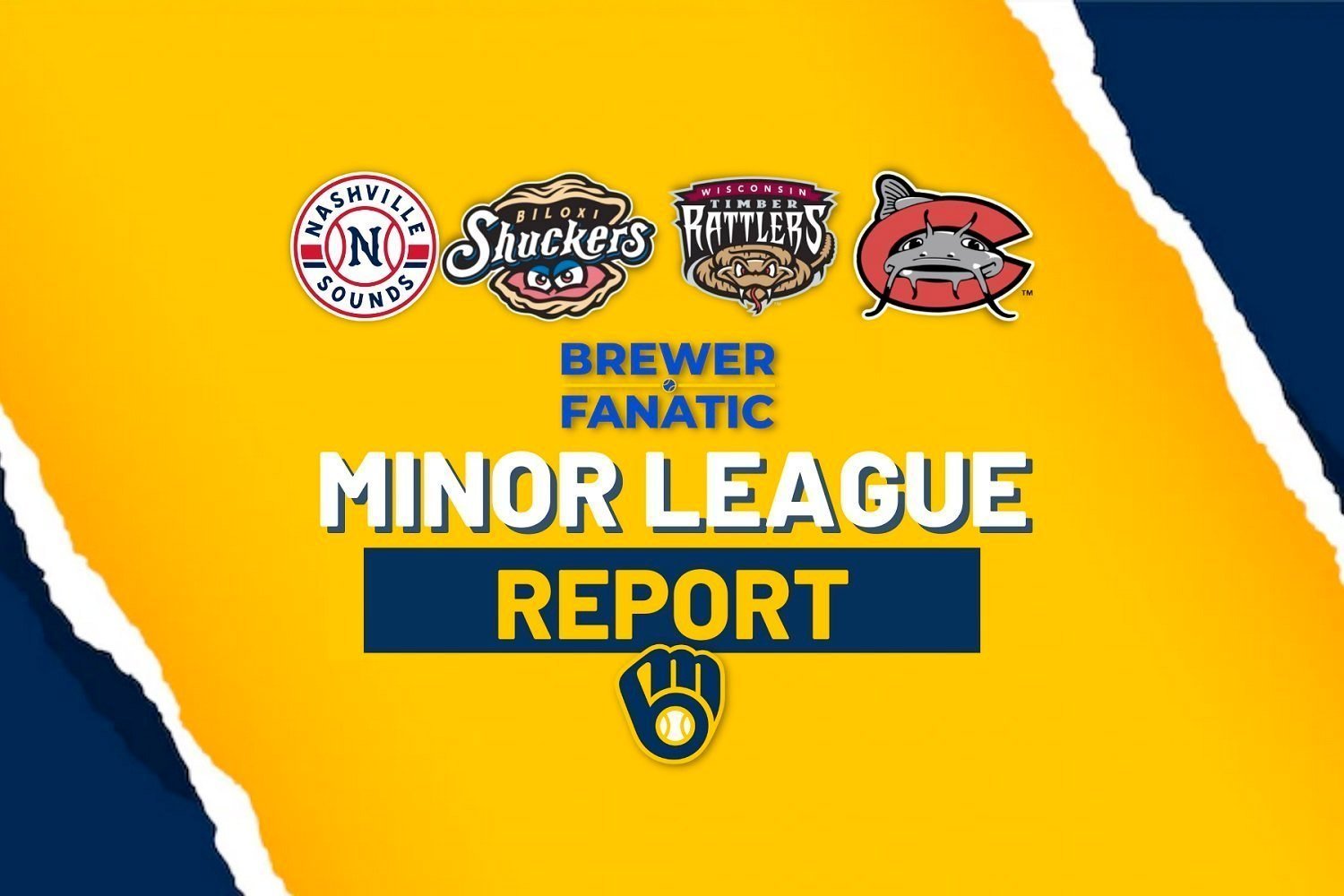 Image courtesy of BrewerFanatic
Recently re-signed INF Jean Carmona homered and reached base six times in Carolina's win, with the Fireflies giving minimal problems for RHP Stiven Cruz. Overall, the game was an offensive show, as Carolina netted 17 hits and also drew nine walks.

Wisconsin failed to make the most of LHP Antoine Kelly's 2nd start of the week (and final High-A start before an upcoming promotion?), stranding 12 runners in losing a 5th straight game at Great Lakes, this one 3-2.

Biloxi grabbed leads in the second, eighth and tenth innings, but couldn't hold on in losing 7-6 in Chattanooga, snapping the Shuckers' four-game winning streak. This was in spite of the efforts of Robbie Hitt (two scoreless innings, four Ks) and Joey Wiemer (two hits, two stolen bases, threw out a runner for the final out of the ninth inning).

David Dahl led Nashville back to tie their game in Memphis in the fifth inning and take a seventh inning lead, but the Redbirds were too much for the Sounds' staff on Sunday, as the clubs tied their series 3-3.

Sunday's Game Balls go to the aforementioned Carmona, Cruz, Dahl, Wiemer and Jackson Chourio.
Transactions:
Game Action:

Carolina Pre-Game Media Notes
Final: Carolina 12, Columbia 6
Box Score / Game Log

Via the Mudcats' website, game details, and we encourage readers to review each of the affiliate write-ups as part of their Link Report routine: Mudcats Take Finale 12-6 With Fourth Straight Victory

The "Jean Carmona" game was never in doubt, with the Mudcats jumping out to a 5-0 second inning lead and RHP Stiven Cruz being his usual solid self on the mound.

Carmona's not showing any rust, despite missing the first two-and-a-half months of the season whilst awaiting his next opportunity in affiliated baseball. The switch hitter kicked off the scoring by pulling a two-run blast to right center field (driving in Hedbert Perez, who'd singled), which was followed by an Eduardo Garcia RBI fielder's choice and Jeferson Quero RBI infield single and error to establish Carolina's early 5-0 lead.
Mr. Carmona then walked and scored in each of the third and fifth innings, as the Mudcats advantage eventually grew to 8-0. His busy night not yet complete, Carmona reached base again in the 7th (walk) and 9th innings (single), though didn't score on these occasions. Yes, he reached base on all six plate appearances, as he makes his case for an immediate promotion to High-A Wisconsin.

Cruz calmly handled the first four innings, never allowing more than one batter to reach base. However, perhaps he eased up with that big lead in the fifth inning, giving up two runs on three hits before cancelling the final two hitters via strikeout and fly out.

When you're not certain whether the 17 hits or nine walks is more impressive, your squad has had an excellent game at the plate. Leaving 13 men on base usually sounds like a recipe for disaster, but in this case it was just a matter of so much traffic (7-for-20 with runners in scoring position).

Of course, Jackson Chourio has spoiled us so much that it's barely notable when he goes 2-for-5 with a triple and double to raise his season OPS to 1.030. C'mon Jackson, do more(!) – I kid, I kid.

In the 'pen, Junior Montero was his usual solid self (2.55 ERA on the season), Jakob Brustoski's unfortunately continuing to struggle (three runs, four walks, two wild pitches – 16.20 ERA on the season), Michele Vassalotti ended Mr. Brustoski's nightmare 7th inning by inducing a quick fly out (though yielded one run on two hits the following inning) and Pablo Garabitos resumed his quality form (3.31 ERA).

Hopefully, SS Eduardo Garcia was simply pulled in the seventh inning to give Luis Silva some work, rather than any injury. He had walked and scored on a triple earlier in the top half of the inning.
Performances of Note:
Jean Carmona – 3-3, HR, 3 walks, 2 RBIs
Zack Raabe – 3-4, double, walk
Hedbert Perez – 3-6, RBI
Jackson Chourio – 2-5, triple, double, walk, 2 RBIs
Jeferson Quero – 2-6, double, RBI
Jheremy Vargas – 2-3, walk, HBP, 2 RBIs
Eduardo Garcia – 1-4, walk, 2 RBIs
Jesus Chirinos – 1-4, 2 walks
Stiven Cruz (Win) – 5 IP, 2 R, 5 H, 1 BB, 3 Ks
Junior Montero – 1 IP, 0 R, 0 H, 0 BB, 1 K
Pablo Garabitos – 1 IP, 0 R, 0 H, 0 BB, 2 K
Next week's outlook: The 34-29 Mudcats remain on the road to take on Rangers' Low-A affiliate Down East (30-33). Expect RHP Edwin Jimenez to start Tuesday's opener, likely tag-teaming with RHP Israel Puello.
Wisconsin Pre-Game Media Notes
Final: Great Lakes 3, Wisconsin 2
Box Score / Game Log

Via the Timber Rattlers' website, rainout details: Wisconsin Ends Road Trip with Close Loss to Loons

The Rattlers frustrating week came to an unmerciful end with a 5th consecutive loss, this time in a game where the stats favored them in most ways, except for the final score and their 12 strikeouts. Great Lakes took yet another victory from Wisconsin, despite having fewer hits (7 vs. 5), more errors (2 vs. 0), fewer stolen bases (3 vs. 1), issuing more walks (5 vs. 4) and throwing far more pitches (152 vs. 122).

The Loons grabbed a first inning lead getting a hit to the outfield against Rattlers' starting LHP Antoine Kelly, helped by two walks and a hit batsmen.

A Wes Clarke leadoff double (three hits in the game) in the second inning yielded nothing, but Arbert Cipion tripled and scored to tie things up at 1-1 in the third inning.

Despite stranding nine runners through the first five innings of play, Wisconsin grabbed a 2-1 fifth inning lead as Tristan Peters walked (one of his four walks in the game) and scored on a Loon error.

Unfortunately, old friend Kekai Rios (why did we leave him unprotected in the minor league portion of the Rule 5 draft?) homered in the bottom half of the fifth inning to re-knot the game at 2-2.

The sixth inning followed the same theme, with the Rattlers stranding another two runners (11 for the game at that point), but Great Lakes scoring on a two-out double by nemesis Jonny DeLuca on a full count pitch. And that was all for Mr. Kelly this night, as he exited for RHP Robbie Baker down 3-2.

Unfortunately, the excellent efforts of Baker and RHP Christian Tripp (combined 2 1/3 scoreless innings) were matched by the Great Lakes' bullpen, as Wisconsin did not register a hit in the final three innings of play.
Performances of Note:
Wes Clarke – 3-5, double
Arbert Cipion – 2-4, triple, SB
Ethan Murray – 1-4, SF, RBI, SB
Jose Acosta – 1-4, SB
Tristan Peters – 0-1, 4 walks
Antoine Kelly (Loss) – 5 2/3 IP, 3 R, 4 H, 4 BB, 1 HBP, 1 WP, 6 Ks
Robbie Baker – 1 1/3 IP, 0 R, 1 H, 0 BB, 1 K
Christian Tripp – 1 IP, 0 R, 0 H, 0 BB, 0 K
Next week's outlook: The 34-28 Timber Rattlers return home to face Royals' High-A affiliate Quad Cities (25-38). Expect RHP Ryne Moore (4.41 ERA, 1.23 WHIP, 9.1 K/9 in 63 1/3 innings split between Low-A and High-A) to get the series' first start.
Biloxi Pre-Game Media Notes
Final: Chattanooga 7, Biloxi 6
Box Score / Game Log

Via the Shuckers' website, game details: Chattanooga Snaps Shuckers Four-Game Winning Streak in Extras

Biloxi's Sunday loss was a near cut-and-paste of Wisconsin's loss above, but the Shuckers defeat was slightly less maddening since they were coming off four consecutive wins.

Although Biloxi had more hits (10 vs. 9), earned more walks (6 vs. 2), stole more bases (4 vs. 2), they gave up leads in the 9th and 10th innings to suffer a tough 7-6 defeat in Chattanooga. The team stranded 12 runners for the game versus six for Chattanooga, though the Shuckers did not help themselves by committing three errors.

After stranding two runners in the first inning, the Shuckers grabbed a 2-0 lead in the third inning on MLB rehabber Pedro Severino's two-run shot to left field, scoring Joey Wiemer (who'd singled).
Meanwhile, LHP Brandon Knarr was terrific through his first four innings, never allowing more than one batter to reach base. Meanwhile, Biloxi would rue its failure to score in the fourth inning (despite two leadoff singles) and fifth inning (despite putting two men on with one out).

In the fifth inning, a one-out triple, then infield error cut the Shuckers' lead to 2-1, putting the pressure on Biloxi for the first time. Unfortunately, after inducing a groundout, Knarr conceded a homer to dangerous Isiah Gilliam (11th of the year) to fall behind 3-2. Then a second infield error extended the inning, allowing the Lookouts to knock in their fourth run of the frame, grabbing a 4-2 lead.

RHP Robbie Hitt served as an excellent bridge from starter-to-closer(s), facing the minimum six batters while striking out four hitters over two innings of work.

Hitt's effort enabled Biloxi to eventually come through in the 8th inning, as the first four Biloxi hitters reached base, with Yeison Coca hitting the key two-RBI single to tie the game at 4-4, with Noah Campbell later scoring on a catcher throw down to second base. 5-4 Shuckers.
RHP Nash Walters issued a lead-off walk in the 8th inning, but induced two groundouts (one a double play) to escape without damage.

After stranding yet another two runners in the top of the 9th inning, RHP Zach Vennaro entered to try to nail down the save. Unfortunately, things went awry with a one-out single, wild pitch and another single, giving Chattanooga a 5-5 tie with a runner on 3rd base and still only one out.

The cannon-armed Joey Wiemer then gave Biloxi new life by catching the second out in right field and gunning down the tagging runner on a direct throw to home plate. Wiemer's really looking like the complete package, with an OPS of .885, 20 stolen bases (vs. one caught stealing) and nine outfield assists. With Jonathan Davis promoted to the majors and Abraham Almonte apparently sidelined by injury, is the time right to promote Mr. Wiemer to AAA?

The Shuckers nearly went empty-handed in the top of the tenth inning, but Cam Devanney came through with a two-out RBI single to restore their one-run advantage at 6-5, while also extending his hitting streak to 13 games in spite of only entering the game as a pinch hitter in the eighth inning.
Unfortunately, RHP Kent Hasler has not yet settled into life at AA Biloxi, hitting the first batter he faced, throwing a wild pitch and walking a batter to put him in a near-impossible bases loaded, nobody out situation. The game then ended in walk-off fashion, with Gilliam again doing the damage, this time via a two-run single on a 1-2 pitch.
Performances of Note:
Pedro Severino – 2-3, HR, 2 walks, 2 RBIs
Joey Wiemer – 2-5, walk, 2 SBs
Cam Devanney – 1-2, RBI
Thomas Dillard – 1-3, walk, HBP
Felix Valerio – 1-4, walk, SB
Noah Campbell – 1-4, walk
Yeison Coca – 1-5, 2 RBIs
Brandon Knarr – 5 IP, 4 R (1 ER), 5 H, 0 BB, 3 K
Robbie Hitt – 2 IP, 0 R, 1 H, 0 BB, 4 Ks
Nash Walters – 1 IP, 0 R, 0 H, 1 BB, 0 K
Kent Hasler (Loss) – 0 IP, 2 R (1 ER), 1 H, 1 BB, 1 WP, 0 K
Next week's outlook: The 30-31 Shuckers will play Marlins' red-hot AA affiliate Pensacola (33-25) at home this week. Expect RHP Noah Zavolas to start Game One, trying to build on an excellent last outing (6 IP, 2 R, 4 H, 8 Ks).
Nashville Pre-Game Media Notes
Final: Memphis 7, Nashville 6
Box Score / Game Log

Via the Sounds' website, game details: Battling Sounds Drop Series Finale

LHP Ethan Small continued his recent struggles, battling through four difficult innings (3 runs, 4 hits, 4 walks) and exiting with the Sounds down 3-0.

However, from that point, it was nearly the "David Dahl game", as he consistently came through to bring Nashville back from deficits:
A two-out, two-run double to tie the game at 3-3 in the fifth inning
A game-tying sacrifice fly in the seventh inning (scoring Garrett Whitley, who'd walked). 4-4 game
A solo homer in the ninth inning to claw back to within 7-6
RHP Jandel Gustave made this second rehab appearance in Nashville, this time giving up two hits and a sacrifice fly to fall behind 4-3 in the bottom of the fifth inning.

Dahl's sacrifice fly and a Tyler White two-out RBI single swung the Sounds back into the lead at 5-4 in the top of the seventh inning, before an excellent defensive play by Memphis right fielder Scott Hurst nailed White at the plate on a Weston Wilson single.

RHP Alec Bettinger came in for extended relief, running into difficulty in the bottom of the seventh inning by conceding two runs on two hits and a walk for a 6-5 deficit.

RHP Matt Hardy then struggled through the eighth inning by yielding a single and two walks, though the damage was limited to one run thanks to a fly ball double play, with OF Corey Ray throwing out a runner at second base.

Overall, Mr. Ray had a nice game, singling in the first inning, knocking in Nashville's first run with a sacrifice fly in the fifth inning, singling and scoring in the seventh inning and then having that nice defensive play to keep the game close in the eighth inning.
Performances of Note:
David Dahl – 2-3, HR, double, walk, SF, 3 RBIs
Corey Ray – 2-4, RBI, SF
Weston Wilson – 2-5
Mario Feliciano – 2-4
Andruw Monasterio – 2-4
Garrett Whitley – 1-2, double, 3 walks
Tyler White – 1-5, RBI
Ethan Small – 4 IP, 3 R, 4 H, 4 BB, 2 WP, 4 Ks
Alec Bettinger (Loss) – 2 IP, 2 R, 3 H, 1 BB, 1 K
Next week's outlook: Nashville (39-26) also return home this week to face Braves' AAA affiliate Gwinnett (33-33). Expect RHP Josh Lindblom to make his 13th appearance (12th start), after a successful game last week (6 IP, 1 R, 5 H, 5 Ks).
We hope that you enjoy the Minor League Link Report. Enjoy your travel day, young fellas!
Arizona Complex League Scoreboard

Dominican Summer League Scoreboard

Standings and sortable stat pages

Current Milwaukee Brewers Organization Batting Stats and Depth

Current Milwaukee Brewers Organization Pitching Stats and Depth
Think you could write a story like this? Brewer Fanatic wants you to develop your voice, find an audience, and we'll pay you to do it. Just fill out this form.
MORE FROM BREWER FANATIC
— Latest Brewers coverage from our writers
— Recent Brewers discussion in our forums
— Follow Brewer Fanatic via Twitter, Facebook or email