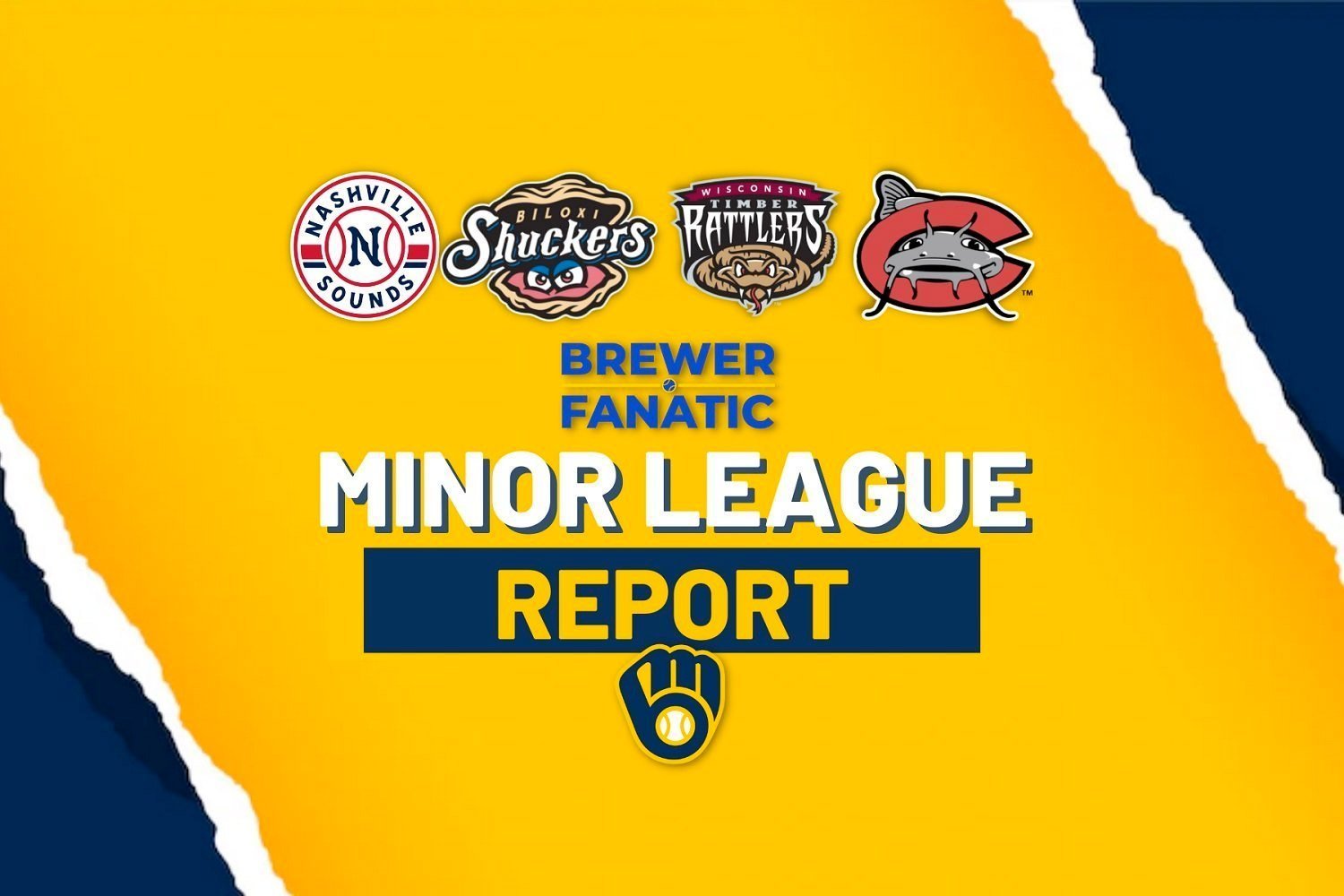 Image courtesy of BrewerFanatic
TRANSACTIONS:

- RHP Matt Bush's rehab stint has ended at AAA Nashville, activated with the MLB Brewers
- RHP Aidan Maldonado has been placed on the 7-Day IL (retroactive to 6/21) at A-Ball Carolina
 
---

Final: Nashville 10, Norfolk (Orioles) 3

Via the Sounds' site, we encourage readers to review each of the affiliate write-ups as part of your season-long Link Report routine:
Sounds Thump Tides With 10 Run Bombardment - Josh VanMeter homers twice, Alex Jackson adds three RBI in 10-3 win
Box Score / Game Log

First, we'll acknowledge the huge sigh of relief from the Brewers masses --
Starting RHP Janson Junk is doing his best to win us over, even without the flash. Taken from the game summary above, this may have been alluded to at the time of the Hunter Renfroe trade, but Junk had made an impression on the Milwaukee organization previously:

Janson Junk allowed just one hit through his first six innings of work. The last time he allowed one hit or fewer through six innings was August 27, 2021 at Biloxi with Double-A Rocket City. In that contest, Junk tossed 8.0 innings before surrendering his first hit in the ninth.

The Nashville production crew was all over this one, with five video highlights of note via their Twitter media feed.

So, Brice Turang has ten hits total during his ten-game hitting streak. See, that would be a fun record to learn about, what is the longest hitting streak of exactly one hit each in MLB (or MiLB) history. Clearly, Brice is hoping for a multi-hit game in his near future.

It's not often Manager Rick Sweet has ample player position depth available, even though all the MLB rehabs are complete. Not seeing action here: Catchers Payton Henry, Brian Navarreto and Brent Diaz, INF/OF Cam Devanney, OF Michael Reed, and perhaps just for this day, Sal Frelick. There are 14 pitchers total available.
 
---

Final, Game One: Chattanooga (Reds) 4, Biloxi 2, seven innings as scheduled
Final, Game Two: Chattanooga 4, Biloxi 3, eight innings (scheduled for seven)

Via the Shuckers' site:
Shuckers Fall to Lookouts Twice in Doubleheader Sweep - Jackson Chourio smashes his 10th home run, tallies 20th stolen base in sweep
Game One Box Score / Game Log

Game Two Box Score / Game Log
Well, good news is that for the Shuckers, the first half of the AA season doesn't end until after Sunday's game, so this double defeat won't impact second-half postseason chances. (The two A-Ball teams began second-half play on Friday, as their regular seasons are a few games shorter.)

The three position players who sat out Game Two (Tyler Black, Jeferson Quero, Ethan Murray) all played in Game One.

Brendan Samson of MLB Pipeline had overnight duties and his article provides the Ronald Acuna, Jr. comps that always brighten our mornings:
Elsewhere in the media world, Biloxi news station WXXV has a video highlight package.

RHP Justin Jarvis and OF Carlos Rodriguez made the cut in the Shuckers' Twitter Media feed. Quite the feast for the eyes considering the results of the evening at MGM Park.

Biloxi managed only seven base hits over 15 innings Friday, though four went for extra bases. The Shuckers drew eight walks but were a combined 1-for-12 with RISP on the night.

Two of the four runs allowed by RH Game One starter Justin Jarvis were unearned, and there's no quibbling with a 9-to-1 K-to-BB ratio over six innings.

This was only the 3rd start in 73 affiliated ball appearances for RHP James Meeker. The 28-year-old has been unreal - a 0.88 WHIP over 37.1 IP in 17 2023 AA appearances, 47 K's, four BB's. Let me bold that for you:

47 K's, four BB's

Oh yeah, there was that 0.00 ERA in 21 Australia innings this winter (not even an unearned run). Even as an older prospect, Meeker is exactly the type of talent that could be molded into a deadline deal if the Crew is indeed, as we hope, in acquiring mode.

The Sounds' Rick Sweet would make room if so, Curt:
---

Final:  Lansing (Athletics) 4, Wisconsin 2

Via the Timber Rattlers' site:
Lansing Tops Rattlers in Second Half Opener - Wisconsin held to two runs on eight hits
Pre-Game Media Notes (Download Link) via the team's Virtual Press Box

Box Score / Game Log

Keep an eye on your Udder Tuggers weekend jersey auction, folks. Surprising that Jacob Misiorowski's isn't currently the highest bid, but then again, not many bidders are 6'7".

A bit sour to kick off the second half with a loss, because this group had played well coming down the first-half stretch, and night-and day in terms of quality of play from April/most of May.

This might catch you off-guard, but I have referred this season to this collection of Rattlers as a "veteran" group. They have an unusually high number of players who will qualify for minor league free agency at season's end, seven years of pro ball (and yes, the lost 2020 counts): LHP Luis Amaya, RHP Max Lazar, 1B Ernesto Martinez, LHP Karlos Morales, RHP Michele Vassalotti, and OF Je'Von Ward. All but Amaya (first year with MKE) have spent all their careers with the organization. The Brewers have been known to invite players back for an 8th year, of course the player needs to be receptive to that as well.

By the way, Vassalotti tweeted out a new article link from Venezuela that focused on his early life baseball journey and his WBC Team Italy adventure, and I took the liberty of utilizing translate to post that for you here.

Oh yes, this game:
 

Bummer losing any time RHP Tyler Woessner gets the start (another quality effort here). Though this was only the second time in 2023 that Tyler K'd only one (April 28th, six three-run IP in a home loss to Beloit, so very reminiscent here). Woessner has fanned 60 in 66.2 frames this season, and yes, we focus too often on the K factor overall in these lines.

Congrats to 6'7" RHP Nick Merkel on his High-A debut (3 IP, one unearned run, 0 BB, 3 K).
 
---

Final: Carolina 11, Lynchburg (Indians) 5
Mudcats Start Second Half With 11-5 Victory - Jadher Areinamo matched a career-high with four RBI in Friday's victory versus Lynchburg
Box Score / Game Log

Now that's fun!

The top of the order led the way, none older than 20 years old as we list June OPS figures vs. their full-season OPS: Gregory Barrios (.844/.626), Luis Lara (1.047/.833), Hedbert Perez (.806/.615), Luke Adams (.952/.859), Jadher Areinamo (.721/.634). In other words, trending properly...

Some online have debated whether 6'4" 20-year-old LH bat / RH arm Quinton Low should be playing both ways, rather than focusing on his mound work. So far in 2023, it's been 23 AB's and 13.1 IP.
Low is scheduled to start Saturday's Mudcats game (on the mound).

6'5" RHP Miguel Guerrero turns 23 in July and has had a nice season in Carolina (2.86 ERA, 1.06 WHIP). Very under the radar in low-pressure this season (no holds, 0-for-1 in save chances). Most of us forget he was with the Timber Rattlers for 19 relief appearances in 2022 (7.22 ERA, that's why we've forgotten).
Congratulations to 20-year-old RHP Jose Chavez on making his full-season debut, he walked two in a scoreless 9th, but also fanned two.
 
---

Final: ACL Guardians 6, ACL Brewers 5

Box Score / Game Log
If the organization was to lose a game to the Guardians Friday, we'd all choose this one (well, maybe not Maryvale families of players).

Love a linescore that makes for an entertaining game. There were non-zero numbers for runs scored in the final five half-innings. As mentioned last week, given the lack of a true game summary, review the final three innings in the game log and learn how the A-Crew came up one short in this one. Heads up: you'll see the work "walks" a lot, both sides.

And yes, that's Jackson's 18-year-old brother Jaison Chourio sporting a .351/.489/.867 line for the Guardians. How did the Brewers not sign him as well?

SS Dylan O'Rae has 11 walks, just four strikeouts, and is 12-for-12 in SB's in ten games this season (just his first error here, 9th game in the field).
Throw strikes while on the island, young arms! In his age 16 season, RHP Manuel Rodriguez walked only nine in 35.2 IP last summer in the DSL. Despite a nominal K rate and a 4.54 2022 ERA, the native of Mexico got the rare bump to Maryvale for his age 17 season and is cruising thus far (0.84 WHIP).
 
---

Final: DSL Dodgers Mega 8, DSL Brewers #1 Squad 3

Box Score / Game Log

Cerveceros Uno, now with a 9-5 record, scored single runs in three of the first four innings, but the "Mega-Dodgers" (cue the WWE music given that moniker) broke free from a 3-3 deadlock, including three in the top of the 9th to seal things away. The contest came in two minutes under four hours. There were a combined ten walks in the game, but that pace seems snail-like.

Among the arms, 19-year-old rookie Venezuelan RHP Yeferson Tales ably handled the bulk of the middle innings, stranding an inherited runner and working 3.2 innings of one-run ball (5 H, 1 BB, 3 K).

Switch-hitting rookie 17-year-old infielder Luiyin Alastre has seen action in four games apiece at 2B, SS, and 3B. He committed his 5th error here, spread across the diamond while at SS. Keep the head high, young Luiyin, you'll benefit from the variety of assignments. And congrats on the two base hits and one RBI here.

We don't know when we'll see or get an update on top SS prospect Kevin Ereu, who last played on June 12th.

It's the cynic in me, but when I see a player replaced on defense in the top of the 7th, after popping out in the 6th inning, my mind wanders to coaching and did the player run it out. 17-year-old rookie second baseman Joan Gutierrez probably did hustle, but if the coaches needed to make a statement, we've seen suspected incidences of that in the complex league before.
 
---

Final: DSL Dodgers Bautista 8, DSL Brewers #2 Squad 7, ten innings

Box Score / Game Log

The now 7-7 Cerveceros Dos came oh-so-close to being the first team to defeat the 14-0 Dodgers club, apparently named because its players rake like in-his-prime Jose Bautista, probably with the bat flips as well.

This game had drama for the SRO crowd. Team Dos tied it at 7-7 with a single run in the top of the 9th. 19-year-old third-year RHP Dikember Sanchez would then load the bases with no outs in the bottom of the inning, then a K (looking), line out to RF, and another backwards K sent the game to extras.

But the Crew couldn't build on that momentum and went meekly stranding the ghost runner in the top of the 10th - kicking things off with a strikeout isn't ideal. The walk-off loss was just that, following a bases-loaded walk with no outs.

Yet this high-scoring extra-inning game was played in an hour and 41 minutes. What type of alternate universes are on the island right now?

Here's another box score research tip that's rarely fruitful. Check the HBP's, and was the Brewer batter immediately pinch-run for? Does the game log indicate an injury delay? Nope, though plunked earlier in the game, DH Luis Lameda left after singling in the 9th. The pinch-runner, Demetrio Nadal, is now 8-for-8 in SB attempts in 2023 (17-for-20 last summer). We give these complex league box scores way too much thought!

All but the 9-hole spot in the lineup contributed a base knock, with 2nd-year first baseman Roman La Torre singling three times for the lone multi-hit game.

The mound work here was non-descript as we await larger samples to establish better patterns.
 
---

Here's to Saturday AM when the two Brewers island teams face off! As such, there are six games today instead of the standard seven. Carolina kicks things off for the full-season affiliates at 4:00 Central, and the other outposts, also enjoying home cooking as well, all have evening start times. Here's to a sweet start to the weekend, enjoy.

Organizational Scoreboard including starting pitcher info, game times, MiLB TV links, and box scores
Current Milwaukee Brewers Organization Batting Stats and Depth
Current Milwaukee Brewers Organization Pitching Stats and Depth