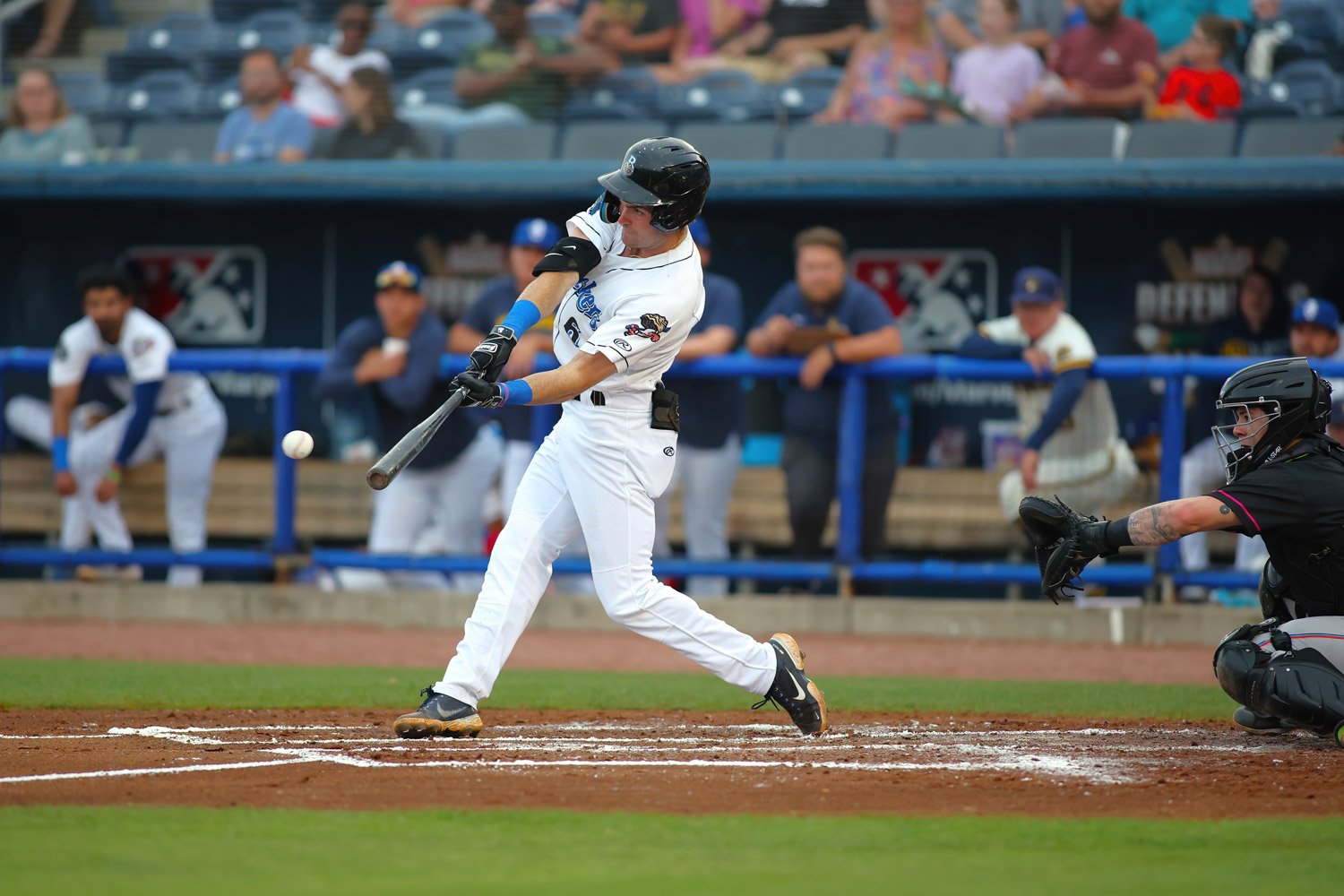 Image courtesy of Biloxi Shuckers - Tyler Black
Transactions:
---

Game Action:

Nashville Pre-Game Media Notes
Final: Nashville 5, Memphis 1
Box Score / Game Log

Via the Sounds' website, game details, and we encourage readers to review the affiliate write-up as part of their Link Report routine: Sounds Roll Redbirds For Third Straight Win

27-year old RHP Janson Junk (7 IP, 1 ER, 6 H – all singles, 2 BB, 6 Ks) delivered his third straight quality start and hit a season-high with six strikeouts, leaving the game with a comfortable 4-1 lead and earning his fifth victory of 2023.

The offense was largely provided by 26-year old SS Cam Devanney (2-for-3, 2 HRs, SF, 4 RBIs), whose solo homer gave Nashville a 2-1 lead in the 2nd inning, followed by a two-run shot in the bottom of the 6th inning to push the advantage to 4-1.
Sounds' Extras:
Friday's outlook: If he can replicate his last outing (4 2/3 scoreless innings five days ago) with a solid start tonight, RHP Jason Alexander will certainly strengthen his case to be added to the 40-man MLB roster when he comes off the 60-day injured list shortly.
---

Biloxi Pre-Game Media Notes
Final: Biloxi 7, Mississippi 6
Box Score / Game Log

Via the Shuckers' website, game details: Tyler Black Triples Twice, Drives in Three in Shuckers' 7-6 Comeback Win

3B Tyler Black (2-for-4, 2 triples, 3 RBIs) tripled early as Biloxi built a 4-0 lead, then tripled again in the bottom of the 7th inning to tie the game 6-6 after the Shuckers had fallen behind 6-4. He then scored on a wild pitch for what proved to be the winning run. 
You'll see plenty more video highlights at the Shuckers Twitter feed.
Shuckers' Extras:
Friday's outlook: 28-year old RHP James Meeker (2.41 ERA, 0.88 WHIP, 11.3 K/9 in 37 1/3 IP) is due to make his second straight start, after 16 relief appearances to commence the year. He's reached 56 and 54 pitches in his last two outings, as we try to decipher whether this is an actual experiment (i.e. converting him to a starter) or simply a case of Manager Mike Guerrero managing limited starting pitching depth.
 
---

Wisconsin Pre-Game Media Notes
Final: Wisconsin 3, Quad Cities 2
Box Score / Game Log

Via the Rattlers' website, game details: Cruz, Brown Lead Rattlers to Fourth Straight Win

21-year RHP Stiven Cruz (5 IP, 0 R, 2 H – both singles, 1 BB, 8 Ks) was back in prime form, cruising through five innings by pounding the zone effectively (48 strikes in 73 pitches) and earning his third win of 2023. He lowered his season ERA to 6.59 in what has been a rather frustrating year thus far.

Cruz left the game with a 1-0 lead, which SS Eric Brown Jr. (1-for-4, HR, 2 RBIs) added to in the 8th inning with his third home run of 2023, a 2-run shot.

From there, Wisconsin held on for dear life, as RHP Brannon Jordan (2/3 IP, 1 R, 3 H, 1 BB, 0 Ks) was not his usual sharp self, handing over to RHP Tanner Shears (1 IP, 0 R, 0 H, 0 BB, 1 HBP, 0 Ks, 1 WP) who closed out the game with a bunt force out and ground ball double play.
Timber Rattlers' Extras:
Friday's outlook: 23-year old RHP Tyler Woessner (2.70 ERA, 1.22 WHIP, 8.1 K/9 in 66 2/3 IP), who has been the team's top starting pitcher, is scheduled to start as Wisconsin seeks a 3-0 series lead.
 
---

Carolina Pre-Game Media Notes
Final: Down East 5, Carolina 1
Box Score / Game Log

Via the Mudcats' website, game details: Mudcats Held to Two Hits Again in Loss to Wood Ducks

Two singles and zero walks for the offense won't win many games, as Carolina has now dropped six of its past seven games.
Mudcats' Extras:
Friday's outlook: Almost-21 year old (his birthday is tomorrow) RHP Alexander Vallecillo (3.33 ERA, 1.27 WHIP, 11.1 K/9 in 24 1/3 IP) is scheduled to take the hill as Carolina needs a victory to cut the series deficit to 2-1.
 
---

Dominican Summer League Action

Final: DSL Dodgers Mega 5, DSL Brewers #2 Squad 1
Box Score / Game Log

Our Dos youngsters fell to their fifth straight loss in this 7-inning contest, dropping their record to 7-11.

Starting 16-year old RHP Melvin Hernandez (4 IP, 2 R (1 ER), 6 H, 1 BB, 3 Ks, 2 WPs; season ERA 1.93) put in a respectable performance, conceding only one earned run in spite of the six hits and exiting with his team down 2-1.

However, a 4-for-23 day at the plate with one double and one walk was not enough to get the job done.

Key signing 17-year old 2B/SS Filippo Di Turi (2-for-3; season OPS .864) singled twice, but was caught stealing and also picked off base. 19-year old C Eric Martinez (1-for-3, double; season OPS .781) notched the double and scored the team's only run.
 
---

Final: DSL White Sox 6, DSL Brewers #1 Squad 1
Box Score / Game Log

The young Uno men dropped their third straight game, falling to a 10-8 record thus far.

Similar to their DSL-2 brethren, 18-year old starting RHP Jose Meneses (4 IP, 1 R, 7 H, 2 BB, 4 Ks; season ERA 2.70) navigated traffic to make the game competitive, but the offensive performance was lacking – e.g. 3-for-31 at the plate. Meneses exited with the game tied 1-1.

That said, I'm blaming lightning at least in part for this loss, as 17-year old RHP Eric Prado's (1 IP, 0 R, 0 H, 1 BB, 0 Ks) relief outing was cut short after just one inning due to a one hour and five minute game delay. Prado had thrown five scoreless innings in his last appearance (see video from prior outings below). 
20-year old RHP Yonawil Florimon walked four batters and threw a wild pitch in two innings of work, though he only conceded one run and zero hits. The game really got away due to a four-run 8th inning off of 22-year old RHP Roman Perez, who walked three, hit one batter and threw five wild pitches in just 2/3rds of an inning.

Offensively, the team did manage to collect 7 walks, but went 0-for-6 with runners in scoring position. 17-year old center fielder Yophery Rodriguez (2-for-4, double) was the bright spot, doubling and singling, though he was caught stealing.
 
---

We hope that you enjoy the Minor League Link Report. Good luck in Friday's 7-game MILB slate!

Organizational Scoreboard including starting pitcher info, game times, MiLB TV links, and box scores
Current Milwaukee Brewers Organization Batting Stats and Depth
Current Milwaukee Brewers Organization Pitching Stats and Depth
Think you could write a story like this? Brewer Fanatic wants you to develop your voice, find an audience, and we'll pay you to do it. Just fill out this form.
MORE FROM BREWER FANATIC
— Latest Brewers coverage from our writers
— Recent Brewers discussion in our forums
— Follow Brewer Fanatic via Twitter, Facebook or email
1