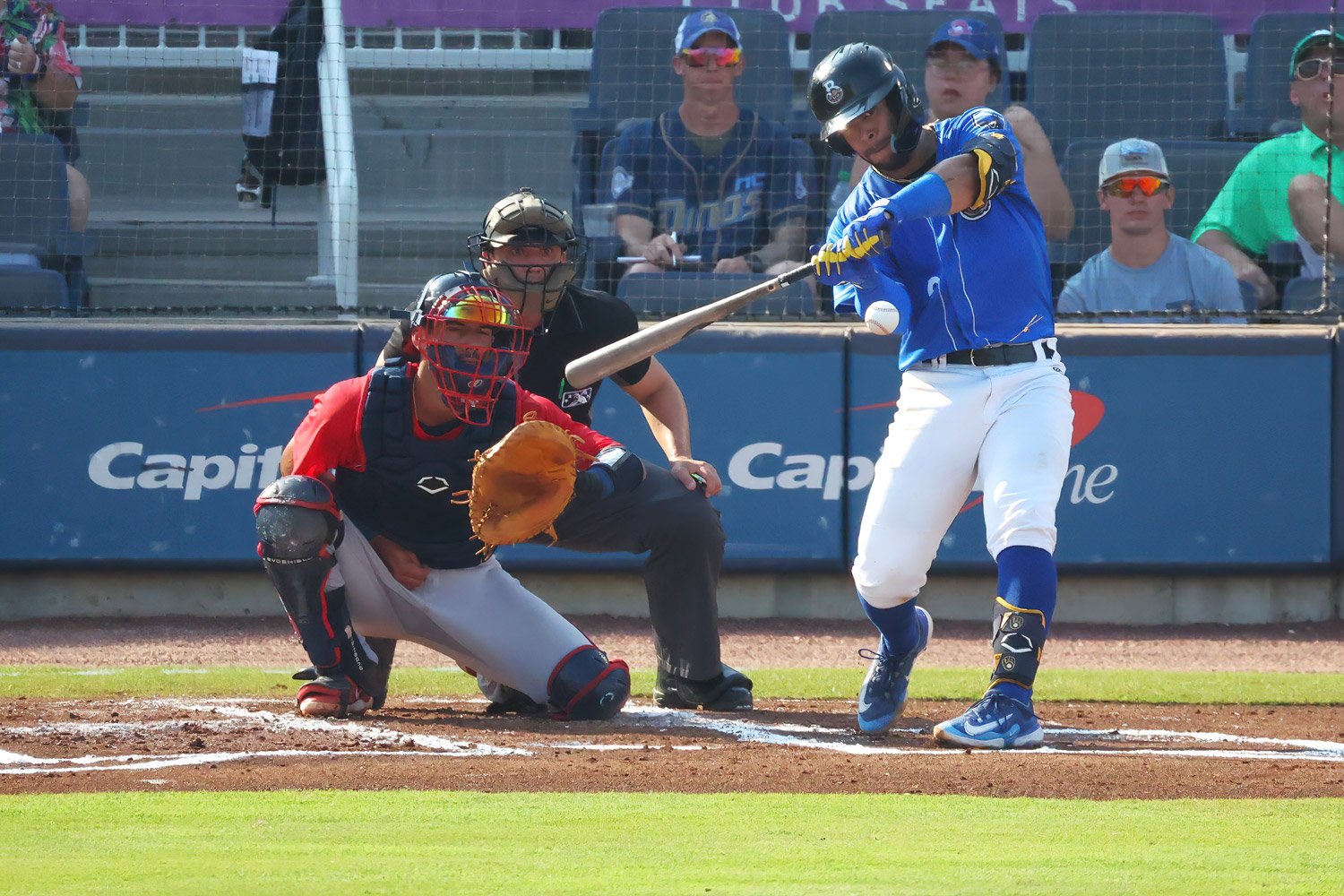 Image courtesy of Biloxi Shuckers
All affiliates are back in action on Monday for a special set of "Independence Day Eve" games.
Transactions:
---
Game Action:

Nashville Pre-Game Media Notes
Final: Memphis 9, Nashville 8 (in 10 innings)
Box Score / Game Log

Via the Sounds' website, game details, and we encourage readers to review the affiliate write-up as part of their Link Report routine: Sounds Drop Dramatic 10-Inning Contest to Redbirds

Nashville's five-game win streak came to an end in an entertaining back-and-forth affair in front of just 2,860 fans in Memphis (92 degrees, clear skies, wind blowing out to center field – what gives, Redbird fans?).

Starting RHP Pedro Fernandez (5 IP, 5 R, 7 H, 2 BB, 1 K) was rusty after an injury sidelined him for 16 days, giving up three home runs in five innings and exiting down 5-3, but Nashville mounted comebacks via a three-run 7th inning (to lead 6-5) and two-run 9th inning to send the game to extra innings.
Sounds' Extras:
Monday's outlook: Nashville's already won the series (up four games to one), but RHP Caleb Boushley (4.63 ERA, 1.39 WHIP, 7.4 K/9 in 72 IP) will try to make it a 5-1 week.
 
---

Biloxi Pre-Game Media Notes
Final: Mississippi 9, Biloxi 2
Box Score / Game Log

Via the Shuckers' website, game details: Jeferson Quero Hits Team-Leading 12th Home Run in Loss to M-Braves

Tied 2-2 after five innings, this game didn't appear headed to blowout territory until starting RHP Christian Mejias (5 1/3 IP, 4 R, 7 H, 3 BB, 6 Ks was asked to extend himself beyond 91 pitches, ending his day with a double and a walk before handing over to struggling RHP Ryan Middendorf.

Earlier, C Jeferson Quero (3-for-4, HR, RBI) had given Biloxi a 2-1 lead with his team-leading 12th homer of 2023:
You'll see a few more highlights at the Shuckers Twitter feed.
Shuckers' Extras:
Monday's outlook: RHP TJ Shook (5.40 ERA, 1.53 WHIP, 11.3 K/9 in 36 2/3 IP) will make his third start of the season, as Biloxi needs a victory in the series finale to tie it up at three games apiece.
 
---

Wisconsin Pre-Game Media Notes
Final: Wisconsin 5, Quad Cities 4
Box Score / Game Log

Via the Rattlers' website, game details: Wisconsin Holds On for 5-4 Win at Quad Cities

The Timber Rattlers started fast in support of starting RHP Jacob Misiorowski (4 IP, 2 R, 2 H, 2 BB, 2 HBP, 2 Ks, 1 WP), putting two runners in scoring position in the 1st inning, then plating five runs over the next two frames for an early 5-0 lead.

Little did they know that they'd register zero hits over the next 5 2/3 innings, needing to hold off the River Bandits with pitching and defense to escape with a 5-4 victory and 3-2 series lead.
Timber Rattlers' Extras:
Monday's outlook: RHP Cameron Wagoner (6.96 ERA, 1.66 WHIP, 7.0 K/9 in 54 1/3 IP) gets a second crack against the River Bandits this week, with Wisconsin seeking a win to claim the series four games to two.
 
---

Carolina Pre-Game Media Notes
Final: Carolina 7, Down East 3
Box Score / Game Log

Via the Mudcats' website, game details: Carolina Wins Second Straight 7-3 in Kinston

Starting RHP Logan Henderson (5 IP, 1 R, 1 H, 2 BB, 8 Ks) and center fielder Luis Lara (3-for-4, walk, RBI) got back to their previous excellent form, with Henderson throwing a season-high 75 pitches to grab his first win of 2023 and Lara reaching base three times in the first four innings to help Carolina take a 4-1 early lead.

The win was the Mudcats' second in a row and they'll get a chance to even the series on Monday.
Mudcats' Extras:
Monday's outlook: 19-year old RHP Yujanyer Herrera (4.47 ERA, 1.45 WHIP, 7.4 K/9 in 48 1/3 IP) gets the call to try to even the series. Will this be the game where rehabbing OF Luis Castillo and 1B/C Tayden Hall return?
---
We hope that you enjoy the Minor League Link Report. Good luck in Monday's special 7-game MILB slate!

Organizational Scoreboard including starting pitcher info, game times, MiLB TV links, and box scores
Current Milwaukee Brewers Organization Batting Stats and Depth
Current Milwaukee Brewers Organization Pitching Stats and Depth
1