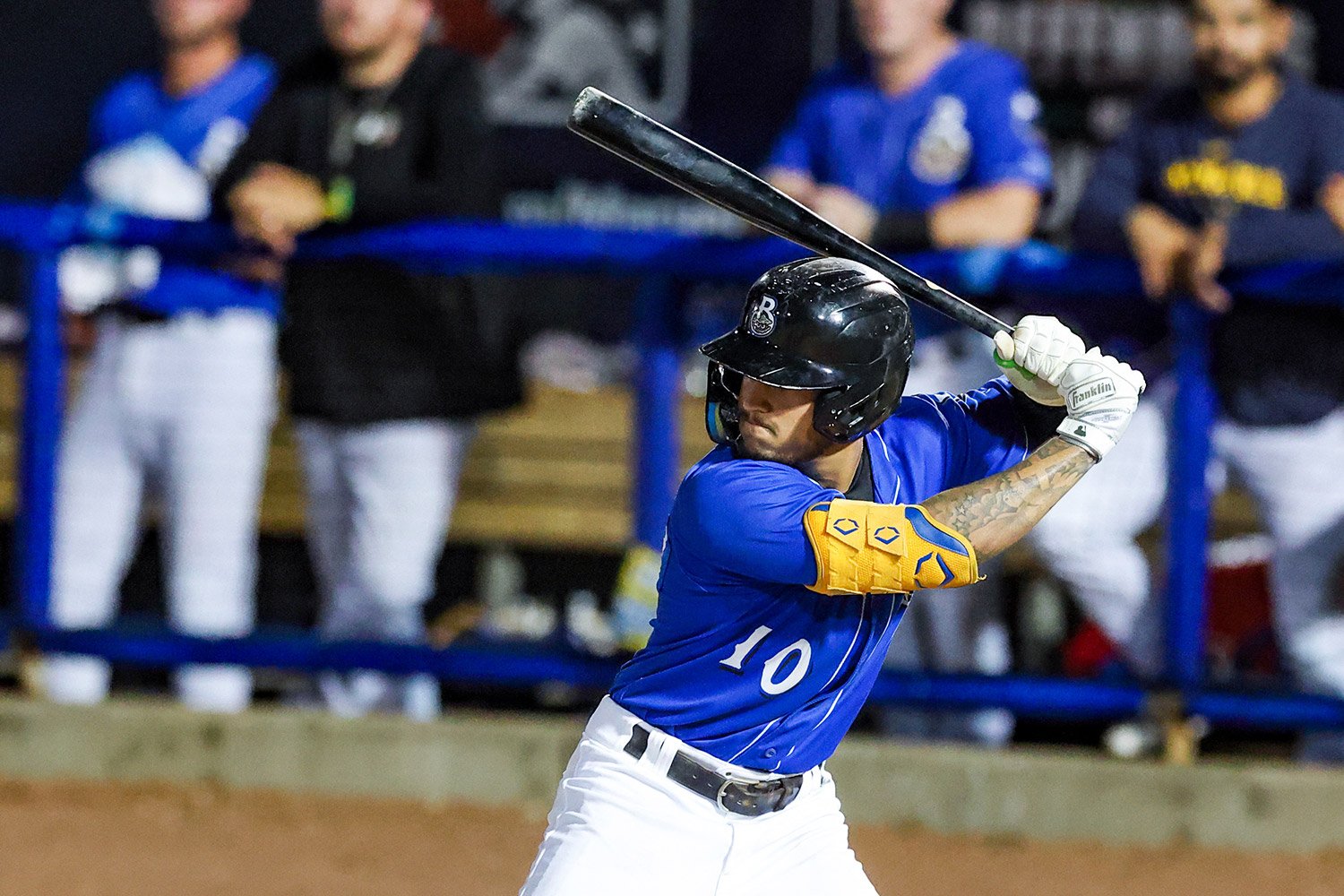 Image courtesy of Biloxi Shuckers and Carlos Hurtado - Carlos D Rodriguez Shown
Transactions:
Game Action:

Nashville Pre-Game Media Notes
Game One Final: Nashville 8, Indianapolis 0 (in 8 innings)
Box Score / Game Log

Game Two Final: Nashville 7, Indianapolis 1 (in 7 innings)
Box Score / Game Log

Via the Sounds' website, game details, and we encourage readers to review the affiliate write-up as part of their Link Report routine: Sounds Roll Indianapolis in Twin Bill Sweep

After neither team scored in the first seven innings of their doubleheader, Nashville erupted for thirteen runs in two innings:
Eight runs in the top of the first extra inning to blow open the first game, all with two outs as nine consecutive batters reached base

Five runs in the top of the first inning of the second game to nearly put that game to bed early
But the pitching was really the story of the day, with RHP Evan McKendry (6 IP, 1 R, 3 H, 3 BB, 5 Ks) throwing 101 pitches of one-run baseball in the second game to limit staff usage.

Offensively, Owen Miller perhaps shone the brightest, going 3-for-7 with a HR, HBP and 3 RBIs. More interesting, Miller started the first game in center field and the second game in right field as he demonstrates his overall versatility.
Sounds' Extras:
LHP Eric Lauer (3 IP, 0 R, 3 H, 2 BB, 4 Ks) started the opening game, increasing his workload to 52 pitches after throwing 41 in his last outing six days ago. The Brewers likely have to decide whether it's worth it to stretch out Lauer further or have him focus on being a reliever.
After retiring the first two batters in the first extra inning, the Indians intentionally walked 1B Rowdy Tellez (1-for-6, walk) to set up the force play (with the ghost runner on 3rd base), then promptly fell apart: wild pitch to score a run, BB, BB, BB run, HBP run, single for two runs, BB, BB run, single for two more runs.
Indianapolis' malaise carried over into Game Two, as they walked four batters and had a balk in the Sounds' five-run 1st inning, with SS Cam Devanney capping off the inning with a two-run double.
Let's tip our caps to a perfect bullpen day, as LHP Clayton Andrews, RHP Trevor Megill, RHP Thyago Vieira and LHP Alex Claudio combined on six shutout innings with eight strikeouts.

Regarding McKendry, this was the 25-year old's second start since being acquired from the Rays, as he makes his case to be protected in the Rule 5 draft this winter.
Friday's outlook: LHP Robert Gasser (3.91 ERA with 124 Ks in 101 1/3 IP) will try to clinch the series win and continue his excellent form (e.g. 6 IP, 0 R, 10 Ks in last outing).
Biloxi Pre-Game Media Notes
Final: Biloxi 8, Tennessee 4
Box Score / Game Log

Via the Shuckers' website, game details: Shuckers Jump Into Tie for First with 8-4 Win over Smokies

After dropping the first two games of the series, the Shuckers turned the ball over to Southern League July Pitcher of the Month Carlos F. Rodriguez (5 1/3 IP, 2 R (0 ER), 1 H, 4 BB, 1 HBP, 6 Ks, 2 WP) and he expectedly delivered the goods despite uncharacteristically having to fight some control issues.

Offensively, the 6-7-8 batters came through for the club, with DH/1B Ernesto Martinez (2-for-3, double, walk, RBI), SS Ethan Murray (2-for-3, walk) and right fielder Carlos D. Rodriguez (2-for-3, double, 3 RBIs) combining on six hits and four RBIs, including scoring and driving in the first three runs of the game for a 3-0 lead by the 4th inning.

You'll find several video highlights at the Biloxi Twitter feed.
Shuckers' Extras:
Some concern crept in when center fielder Jackson Chourio (0-for-2, no Ks) exited the game in favor of Lamar Sparks in the top of the 4th inning, but Adam McCalvy tweeted out a note of comfort that the move was precautionary due to some hand soreness after being jammed in his second at-bat. C Jeferson Quero also left the game early, but this was pre-planned as he eases his way back after a recent injury.
Despite Rodriguez' solid work on the mound, the Smokies made a game of it at 4-3 with a 3-run blast off RHP Ryan Middendorf in the top of the 6th inning. Two of the runs were unearned after a 2B Felix Valerio, who added a second error in the 9th inning which also scored an unearned run.

For his part, Sparks decided to do his best Chourio impersonation, going 2-for-3, including a two-run homer and two stolen bases. The homer restored the Shuckers' 4-run advantage in the bottom of the 7th inning.
Friday's outlook: RHP Tobias Myers gets a chance to lead Biloxi to even the series 2-2, as Myers seeks to build off his scoreless 5-inning, 7-K performance in his last appearance.
Wisconsin Pre-Game Media Notes
Final: Dayton 9, Wisconsin 2
Box Score / Game Log

Via the Rattlers' website, game details: Dragons Ambush Rattlers in Sixth Inning

Despite the loss, all should still partake of the video highlights compiled by Wisconsin's media team.

The final score certainly doesn't tell the story here, as the Timber Rattlers led 2-1 after five excellent innings from starting RHP Alexander Cornielle (5 IP, 1 R, 3 H, 1 BB, 4 Ks). 
An RBI single in the bottom of the 2nd inning off the bat of SS Robert Moore (2-for-5, double, RBI) had given Wisconsin that 2-1 advantage before RHP Miguel Guerrero's nightmare 6th inning: a walk followed by five consecutive hits, with no batters retired.
Timber Rattlers' Extras:
Guerrero may need to forget this game or comfort himself with the fact that it was only 21 pitches. Yes, it was really only 21 pitches and we expect that much better days will be ahead for him.

DH/3B Brock Wilken and INF (third baseman in this game) Mike Boeve weren't able to dazzle the home fans like on Wednesday evening, combining on an 0-for-8 game with a walk for Boeve.
Friday's outlook: RHP Tyler Woessner (3.75 ERA, 1.28 WHIP, 7.6 K/9 in 98 1/3 IP) gets the ball, with Wisconsin aiming for a 3-1 series lead.
Carolina Pre-Game Media Notes
Final: Carolina 12, Delmarva 3
Box Score / Game Log

Via the Mudcats' website, game details: Sibrian, Nicasia & Avina Power Mudcats to 12-3 Victory

RHP Patricio Aquino (4 IP, 2 R, 7 H, 1 BB, 1 HBP, 6 Ks; 2.82 season ERA) usually doesn't need much help, but undoubtedly appreciated the strong offensive support as the Mudcats won their sixth straight game.

Center fielder Kay-Lan Nicasia (2-for-4, HR, HBP, 2 RBIs) delivered a two-run homer in the 2nd inning to give the Mudcats a 2-1 lead, then C Jose Sibrian (3-for-4, double, HBP, 4 RBIs) brought in two more runs with his 5th inning double to push the advantage to 5-2. 
Mudcats' Extras:
DH/OF Jace Avina (2-for-2, HR, 3 walks, RBI) manned the leadoff spot for the third time this year and came through by reaching base in all five plate appearances. Right fielder Luis Castillo and 3B Luke Adams each singled and walked twice as key parts of Carolina's carousel.
The bullpen of RHPs Jeison Pena, Yujanyer Herrera and Tyler Wehrle combined on five scoreless innings while striking out seven Shorebirds, with Herrera covering three of the innings.
Friday's outlook: RHP Will Rudy is scheduled to start, with the Mudcats trying to clinch a series win.
Arizona Complex League Action

Final: ACL Brewers 6, ACL Giants Orange 3
Box Score / Game Log

Rather than promotion to full season affiliate ball, perhaps statues are being erected in Maryvale for 2B Dylan O'Rae (1-for-3, 2 walks, RBI, SB; .930 season OPS with 28 stolen bases) and SS Juan Baez (2-for-3, double, walk, RBI, SB; 1.029 season OPS) instead.

Baez' RBI double tied the game 1-1 in the 1st inning, while O'Rae singled in center fielder Luis Medina to extend the Brewers' lead to 4-2 in the 2nd inning.

After a miserable June (.317 OPS in 20 PAs) and below average July (.699 OPS in 42 PAs), Medina delivered his second straight solid game. He's 4-for-8 with 10 total bases, 6 RBIs and just one strikeout in his last two contests.

Similar to Medina's mini-revival, 19-year old right fielder Reece Walling has also been putting together better numbers of late, including two triples in this contest.

The starting pitcher on the day was RHP Yorman Galindez (5 IP, 2 R, 3 H, 3 BB, 5 Ks; earning his first Win of the year), while the bullpen of LHP Osbriel Mogollon and RHPs Brailin Rodriguez and Cristofher Carrasco (first Save) got the job done: 4 IP, 1 R, 4 Ks.
Dominican Summer League Action

Continuation Game (resumed from 2 outs in top of 10th inning) Final: DSL Braves 7, DSL Brewers-1 Squad 6 (in 10 innings)
Box Score / Game Log

Borrowing notes from @Mass_Haas and @sveumrules

When Mother Nature intervened Tuesday it was quite late, the Braves had just scored the go-ahead run in the top of the 10th (on a wild pitch, sigh), and had the bases loaded with two outs looking for more. The Cerveceros had the same pitcher try to extract himself with his own inherited runners two days later, and 22-year-old 2nd-year RHP Roman Perez did just that, ending the inning with a backwards K.

Looking to at least tie the game in the bottom of the 10th, Team Uno went down meekly, with two flyouts to left field wrapped around a strikeout. Game over.

Brewer pitchers walked eight and plunked four in this game.

The team's one error, on a pitcher pickoff, did not lead to additional damage, the club turned three double plays, and 17-year-old wunderkid Yophery Rodriguez, playing RF in this one, threw out a runner at third base, so defense was solid.

Rodriguez (2-3, 2xBB, SB), Yannic Walther (0-2, 3xBB), and Tyler Rodriguez (1-2, BB, 2xSB) were busy on the bases while Wilfredo Cordero and Oliver Camilo had the only scoreless IP with a walk/strikeout each in each of their innings.

Regularly Scheduled Game: DSL Brewers-1 Squad at DSL Braves – Canceled

The Uno young men were not able to take their revenge, as the game was canceled due to lightning. The game will not likely be made up, due to limited remaining open dates for the two teams.

Regularly Scheduled Game: DSL Guardians Blue at DSL Brewers-2 Squad - Postponed

This game also never commenced due to lightning, but the teams intend to make up the game on Wednesday, August 16.
We hope that you enjoy the Minor League Link Report. Enjoy Friday's 8-game slate, including an early doubleheader for DSL Brewers-1.

Organizational Scoreboard including starting pitcher info, game times, MiLB TV links, and box scores
Current Milwaukee Brewers Organization Batting Stats and Depth
Current Milwaukee Brewers Organization Pitching Stats and Depth
Think you could write a story like this? Brewer Fanatic wants you to develop your voice, find an audience, and we'll pay you to do it. Just fill out this form.
MORE FROM BREWER FANATIC
— Latest Brewers coverage from our writers
— Recent Brewers discussion in our forums
— Follow Brewer Fanatic via Twitter, Facebook or email
1