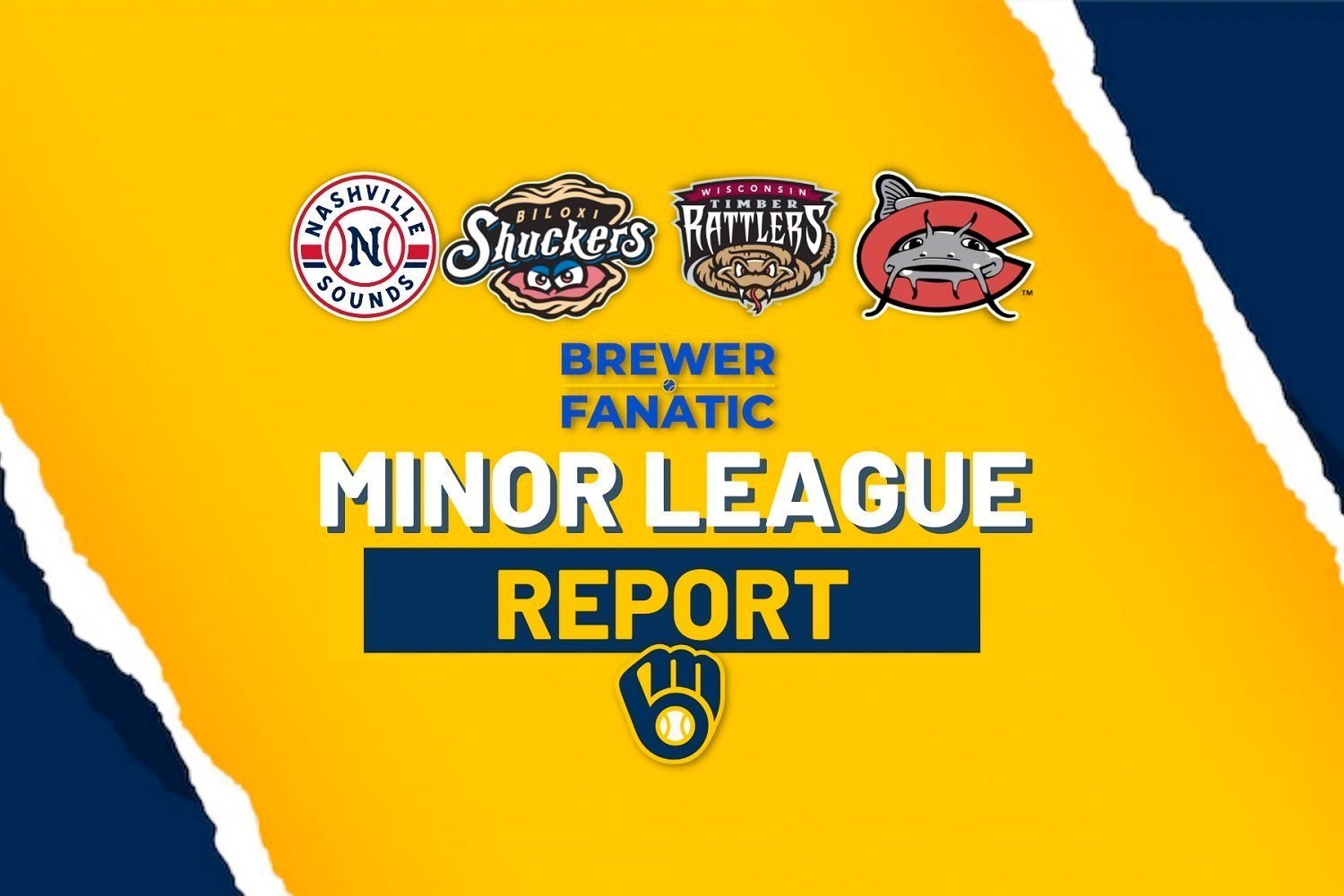 Image courtesy of BrewerFanatic
TRANSACTIONS:
INF Abraham Toro recalled to Milwaukee from AAA Nashville
LHP Bennett Sousa was placed on the 7-Day IL (retroactive to 8/9) at AAA Nashville
SS Daniel Guilarte placed on the Carolina 7-day injured list
RHP/1B Quinton Low placed on the Carolina 7-day injured list
INF Dylan O'Rae assigned to Carolina from ACL Brewers
 
---

Final: Nashville 7, Indianapolis (Pirates) 5 

Via the Sounds' site, we encourage readers to review each of the affiliate write-ups as part of your season-long Link Report routine:
Robert Gasser Strikes Out Nine, Sounds Win Fourth Straight at Indy - Brewers' sixth-ranked prospect turns in seventh quality start in 7-5 win
Box Score / Wrap

Scheduled day off for rehabber Rowdy Tellez. Day of rest for hot Patrick Dorrian (.962 OPS in July, 1.197 OPS in August). With the Abraham Toro callup, Rick Sweet's bench is short at the moment. Josh VanMeter is the only other position player at this time.

133 K in 107.1 IP for Robert Gasser, but let's go super old school and smile at his 7-1 W-L mark. Putting his team in positions to win again and again over 21 appearances (20 starts) and avoiding early big deficits. The one relief appearance in May (box score)? Came in to start the 3rd inning after rain suspended the game the night prior, it was a rare down performance. What a wonderful 2023 for Gasser, can't wait to see how his big-league career unfolds, and when it begins.

Are you wondering about any team name controversy with "Indians"? I was curious too. Here's the latest.
 
---

Final: Tennessee (Cubs) 5, Biloxi 2

Via the Shuckers' site:
Shuckers Fall to Smokies, 5-2 - Biloxi pitching strikes out 11 but Smokies smash three early homers for win

Pre-Game Media Notes 
Box Score / Wrap

Don't forget about the Shuckers' archived pre-game interview page. The latest via Voice of the Shuckers Javik Blake is with closer Cam Robinson. Javik's enthusiasm is always present, and he brought the fun out in this chat with Cam.

Neither team scored over the final four frames as LHP Russell Smith and RHP Max Lazar each tossed two scoreless, but Biloxi bats couldn't close the gap despite chances as the game summary detailed for you.

Jackson Chourio sat not only to ensure his sore hand exit from Thursday's game properly heals, but it's also simply time for a break, if you will.
The full interview with the skipper will be available here by the time Saturday's game begins.

Sorry Shuckers, you can't put 15 men on base via H, BB, and HBP, and score just two runs. Is there anything more exhausting for a fan than when your team comes up empty so many times with men on base within a game? It's a baseball theme as old as time.

Have no idea if these talks with the controlling club ever begin prior to the end of the regular season, but Ernesto Martinez' agent is going to be able to market a player who will be just 24 years old when the 2024 season begins. That should net Ernesto well above the AA / AAA norm (mind you, we're not talking anything approaching MLB figures here), but he'll be in demand and perhaps the Brewers are already whispering in Martinez' ear about re-upping.
A few more video tidbits via the Shuckers feed can be found here.
 
---

Final:  Dayton (Reds) 8, Wisconsin 6, ten innings

Via the Timber Rattlers' site:
Rattlers Rally After Rain Delay Falls Short - Wisconsin drops ten-inning decision to Dragons after dramatic comeback
Pre-Game Media Notes (Download Link) via the team's Virtual Press Box

Box Score / Wrap

Let's give full credit to Voice of the Timber Rattlers Chris Mehring, he's been a trooper all week and we're not getting postgame podcasts as of late, so that (I imagine) Chris can rest his (still hoarse) voice. 
 
Speaking of giving credit, there was no die in these T-Rats after a one hour, 49 minute rain delay that had this one ending late into the Grand Chute evening.

Brock Wilken has been plunked three times now in his 61 pro plate appearances, he also doubled here, while Mike Boeve, playing second base, walked twice and drove in a run. Nothing against the established names in the Wisconsin lineup, but tracking the shiny newcomers is always an appealing task. 

We've been somewhat quiet about it, but catcher Matt Wood (DH'ing here) has established a pretty large sample size in his first go-round at High-A. a .616 OPS thru 293 plate appearances is not ideal, so hopefully the three walks in this game will lead to a turnaround of fortune overall.

Let's remind ourselves he won't turn 20 years old until November, but it's been a rough 2023 for RF Hendry Mendez.
 
---

Final: Delmarva (Orioles) 7, Carolina 1
First-Place Mudcats Suffer Error Filled 7-1 Loss - The Mudcats saw their six-game winning streak end while falling to the Shorebirds in Zebulon

Pre-Game Media Notes
Box Score / Wrap

All good things come to an end, but the Muddies are still 26-14 (!) in the second half and comfortably atop the playoff-chase standings.

How big was RHP Chase Costello's bullpen-saving effort? As noted in the summary, backup catcher Jhonnys Cabrera was brought in for the final out to allow others to rest. Since the calendar turned to July, Costello has made seven relief appearances spanning 24.1 IP, 10 H, 2 ER, 5 BB, 20 K. Huge.

No doubt his defense failed him, but a review of RHP Will Rudy's game log in the fateful five-run 2nd inning reveals that Rudy takes some of the blame, which we're pretty sure he'd tell folks regardless.

The aforementioned Dylan O'Rae will need to wait until at least Saturday to make his full-season ball debut.
 
---

Final: ACL Reds 6, ACL Brewers 4

Box Score / Wrap

A-Crew trailed 6-0 as the home game went to the bottom of the 4th. The men would claw back to the point that Juan Baez and his 1.011 OPS represented the tying run in the bottom of the 9th, but his foul out ended the game.

Cincinnati LHP Nick Lodolo made his first Arizona rehab appearance and allowed only a single by non-drafted catcher Alejandro Rodriguez in his two innings of work. 

Heralded 6th round pick SS Cooper Pratt tripled and singled in five AB's. 

Making his professional debut, 16th round Ohio State RHP Josh Timmerman allowed two runs on three hits (two doubles) in his one inning, as he got the starting nod. Congrats Josh, your pro career is underway.

Following up Timmerman with a 1-2-3 frame (one K), was 7th round Louisville LHP Tate Kuehner, making his own pro debut. Nice!
 
---

Final: DSL Guardians Red 6, DSL Brewers #1 Squad 0, makeup of a July 27th postponement, seven innings as scheduled 

Box Score / Wrap

Final: DSL Guardians Red 2, DSL Brewers #1 Squad 1, regularly scheduled game, seven innings as scheduled 

Box Score / Wrap

14 innings for the Team Uno offense, producing just one lonely run on five base hits, two of the three hits in the nightcap were doubles. CF Idalberto Santiesteban utilized one of those doubles to drive in the day's only run in the 6th inning of Game Two, setting up 2nd and 3rd with no outs, down by the 2-1 score. Then the Cerveceros' normally reliable 2-3-4 hitters failed miserably with a strikeout sandwiched by two ground balls back to the mound. It's all in the Game Log info for you.

Among the six #1 Squad arms who saw island action on Friday, the shiniest effort came from 18-year-old second-year Venezuelan LHP Anthony Flores - 5 IP, 2 H (both singles), 0 BB, 1 HBP, 7 K. Flores has been the starting pitcher in all ten of his 2023 appearances and has certainly punched his ticket stateside for 2024.
 
---
Final: DSL Red Sox Blue 3, DSL Brewers #2 Squad 1

Box Score / Wrap
Just three hits (one double) for Team Dos, and this game went the full nine innings. Whither DSL offense on this day?

17-year-old Nicaraguan RHP Melvin Hernandez (and he only turned 17 in July) continued to impress, four scoreless middle relief innings including his final frame in which he allowed a leadoff triple but escaped.

RHP Elias Gonzalez squeezed four balks into the game's final two innings. He now has 11.1 IP in his rookie campaign but had yet to balk prior to Friday's outing. Blame the ump.
 
---

Seven games on tap for Saturday - excited to follow Bradley Blalock pitching for Wisconsin and Logan Henderson for Carolina. Hope everyone enjoys their summer weekend.

Organizational Scoreboard including starting pitcher info, game times, MiLB TV links, and box scores
Current Milwaukee Brewers Organization Batting Stats and Depth
Current Milwaukee Brewers Organization Pitching Stats and Depth
1