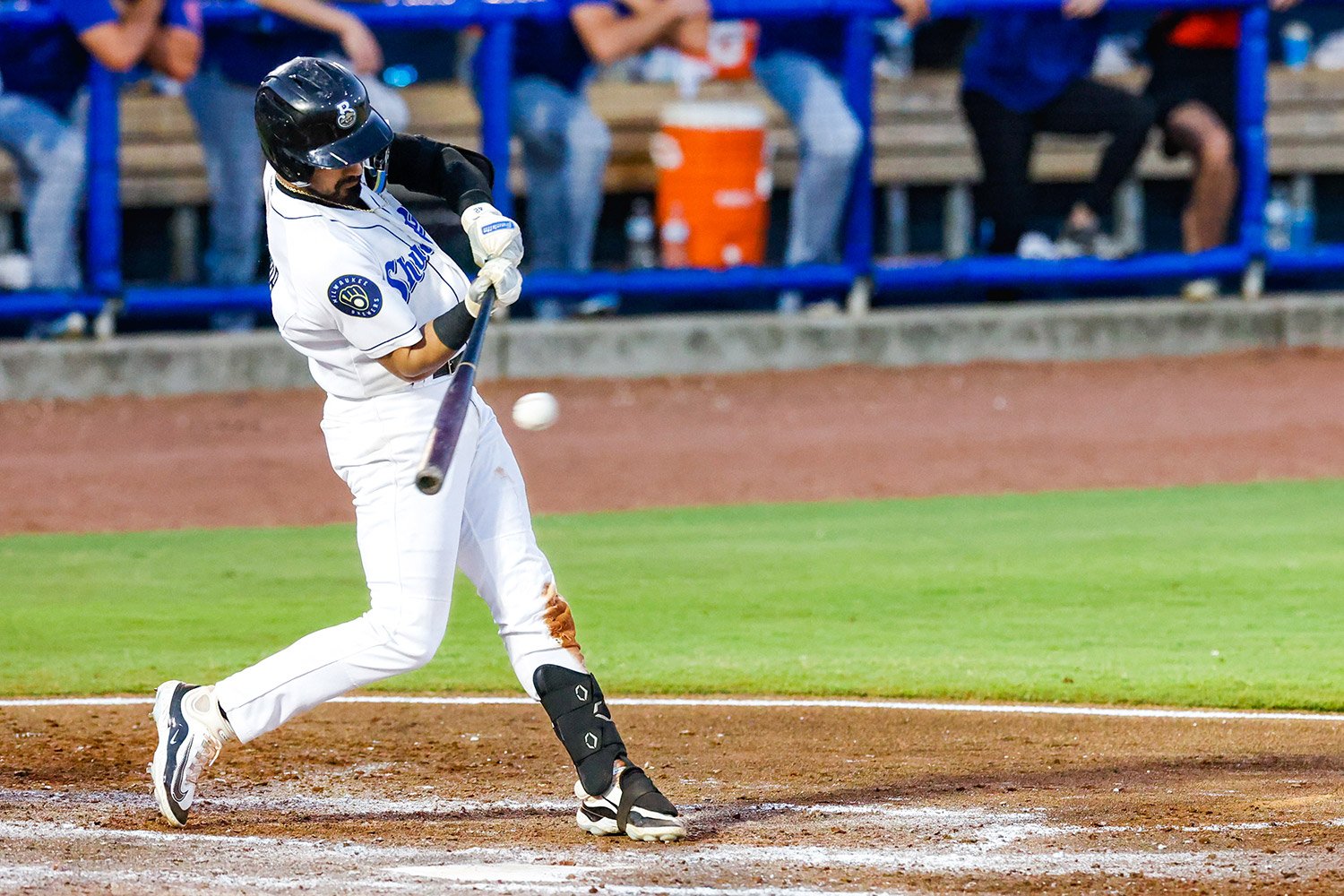 Image courtesy of Biloxi Shuckers - Photo of Freddy Zamora
For the week, Nashville (4-2) and Carolina (4-2) were series winners, Wisconsin managed a 3-3 draw and Biloxi fought back but lost 4 of 6 games.
Transactions:
OF Skye Bolt activated from AAA Nashville's 7-day injured list
Game Action:

Nashville Pre-Game Media Notes
Final: Indianapolis 4, Nashville 0
Box Score / Game Log

Via the Sounds' website, game details, and we encourage readers to review the affiliate write-up as part of their Link Report routine: Sounds Shut Out by Indy in Series Finale

Nashville did not expect to be one-hit by 29-year old journeyman Beau Sulser and the Indians' bullpen after Sulser struggled in Korea and gave up eight runs in his last outing, but that's how this one played out.

Even the Sounds' one hit was weak: an infield grounder from 1B Keston Hiura in the top of the 4th inning when the game was still scoreless.
Sounds' Extras:
RHP Caleb Boushley (4 IP, 3 R, 4 H, 0 BB, 2 Ks) limited Indianapolis to one hit in the first three innings before conceding two singles and a 3-run homer to derail his outing. His fastball topped out at 90.1 mph.
The Hiura single came just after 3B Tyler Black made another successful ball-strike challenge, converting a full-count strikeout into a walk. That was the only time a Sound got into scoring position in the game, as the Indians retired 14 straight Nashville batters at one point.
After an 0-for-4 day with 2 strikeouts, DH/1B Rowdy Tellez is now 2-for-18 in five AAA games. Will the Brewers require him to continue his rehab work in the upcoming week?
The bullpen of LHP Clayton Andrews and RHPs Jason Alexander and Trevor Megill were respectable, allowing one run over four innings, although Alexander allowed five baserunners.
Next week's outlook: Nashville (60-52) returns for some home cooking, as they host White Sox' affiliate Charlotte (41-73). Perhaps RHP Colin Rea will get a start, which would be his first appearance since August 4 with the Brewers.
Biloxi Pre-Game Media Notes
Final: Biloxi 14, Tennessee 7
Box Score / Game Log

Via the Shuckers' website, game details: Freddy Zamora Grand Slam Powers Shuckers to 14-7 Win in Series Finale

After escaping a bases loaded, one-out jam in the top of the 1st inning, the Shuckers took advantage of three walks, with SS Freddy Zamora (3-for-4, HR, walk, 5 RBIs) blasting a grand slam for their first hit of the game. 
The Smokies made two comeback attempts, cutting the deficit to 6-4 in the 4th inning and 7-6 in the 6th inning before Biloxi's seven-run 7th inning put the game to bed.

C Jeferson Quero (2-for-4, HR, walk, 3 RBIs) was just 1-for-14 skid since his return from injury, but broke out of it in a big way:
Walking and scoring in the 1st inning
Smacking a two-run homer in the 3rd inning to extend Biloxi's lead to 6-1
Singling in a run to increase the lead to 8-6 in the 7th inning
You'll find many more video highlights of the Shuckers' offensive explosion at their Twitter feed.
Shuckers' Extras:
Others with two-hit games included right fielder Carlos D. Rodriguez (plus 2 RBIs), left fielder Isaac Collins (plus a walk and SB) and C Brent Diaz (plus an RBI and walk).
Starting RHP Christian Mejias (3 1/3 IP, 4 R, 7 H, 4 BB, 5 Ks, 1 WP) unfortunately struggled again, with his ERA now up to 7.24 in 97 innings pitched. This follows a seven-run, two-inning start five days earlier, but the K-rate (9.8 K/9) and age (24) suggest there may be something more to be tapped into.
Kudos to RHPs Max Lazar and Ryan Brady for combining on two scoreless innings with four strikeouts.
Unfortunately, we'll need to monitor the health of 1B Ernesto Martinez, who exited after walking and scoring in the 1st inning. He's gotten off to a tremendous start since promotion to AA ball (1.171 OPS in 21 PAs), so we pray that nothing derails his momentum.
Next week's outlook: The Shuckers (55-53) head out to face the Mississippi Braves (49-57). RHP Jacob Misiorowski is the most likely starter for Tuesday's series opener.
Wisconsin Pre-Game Media Notes
Final: Wisconsin 3, Dayton 1
Box Score / Game Log

Via the Rattlers' website, game details: Jimenez Pitches Rattlers Past Dayton

As always for home games, we're blessed with detailed video highlights along with the Mehring-Lobner post-game podcast.

21-year old RHP Edwin Jimenez (7 1/3 IP, 1 R, 4 H, 1 BB, 5 Ks) delivered his second exceptional performance in his last three starts, needing only 76 pitches to record 22 outs, before adding six pitches to the last batter he faced – a double which later scored to cut the Timber Rattlers' lead to 3-1.

All of Wisconsin's runs came in the 1st inning, thanks to a double (1B Alex Hall), two singles (2B Mike Boeve, right fielder Hendry Mendez) and a walk (3B Brock Wilken). Wilken reached base three times in the game (two singles, walk).
Timber Rattlers' Extras:
23-year old RHP Shane Smith (1 2/3 IP, 0 R, 1 H, 0 BB, 1 HBP, 2 Ks) only allowed two baserunners as he earned his third save in High-A ball, dropping his ERA at this level to 0.98 in 18 1/3 IP after recording a 2.59 ERA in 31 1/3 IP at Low-A earlier in the year.
Let's tip our cap to C Darrien Miller for gunning down the Dragons' only attempted basestealer to end the top of the 8th inning after they'd tightened the game to 3-1.
Former Brewers' All-Star Corey Hart was on hand to deliver the ceremonial first pitch and hopefully impart some wisdom or serve as inspiration for the Rattlers and 5,372 fans in attendance.
Next week's outlook: Wisconsin (47-59) hits the road to take on Twins' affiliate Cedar Rapids (66-42), with LHP Nathan Peterson (3.50 ERA, 1.30 WHIP, 10.8 K/9 in 54 IP) scheduled to start the opening game on Tuesday.
Carolina Pre-Game Media Notes
Final: Delmarva 8, Carolina 4
Box Score / Game Log

Via the Mudcats' website, game details: First-Place Mudcats Fall 8-4 in Finale to Delmarva

At this point we expect Carolina to dominate every game and we're somewhat surprised when they don't.

Despite reversing an early 2-0 disadvantage thanks to a three-run, three-hit 3rd inning, things unraveled for starting RHP Will Childers (5 IP, 6 R, 6 H, 3 BB, 1 HBP, 3 Ks) in the top of the 5th inning: bunt single, walk, walk, grand slam.
Mudcats' Extras:
1B Jesus Chirinos is ready for a second crack at High-A ball if the Brewers will give it to him, putting up a 3-for-4 day with a double, walk, 2 RBIs and no strikeouts. Left fielder Jace Avina (single, 2 walks) and C Blayberg Diaz (2 singles) also had productive days at the plate. 2B Dylan O'Rae also stole his first base since his recent promotion.
For Diaz, the field was a bit of a nightmare, however, conceding seven stolen bases (vs. one caught stealing) and committing two errors.
Balls simply weren't falling in for center fielder Luis Lara on this day: 0-for-5 with no strikeouts. His line drive out with two runners on to end the 6th inning (still trailing 6-4) was Carolina's last decent chance to turn the game around.
Relief RHPs Jeferson Figueroa and Jeison Pena delivered scoreless outings, but RHP Aidan Maldonado (1 IP, 2 R) is still trying to find his mojo after an up-and-down year.
Next week's outlook: The Mudcats (60-45) travel to face White Sox affiliate Kannapolis (55-52). RHPs Alexander Vallecillo and Jesus Rivero are likely to tag-team the opening game.
We hope that you enjoy the Minor League Link Report. Monday will be a light day again, with the DSL squads in action at 10:00am CST and the ACL Brewers playing at 8:00pm, while even the Milwaukee Brewers will have the day off.

Organizational Scoreboard including starting pitcher info, game times, MiLB TV links, and box scores
Current Milwaukee Brewers Organization Batting Stats and Depth
Current Milwaukee Brewers Organization Pitching Stats and Depth
Think you could write a story like this? Brewer Fanatic wants you to develop your voice, find an audience, and we'll pay you to do it. Just fill out this form.
MORE FROM BREWER FANATIC
— Latest Brewers coverage from our writers
— Recent Brewers discussion in our forums
— Follow Brewer Fanatic via Twitter, Facebook or email