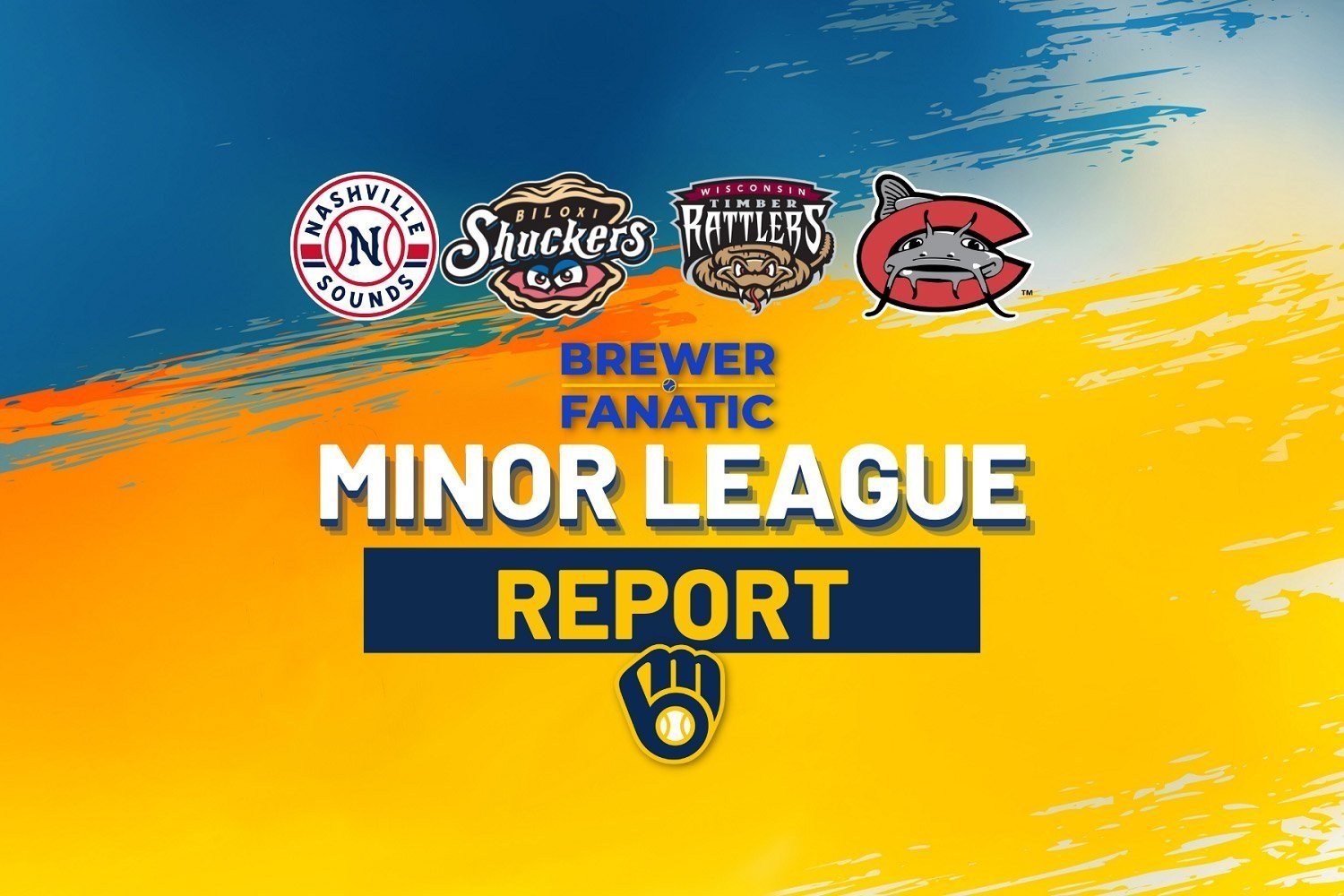 Image courtesy of Brewer Fanatic
The pitching of Yujanyer Herrera led the day. At the plate, Ernesto Martinez (grand slam), Jhonnys Cabrera, and Luke Adams (first as a Brewer) each homered, Gregory Barrios collected four hits across two games, and Quinton Low reached base five times in his one game.
Transactions:
ARIZONA COMPLEX LEAGUE
Final: ACL Brewers Blue 16, ACL Guardians 3
Box Score / Game Log
This blowout win boosts ACL Brewers Blue's record to 18-30.
After drawing a 1st inning walk, rehabbing DH/1B, Ernesto Martinez (1-for-2, HR, 2 walks, 4 RBIs) went big in the 2nd inning, smacking a 2-out grand slam to extend Blue's lead to 6-0 and essentially put the game away.
Blue led by as much as 12-0 and 14-1, as the club also received a dominant start from 18-year-old RHP Yujanyer Herrera (5 IP, 0 R, 3 H, 1 BB, 5 Ks).
The 14-hit, 10-walk offensive feast helped many prospects boost their numbers, with 1B/RHP Quinton Low (2-for-3, double, 2 walks, HBP) reaching base five times, C Tayden Hall (2-for-5, double, walk, 2 RBIs) three times and returned-from-injury 3B Ney Serrano (1-for-4, 2 walks) three times as well.
Lightly-used DH/C Jhonnys Cabrera further contributed to his Jon Singleton-esque statline by hitting a 2-run homer in the 7th inning. He now has a slash line of .205 AVG / .407 OBP / .364 in 59 plate appearances.
SS Jheremy Vargas exited in the 3rd inning of the game, so this will be something to monitor going forward. Hall also allowed three passed balls, although at least there were no stolen bases against him.
Game One Final: ACL Cubs 6, ACL Brewers Gold 2 (final in 7 innings)
Box Score / Game Log
Game Two Final: ACL Brewers Gold 5, ACL Cubs 2 (final in 7 innings)
Box Score / Game Log
The doubleheader split leaves ACL Brewers Gold with a 27-21 record.
In the opener, recent 6th round draft pick RHP Tyler Woessner (2 IP, 0 R, 1 H, 0 BB, 5 Ks) was impressive in his start, striking out five Cubs in two scoreless innings. Is a call-up to Low-A Carolina in his near future?
Unfortunately, 2021 draft pick 18-year-old 6'6" LHP Caden Vire continues to show rust after a recent long lay-off, retiring only one of six batters while giving up five runs, three walks, two hits, and issuing two wild pitches. We may need to take the long view with Mr. Vire and trust the organization's development plan.
2021 super international signing 18-year-old DH/SS Gregory Barrios (2-for-4, double, 2 RBIs) knocked in both of Gold's runs, while 18-year-old 2022 draftee (3rd round) SS Dylan O'Rae (1-for-2, 2 walks, 2 SBs) reached base three times and 19-year old 2B Miguel Briceno (1-for-3, double – his OPS in ACL ball is .881) continues to produce.
19-year-old LHP Fraudy Maldonado (2 IP, 0 R, 1 H, 1 HBP, 4 Ks) and 23-year-old LHP Jakob Brustoski (1 IP, 0 R, 0 H, 1 BB, 1 WP, 1 K) also merit positive notes for combining on three shutout innings.
The Gold men grabbed some revenge in the day's second game, taking a 3-1 lead with three runs in the 4th inning, then adding two helpful insurance runs in the final frame.
2022 draftee (12th round) 18-year-old 1B/3B Luke Adams (2-for-3, HR, walk, RBI, SB) was a crucial cog in the offense, smacking his first home run in the organization to lead off the 4th inning. SS Barrios (2-for-4, 2 SBs) and OF Eduarh Colina (2-for-3) also collected two hits each.
The pitching staff struck out 12 Cubs in seven innings and issued seven walks. Although starting 19-year-old, RHP Henrison Mota struck out five Cubs (versus four walks) in 2 2/3 innings, 19-year-old RHP Delson Guzman (2 IP, 1 R, 1 H, 1 BB, 3 Ks) probably had the more interesting line by retiring six of the eight batters he faced to earn the save.
DOMINICAN SUMMER LEAGUE
DSL Texas Blue 7, DSL Brewers1 4
Box Score / Game Log
Monday's loss drops DSL Brewers-1's record to 19-32.
This game will serve as a rare blip for 18-year-old LHP Osbriel Mogollon (5 IP, 3 R, 5 H, 1 BB, Ks), who's been lights out for most of the year but took the loss here. On the bright side, he only issued one walk, had no wild pitches, didn't balk or hit a batter, and didn't allow long balls.
The box score tells the story of the offensive struggles of the club, with only two OPSs above .700: C Edgardo Ordonez (1-for-3 – season OPS of .817) and OF Luis Lara (1-for-3, double, walk–season OPS of .720).
DH/INF Jose Pena (3-for-4, double, 2 RBIs – season OPS of .453) collected three hits, and 3B/OF Luis Watter (2-for-4 – season OPS of .611) grabbed another two hits.
Down 5-2 and 5-3, the team had three runners thrown out on the bases in the 6th and 7th innings to hurt their cause.
DSL Phillies Red 2, DSL Brewers2 1 (final in 7 innings)
Box Score / Game Log
The close defeat leaves DSL Brewers-2 at 24-27 this year.
The club managed to out-hit the Phillies 6-3 but couldn't collect key hits while missing their primary offensive weapon (1B/OF Yeison Perez), going 0-for-4 with runners in scoring position (though the Phillies were also 0-for-6 with RISP).
The team fell behind 1-0 in the 2nd inning without giving up a hit (walk, wild pitch, stolen base, partially successful double steal), but grabbed a tie in the 3rd inning when 2B Demetrio Nadal (1-for-2, triple, HBP) tripled and scored on a wild pitch.
Unfortunately, the Phillies responded in the bottom of the 3rd inning with a triple and scored on an error to produce what proved to be the winning run.
All in all, the pitching staff of 18-year-old RHP Daurys Mora, 17-year-old LHP Jose Meneses, and 20-year-old RHP Waldin Rodriguez was solid in limiting the opposition to just three hits in six innings of work, although the six walks, one hit-by-pitch and one wild pitch also merit mention. They combined to strike out five batters.
The box score OPSs look slightly better here. However, it's still relatively unsightly on the whole: C Eric Martinez (1-for-3 – season OPS of .855), SS Juan Baez (1-for-2, walk, SB – season OPS of .727), 3B Johan Barrios (1-for-3 – season OPS of .720) and the aforementioned Nadal at .710.
We hope that you enjoy the Minor League Link Report. All levels (AAA through DSL) are back in action on Tuesday. Enjoy!
Organizational Scoreboard, including starting pitcher info, game times, MiLB TV links, and box scores
Standings and sortable stat pages
Current Milwaukee Brewers Organization Batting Stats and Depth
Current Milwaukee Brewers Organization Pitching Stats and Depth
Think you could write a story like this? Brewer Fanatic wants you to develop your voice, find an audience, and we'll pay you to do it. Just fill out this form.
MORE FROM BREWER FANATIC
— Latest Brewers coverage from our writers
— Recent Brewers discussion in our forums
— Follow Brewer Fanatic via Twitter, Facebook or email
1