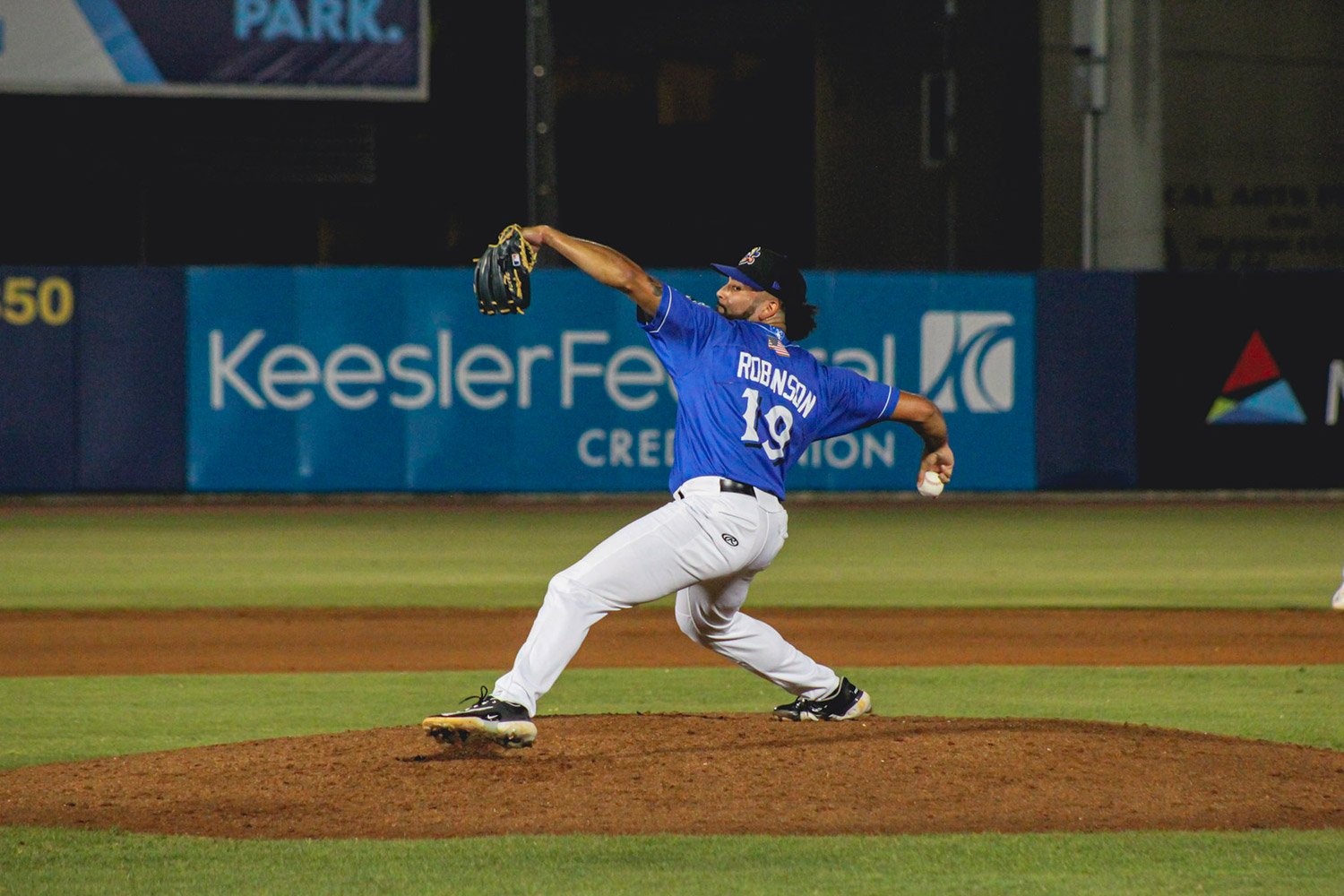 Image courtesy of Joshua Sumrall & The Biloxi Shuckers - Cam Robinson Pictured
For the week, Biloxi (5-1) and Nashville (4-2) were series winners, while Carolina (2-4) and Wisconsin (1-5) suffered series losses.
Transactions:
Game Action: 
Nashville Pre-Game Media Notes
Final: Nashville 5, Charlotte 4
Box Score / Game Log
Via the Sounds' website, game details, and we encourage readers to review the affiliate write-up as part of their Link Report routine: Vihuelas Vanquish Caballeros, Walk-Off to Win Series
With 1B Keston Hiura smacking his 21st homer (a two-run shot in the 1st inning) and starting LHP Eric Lauer cruising (5 IP, 0 R, 3 H – all singles, 1 BB, 6 Ks), the Sounds nearly coasted to victory before requiring late heroics. 
With two outs in the bottom of the 9th inning and left fielder Jahmai Jones on second base, Charlotte opted to intentionally walk Hiura (2-for-4 HR, walk, 2 RBIs) in favor of facing SS Patrick Dorrian and his streak of nine strikeouts in a row, with Dorrian then pulling the game winning single into right field on the first pitch he saw. 
Sounds' Extras:
Next week's outlook: The Sounds (64-54) head to Gwinnett (55-63) to face the Braves' affiliate. Expect RHP Caleb Boushley to start the opening game on Tuesday, with rehabbing Jesse Winker joining the squad at some point.
Biloxi Pre-Game Media Notes
Final: Biloxi 2, Mississippi 1
Box Score / Game Log
Via the Shuckers' website, game details: Shuckers' Pitching Finishes Out Dominant Series with 2-1 Win
While LHP Nick Bennett (3 2/3 IP, 0 R, 2 H, 1 BB, 1 K) and five other pitchers combined on 8-plus shutout innings, the Shuckers offense played a dangerous game by going 0-for-16 with runners in scoring position and stranding 11 baserunners.
That 9th inning got more frightening due to an error on 3B Zavier Warren, bringing Mississippi to within 2-1 with two runners on base and just one out. Thankfully RHP Cam Robinson (1 IP, 1 R (0 ER), 1 H, 1 BB, 0 Ks) induced the game-ending 4-3 double play to second baseman Freddy Zamora, earning his 11th save in the process.
Shuckers' Extras:
Next week's outlook: Biloxi (60-54) returns home to host Marlins' affiliate Pensacola (63-50). Expect Misiorowski to start the opening game on a full week of rest.
Wisconsin Pre-Game Media Notes
Final: Cedar Rapids 4, Wisconsin 1
Box Score / Game Log
Via the Rattlers' website, game details: Kernels Beat the Rattlers 4-1
One pitch basically determined the outcome of this game, with neither team doing much on the game's other 257 pitches. Unfortunately, that one pitch resulted in a game-altering three-run homer off starting RHP Edwin Jimenez (4 1/3 IP, 4 R, 3 H, 3 BB, 5 Ks) in the bottom of the 3rd inning.
That fateful inning may also have turned out differently if 2B Mike Boeve had taken the sure out at first base instead of getting nobody out on a toss to second base earlier in the frame.
Timber Rattlers' Extras:
Next week's outlook: The Timber Rattlers (48-64) welcome Royals' affiliate Quad Cities (50-64) to Appleton this week, with LHP Nate Peterson (3.66 ERA, 1.31 WHIP, 10.4 K/9 in 59 IP) the anticipated starting pitcher on Tuesday.
Carolina Pre-Game Media Notes
Final: Kannapolis 8, Carolina 6
Box Score / Game Log
Via the Mudcats' website, game details: Carolina Collapses Late in 8-6 Finale Loss
Prior to the late collapse, the story of the game was starting RHP Will Childers (6 IP, 1 R, 3 H, 1 BB, 3 Ks) and a balanced offense which saw seven Carolina players collect 10 hits. The two remaining starting position players both walked, while six different Mudcats had one RBI each.
Unfortunately, for the second time in four days, the Mudcats' bullpen let a big lead slip away, this time with RHPs Jeison Pena and Chase Costello conceding seven earned runs in the 7th and 8th innings to lose the game and the series.
Mudcats' Extras:
Next week's outlook: The Mudcats (62-49) commence a 12-game homestand, with Royals' affiliate Columbia (58-55) coming to town for six games this week. RHP Alexander Vallecillo is most likely to start the series opener.
We hope that you enjoy the Minor League Link Report. Four Rookie-level games are on tap for Monday, including a doubleheader for DSL Brewers-1, single game for DSL Brewers-2 and ACL Brewers' regular season finale.
Organizational Scoreboard including starting pitcher info, game times, MiLB TV links, and box scores
Current Milwaukee Brewers Organization Batting Stats and Depth
Current Milwaukee Brewers Organization Pitching Stats and Depth
Think you could write a story like this? Brewer Fanatic wants you to develop your voice, find an audience, and we'll pay you to do it. Just fill out this form.
MORE FROM BREWER FANATIC
— Latest Brewers coverage from our writers
— Recent Brewers discussion in our forums
— Follow Brewer Fanatic via Twitter, Facebook or email