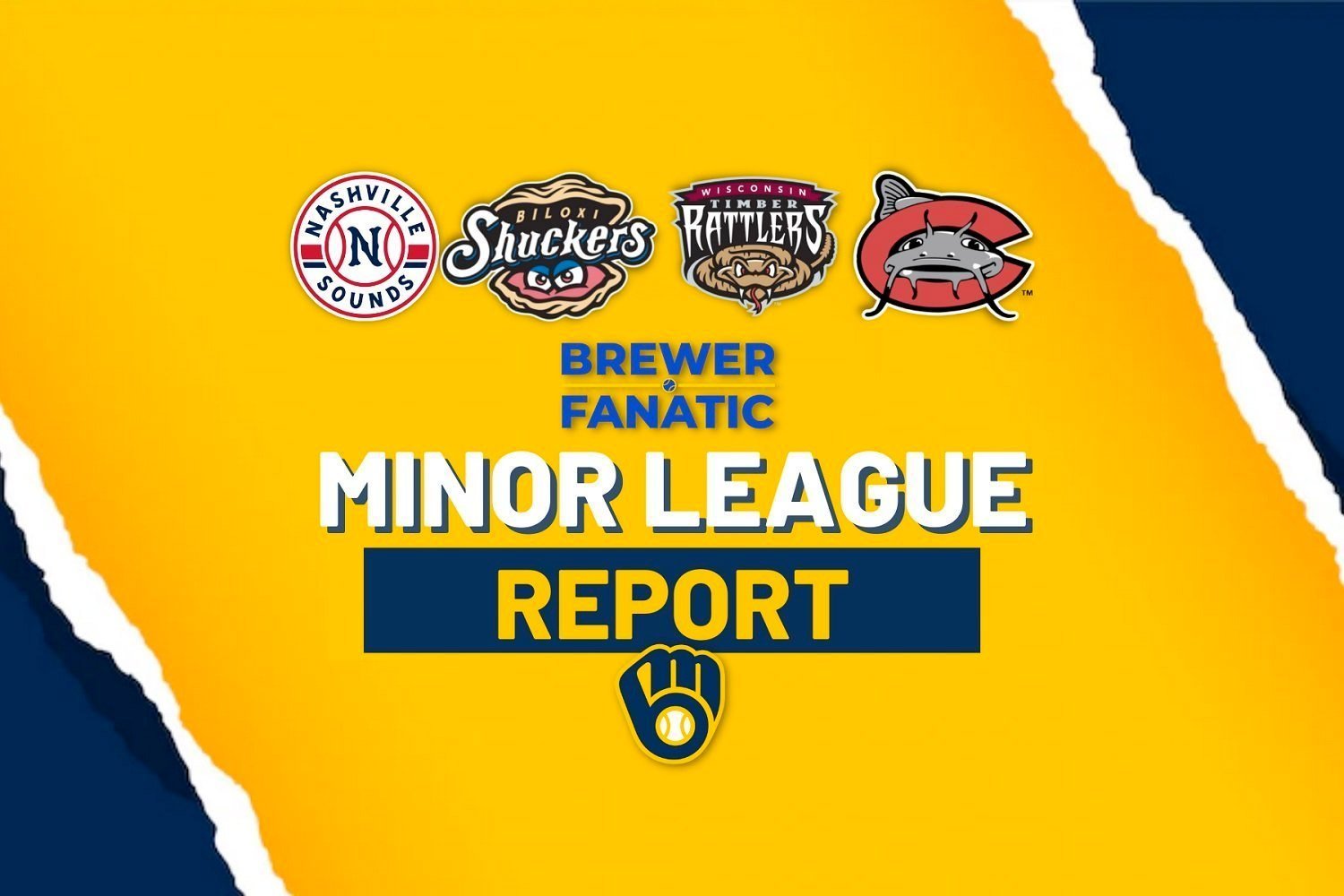 Image courtesy of BrewerFanatic
Transactions:
LHP

 

Adam Seminaris

 

assigned to AAA Nashville from AA Biloxi
C

 

Jhonnys Cabrera

 

released by Low-A Carolina
Seminaris, 24, is scheduled to pitch for the Brewers in the Arizona Fall League. Along with RHP Janson Junk and big-league success story RHP Elvis Peguero, he came over from the Angels in the Hunter Renfroe trade. Seminaris would now need to be added to the 40-man roster to fully protect from Rule 5, but that does not seem likely at this moment. I got a kick out of seeing that Seminaris reposted this on Twitter / "X" yesterday, because he was within the highlight for Tampa's uber-prospect Junior Caminero. That's right Adam, no shame there!
Catcher Jhonnys Cabrera, 21, debuted as a just-turned 17-year-old in the DSL in 2019. The Venezuela native actually opened his post-pandemic 2021 as a surprise entrant on the Biloxi roster, spending ten days in May with the Shuckers. Clearly it was for emergency only (bullpen catcher needed, etc.), but he did get one at-bat (strikeout). How many DSL players make their stateside debut at the AA level? Cabrera did. Take that, Jackson Chourio! Cabrera saw action in 12 games with Carolina this year but was just 2-for-29 at the plate (three walks, 19 K's).
---
Final: Nashville 8, Jacksonville (Marlins) 5
Lauer, Big Inning Power Sounds Victory - Southpaw strikes out 10 in 8-5 triumph over Jacksonville
As always, even before you take in my comments below, read through the always detailed Sounds game report linked above. My co-workers and I often will assume you have and may not touch on points well-covered by the affiliate's piece, particularly the actual nitty-gritty of the game itself. Good practice for next spring when we ramp things up again!
Do you know who doesn't need to be added to Rule 5 this fall? The ultra-hot Tyler Black. Like LHP Robert Gasser, he was drafted in 2021 and wrapping up just his 3rd pro season. That's one reason neither Black nor Gasser (development reasons as well, as the Brewers would tell you) have seen the big leagues yet. There's no need to tie up 40-man roster spots until needed, and then hopefully each is the type of prospect, a la Sal Frelick, that will never have to head back to the minors once they debut (I'll ignore any financial reason references for now...)
Black has been sublime. Do yourself a favor and click on the 2023 arrow so that you can see his two stat lines for AA and AAA for this season via his MiLB Player Page. Check out the mirror-image respective OBP's, SLG's, and even SB %'s. You know what, Black is exactly who we think he is, and it's glorious! My goodness, this organization is on a roll throughout. Thank you, David Stearns, Matt Arnold, and all others involved.
Someday, there will be the inside story written on Eric Lauer's 2023 season. He earned $5.075M and is likely not to be tendered a contract for 2024. Or could he be? The arbitration bump would be nominal based on his '23 performance, but it's hard to see it happening. Despite the ten K's Friday, velocity reports are not shiny.
Lauer is his own cat, to be sure. He didn't win fans over when he threw catcher Manny Pina under the bus in one of his early performances for the Crew. He was among the most outspoken in the clubhouse on a number of topics, especially the Josh Hader trade, despite his relatively short tenure compared to other vets. But we'll miss the "Zoomball" and other pitch monikers, the pickoff moves, and when on top of his game, his ability to get whiffs on apparent meatballs time and again. If/when he hits the free agent market, there will be interest.
Just within this one box score (never mind the bench for this game), there are individual stories.
Jahmai Jones will be 26 years old for most of 2024, but the INF/OF would be out of options, so his postseason hold on a 40-man spot is questionable.
Darn, Owen Miller's production crumbled after his red-hot May (would the Brewers have won a single game in their dreadful May without Miller?), but how do you think he's feeling missing out on the upcoming champagne clubhouse shower?
My goodness, can you imagine what the online fan response would have been Friday night with just a little help over the fence:
Every Nashville hitter slashed a base hit in the contest except Jackson Chourio, who missed a grand slam to center by mere inches in the fourth inning and had to settle for a 404-foot sacrifice fly.
I'll continue to say that Abraham Toro's 40-man spot is in no danger despite the fact he's also out of options in 2024. There is trade value there at the minimum. What a AAA campaign.
Speaking of possible value, Ethan Small, anyone?
And you thought this single-game report was going to be mundane...
---
6:35 Central start tonight in the penultimate game for the Sounds. Folks like that word, when "next-to-last" seems pretty easy to use. Enjoy your day and go Brewers in Miami this afternoon!
Organizational Scoreboard including starting pitcher info, game times, MiLB TV links, and box scores
Current Milwaukee Brewers Organization Batting Stats and Depth
Current Milwaukee Brewers Organization Pitching Stats and Depth
Think you could write a story like this? Brewer Fanatic wants you to develop your voice, find an audience, and we'll pay you to do it. Just fill out this form.
MORE FROM BREWER FANATIC
— Latest Brewers coverage from our writers
— Recent Brewers discussion in our forums
— Follow Brewer Fanatic via Twitter, Facebook or email
1