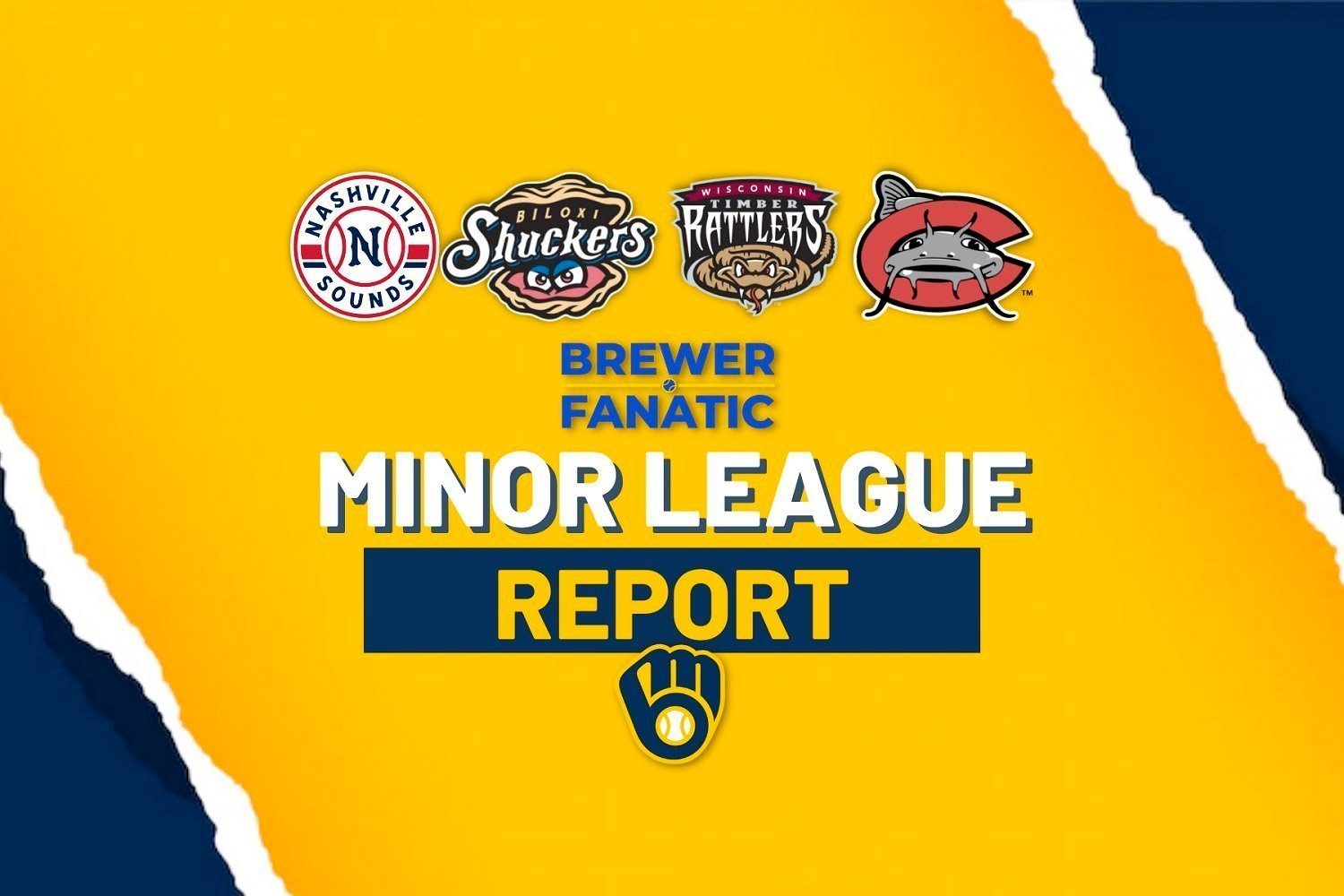 Image courtesy of BrewerFanatic
The Shuckers' return-to-expected-form continued on Thursday, as they handily defeated a decent Chattanooga squad 11-4 for a 2-1 series lead. This time it was starter Justin Bullock coming through with his best performance of 2022, though covering just three innings as he works back to full strength. Home runs by Thomas Dillard and Cam Devanney powered the offense, along with 2 RBI doubles from Gabe Holt.

Nashville didn't give in despite a 7-0 deficit on the road, cutting it to 7-6 with two runners on and nobody out in the ninth inning before the effort ended there.

The Timber Rattlers had limited options for starting pitcher in their game, so Zach Mort had to step in and wear an eight-run, ten-hit nightmare.

Carolina will need a win today and then sweep their doubleheader in Columbia on Saturday in order to turn their 0-2 series deficit around.

In the Dominican Summer League, the Brewers-1 youngsters finally had their bats come alive, getting 13 hits in 25 at-bats in a lightning-shorted five-inning, 8-3 victory which boosted their record to 2-6. Impressive 17-year old OF Luis Lara went 3-for-3 as he makes his case to move stateside.

Sunday's Game Balls go to the aforementioned Dillard, Devanney, Bullock and Holt, as well as Weston Wilson.
Transactions:
RHP Thomas Jankins retired from AAA Nashville
Game Action:

Carolina Pre-Game Media Notes
Rainout – Rescheduled for Saturday Doubleheader

Via the Mudcats' website, game details, and we encourage readers to review each of the affiliate write-ups as part of their Link Report routine: Mudcats and Fireflies Postponed Thursday

INF Jean Carmona's Grand Return to action in the Brewers' organization will need to wait one more day.

Friday's outlook: Expect the same lineup intended for Thursday to go at it tomorrow, led by sterling RHP Carlos F. Rodriguez, though there's a chance that RHP Fernando Olguin will make the start instead.
Wisconsin Pre-Game Notes
Final: Great Lakes 13, Wisconsin 4
Box Score / Game Log

Via the Timber Rattlers' website, rainout details: Great Lakes collects 19 hits in 13-4 win over the Rattlers 

The 13-4 score looks bad and the game wasn't even as close as that line indicates, as the Timber Rattlers trailed 12-0 after five innings, going scoreless with nine strikeouts against Loon starter Nick Nastrini.

Perhaps short of starting arms (where's LHP Russell Smith ?), the team went with RHP Zach Mort as its starter, though he had not started a game since last September and had only thrown more than 50 pitches in a game once this year. Sorry Zach!! – you've been terrific in relief (0.95 WHIP entering the game)! Mort's season ERA ballooned from 3.18 to 5.06.

Offensively, Wisconsin left the bases loaded in the first inning and stranded two more in the second inning, which obviously didn't help their cause. The Timber Rattlers finally broke against Great Lakes' bullpen with four runs in the 6th inning on four hits (including a Wes Clarke homer, his 8th of the year; and an Arbert Cipion two-run double) and two walks, but unfortunately ran themselves out of the inning trying to reach 3rd base while down 12-4.

Position player Ashton McGee moved over from 1st base to pitch the 9th inning and did not yield a run, while designated hitter Alex Hall moved to catcher and Wes Clarke moved from catcher to 1st base. Did you get all that?
Performances of Note:
Tyler Black – 3-4, walk
Arbert Cipion – 2-3, double, walk, HBP, SB
Wes Clarke – 1-4, HR, walk, RBI
Zach Mort (Loss) – 3 2/3 IP, 8 R, 10 H, 0 BB, 2 HBP, 2 Ks
Ashton McGee – 1 IP, 0 R, 1 H, 0 BB, 1 HBP, 1 K
Friday's outlook: RHP Justin Jarvis (4.14 ERA, 1.30 WHIP, 9.4 K/9 in 58 2/3 innings) is set to take the mound, as Wisconsin aims to tie up their series in Great Lakes 2-2.
Biloxi Pre-Game Media Notes
Final: Biloxi 11, Chattanooga 4
Box Score / Game Log

Via the Shuckers' website, game details: Steady Offense Leads Biloxi To 11-4 Victory 

Things are really turning around nicely in Biloxi in all facets of the game, as evidenced in Thursday's 11-4 victory when all nine Shucker batters got at least one base hit, along with either a run scored or an RBI.

On the mound, RHP Justin Bullock had his best outing of 2022, covering three scoreless innings time with 41 pitches (28 strikes). This was in spite of a dangerous first inning where the first two Lookout batters reached via double and single and they ultimately loaded the bases with one out. However, Bullock escaped by striking out three hitters in the frame.

After that initial trouble, Biloxi's offense responded with three straight hits in the second inning, the last a Gabe Holt RBI double for a 1-0 Shucker lead.
Jakson Reetz (a potential 40-man MLB roster add in the coming off-season) then smacked his 13th home run of 2022 on a 2-0 pitch to double the margin.
RHP Carlos Luna came on for extended relief, ably covering five innings and largely saving the bullpen by throwing 94 pitches to earn the win, while the Shucker consistently added to their lead. He struck out eight batters in his strong effort, though yielded four runs.

Thomas Dillard's 5th home run of the season, a three-run shot in the fifth inning, stretched Biloxi's lead to 5-0.
Cam Devanney followed with a solo shot in the sixth inning (his 9th of the year), homering on consecutive days, before a Lookout error pushed the lead to 7-1.
A run-scoring wild pitch, another Gabe Holt RBI double and a Sal Frelick sacrifice fly grew the margin to 10-2 in the seventh inning.

RHP Nash Walters ably covered the ninth inning, striking out the first two Chattanooga hitters he faced.
Performances of Note:
Thomas Dillard – 2-6, HR, 3 RBIs
Gabe Holt – 3-5, 2 doubles, 2 RBIs
Cam Devanney – 2-3, HR, walk, HBP, RBI
Sal Frelick – 2-4, triple, walk, SF, RBI
Noah Campbell – 2-4, double, walk
Felix Valerio – 2-5, double
Jakson Reetz – 1-5, HR, walk, RBI
Justin Bullock – 3 IP, 0 R, 2 H, 1 BB, 4 Ks
Carlos Luna (Win) – 5 IP, 4 R, 6 H, 2 BB, 8 Ks
Nash Walters – 1 IP, 0 R, 0 H, 1 BB, 2 Ks
Friday's outlook: Biloxi leads Chattanooga 2-1 thus far and will send LHP Nick Bennett to the mound to follow in the footsteps of Noah Zavolas and Justin Bullock in aiming for his best outing of 2022.
Nashville Pre-Game Media Notes
Final: Memphis 7, Nashville 6
Box Score / Game Log

Via the Sounds' website, game details: Sounds Come Up Just Short in Memphis

Our solid Nashville squad battled back gallantly in this affair, although the early seven-run deficit was just too much to overcome (bear?).

Starting RHP Tyler Herb will need to have his breakout AAA performance another night. His three-up, three-down first inning was followed by a bases loaded escape in the second inning and then a six-run, 11-Redbird batter third inning which included seven hits and a walk. LHP Andy Otero entered for that 11th batter with two-on and two-out, inducing a fly out to mercifully end the frame.

However, Memphis then tacked on a 7th run in the fifth inning, which ultimately proved valuable.

Down 7-0 but not out of it, Nashville's offense awoke in the sixth inning, with INF Andruw Monasterio smacking a three-run blast for his first home run of 2022.

While Otero kept the Redbirds guessing in 3 1/3 innings of work, the Sounds clawed back to 7-5 in the sixth inning on a Tyler White RBI single and David Dahl sacrifice fly.

Otero was relieved by the eminently capable Hobie Harris in the seventh inning, then the Sounds put a scare into Memphis by loading the bases in the eighth inning, though that opportunity went for naught.

After Harris faced the minimum number of Memphis batters over two innings, Weston Wilson opened the ninth inning with his 5th homer of the year, cutting the deficit to 7-6. This was immediately followed by a Jonathan Davis double and Brice Turang infield single to put the potential game-winning runs on base with nobody out.

Unfortunately, that was the last hurrah for Nashville, as Memphis' Kodi Whitley struck out Pablo Reyes and Jon Singleton, before inducing a pop out to end the game.
Performances of Note:
Weston Wilson – 2-4, HR, RBI, SB
David Dahl – 2-3, SF, RBI
Andruw Monasterio – 1-4, HR, 3 RBIs
Jon Singleton – 1-4, double, walk
Tyler White – 1-4, walk, RBI
Jonathan Davis – 1-5, double
Pablo Reyes – 1-3, 2 walks
Tyler Herb (Loss) – 2 2/3 IP, 6 R, 9 H, 2 BB, 1 WP, 5 Ks
Andy Otero – 3 1/3 IP, 1 R, 4 H, 0 BB, 2 Ks
Hobie Harris – 2 IP, 0 R, 0 H, 1 BB, 2 Ks
Friday's outlook: Nashville is down 2-1 in their series in Memphis, so now turns to RHP Caleb Boushley to start Game Four of the series. Boushley's been excellent of late, winning his last four starts while throwing over 90 pitches in each of his last three games (0.90 ERA over last 20 innings).
ARIZONA COMPLEX LEAGUE

Final: ACL Athletics 5, ACL Brewers Blue 4
Box Score / Game Log

Similar to the Sounds, the Brewers Blue squad simply ran out of time on their comeback, scoring in each of the last four innings to cut the deficit to 5-4 in this shortened seven-inning game. Unfortunately, the loss dropped the team to 1-7 on the season.

Starting RHP Jared Albir was not able to reproduce his terrific performance last week, giving up three hits, a walk and hitting a batter in a three-run third inning.

Recently-turned 18-year old INF Ney Serrano hit his first home run of the season to cut the deficit to 4-2 in the fifth inning. Then in a game of hero-to-goat on the same play, 18-year old INF Jonatan Guzman laced a two-on, two-out, RBI single in the sixth inning to make it a 4-3 game, but got himself thrown out trying for second base.

After the Athletics restored their lead to 5-3, the final inning started promising for the Blue team with two walks and a hit-by-pitch and nobody out, but the team could not muster the big hit to tie it up, only getting one run home via wild pitch to close the gap to the 5-4 final scoreline.
Performances of Note:
Eduarqui Fernandez – 2-4, double, RBI
Ney Serrano – 1-2, HR, HBP, RBI
Alexander Perez – 1-3, double, walk
Jonatan Guzman – 1-3, RBI
Luis Medina – 1-4, SB
Jose Chavez – 2/3 IP, 0 R, 0 H, 0 BB, 2 Ks
Final: ACL Guardians 5, ACL Brewers Gold 3
Box Score / Game Log

After getting their first run without a hit (error, two wild pitches) in the fourth inning to close to within 2-1, the Gold team earned their second run in the sixth inning on a Jadher Areinamo double and Luis Castillo sacrifice fly to make it a 2-2 game.

18-year old LHP Caden Vire got through two innings of relief work without yielding a run or hit, but the Guardians got to him in the seventh inning via a walk, single and three-run homer by 20-year old Wuilfredo Antunez (1.321 OPS in 26 plate appearances this year, with eight walks and two strikeouts), who is probably expecting a promotion to a full season squad soon.

Two singles (by Gregory Barrios and Areinamo) and an error in the eighth inning enable the Gold team to reduce the deficit to 5-3 with two men on base, but potent Blayberg Diaz (.774 career OPS, all in the ACL) flied out to right field to end that threat. Then again in the ninth inning, boys two men reached (Eduarh Colina single, Gregory Barrios walk) with two outs, but also-potent Areinamo flied out to center field to end the game.

Brewers' 24-year old LHP Justin King (signed from independent ball on June 5th) kept his ERA at 0.00 in covering the two scoreless innings, as he aims for a promotion to Low-A Carolina.
Performances of Note:
Jadher Areinamo – 2-5, double
Luis Castillo – 1-2, triple, walk, SF, RBI
Gregory Barrios – 1-3, walk, HBP
Blayberg Diaz – 1-3, walk, SB
Justin King – 2 IP, 0 R, 1 H, 1 BB, 3 Ks
DOMINICAN SUMMER LEAGUE

Final: DSL Brewers #1 Squad 8, DSL Tigers #2 Squad 3, five innings, lightning
Box Score / Game Log

In just their 2nd win of the young season (2-6), the #1'ers had 13 base hits, four for extra bases, despite the shortened affair. They only drew one walk, so they were hacking, and successfully so,

Guys and gals - presenting again, Luis Lara.

Lara has reached base in all eight games thus far, hitless only once. He has a four-hit game, this game that was cut short with three hits, and four two hit games. The 17-year-old switch-hitting Venezuelan bonus baby center fielder sports a 1.227 OPS, only four K's in 33 at-bats.

In the top of the 4th, the Tigers had two runs in to tie the game at 3-3 with men on 2nd and 3rd and only one out. RHP Dikember Sanchez inherited that tough spot and immediately got a line drive to third base, doubling off the runner at 3rd, squashing the rally,

Buoyed by that big moment, the Crew put up a five-spot in the bottom half highlighted by a three-run double by another high-bonus position player in 17-year-old switch-hitting Venezuelan shortstop Jhonny Severino.

Roman La Torre, a left-handed swinging catcher out of Venezuela who just turned 17 last month, is 3-for-7 with two doubles and a walk to begin his career. La Torre signed in January for just $10,000.

Yet another 17-year-old, starting LHP Wande Torres, posted a solid line in his 2nd pro appearance. He signed for $38,700, an odd number but we never quite know how the organization has to make the bonus dollars allocate into their overall pool
Performances of Note:
Luis Lara – 3-3, double, RBI
Arnys Rodriguez – 2-2, walk, RBI
Roman La Torre – 2-3, double
Duncan Garcia – 1-2, triple, SF, RBI
Jhonny Severino – 1-3, double, 3 RBIs
Gery Holguin – 1-3, RBI
Angel Pereira – 1-3, HBP
Dikember Sanchez (Win) – 1 2/3 IP, 0 R, 1 H, 0 BB, 0 Ks
Final: DSL Texas Red 7, DSL Brewers #2 Squad 3, six innings, lightning
Box Score / Game Log

Crew #2 falls to 3-5. They scored only one earned run on the day, as Texas' team won despite four errors. The Brewers committed two miscues of their own, including another by 17-year-old bonus baby Johan Barrios at third base, his 9th. That was the lone ground ball sent Barrios' way.

Brewers batters had four singles and six walks. As we often saw last year, it was green lights a-plenty, as the organization develops stolen base techniques. Only 3-for-6 in attempts here.

When Juan Baez was signed in January, he was listed as a catcher, but the 16-year-old (turns 17 in ten days) Dominican native has played all over the infield and primarily at shortstop thus far. He is also batting 3rd, and scorching with a .387/.412/.613 line (1.025 OPS). He too, signed for just $10,000.  It's just such an incredibly unique dynamic among the players, a few among them are pre-tax millionaires, and most are just grateful for an opportunity.

Here's the page you want to bookmark, as MLB.com's Jesse Sanchez provided bonus info on all the members of the large 2022 Brewers international signing class
Performances of Note:
Ludwin Tejada – 1-3, walk, RBI, SB
Juan Baez – 1-2, walk, SB
Johan Barrios – 1-2, walk
Irving Iguales – 1-2, walk
We hope that you enjoy the Minor League Link Report. Good luck in Friday's Eight Games!
Organizational Scoreboard including starting pitcher info, game times, MiLB TV links, and box scores

Arizona Complex League Scoreboard

Dominican Summer League Scoreboard

Links for affiliate audio

Standings and sortable stat pages

Current Milwaukee Brewers Organization Batting Stats and Depth

Current Milwaukee Brewers Organization Pitching Stats and Depth 
Think you could write a story like this? Brewer Fanatic wants you to develop your voice, find an audience, and we'll pay you to do it. Just fill out this form.
MORE FROM BREWER FANATIC
— Latest Brewers coverage from our writers
— Recent Brewers discussion in our forums
— Follow Brewer Fanatic via Twitter, Facebook or email