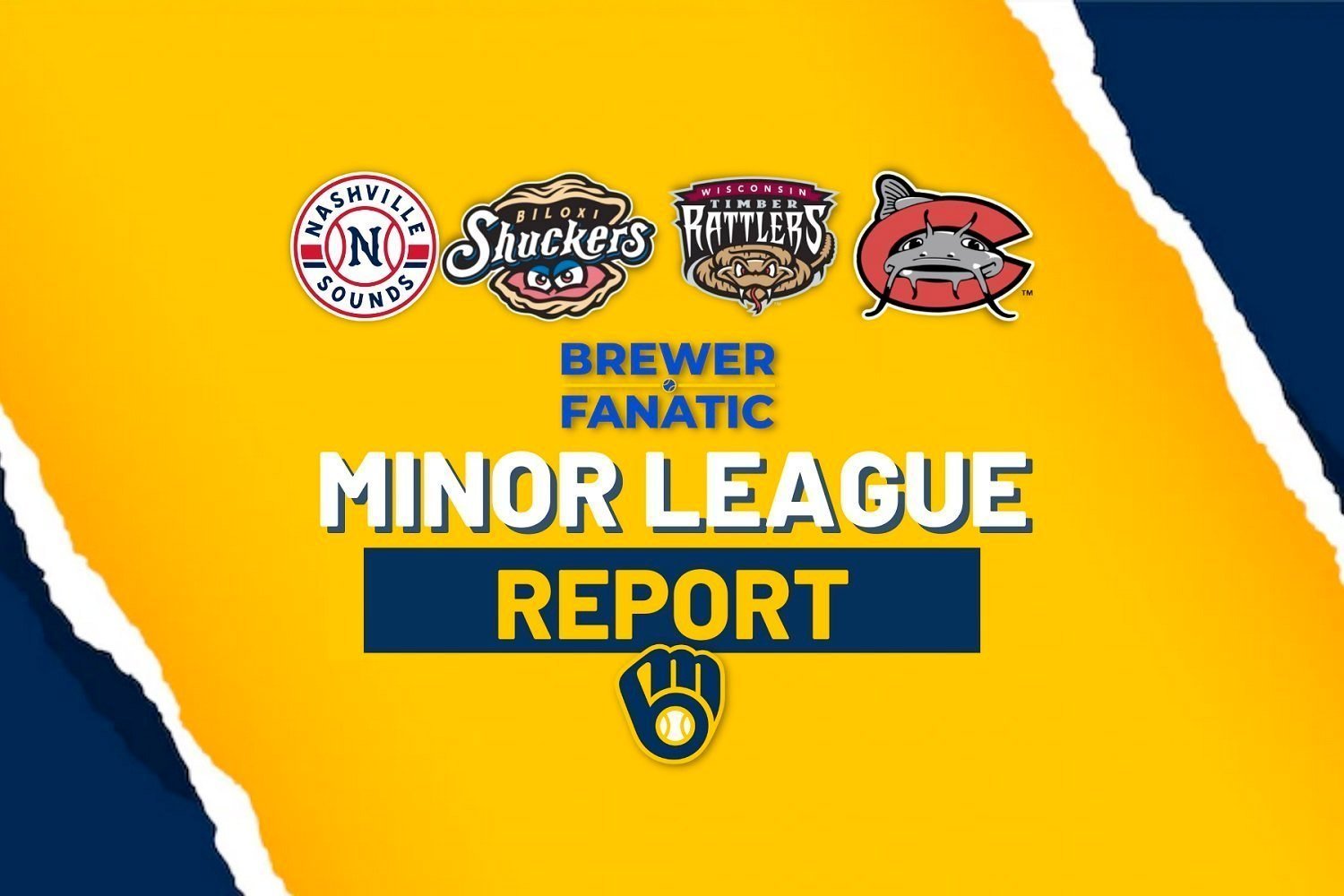 Image courtesy of BrewerFanatic
TRANSACTIONS: None.
---
Final: , Nashville 8, Memphis (Cardinals) 7
Via the Sounds' site, we encourage readers to review each of the affiliate write-ups as part of your season-long Link Report routine:
Navarreto Walks Off Memphis in Saturday Night Thriller - Sounds rally back from five-run deficit, clinch series with 8-7 victory
Big win, what an environment the city of Nashville provides on the AAA level - post-Labor Day sellout (again). Going to be a tough pill to swallow when the search for a new home commences as the inevitable expansion plans are announced. Enjoy it while we can.
Speaking of inevitable, he's coming soon, Milwaukee -
The Sounds provided a bunch of video Saturday night, and each clip of importance in its own way - Eric Lauer (brief high note, but struggles overall, seems to be a swan song in the organization), newcomer Chris Roller (more on him in a moment), Ethan Small (still relevant?), Donaldson still strong on "D", and of course, the Brian Navarreto walk-off escape job.
Oh, 2024 is going to be fun with this guy somewhere in the big-league starting lineup -
Say what you will, but middle man Jason Alexander was the MVP of this game with his effort.
Why being a big-league GM is fun - along with his legions of assistants throughout the organization, Matt Arnold needed to address an outfield dilemma at the AAA level, especially after versatile Noah Campbell hit the IL. Sign Greg Allen. Trade for Chris Roller. Identify helpful players. One look at the Sounds roster tells you the position need was dire.
From the game summary you just read:
Chris Roller has made an instant impact in Nashville's lineup. He's hit safely in all seven contests with the club, batting .455 (10-for-22) with a double, a triple, five RBI, eight walks and two stolen bases.
Oh, one more thing before I forget within this busy Nashville post - Abraham Toro has been crazy-solid all season, he will absolutely hold on to his 40-man roster spot this winter, and at worst, represents a bit of trade value if deemed that's the way to go. The MLB roster just didn't allow for a true locked-in spot in 2023.
---
Final: Biloxi 4, Birmingham (White Sox) 3
Via the Shuckers' site:
Myers Sets Shuckers' Single-Season Strikeout Record in 4-3 Win - Myers strikes out nine, bullpen allows one run over four innings to lock down series win
Old friend Tristan Peters (.282/.368/.424, .792 OPS) had a quiet Saturday night, but has been very steady and sometimes spectacular for the AA club of the Rays, the Montgomery Biscuits. Oh yeah, those darn Biscuits. They won their 9th game in a row and 14th in 15 contests, with one more game before the showdown series in Biloxi begins Tuesday:
As of today, the Shuckers will need to win four of six against the Biscuits to qualify for the playoffs for the first time since 2019.
That dynamic could change dramatically based on Sunday's results.
Multiple video highlights from this one here, to enhance the always-solid linked game summary.
This remains a thin position player group, with Wes Clarke's catcher availability assisting. But yes, the roster screams for a Wisconsin reinforcement (we see you, Brock Wilken). For instance, in this game, struggling Felix Valerio was the lone non-catcher on the bench.
James Meeker and Cam Robinson with late-inning bullpen heroics reminiscent of what's going on at the big league level. When the Biloxi bullpen is rolling, it's absolutely huge. Fair to say, as this bullpen goes...
Contributions throughout that box score, especially the lower half, and SS Freddy Zamora found a way to help despite not reaching base:
---
Final:  Wisconsin 3, Cedar Rapids (Twins) 2
Via the Timber Rattlers' site:
Lara Leads Wisconsin to Late Win - Rattlers beat Cedar Rapids 3-2 on go-ahead RBI triple from Lara
Pre-Game Media Notes (Download Link) via the team's Virtual Press Box
No, seriously, we SEE you, Brock Wilken (with the glove!).
Be sure to listen to the skipper here (Thursday interview) -
Via WSCO's "The Show with Leo and Balky (Hour One): Timber Rattlers Manager Joe Ayrault (go to the 11:55 minute mark) 

Via WSCO's "The Show with Leo and Balky (Hour Two): Timber Rattlers President/CEO Rob Zerjav (go to the 12:15 minute mark) 
The full video package because you can't get enough of the uniforms:
As Joe Ayrault noted, it would have been nice to have the August / September T-Rats all season. He really lamented the Eric Brown injury impact.
I guess it'd be safe to say this club was unheralded for most of the year, without the flashy star power until Wilken's arrival. Here's to a hopefully fun send-off for the season finale Sunday (Wisconsin and Carolina regular seasons conclude today. Mudcats Game One playoff on Tuesday.)
---
Carolina at Salem (Red Sox), canceled, rain.
Weeknight after back-to-school? Tough sell, but be loud, Zebulon, 15 year wait after all!
---
A range of afternoon start times Sunday - don't let that little football sport get in your way of Brewer farmhand enjoyment:
Organizational Scoreboard including starting pitcher info, game times, MiLB TV links, and box scores
Current Milwaukee Brewers Organization Batting Stats and Depth
Current Milwaukee Brewers Organization Pitching Stats and Depth
Think you could write a story like this? Brewer Fanatic wants you to develop your voice, find an audience, and we'll pay you to do it. Just fill out this form.
MORE FROM BREWER FANATIC
— Latest Brewers coverage from our writers
— Recent Brewers discussion in our forums
— Follow Brewer Fanatic via Twitter, Facebook or email
1